The 5 Most Memorable Merseyside Derbies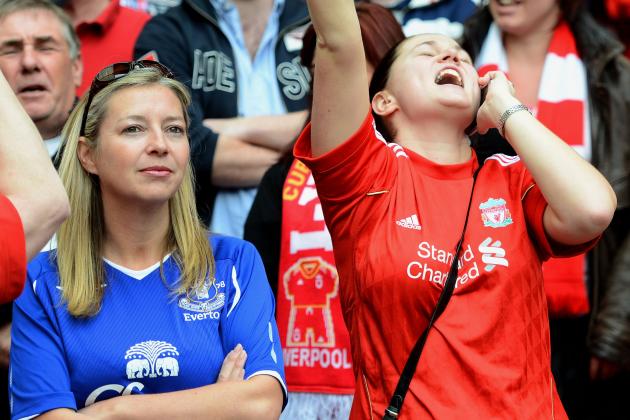 Mike Hewitt/Getty Images
The Merseyside derby is a family affair.
In the iconic words of Michael Buffer: "Let's get ready to ruuummmbbblllleee," as derby fever grips Merseyside for the first time this season.
Sunday, Oct. 28 sees the two giants of English football clash at Goodison Park for the 219th time.
Recently Liverpool appear to have an Indian sign over their blue neighbours, with Everton only recording two wins out of the last 14 meetings in all competitions.
But hope springs eternal for us Evertonians as we go into the match as the form team, not something that often gets said in October.
With the impending specter of doom and gloom about to cast a shadow over one half of Liverpool, I have decided to delve deep into my own archive and pick out the five most memorable derby games.
Being 32 years old, the last 13 years worth of derby matches have been etched into my emotional memory bank.
So without further ado, time to cut out the waffle and commence with my five most memorable Merseyside derbies.
Begin Slideshow

»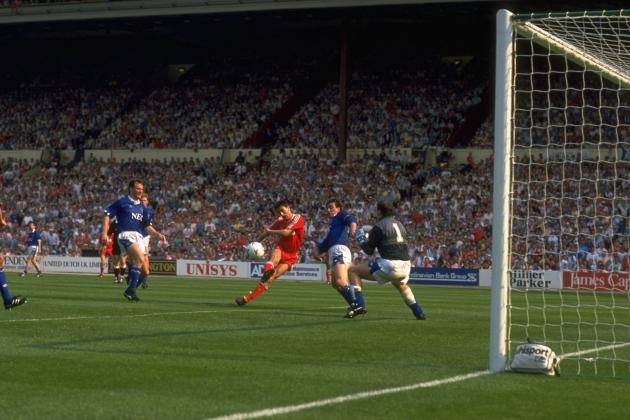 Simon Bruty/Getty Images
Ian Rush's brace secures the FA Cup for Liverpool
Everybody remembers when their heart was first broken.
Whether it is being dumped outside a McDonalds as a teenager or coming home early from a business trip only to find that both your partner and dog have left you, even the most hardened car mechanic has shed a tear when his heart was ripped in two.
This was my first football heartbreak and boy did I cry.
With Wembley filled to capacity and basking in glorious sunshine, it should have been a special childhood memory.
It wasn't.
Everton twice came from behind, only for Liverpool legend Ian Rush to score late in game to deflate the Everton fans quicker than a 99p inflatable swimming pool.
After this, I have always treated men with moustaches with contempt.
Rush remains the top goal scorer in Merseyside derby encounters with 25 goals, and remains my childhood heartbreaker.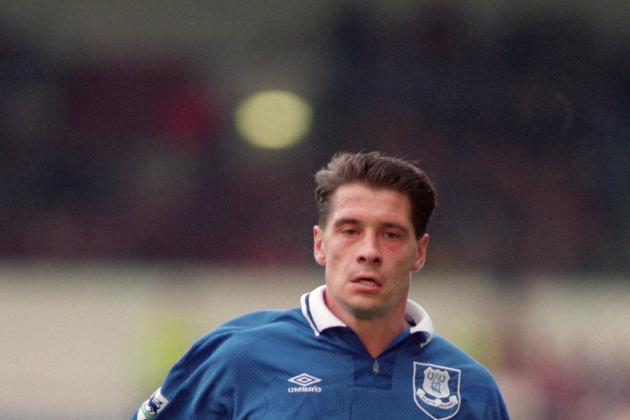 Ben Radford/Getty Images
The man who brought happiness to thousands...Tony Cottee
Fast forward to 1991 where Liverpool FC were again the dominant force on Merseyside, with the blue side looking on enviously.
This meeting pitted a Liverpool team filled with immense talent including Peter Beardsley, Rush and John Barnes against an Everton team whose strike force was led by the distinctly average Mike Newell.
It should have been a walk in the park for the Anfield Rappers.
However, what transpired is still spoken about in the pubs around Stanley Park to this very day.
The incredible 4-4 score line doesn't even begin to tell the story of the game.
Everton went behind four times, only to roar back each time in front of a raucous Goodison Park.
The noise was deafening as Tony Coffee made it 4-4, leaving me both hoarse and exhausted.
In the next few days, Kenny Dalglish resigned as Liverpool manager and Everton went on to win the replay 1-0.
It was a magical night for all those who witnessed it.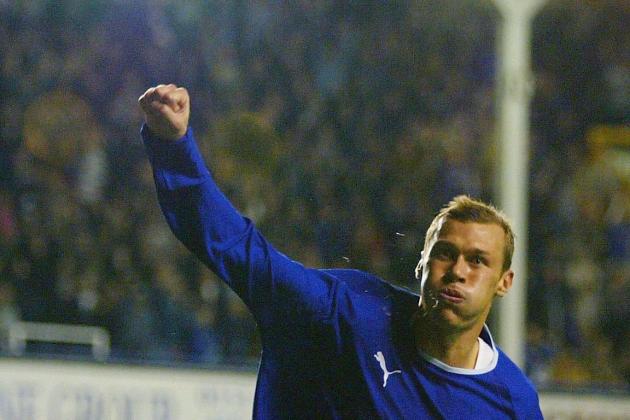 Paul Gilham/Getty Images
The iconic Duncan Ferguson....not in hiding
"He's gone into hiding."
The immortal words of Sky's Ian Darke still resonate with me to this day.
The man hiding under his Everton shirt was the iconic talismanic Duncan Ferguson.
His bullet header from a delicious Andy Hinchcliffe in-swinging corner set Goodison Park into raptures as a new hero was born.
The bitterly cold Monday night game coincided with my 15th birthday, and the atmosphere at my party was miserable.
Everton had just avoided relegation on the last day of the previous season, with Mike Walker seemingly attempting to send the club into oblivion (or Barnsley as it is better known).
Before the game, he was sacked and replaced by Evertonian legend Joe Royle, who installed the "dogs of war" mentality of showing more fight and passion than UFC combatants in the Octagon.
Everton flew out of the blocks, giving Liverpool both barrels of grit and determination until the final whistle.
The game ended 2-0 but what it signified was so much more.
The Blues finished the season as FA Cup Winners, as the club's motto, "Nil Satis Nisi Optimum," radiated throughout the club at long last.
It was the best birthday gift a young man could hope to receive.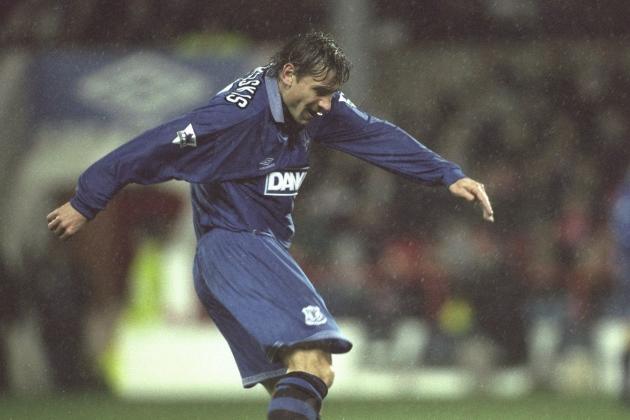 Clive Brunskill/Getty Images
Always in our hearts...Andrei Kanchelskis
This was Andrei Antanasovich Kanchelskis' derby.
The electrifying Russian winger only stayed at Goodison Park for two years but this game solidified his name in Everton folklore.
Liverpool hadn't tasted a derby defeat at Anfield since 1987, but this Everton team was a completely different prospect.
Joe Royle's FA Cup Winners made the short journey across the park full of confidence and belief, and nobody was flying more than Kanchelskis.
I remember listening to this game on my brick Esq. portable radio, letting out a squeal of delight as the Russian's quick-fire double sank Liverpool in front of their own disgruntled fans.
Even a goal from boyhood-Evertonian-turned-Liverpool striker Robbie Fowler couldn't stop the celebratory dance that I graced my living room with…imagine Gangnam Style fused with the robot.
Everything about the result was perfect.
For the first time in almost a decade, the colour of defeat that hung in the bitterly cold Anfield air was red, not blue.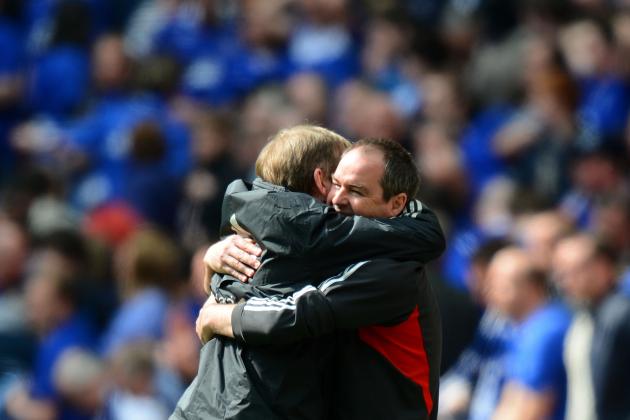 Mike Hewitt/Getty Images
Liverpool elation...Everton dejection
Teachers around the world must struggle to explain the word "hurt" to young children.
Until you've experienced it, the earth-shattering feeling is impossible to articulate.
Any Everton fan, regardless of age, experienced hurt that very afternoon.
In the words of Welsh songstress Shirley Bassey, "It's all just a little bit of history repeating"—1989 all over again.
The circle of hurt was complete; Wembley, the FA Cup, the glorious sunny day, the hope, the expectancy, the Merseyside derby followed by the crushing late defeat.
Andy Carroll's winner in the 87th minute sent Liverpool into the final, as the Everton fans had to endure that all too familiar sinking feeling.
A wasted bet on some miserable excuse for a horse in The Grand National only compounded my misery on that soul-destroying Saturday afternoon.
The home of English football remains our theatre of Merseyside derby nightmares…for now.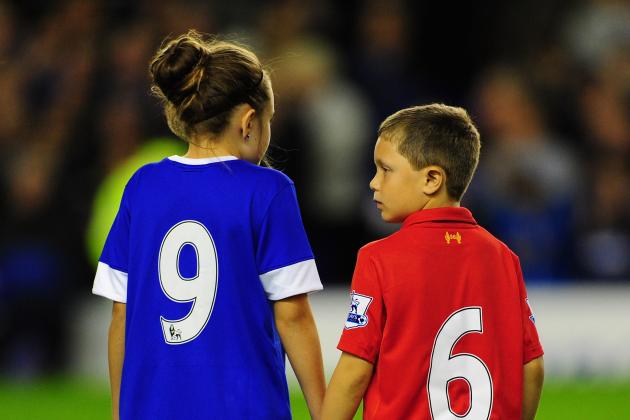 Stu Forster/Getty Images
Together we stand...
Everybody has their own Merseyside derby stories to tell.
Stories of cheers, tears, elation, devastation, families divided at kick-off but reunited over a roast later that same evening…aren't these days incredible?
Even David Blaine and Mystic Meg couldn't predict their outcome.
Red or Blue? Only the football gods will decide on Oct. 28 at Goodison Park.
After the recent Hillsborough announcement and the exoneration of the Liverpool fans, it will be an incredibly emotional atmosphere.
Everton vs. Liverpool—part 219.