UCLA vs. Arizona State: Complete Game Preview and Prediction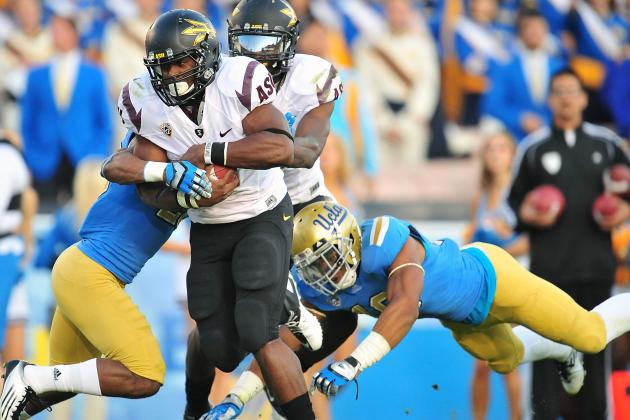 Gary A. Vasquez-US PRESSWIRE
This should be a hotly contested affair
On Saturday, the UCLA Bruins will head into Tempe to take on the upstart Arizona State Sun Devils.
For the Bruins, they hope to build upon their current 5-2 record and win on the road in Tempe for the first time since 2006. The Sun Devils also come into this game with a 5-2 record. This could be a "make or break" game for the prospects of both teams' seasons.
Expect this matchup between bitter Pac-12 South Division rivals to be a physical and emotional affair. Both teams want to position themselves favorably within the division, and a win here will surely put someone in a good standing. The added subplot of Noel Mazzone and Steve Broussard leaving ASU in favor of UCLA in the offseason also provides some drama for this matchup in the desert.
Let's take a look at a full preview/prediction of the game on Saturday.
Begin Slideshow

»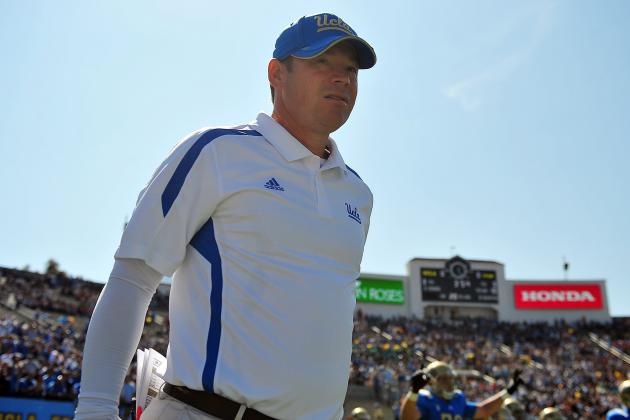 Gary A. Vasquez-US PRESSWIRE
Head Coach Jim Mora
Where: Sun Devil Stadium
When: Saturday, October 27 at 12 p.m. PT
Watch: FX
Betting Line: Arizona State -6.50, according to Wager Minds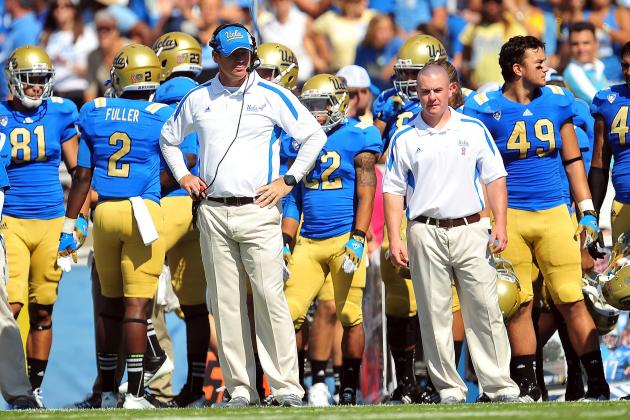 Gary A. Vasquez-US PRESSWIRE
Mora needs a win here
Noel Mazzone's ties to the Arizona State program
It was big news when Mazzone decided to leave Arizona State and join Jim Mora's staff in Westwood. Mazzone became the most established and high-profile offensive coordinator at UCLA since perhaps Al Borges and Homer Smith.
Heading into Saturday's game, Mazzone will be coaching against a ton of kids that he recruited and coached for two seasons. No doubt that this situation could be "a little weird," as Mazzone says in this article.
There's a catch-22 in regards to knowing personnel. Mazzone worked with the ASU quarterbacks, wide receivers and running backs, but new ASU coach Todd Graham is running a somewhat different offense. While Mazzone will know some of the intricacies and habits of his former personnel, it might not be as big of an advantage as one would surmise.
This represents a huge game for UCLA
As detailed in this article, this is type of game that UCLA hasn't been able to win in some time. Going on the road against a team of similar talent level hasn't been an easy task for the Bruins. In games like these traditionally (dating back the last decade), UCLA usually loses by a considerable margin.
It will take discipline, focus and strong play from the defense in order to pull off a victory on the road in what will be the homecoming game for the Sun Devils.
Brett Hundley's homecoming
UCLA quarterback and Arizona native Brett Hundley will make his first appearance back in The Grand Canyon State against his hometown team.
Interestingly enough, Hundley did grow up an Arizona fan despite living less than a half an hour from Sun Devil Stadium. There was no allegiance to Arizona State considering that Hundley's father played tailback at Arizona.
It will be fascinating to see how Hundley performs. He took a big step forward last week against Utah, which he displayed both mobility for the first time in weeks, and also a moxie in terms of managing a game effectively.
In this contest, he'll have the added pressure of playing in front of family and friends. Will nerves get the best of him, or will he thrive on that pressure and perform spectacularly?
We'll see come Saturday.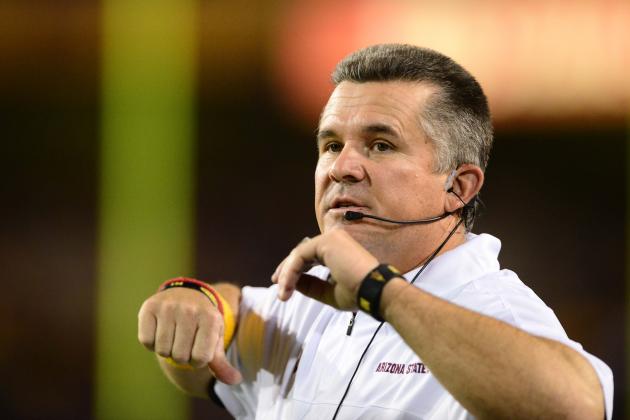 Mark J. Rebilas-US PRESSWIRE
Head coach Todd Graham
How will the Sun Devils respond?
After a 5-1 start, some Arizona State fans were proclaiming that the Sun Devils were destined for greatness—even a potential Rose Bowl appearance in some cases.
Those dreams were dashed really quick after Oregon thrashed the Sun Devils, 43-21, last Thursday in Tempe.
Injuries to Will Sutton and Junior Onyeali—ASU's top two defensive linemen—ultimately neutralized any pass rush that the Sun Devils had. Oregon blitzed quarterback Taylor Kelly relentlessly, and as a result, the offense never could quite get going in a cohesive manner.
The loss to Oregon was really the first bit of real adversity that the Sun Devils have had to face. This game against UCLA will test Arizona State's mindset as a football team at this point.
Will Sutton's availability is paramount
It can't be overstated enough how important defensive tackle Will Sutton is to Arizona State. The junior from Corona, Calif. has been playing like a possessed man with his hair on fire.
For the season, Sutton's has accumulated 14 tackles for loss and 8.5 sacks. He is currently tied for third in the nation in sacks and fifth in tackles for loss. Those numbers are gaudy from a defensive end, but are downright stellar when coming from the defensive tackle position.
His availability for this contest is still up in the air. He suffered a deep knee bruise and was seen on crutches during the loss to Oregon. Regardless, having Sutton play at 50 percent is better than not having Sutton at all. His aggressiveness and quickness from the tackle spot put immense pressure on the opposing offensive lines.
Against a young UCLA front, constant pressure by Sutton could manifest itself into turnovers committed by Hundley.
Gary A. Vasquez-US PRESSWIRE
RB Johnathan Franklin
Last week in the 21-14 victory over Utah, offensive coordinator Noel Mazzone opted for a rather conservative game plan.
One aspect that did change from recent weeks was Hundley's ability to run. He flashed the elusivness that the coaching staff had been talking about since back in the summer. When a play broke down, Hundley tucked the ball and ran to the tune of 15 carries for 68 yards.
Against ASU, this type of running ability should be utilized. Oregon had lots of success running the zone read, which is a principle of Mazzone's offense. We haven't seen it much this year from UCLA, but I tend to think that's more due to Mazzone wanting to gradually implement the package as the season progresses.
With Hundley and Johnathan Franklin, the run game should have big-time success and should be a huge point of emphasis agains the Sun Devils. With Sutton's health a big question mark in the middle for ASU, there should be yards to be had on the ground.
ASU has transitioned from a 4-3 to a 3-4 defense under Graham and defensive coordinator Paul Randolph. Key staples in the Sun Devils defense includes aggressiveness and creating turnovers.
Currently, ASU statistically ranks as the top defense in the Pac-12. The team is only allowing 298.6 yards per contest—in large part to Sutton, the linebackers' corps and a solid secondary.
Captain Brandon Magee has been great from his 'backer position with 50 tackles on the season. The safety tandem of Keelan Johnson and Alden Darby are very fast and physical. They are a big reason why ASU is the best team in the nation statistically against the pass.
ASU wants to be physical and get after Hundley. It's key that Hundley can read the blitzes and make the plays accordingly—whether that means scrambling or hitting a running back out of the backfield.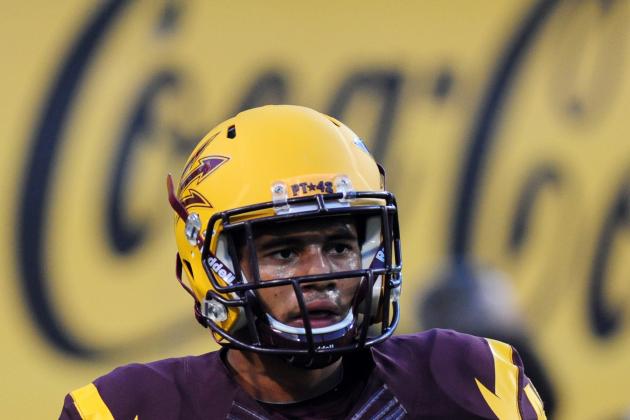 Kelly Lambert-USPRESSWIRE
Tailback D.J. Foster
The Sun Devils possess an explosive offense with a myriad of talented skill position players.
After ending the spring third on the depth chart, quarterback Taylor Kelly leapfrogged over the rest of the competition and took the reigns to the job. Thus far in the season, Kelly leads the conference in passing efficiency. He's thrown for for 1,693 yards and 15 touchdowns. Maybe more impressively, he's only thrown four touchdowns while completing 67 percent of his passes.
Kelly is an athletic guy that loves to throw the ball on the run. It's imperative that the UCLA defensive line keep its gap integrity. If they do rush up the field and lose containment, Kelly will shred the defense with his legs.
The Sun Devils utilize a three-pronged attack at the running back position. Senior Cameron Marshall hasn't played as much as in years' past, but he's still a viable weapon as the big back in this high octane offense. He's second on the team with 292 yards on the ground.
Junior college transfer Marion Grice has been a pleasant surprise, and is tied for the lead on the team with five rushing touchdowns. He's employed all over the field, and has good balance as a runner.
Perhaps the most talented young player on the roster is true freshman stud D.J. Foster. Foster not only leads the team in rushing (310 yards), but he's also second on the team in receiving (22 catches for 347 yards). He's lethal out of the backfield on swing passes and screens, and he's incredibly elusive in the open field.
All three backs provide ASU with something different when on the field. In terms of throwing the football, Chris Coyle leads the team with 35 catches for 442 yards and two touchdowns. He's undersized as a true tight end and is more in the mold of an H-back. Regardless, he's got great hands and runs good routes.
In this game, expect UCLA to blitz much more often than it did the previous week against Utah. Arizona State's offensive line isn't great, and senior guard Andrew Sampson might not suit up due to an ankle injury.
Oregon terrorized ASU with blitzing from all over the field, and one can expect that UCLA defensive coordinator Lou Spanos will employ his athletes in a similar fashion.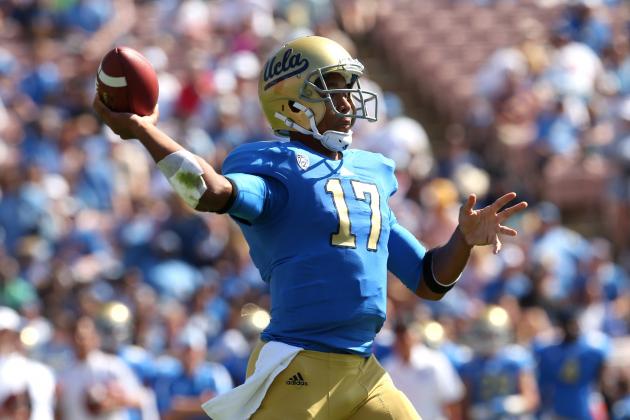 Stephen Dunn/Getty Images
QB Brett Hundley
This is a big game for both teams. Arizona State and UCLA are jockeying with each other for positioning behind Southern Cal at this point in the South division.
From UCLA's perspective, Franklin needs the rock. He's the unquestioned best player on the offense and should be touching the ball at minimum 20 times in this contest. With Sutton's health a big cause for concern, they should have success running the football.
Defensively, getting after Kelly is a double-edged sword. While the Bruins want to blitz, Kelly is at his best when he throws on the run. UCLA has to be cognizant of not only his running ability, but also in terms of defending all over the field on broken plays.
The familiarity between the two staffs is another interesting aspect of this contest. Both teams know each other's schemes and personnel pretty well, so there shouldn't be any surprises.
A defining factor in this game will be Hundley's ability to run. Utilizing the zone read could prove to be a smart move, with Hundley's ankle the closest it's been to 100 percent in weeks.
This should be a very close contest, and it could really go either way. Nevertheless, I think UCLA eeks out a tough, hard-fought victory on the legs of Franklin and Hundley. If Sutton was healthy, the edge would go to Arizona State.
Here's an interesting stat in regards to the Sun Devils this year:
Arizona State has only beaten one team with a winning record this year, and that was Northern Arizona. NAU is an FSC squad. Throw out that victory, and the opponents that the Sun Devils have beaten are a combined 7-21 this year.