World Series 2012 Game 2: Live Score for Detroit Tigers vs. San Francisco Giants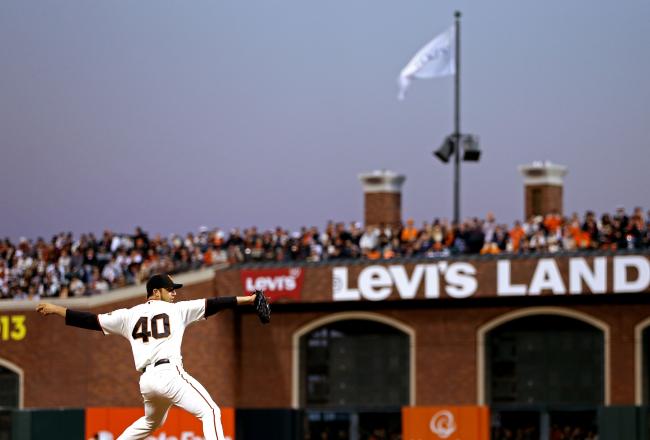 Christian Petersen/Getty Images
The San Francisco Giants hope to get a 2-0 lead over the Detroit Tigers on Thursday night in Game 2 of the 2012 World Series from AT&T Park.
The Giants will go with the 23-year-old Madison Bumgarner, while the Tigers try to stop the slide with Doug Fister.
SCORE UPDATE:
FINAL: Giants 2 - 0 Tigers
W: Bumgarner
L: Fister
S: Romo
Giants lead series 2-0
INFANTE FOULS OUT TO BELT AND THE GIANTS SHUT OUT THE TIGERS 2-0 ON A TWO-HITTER!
Romo gets Jackson swinging on an outside slider.
Two out for Infante.
Crowd is all up.
Berry flies out to left to start the inning.
Giant pitchers have held the Tigers to just two hits.
Walks have really hurt Tigers. One to Belt put go-ahead run at 2B none out 7th. Leadoff walk to Pagan (then his SB) lit fuse here in 8th.

— Freep Tigers (@freeptigers) October 26, 2012
Coke strikes out Belt, but the Giants give Romo a two-run lead to protect.
Berry, Jackson and Infante for Detroit.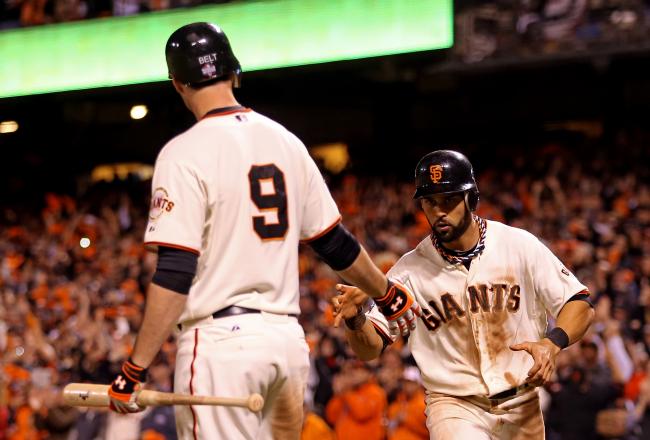 Pence hits a sac fly to right and the Giants plate a big insurance run.
Dotel gets the hook and Phil Coke comes out.
Pagan scores the run.
Dotel walks Posey on four pitches.
Bases loaded and one out for Pence.
Giants can blow this open right here.
Double switch now.
Dotel will pitch and, after a FOX commercial, Quintin Berry takes over for Dirks in right.
Smyly strikes out Scutaro.
Marco could not get down a bunt and was forced to try and swing.
With Smyly on the hill, Sandoval bats right-handed.
Pagan steals second, and you all get your free taco.
Taco Bell loves the attention, but Sandoval will now get walked.
Smyly starts the eighth to make Pagan bat right-handed.
It backfires as Pagan walks on four pitches.
Last World Series game won 1-0 where the run scored on a GIDP was Game 7 of 1962 WS - Tony Kubek was the batter.

— Christopher Kamka (@ckamka) October 26, 2012
Laird grounds out to third and Casilla makes quick work out of Detroit.
Andy Dirks is pinch hitting for Garcia and presumably stay in right field.
Dirks grounds out to second and there are two quick outs.
You know Romo will pitch the ninth for the Giants.
Santiago Casilla is first out of the pen for San Francisco and faces Peralta.
Affeldt now warming up for the Giants.
Peralta plays the good house guest by fouling out to Belt at first.
Theriot strikes out and the Giant pen needs six outs to win.
Ryan Theriot pinch-hits for Bumgarner who is now in line for the win.
The run will be charged to Fister who could be a hard luck loser.
Crawford grounds to Infante for a 4-6-3 double play, but the run scores and the Giants draw first blood.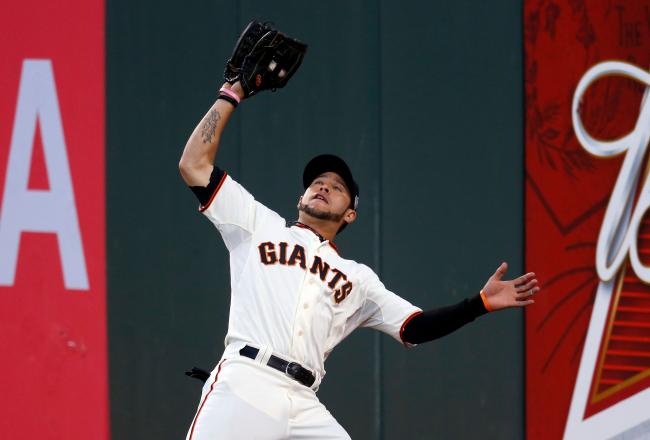 On a 3-1 count, Blanco finally can put a bunt down.
He deadened the ball so well it just stopped in fair territory and he is on with a single.
Bases loaded and nobody out.
Belt draws a full-count walk and there are two on and nobody out.
A visit to the mound from Jeff Jones to get everything straight for the Tiger infield.
Blanco will bunt here.
As beautifully as he pitched, #Fister should head directly to the hospital now for observation. not kidding;

— Bud Geracie (@WakeOfWeek) October 26, 2012
Pence works a leadoff single through the hole at short and after 114 pitches, that is the night for Fister.
Drew Smyly, the lefty, is the first out of the chute tonight.
Choice of Bumgarner yet another example of Bochy's brilliance this postseason. Manager has been on fire for #SFGiants.

— Ken Rosenthal (@Ken_Rosenthal) October 26, 2012
Fister out for seventh

— Ray Ratto (@RattoCSN) October 26, 2012
Don Kelly takes over for Young in left.
Young grounds out to short and that is the side.
Time for God Bless America.
Cabrera draws a nine pitch walk, but Fielder bounces it back to Bumgarner on the second pitch for a 1-6-3 double play.
You would have to think at 83 pitches the at least starts he eighth unless Young works him hard.
Casilla starts to warm up for SF.
This article is
What is the duplicate article?
Why is this article offensive?
Where is this article plagiarized from?
Why is this article poorly edited?