Colleges Where Gruden WON'T Be Coaching in 2012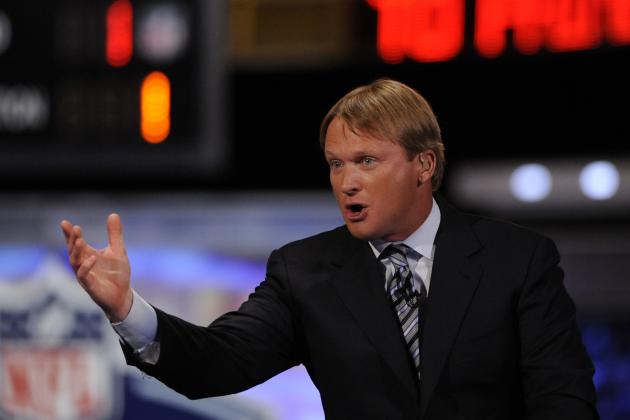 Howard Smith-US PRESSWIRE

Jon Gruden is a Super Bowl winning coach, color analyst for ESPN's Monday Night Football and host of Jon Gruden's QB Camp.
He is also the hottest name in the world of college football as schools start thinking about next year and who should be their head coach instead of the current guy.
Before you believe Gruden is coming to your school, you should still your anxious beating heart and realistically consider why he is not going to be the guy at your school.
Reality can be hard, but it can also help you not be let down when your athletic director does hire the coach that is going to lead your team to the promised land.
Why is Gruden not coming your way this fall? Here are a few reasons:
-His ESPN contract runs through 2016. Yes, contracts in sports are meaningless, but think about how much less pressure there is each week compared to being a head coach. No misguided freshman is going to get you fired.
-The competition for his services are Eagles, Cowboys and Panthers. Not Longhorns, Razorbacks and Tigers, Gruden is an NFL guy.
-Would Gruden really want to hit the recruiting trail? Bet he would be great in a recruits home, but for a guy that is use to drafting his talent and acquiring it through free agency, that is asking quite a bit.
So, which SEC schools will he not be on the sidelines for next fall?
Begin Slideshow

»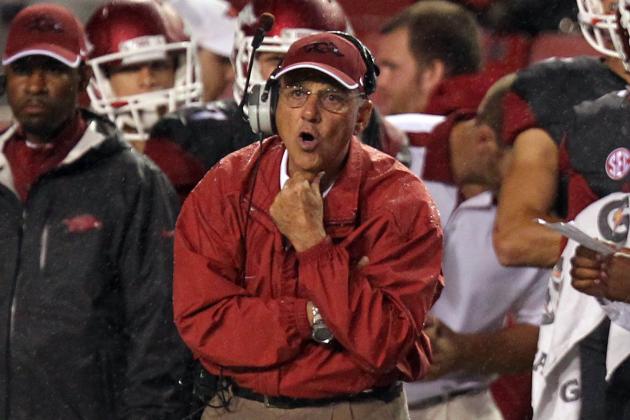 Nelson Chenault-US PRESSWIRE

The other day a Razorback fan swore up and down to me that a friend of Jeff Long's told him the deal was already done. People will believe what they want. Think about it, Santa is still a big deal in most places.
Who else is not coming:
Pete Carroll—Does he really look like a guy that wants to live in Arkansas? It is a great state, but many people think we are a pretty backwards people. Their problem is they just don't know the truth.
Bobby Petrino—There is no super secret plan. Let it go.
Reality check:
Tommy Tuberville—He just wants to be loved. The Petrino incident proved he was never loved at Auburn and there was talk about being on the hot seat after last season at Texas Tech. If he comes embrace him. he will win.
Charlie Strong—He is a graduate of Central Arkansas and hails from Conway. He has done a masterful job at Louisville after waiting too long for a head coaching job. Get him now so you don't regret seeing him on an opposing sideline.
Butch Davis—He can coach, but do you really want the NCAA hanging out? They would rather a guy Like Petrino be in charge than someone who has played loose with their rules.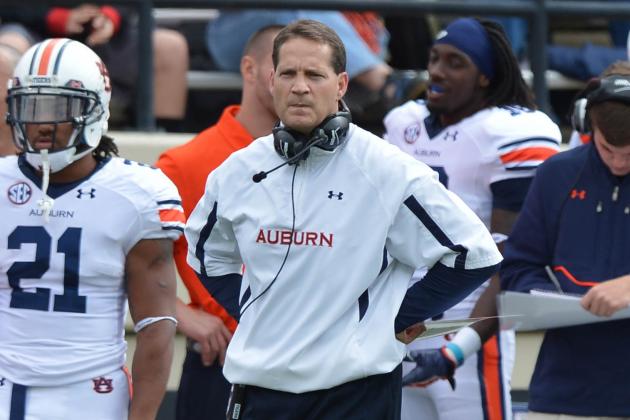 Don McPeak-US PRESSWIRE

Should he stay or should he go? This is the big question regarding Gene Chizik on the plains these days. There is no need to recount the slide at Auburn since the departure of Cam Newton, a.k.a Superman.
It was just a couple of short years ago that Chizik was "All In" with Cam. Will Auburn give the same consideration to Chizik or will he be kicked out of the family?
Who else is not coming:
Bobby Petrino—Yes, he can coach, but do you think ANY of his former employers will call to give him a recommendation?
Reality Check:
Charlie Strong—Great defensive coach and a genuine leader. Strong is also a proven recruiter. Look at what he has done during his time at Louisville.
Larry Fedora—The North Carolina coach plays an exciting brand of football and would probably welcome a chance to bolt from a place where the NCAA might soon set up a branch office.
Gus Malzahn—Would the offensive genius be the right guy, right now at Auburn? His offense scores and he has done a solid job at Arkansas State so far.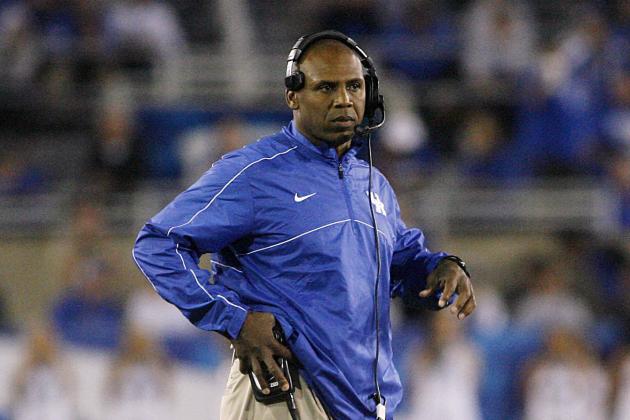 Mark Zerof-US PRESSWIRE

Unlike Chizik, it seems there is no doubt that Joker Phillips is done at Kentucky. The big question today is whether he will get to finish the season out or not. When you are 12-21 this is the kind of question that gets asked.
Who else is not coming:
Nick Saban—Indeed Bill Curry did bolt for the blue grass of Kentucky from Alabama, but he was trying to dodge a brick at the time. Typically great football coaches travel from Lexington to Tuscaloosa (see Paul "Bear" Bryant).
Reality Check:
Kirby Smart—Alabama's defensive coordinator is past due for a head position. Will he want his first opportunity to be as a Wildcat and will the school pony up enough money to get him?
David Yost—Missouri's offensive coordinator may look like a surfer dude, but he knows offense. Will this season at Missouri disqualify him?
Manny Diaz—At Texas he serves as the defensive coordinator and linebacker coach. He has a great football mind.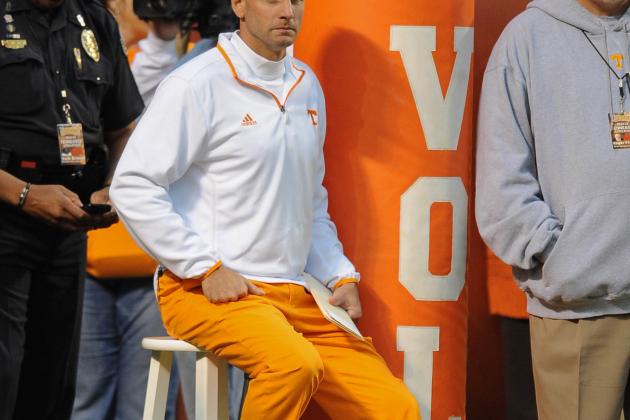 Randy Sartin-US PRESSWIRE

Derek Dooley has a losing record as a head coach and Tennessee fans want him gone. For some reason there seems to be some support still within the school's administration. Bet on the Vols having a new coach this time next year.
Who else is not coming:
Kirby Smart—Bama's defensive coordinator is an excellent coach and might be a good choice, however, this is still the University of Tennessee. The Vols should still be able to hire a proven top flight coach.
Reality Check:
David Cutcliffe—Duke's head coach has done the near impossible by leading the Blue Devils to their first winning record and first bowl opportunity since 1994. There are also all those Tennessee connections.
Bobby Petrino—He has plenty of baggage. He can also coach football.
Dan Mullen—Though he is the head coach at fellow SEC member Mississippi State, he is also the safest choice that can be made. He knows offense and recruits well.