Baltimore Ravens: 5 Things They Must Work on During Their Bye Week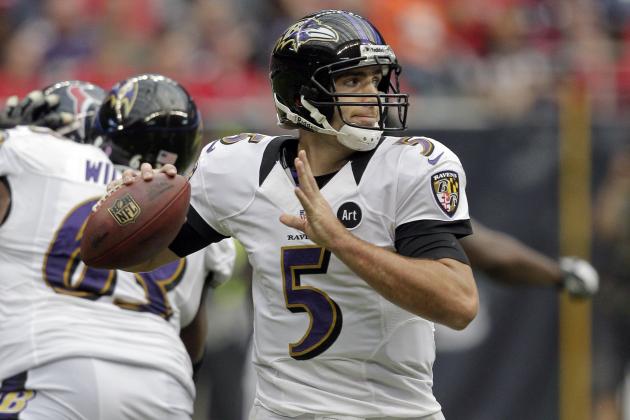 Bob Levey/Getty Images

In most cases, a team heading into its bye week with a 5-2 record and leading its division would just be looking to tweak its game and gain some much-needed rest.
For the 2012 Baltimore Ravens, however, there is so much more to do, as it appears as though this team could struggle for the rest of the season with the way it's been playing of late.
From allowing over 200 yards against on the ground to Kansas City and Dallas, to being absolutely trounced by the Houston Texans, many questions remain regarding this Ravens team.
So what needs to be done this week to ensure that the Ravens continue winning games?
Begin Slideshow

»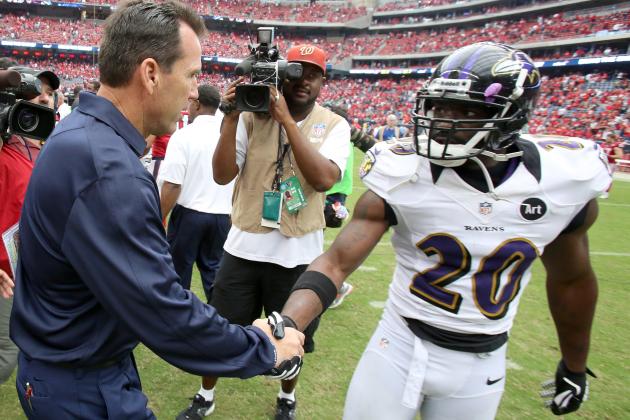 Thomas B. Shea/Getty Images

This bye week couldn't have come at a better time for the Baltimore Ravens.
It seems like every key contributor is banged up.
Ed Reed has shoulder problems, Haloti Ngata has MCL problems, Bernard Pollard hurt his ribs earlier in the season, Ray Lewis is out for an extended period and Lardarius Webb is gone for the season.
Not to mention, another week off the playing field can do nothing but help Terrell Suggs' recovery.
Being able to rest Ed Reed, Haloti Ngata, Bernard Pollard and Terrell Suggs this week will be huge for the Ravens.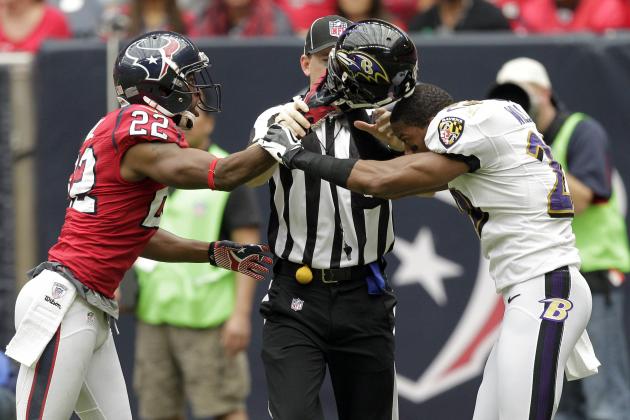 Bob Levey/Getty Images

Let's face it, unless the secondary improves a whole lot between now and the end of the season, this Ravens team isn't going to be looked at as a true contender.
Last week's game against the Texans exposed just how shallow the Ravens are at cornerback once you remove Lardarius Webb from the lineup.
Cary Williams has a tough time covering anyone on the field without taking penalties, let alone Andre Johnson, and Jimmy Smith is still young and inexperienced and counting on him right now to step up is all the Ravens can do.
Over the course of the next week-and-a-half, the coaching staff should be putting in a lot of time with their cornerbacks and have them run rep after rep until their coverage game becomes somewhat more effective.
As for Bernard Pollard, injury aside, he hasn't been nearly as effective in the last few games as he was earlier in the season.
Whether it's his rib cage or not, the Ravens need him to be a physical presence week in, week out.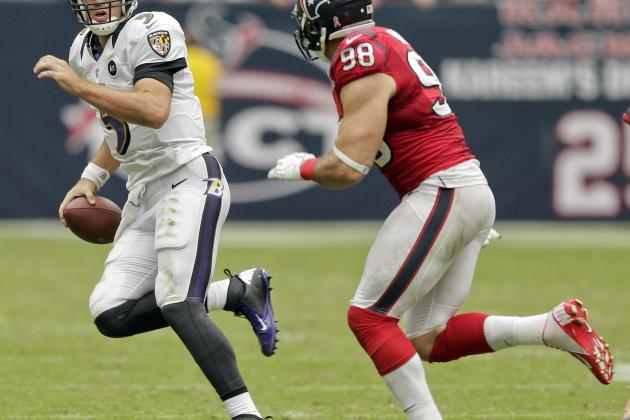 Bob Levey/Getty Images

This one may be a little harder.
Working with Joe Flacco on his problems during a bye week may be a tough assignment.
His main weakness is playing on the road in a stadium full of noise.
Simulating that noise can be done, but it is never the same in non-game situations.
Going over how to run an offense in those situations can be done, however, and Flacco should be reviewing tape all week and trying to improve his pocket game.
He's also extremely vulnerable when he drops back, as he's almost never aware of pressure coming from his back side.
Granted, some of that blame must surely be on the offensive line, who lost their block, but Joe still has to know when that pressure is coming and throw the ball away.
His accuracy is also that something that needs to be worked on during the bye week.
It seems as bad games go on, he gets more wild and wild, overthrowing wide-open receivers. Two things that can be worked on repeatedly before the Ravens head to Cleveland are his accuracy and composure.
Rob Carr/Getty Images

This year's Ravens' defensive line leaves something to be desired.
Other than Haloti Ngata, there isn't one defensive lineman who stands out as a fierce presence that consistently applies pressure to the offense.
They've been horrendous at stopping the run, and their pass rush has been lackluster at best.
Along with the secondary, there need to be some major adjustments made on the defensive line if the Ravens hope to be contenders down the stretch.
Now the team has two weeks to address those shortcomings, here's to hoping that guys like Ma'ake Kemoeatu, Terrence Cody and Arthur Jones can turn something around and have a solid nine games to close out the regular season.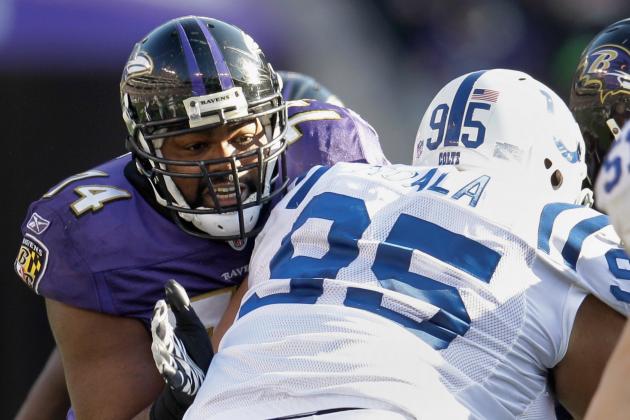 Rob Carr/Getty Images

The big on the other side of the ball haven't been much better for Baltimore through the first seven games of the season.
The pass protection hasn't been very impressive, and there are definitely a few holes on the line that need to be plugged.
The left side has been rather shaky, with the Ravens using both Ramon Harewood and Bobbie Williams this season at left guard without much success, while Michael Oher continues to struggle, even as he shifts to play left tackle.
Having these guys shore up their pass protection could make all the difference for a quarterback who struggles on the road like Joe Flacco.
Having a second or two more in the pocket to find a receiver, check down to Ray Rice or simply throw the ball away would do wonders for his game, as well as his composure.
That all starts with the offensive line and is something that must be worked on during the Ravens' bye week.