The 20 Most Disappointing Comebacks in Sports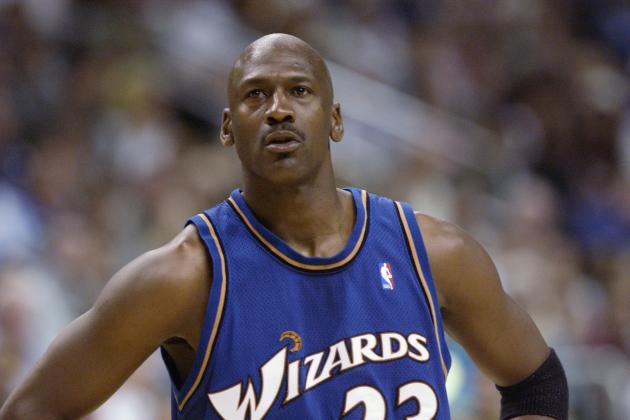 Ezra Shaw/Getty Images

Within every athlete is a competitive fire that can only be extinguished by the wear and tear of a lengthy career. In the uncertain industry of sports, eventual retirement may be the one certainty.
Sometimes, though, the heated nature remains—even if the athletic skill has diminished.
While comebacks can be memorable—even historic—sometimes they can be disastrous. Let's meet the indecisive athletes who should have kept their cleats on the rack.
Begin Slideshow

»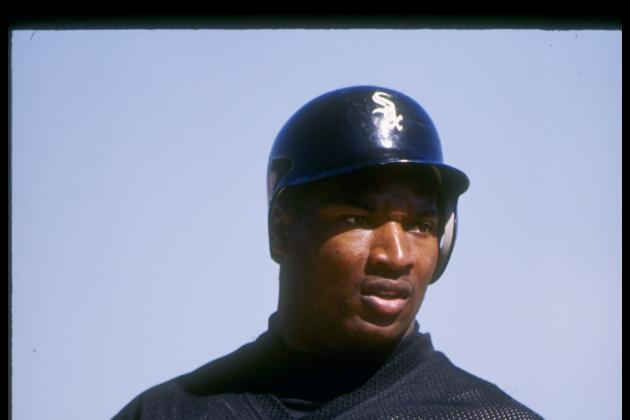 Getty Images/Getty Images

The first athlete to be named an All-Star in two major American sports, Bo Jackson was a melting pot of talent. Jackson owned a historic 40-yard dash, a sweet swing and a fearless demeanor. The NFL tailback-slash-MLB outfielder possessed too much skill for one man, and it finally caught up with him during the 1991 gridiron playoffs, when a hip injury shut him down for good.
It was thought he would never play sports again. But this was the legendary Bo Jackson; somehow we knew he'd be back for more. While he never played football again, he returned to Major League Baseball in 1993 with the White Sox. And he hit a home run in his first at-bat.
Bo was officially back.
But following that illustrious return, Jackson showed the baseball world that he was a shell of his former self. One stolen base, an element of the game Jackson once dominated, was all he'd secure in his final two seasons. Before long, he was finished for good.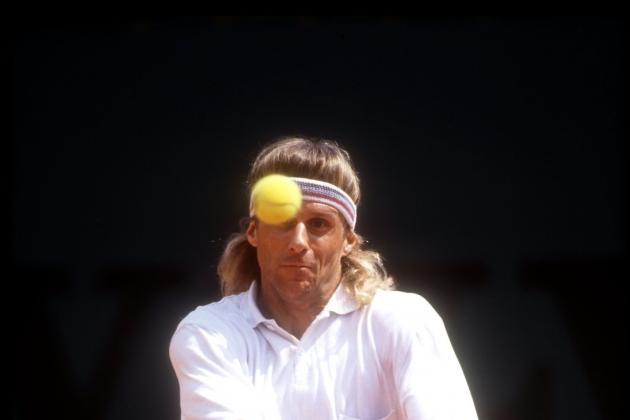 Simon Bruty/Getty Images

Among the most gifted and charismatic athletes ever to lift a racket, Swedish sensation Bjorn Borg won 11 Grand Slam singles titles and five consecutive Wimbledon singles titles during his illustrious career. In January 1983, a 26-year-old Borg in the prime of his career shocked the world by announcing his retirement.
In the early '90s, however, the long hair and wooden racket would return, albeit unsuccessfully.
During his first nine matches between 1991 and 1992, Borg failed to win a single set.
In some parts, they call that senior-circuit bound.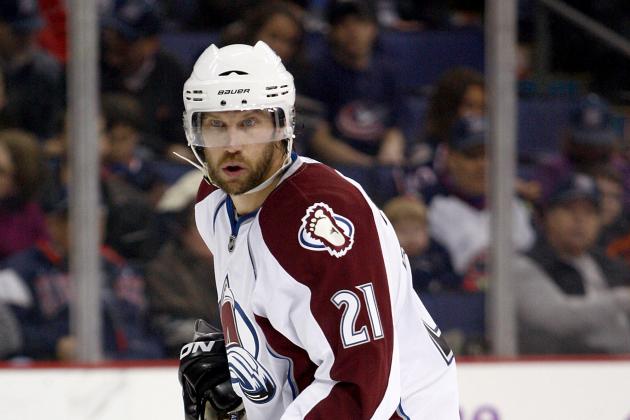 John Grieshop/Getty Images

An all-around threat during his heyday, Peter Forsberg remains one of the most complete players ever to grace the NHL ice. His vision separated him from the pack, his physicality made him immortal.
In August of 2010, Forsberg essentially hinted at retirement. He had played in Europe for the last two seasons and was not optimistic about returning to the NHL.
In February of 2011, he was back with his Colorado Avalanche. Several weeks later, hours before the talented center was set to play in front of the Pepsi Center's home crowd for the first time since his comeback, Forsberg fondly ended his journey, citing an "inability to defend himself."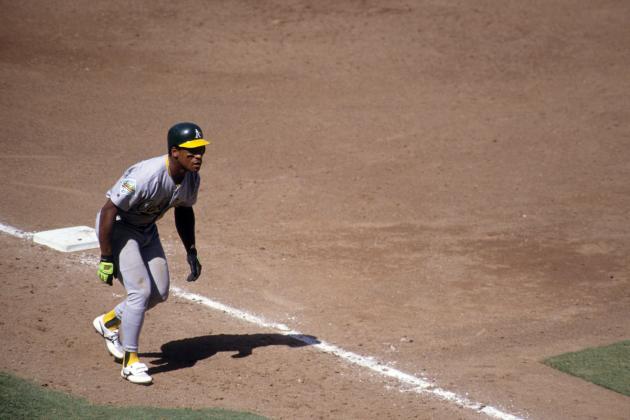 Ken Levine/Getty Images

Rickey Henderson, fittingly dubbed "The Man of Steal" as the MLB steals leader, earns his spot not for retiring, but rather for lingering.
At least five years removed from a productive season, the once-electric outfielder began to bask in a journeyman ambiance. It was only a matter of time, fans thought, before Henderson was gone for good.
He spent his last 10 years with eight teams before signing with the Newark Bears and San Diego Surf Dawgs when MLB opportunities dried up. Henderson still waits for that next chance.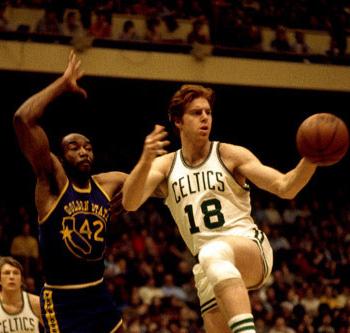 Image via iamcausewaystreet.tumblr.com
A 6'9" blue-collar forward-center who was a mainstay on the dynasty Celtics of the '70s, Dave Cowens called it quits in 1980 after 10 years in which he won two 'ships, a league MVP and secured seven All-Star nods.
Two years later, the fire was raging, and Cowens returned. But his 8.1 points and 6.9 rebounds per game were shockingly average in comparison to his previous career lows of 14.2 and 8.1...the year before he first retired.
Cowens closed his book for good after the season.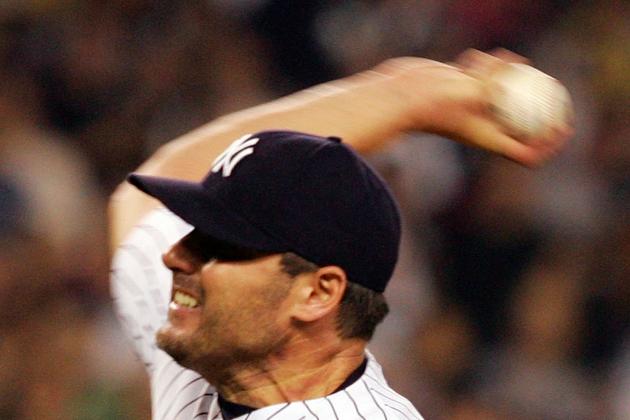 Jim McIsaac/Getty Images

A fierce force on the major league mound, Roger Clemens (nicknamed "The Rocket") finished his career with 354 wins, a 3.12 ERA and 4,672 strikeouts. After retiring from the Pinstripes in 2003, the year he won his 300th game, Clemens returned to his hometown Astros and thrived, becoming the oldest pitcher to win a Cy Young Award.
Following several retired/unretired years in Houston, Clemens escaped retirement once again to rejoin the Yanks. In 2007, Clemens finished 6-6 with a 4.18 ERA.
Thanks to a mistrial, perjury charges regarding performing-enhancing drug use were tossed, but still his career ended under the shade of a dark cloud. Questions remain.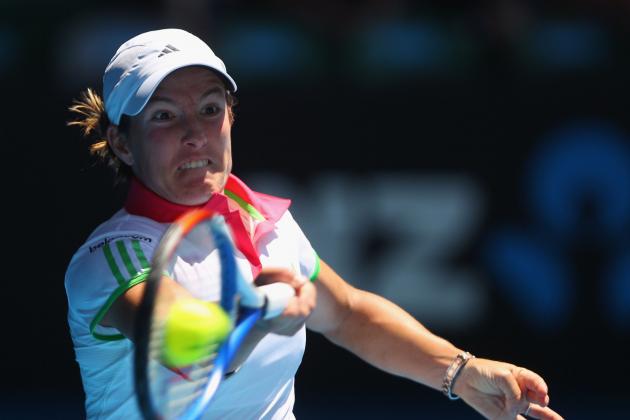 Mark Kolbe/Getty Images

"Pound-for-pound, Justine was the best player of her generation." - legendary tennis star Billie Jean King.
Justine Henin won 43 WTA singles titles and seven Grand Slam singles titles during her flourishing career. She displayed a legendary spirit and a one-handed backhand that some called the greatest in tennis.
In May of 2008, Henin, ranked No. 1 in the world at the time, shockingly announced her retirement.
In 2010, naturally, she returned.
Depressingly ranked No. 17, a vulnerable Henin injured her elbow at the 2010 Wimbledon Championships, permanently retiring a year later due to injury discomfort.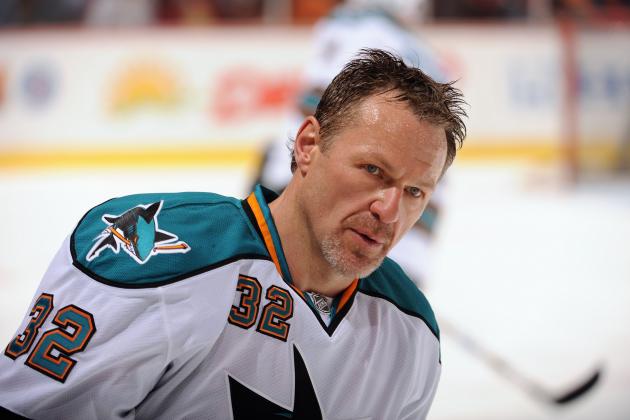 Harry How/Getty Images

While barely considered a star during his heyday, clutch Claude Lemieux was something of a lucky charm. He remains one of only 10 players in Stanley Cup history to win the Cup with three different teams.
He retired from the NHL at the end of the 2002-03 season, only to return in 2008 after several years of reality television appearances.
He started the 2008 season with the China Sharks of the Asia League Ice Hockey before signing a contract with the Worcester Sharks. After being called up to the San Jose Sharks, Lemieux recorded an assist in 18 NHL games in one season. And ended his reign for good.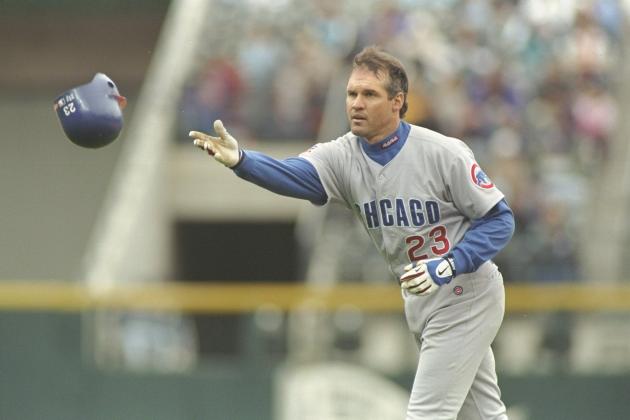 Brian Bahr/Getty Images

The swiftest infielder to blow through the Windy City (a second base-record .989 career fielding percentage, to be exact), Ryne Sandberg finally retired in 1994 due to early-season struggles.
He returned to the Cubs in '96, hitting .244 and then .264 in consecutive seasons, before cementing his departure. The Hall of Fame was eagerly waiting.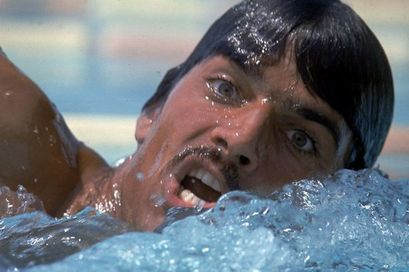 Image via mirror.co.uk
Between 1968 and 1972, mustached swimmer Mark Spitz won nine Olympic golds (setting world records in each of his seven events at the 1972 Munich Olympics).
In '72, at the tender age of 22 with the world at his fingertips, the talented aquatic retired.
He returned nearly 20 years later to compete for a place on the U.S. Swimming Team at the Barcelona Games, at 41 years old, but he was two seconds behind the qualifying time.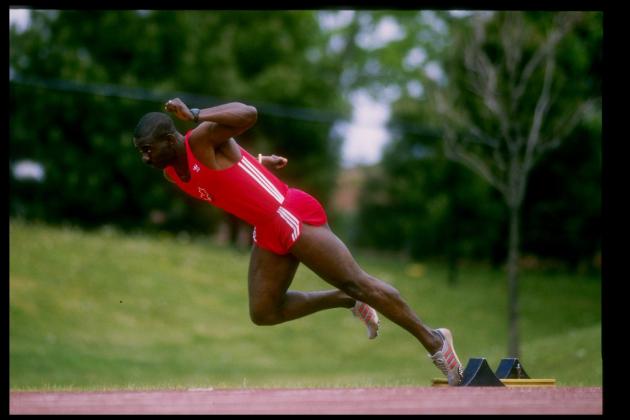 Gray Mortimore/Getty Images

During the better part of the '80s, Canadian sprinter Ben Johnson won three Olympic medals (one gold) and set consecutive 100-meter world records at the 1987 World Championships in Athletics and the 1988 Summer Olympics.
Then, like stale coffee cake, his legacy quickly crumbled. Due to discovered steroid use, all of Johnson's awards and records were rescinded.
In 1991, after his suspension was over, Johnson returned to the track but would fail to qualify for the 1991 World Championships in Tokyo. And though he did make the 1992 Canadian Olympic team in Barcelona, he anticlimactically finished last in his semifinal heat.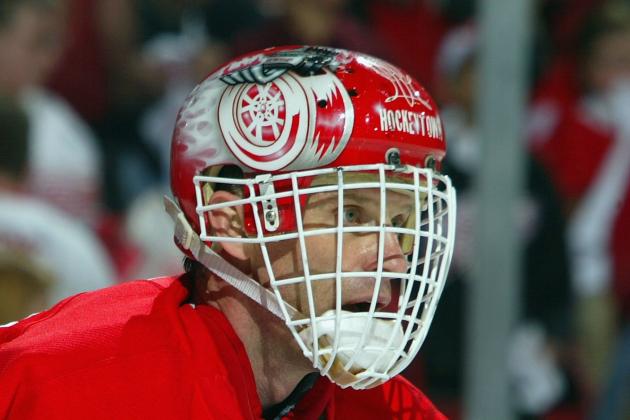 Jim McIsaac/Getty Images

Among the greatest net protectors in NHL history, Dominik Hasek—fittingly coined "The Dominator"—secured six Vezina Trophies between 1993 and 2001 and became the first goaltender to win the Hart Memorial Trophy multiple times.
After several years of contemplating retirement, and a brief one in 2004, Hasek finally tied the knot in 2008, after winning his second Stanley Cup with the Detroit Red Wings (this time as a backup to Chris Osgood).
A year later, he signed a one-year contract with HC Moeller Pardubice, the team he started with, to become the Brett Favre of hockey—but with fewer texts.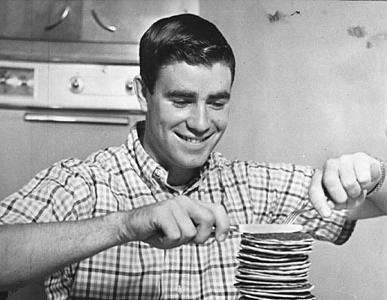 Image via weblogs.baltimoresun.com
Among the most deceptive pitchers in major league history, Jim Palmer dominated the 1970s with 186 wins and a tendency to eat pancakes before games. Fittingly referred to as "Cakes," Palmer retired as one of the greatest ever to patrol Baltimore's confines. He had won three rings, three Cy Young Awards and four Gold Gloves.
Palmer would retire after being released during the 1984 season.
In 1991, one year after being inducted into the Hall of Fame, Palmer decided to return to the game. But after allowing five hits and two runs in two innings of a spring training game, Palmer permanently capped his career.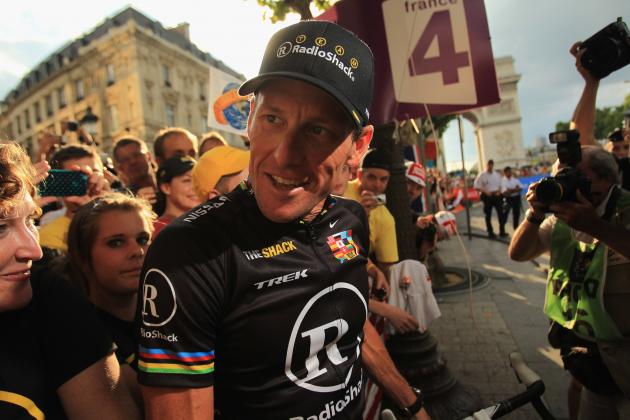 Spencer Platt/Getty Images

Testicular cancer couldn't keep Lance Armstrong from achieving the impossible, as he won seven consecutive Tour de France races between 1999 and 2005.
After winning his seventh, retirement seemed the next stage. But Livestrong's ringleader would be back for more, returning to competitive cycling with the Astana team in January 2009 and finishing third in the 2009 Tour de France. He finished the 2010 edition in 23rd, a race for which his team was asked to remove their Livestrong jerseys.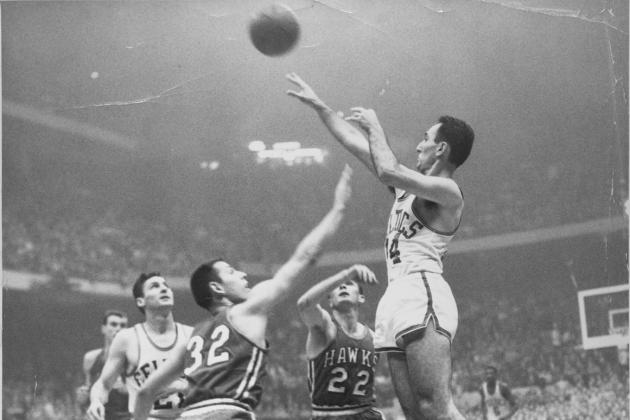 Image via bpl.org
Introducing a fresh brand of ankle-breaking basketball during the mechanical '50s made Celtics point guard Bob Cousy a pioneer on the hardwood. During his 13 years in Boston, Cooz led six championship teams, secured 13 All-Star appearances and was named the league's MVP in 1957.
In 1963, following a career low in points (13.2), Cousy retired.
The Houdini of the Hardwood then went on to become head coach at Boston College, where he recorded 117 wins and three NIT appearances. But the college hardwood couldn't keep the former star stimulated, and he returned to coach the NBA's Cincinnati Royals, led by Hall of Famer Oscar Robertson.
Toward the end of the 1970 season, in an effort to boost ticket sales, Cousy returned to the court, tallying five points in 34 minutes of playing time in seven games.
He would step down as coach for good early in the 1973-74 season.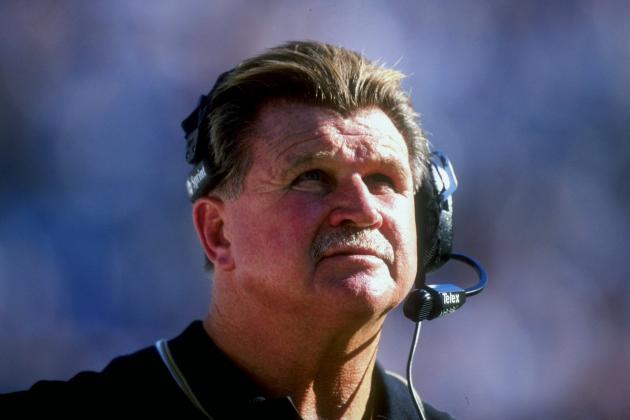 Vincent Laforet/Getty Images

Hard-nosed Mike Ditka became a Chicago legend after coaching the Bears to six NFC Central titles, three NFC Championship games and a Super Bowl XX win. His ruthless, no-nonsense demeanor inspired people from all walks of life.
But in 1992, after Da Bears finished 5-11, Bill Swerski's dreams of Ditka defeating a Hurricane were over; Ditka was fired.
In 1997, he returned to coach the Saints. His disappointing 15-33 tenure, however, was defined by his trading of all of the team's 1999 draft picks (plus their first-round draft pick in 2000) to the Redskins in order to move up in the draft and take Texas tailback Ricky Williams.
Following that 3-13 season, he was once again fired—for the final time.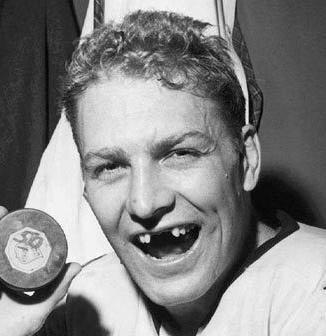 Image via actornice.com
A historic slap shot and electrifying speed made Bobby Hull—nicknamed "The Golden Jet"—the premier superstar of the '60s, a decade that saw him lead the league in goal scoring seven times.
Due to unhappiness with his low salary, Hull joined the Winnipeg Jets of the upstart World Hockey Association in 1972. By 1979, the WHA's final season, Hull was a shell of his former self and called it quits after playing in only four games.
After the NHL-WHA merger the following season, Hull returned to the Jets. He played in 18 games, scoring four goals, before being traded to the Hartford Whalers. After their elimination from the playoffs, Hull retired once again.
In September of 1981, at age 42, Hull tried for one final time with the Rangers. He played in five unspectacular exhibition games before signing out for good.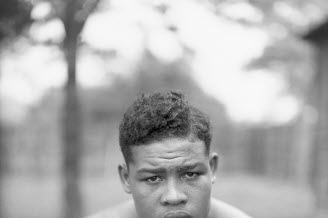 Image via allmovie.com
An iconic pugilist during controversial times, Joe Louis remained heavyweight champion from 1937 to 1949 and helped popularize boxing during the post-Jack Dempsey era. His blue-collar nature was a relieving contrast to the sport's gambling atmosphere.
Dubbed "The Brown Bomber," Louis retired in 1949 when it was clear he no longer possessed the fast fisticuffs that once made him a legend. But due to financial problems, Louis returned a year later (two years since his last fight) to battle Rocky Marciano, who was reluctant to fight Louis because he knew the elder boxer was far past his prime. Despite being a 6-5 underdog, Marciano dropped Louis in the eighth round.
Afterward, all Marciano could say was, "I'm sorry, Joe."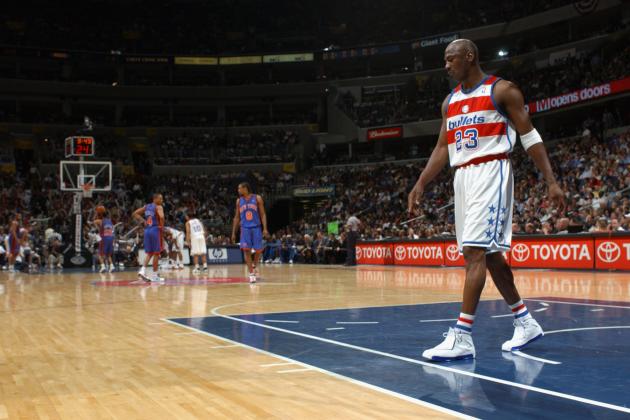 Doug Pensinger/Getty Images

We're not talking about Air Jordan's baseball-seeking retirement in 1993, which led to a second three-peat comeback. This is about Michael Jordan's return in 2001, to the Wizards.
Despite a successful first season back, though shortened due to a knee injury, his time in Washington paled in comparison to any percentage of his tenure in Chicago. During the 2002-03 season, the aging legend scored a career-low 20 points per game. In two seasons with the Wizards, he never saw the postseason, which led to him criticizing his underachieving teammates (see Kwame Brown).
A player once light-years beyond his competition was now just ordinary.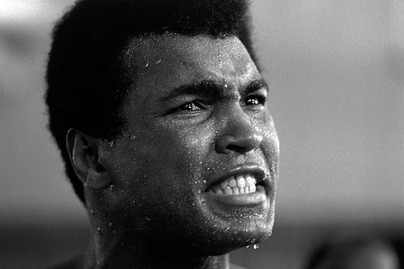 Image via tonysclassroom.com
Arguably the greatest ever to stretch a pair of boxing gloves, Muhammad Ali was a man on a mission in the ring. His fast feet, quick hands and ruthless mouth gave opponents frights and fans confidence.
In 1979, after 59 fights and only three defeats, Ali retired.
But he'd return a year later, at 38 years old, only to lose back-to-back fights to Larry Holmes, who gave Ali his first ever TKO, and Trevor Berbick. A defeated Ali deafened the entire sports world.
Follow me for more comeback stories. Follow @z_pumerantz