5 Reasons Why Washington Redskins Need Pierre Garcon Back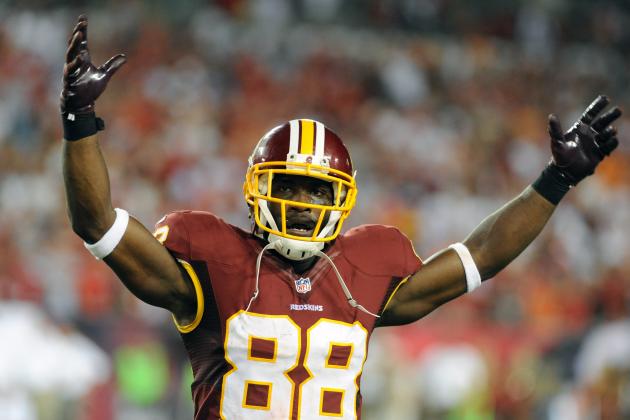 Al Messerschmidt/Getty Images
Pierre Garcon caught four passes for 109 yards and a touchdown in his only quarter of significant action this season.
Pierre Garcon was the Redskins' most prominent free agent signing last offseason. He got off to a blazing start in 2012, catching four passes for 109 yards, including an 88-yard touchdown in the first quarter, of Washington's 40-32 win over the New Orleans Saints.
But Garcon hurt his foot in the game and hasn't played much since. He's been on the sideline for the last several games and was diagnosed with a plantar plate tear in his foot.
The injury is not incredibly serious, but it is enough to keep Garcon's status as "week-to-week." That being said, his presence on the Redskins cannot be understated.
Garcon might not be back for a few more weeks. The Redskins offense has been lights out without him, but that may not continue as defenses begin to figure out how to defend Robert Griffin III and his talents.
Here are five reasons why the Redskins need Garcon back, before their playoff hopes take a nosedive.
Begin Slideshow

»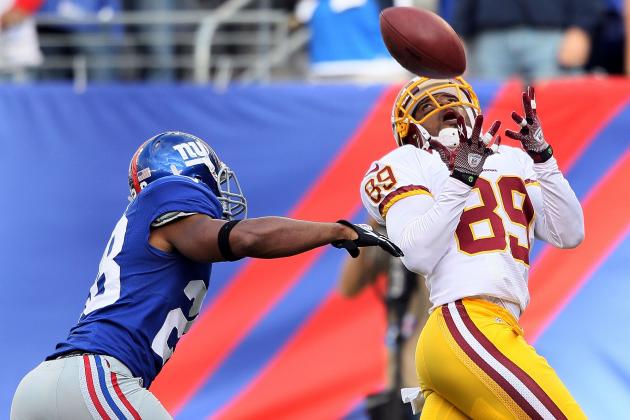 Alex Trautwig/Getty Images
Santana Moss will have to step up for the Redskins due to Pierre Garcon's injury.
The Redskins have a lot of capable receivers on the roster, but the reason they brought Garcon in was because there was no true No. 1 option. In fact, the Redskins have had issues at the wide receiver position for several years now.
Santana Moss hasn't rediscovered his dominant 2005 form and is on the wrong side of 30, Leonard Hankerson is young and inexperienced and guys like Aldrick Robinson and Josh Morgan have yet to find much consistency.
Moss stepped in and had a big game against the Giants last week, catching a late touchdown that nearly won the game. But Moss has been relegated to the slot and is not as much of a threat as he used to be. At best, he's a speedy receiver who doesn't catch many deep balls even though that's what he's known for.
Garcon is a No. 1 receiver, something that the Redskins truly lack. If he doesn't get back soon, the Redskins offense could hit a wall without any players that scare the defense and stretch the field.
Rick Stewart/Getty Images
Chris Cooley (47) and Robert Griffin III played sparingly in the preseason together, but have not yet had time to develop chemistry.
A rookie quarterback's best friend is a solid tight end, and Fred Davis was becoming Robert Griffin III's favorite target. The talented tight end out of USC was leading the Redskins in receptions before he ruptured his Achilles tendon against the Giants. He is now out for the remainder of the season.
Taking his place will be a combination of Chris Cooley, Logan Paulsen and Niles Paul. Cooley is a fan favorite, but has yet to develop a rapport with RGIII, and Paul is a converted wide receiver who has barely any NFL experience. The best bet for a good performance this week is probably Paulsen, who had career highs in yards and catches against the Giants. The best option will end up being Cooley in all likelihood, but currently, it's a mess at tight end.
Normally, it's a great tight end that would be the best thing for a rookie quarterback. But after game one, we saw that RGIII and Garcon had some very impressive chemistry. If RGIII can't find a rhythm with the stable of tight ends in Washington, he could have a hard time keeping up his record-setting completion percentage. Garcon is critical to this offense's sustained success.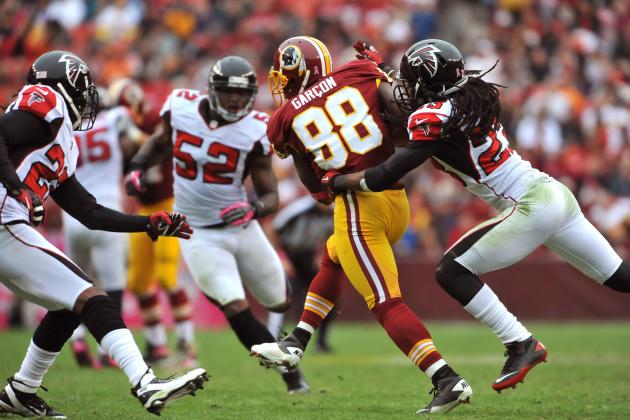 Larry French/Getty Images
Pierre Garcon has a chance to become one of the best receivers in the NFL if he stays healthy.
People always assumed that Pierre Garcon was simply a product of Peyton Manning's greatness. It certainly seemed like that, as he came out of nowhere to set the NFL on fire behind one of the greatest quarterbacks in NFL history.
But if you get a glimpse of Pierre Garcon on the field, you see that he's much more than the quarterback that's throwing to him. He's only six foot two, but he's a rock solid 212 pounds. He can stretch the field deep with his speed, but can use his big frame and his strength to body up defenders and play like a possession receiver.
The deep threat/possession receiver is a very uncommon animal in the NFL. There are only a few players who can effectively play both ways, and Garcon is on that short list. He's a physical player who can play any way you need him to.
Since he has very few holes in his game, he could become one of the best receivers in the NFL—but only if he can stay healthy.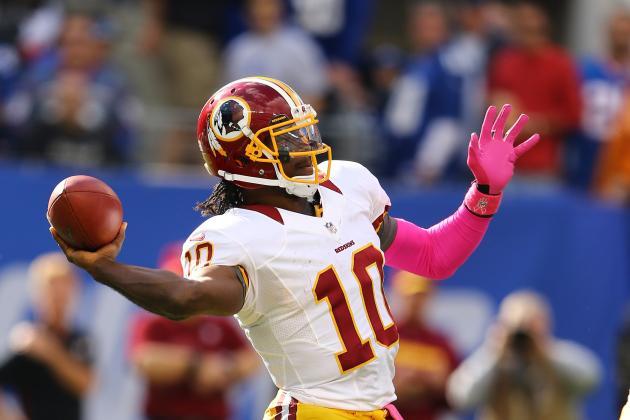 Al Bello/Getty Images
Robert Griffin III has been spectacular so far this year, but the lack of legitimate receiving weapons may catch up to him soon.
Robert Griffin III has been nothing short of remarkable in his first seven games in the NFL. For all we know, he's so far ahead of the curve that having a dependent wide receiver isn't necessary to his success.
But as history tells us, rookie quarterbacks need a No. 1 target to succeed early in the NFL. Guys like David Carr and Joey Harrington never caught on, partially because they had no truly great receivers to throw to.
Like I said, RGIII may be different. He may not need a No. 1 option to be great. The Redskins also have the top rushing attack in the league, so it helps veil the fact that the receiving options aren't that great.
But with an inexperienced receiving corps and chaos at the tight end position, there may come a time when RGIII needs to lean on a great receiver. If Garcon isn't there, he could have some problems. The Redskins may need Garcon back simply for the sake of keeping RGIII's development on track.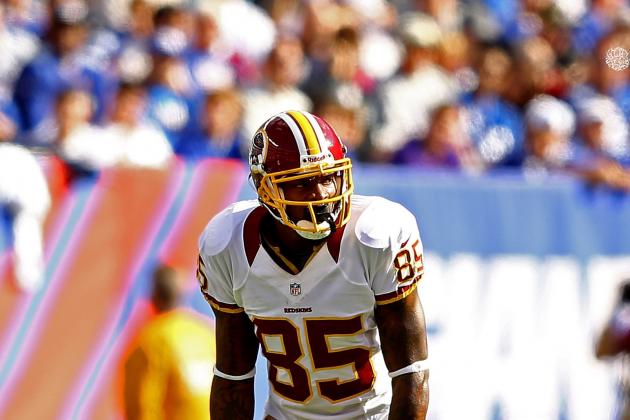 Al Bello/Getty Images
Leonard Hankerson is not a household name, but the University of Miami prospect has the tools to become an elite wide receiver.
As I said earlier in the slide show, the Redskins have a bunch of inexperienced wide receivers, an aging Santana Moss and unpredictability at tight end. Overall, the Redskins are thoroughly unimpressive in the receiving game.
With Pierre Garcon, though, everything changes. The only reason Washington's receivers aren't great now is because they all fit different roles. But if Garcon becomes the No. 1 receiver, the other guys can settle into their roles and not have to do too much. If that happens, the Redskins actually have a very capable group of pass catchers.
Garcon is the No. 1. Santana Moss is the deep threat. Leonard Hankerson is the physical freak who can be an elite receiver somewhere down the line. Josh Morgan is the possession receiver who can get you a critical first down. Overall, this group is pretty good.
But it all depends on Garcon's health. If he's in the lineup, this team becomes very formidable. If he's not, the roles get thrown to the wolves and guys start playing in spots that don't fit their skill sets.
Garcon is very, very important to the development of this exciting offense, and his presence is necessary if the Redskins want to take that next step.