Realistic Stat Projections for Each Member of the Golden State Warriors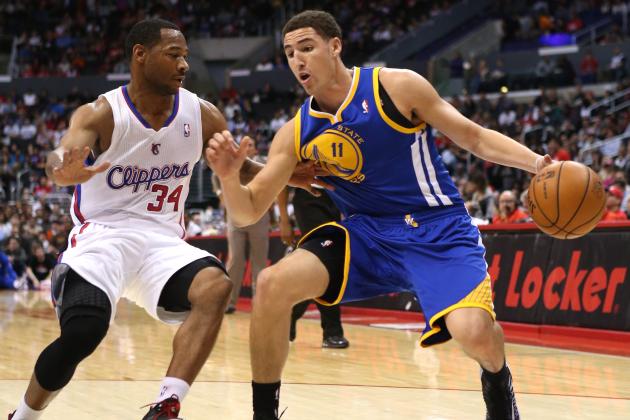 Stephen Dunn/Getty Images

With the 2012-13 season starting next week, Golden State Warriors are excited to see how the new roster performs on the court. With the two biggest stars coming back from significant injuries, the Warriors should have a lot of different players in the mix to start the season.

Harrison Barnes is the new kid on the block as he is in a fight for the starting small forward position with veteran Brandon Rush. Joining him on the roster are other draftees, center Festus Ezeli and forward Draymond Green. Free-Agent Guard Kent Bazemore will be looking to secure a few minutes a game in order to prove his worth.
Besides the small forward position, the lineup is carved out with PG Stephen Curry, SG Klay Thompson, PF David Lee and C Andrew Bogut.
The bench is deep with Jarrett Jack, Carl Landry, Richard Jefferson and even Andris Biedrins. Charles Jenkins and Jeremy Tyler will be trying hard to squeeze out a couple of minutes per game.
The Warriors look to be running the standard lineup but will differentiate at times. The Dubs will use a smaller lineup, especially at the start of the season with Bogut still rehabilitating.
Jackson will go with Ezeli to start at center, but he will use a combination of Lee and Landry at the four and five.
With all of that in mind, here's a look at some projected statistics for each player on the Warriors roster for this upcoming season.
Begin Slideshow

»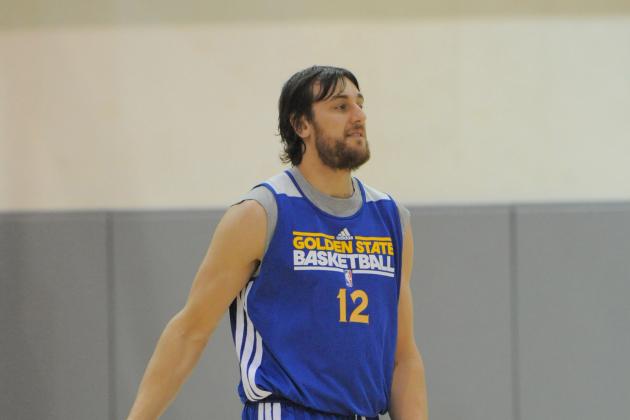 Kyle Terada-US PRESSWIRE

Points Per Game: 15.7
Rebounds Per Game: 12.1
Blocks Per Game: 2.7
Andrew Bogut was the centerpiece of the Monta Ellis trade last season and the Warriors are expecting big things from the Australian. Bogut will not be playing at full speed to start the season, so his limited minutes will bring down his stats just a bit.
However, he will have the deepest team that he has played with in his career and he should be able to show off both his offensive and defensive skills on the court.
I expect Bogut to increase his scoring and rebounding totals because he should have a lot more opportunities with a perimeter that likes to shoot instead of drive to the basket.
Bogut can also back his man to the basket and finish with either hand. His trademark move is the up-and-under left-handed hook shot. He will also be heavily involved in the pick-and-roll, too.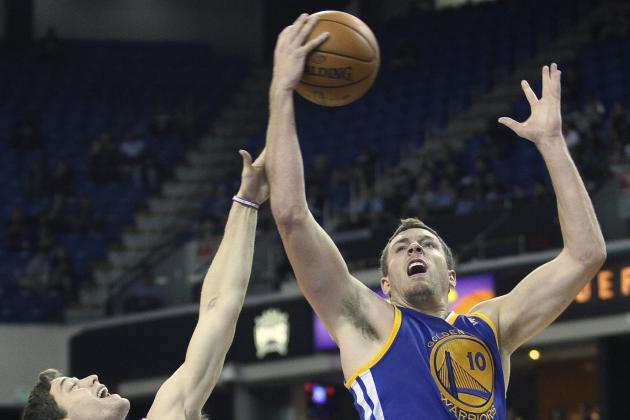 Kelley L Cox-US PRESSWIRE

Points Per Game: 18.5
Rebounds Per Game: 10.3
Assists Per Game: 3.1
David Lee will look to keep his averages that he had last season, but it will be very difficult for him since he won't be the one-man show down at the post.
Lee will have more options to pass the ball as he is surrounded by a strong perimeter and now has a legitimate big man in Bogut. He will also have more open looks and can co-exist nicely with Curry or Jack in the pick-and roll.
Lee should increase his rebound total since he will have more attempts at rebounds and have someone with legitimate size next to him. He won't have to cover two big men on defense.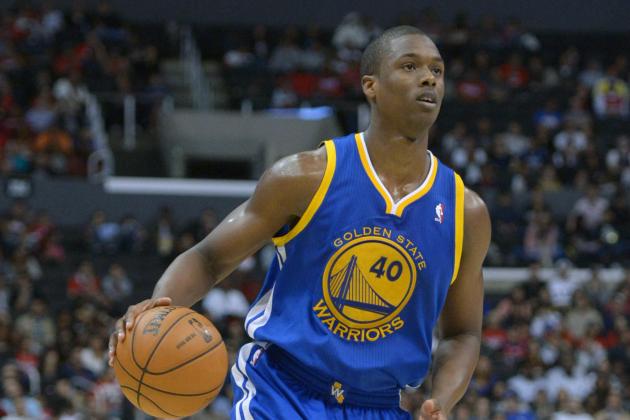 Kirby Lee-US PRESSWIRE

Points Per Game: 11.7
Rebounds Per Game: 4.2
Assists Per Game: 2.7
Harrison Barnes starts the season still fighting for the small forward position, which coach Mark Jackson still has not named a starter.
Barnes is very athletic and can use his 6'8" size to dominate the perimeter and his wingspan to affect shots and deflect passes.
Barnes will be a big factor in the transition game and also from behind the arc. He did have that monstrous dunk against the Jazz in preseason, so he knows how to get to the rim.

Look for Barnes to contribute decent, but not breakout numbers for his rookie season.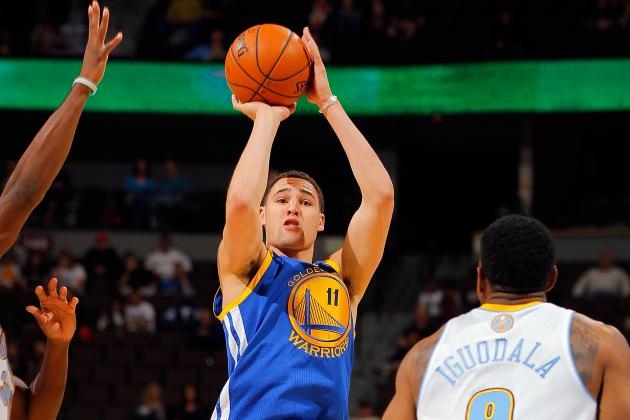 Doug Pensinger/Getty Images

Points Per Game: 16.4
Rebounds Per Game: 2.5
Assists Per Game: 2.1
Thompson was voted as the player most likely to have a breakout season (via nba.com) as he takes over for the now-departed Monta Ellis. Thompson dominated last season once Ellis left by putting up a line of 18.1 points, 3.2 rebounds, 3.0 assists and 1.1 steals.
Thompson has tried to improve upon his ability to drive to the basket this preseason, which will result in giving him a few extra inches to either make a move or settle for a jump shot.
He has also been dribbling the ball more often instead of being only a passer, but both skills should help in the transition game and out on the perimeter. He will breakout, but not as quickly as everyone expects.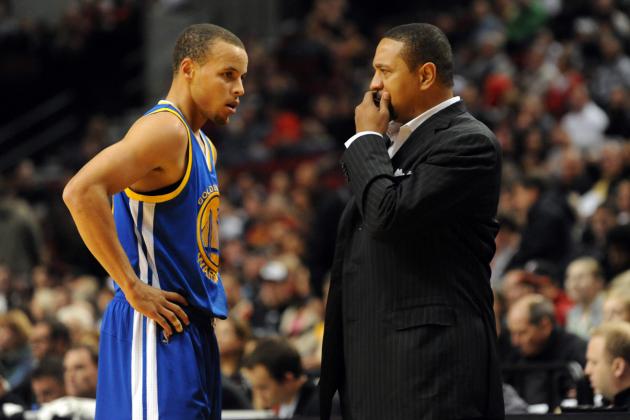 Steve Dykes-US PRESSWIRE

Points Per Game: 16.9
Assists Per Game: 5.6
Steals Per Game: 1.5
Stephen Curry rolls into the season with a lot of question marks. Will he rebound from his ankle surgery and produce at the same level? How long will it be until he re-injures it again?
Curry will survive and push hard because he is looking for a contract extension. He does have some quality numbers during his career by shooting 47 percent from the field, 44 percent from behind the arc and 90 percent at the charity stripe.
Curry is not a penetrating guard, so he looks for a shot first before passing. He will get his numbers, but with the talent surrounding him, he should have more assists as the talent will be demanding the ball.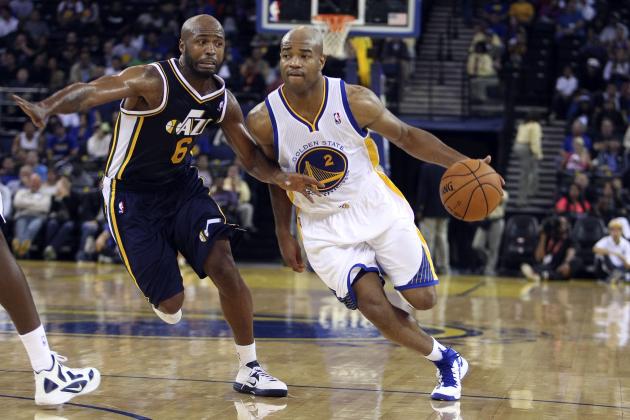 Kelley L Cox-US PRESSWIRE

Points Per Game: 8.3
Assists Per Game: 3.1
Steals Per Game: 1.1
Jarrett Jack brings a completely different game than the starter, Stephen Curry. Jack is more of a driver who creates plays with his shots or distributes the ball.
Jack should fill in for Curry when he needs a breather or if he gets hurt. Jack will work well with an up-tempo offense and get the Dubs up and down the court.
Jack wants to build upon what he did with the Hornets last year when he was their starter. He is a vocal leader, whether that is on the floor or in the locker room.
Jack will contribute significantly to this team, whether it is in a lot of floor time or in smaller increments.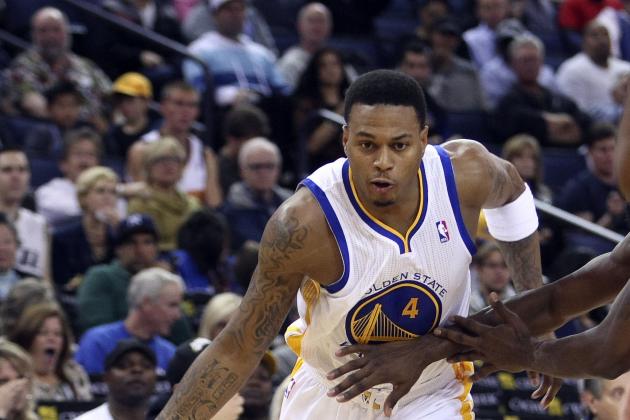 Kelley L Cox-US PRESSWIRE

Points Per Game: 9.6
Rebounds Per Game: 6.5
Assists Per Game: 1.5
Brandon Rush is the Warriors top candidate to be their sixth man, but he is currently in a dogfight for the small forward position. Rush can play both shooting guard and small forward, but will probably get more time at the forward position while Harrison Barnes transitions into the NBA.
Rush is known primarily for two things, his defense and this three-point shooting. Rush doesn't drive much to the basket, but he is still known for his instant offense.
Rush will see a lot of playing time coming off the bench in a variety of different lineups and roles. It was vital for the Warriors to re-sign this versatile swingman.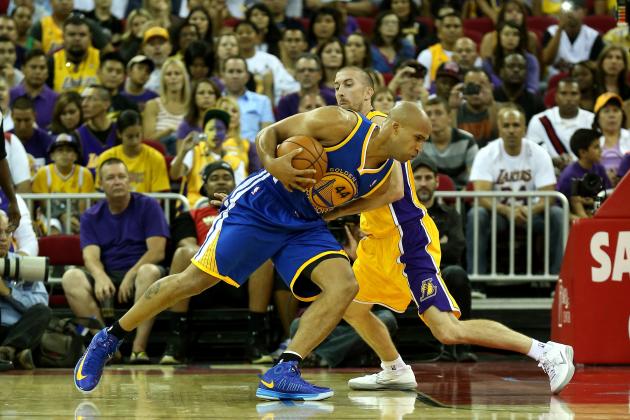 Stephen Dunn/Getty Images

Points Per Game: 5.1
Rebounds Per Game: 3.2
Assists Per Game: 1.1
Richard Jefferson is starting his 12th season in the NBA and will primarily backup the small forward position. His experience is looked at as one of the positives he brings to the floor.
Jefferson will have to fight for his minutes and he shouldn't get significant playing time. He is not as quick as he used to be, but he still provides quality minutes.
Jefferson does have something that most of his other teammates don't have, extensive playoff experience. Jackson will go to Jefferson late in games when the game is extremely close or when he needs Jefferson to shoot from the outside.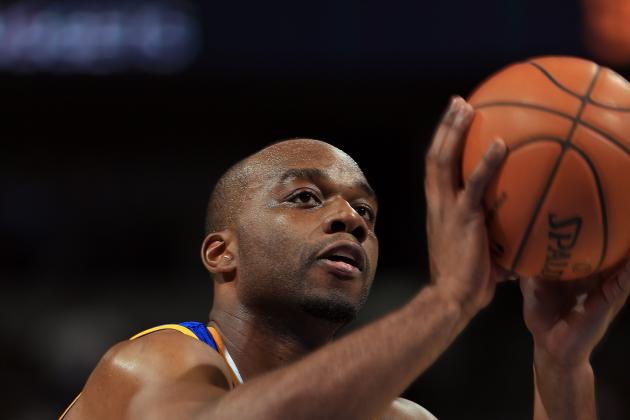 Doug Pensinger/Getty Images

Points Per Game: 8.7
Rebounds Per Game: 5.0
Assists Per Game: 0.8
Carl Landry provides instant offense as he will backup David Lee this season at power forward. He will be looking to return to play the way he did in '09-'10 when he split the season with the Houston Rockets and Sacramento Kings.
Landry will most likely get extra minutes at the start of the season when he will team with Lee in the smaller frontcourt. Andrew Bogut won't be fully healed and Jackson will probably limit backup Festus Ezeli's minutes.
Landry will do his best to make an imprint with his style of play, so he can snatch any extra minutes that are available and get the extra free-throw attempts the Warriors are sorely missing.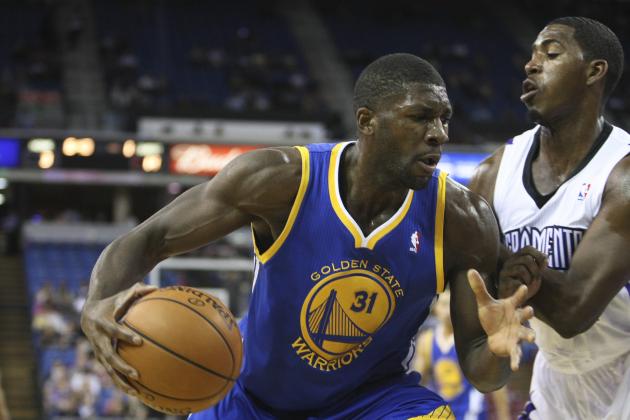 Kelley L Cox-US PRESSWIRE

Points Per Game: 4.7
Rebounds Per Game: 5.1
Blocks Per Game: 1.7
Festus Ezeli has been the biggest surprise in camp as he just blew by Andris Biedrins on the depth chart. He will open the season as the backup to starting center, Andrew Bogut and will probably be the starting center opening night.
Ezeli brings a large frame with him and a limited basketball experience. He is a good rebounder and is known for blocking shots.
This season he will have to learn the NBA game while developing post and offensive moves. He should progress as the season gets longer.
Kyle Terada-US PRESSWIRE

Points Per Game: 3.8
Rebounds Per Game: 2.1
Assists Per Game: 0.7
Draymond Green was considered a steal in the second-round of the draft. He is a guy who doesn't really fit a position as he can play both forward positions.
Green will be squeezed for playing time because of the free-agent acquisition of Carl Landry. Green can rebound well and has the smooth stroke to hit jumpers both in front and behind the arc.
Green should find himself in the lineup more once he can show all of his skills on a consistent basis. He is tough, energetic and skilled.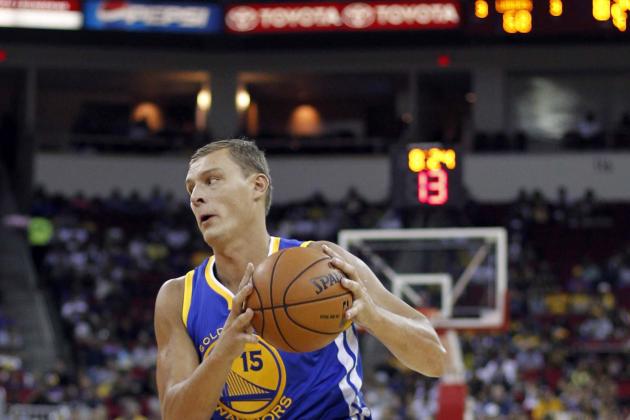 Cary Edmondson-US PRESSWIRE

Points Per Game: 2.1
Rebounds Per Game: 2.9
Blocks Per Game: 1.0
Andris Biedrins will hope to stem the tide and return to some form resembling what he used to be. Biedrins has been a shadow of his former self since the year after he signed his mega-million dollar deal.
Biedrins will start off with a few meaningful minutes subbing for the injured Andrew Bogut, but he will then resume with garbage time and subbing when the Dubs need a foul.
Unless something clicks, I don't see Biedrins contributing at all again this season.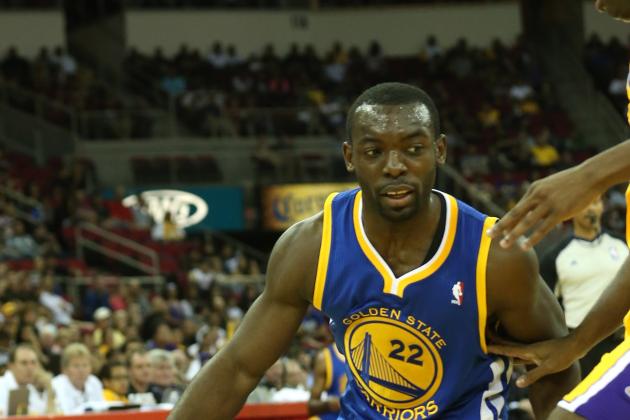 Stephen Dunn/Getty Images

Points Per Game: 2.9
Assists Per Game: 1.2
Steals Per Game: 0.3
Charles Jenkins will receive up to about five minutes per game giving Curry and Jack a breather. Jenkins minutes will remain limited unless there is a reoccurring injury to Curry.
Jenkins can shoot the mid-range jumper, but he hasn't improved his three-point shooting or his passing over the summertime. Currently, he has limited value.
Jenkins needs to keep an eye on his turnover-to-assist ratio, because if it gets too high, he could easily be deleted from the team's plans.