Boise State Broncos vs. Wyoming Cowboys: Complete Game Preview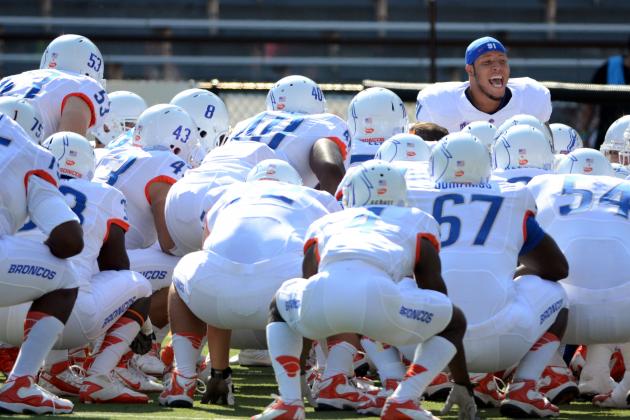 Chuck Cook -US PRESSWIRE

Boise State (6-1, 3-0 MWC) will travel to the chilly mountain top known as Laramie, Wyo., to take on the hometown Cowboys (1-6, 0-3 MWC) this Saturday.
The weather, which is sometimes a factor at 7,165 feet above sea level, is actually being forecast as not too shabby. That, of course, is not the professional lingo associated with meteorologists, but weather.com is reporting that it should be 39 degrees and mostly sunny Saturday.
That is quite balmy for southern Wyoming this time of year.
The storm, however, could still hit town as the Broncos bring their stingy defense and much improving offense to take on the Cowboys in War Memorial Stadium. Can Wyoming survive the downpour?
Let's take a look at this game and its possible outcome.
Begin Slideshow

»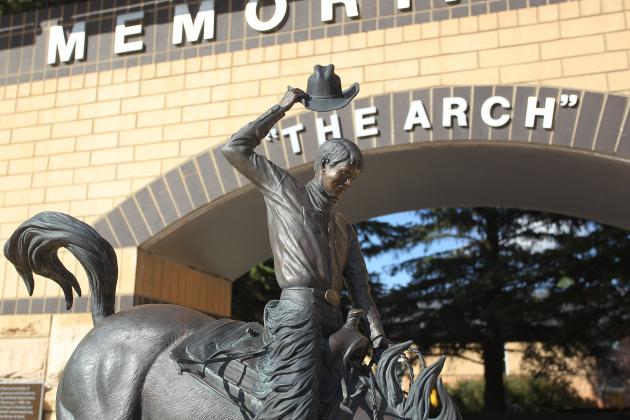 Troy Babbitt-US PRESSWIRE

Game: Boise State at Wyoming
When: Saturday, Sept. 27, 2012
Time: 1:30 p.m. MST
Where: Laramie, Wyo.
Stadium: War Memorial Stadium
Television: CBS Sports Network
Radio: Broncos Radio Network, Cowboys Radio Network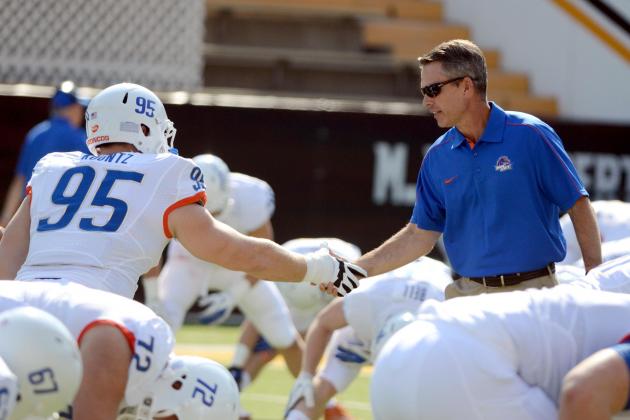 Chuck Cook -US PRESSWIRE

Boise State Offense



QB: Joe Southwick, Grant Hedrick

RB: D.J. Harper, Jay Ajayi

FB: Dan Paul, Connor Peters

TE: Chandler Koch, Holden Huff

WX: Matt Miller, Aaron Burks

WZ: Chris Potter, Dallas Burroughs

HR: Kirby Moore, Geraldo Boldewijn

RT: Brenel Myers, Rees Odhiambo

RG: Spencer Gerke, Michael Ames

OC: Matt Paradis, Spencer Gerke

LG: Joe Kellogg, Marcus Henry

LT: Charles Leno Jr., Faraji Wright



Defense



DE: Demarcus Lawrence, Tyler Horn

NT: Mike Atkinson, Greg Grimes

DT: Ricky Tjong-A-Tjoe, Darren Koontz

DE: Sam Ukwuachu, Beau Martin

LB: J.C. Percy, Tyler Gray

LB: Tommy Smith, Blake Renaud

NB: Dextrell Simmons, Corey Bell

CB: Jamar Taylor, Ebo Makinde

CB: Jerrell Gavins, Bryan Douglas

S: Jeremy Ioane, Hazen Moss

S: Lee Hightower, Darian Thompson



Special Teams



P: Trevor Harman, Dan Goodale

K: Michael Frisina, Dan Goodale

KO: Trevor Harman, Dan Goodale

KR: D.J. Harper, Dallas Burroughs

PR: Chris Potter

LS: Chris Roberson, Kevin Keane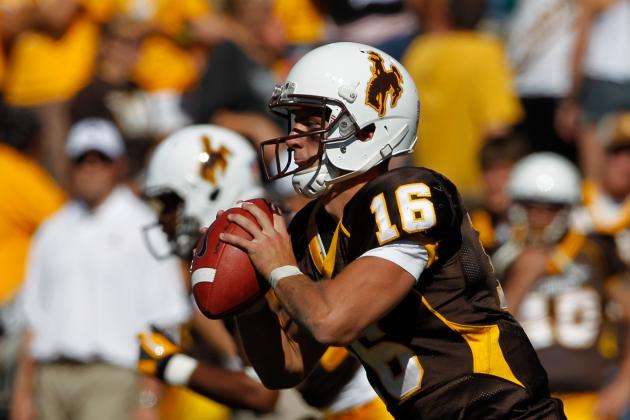 Troy Babbitt-US PRESSWIRE

Offense
QB: Brett Smith, Jason Thompson
RB: D.J. May, Shaun Wick
WR: Dominic Rufran, Justin Berger
WR: Robert Herron, Trey Norman
WR: Chris McNeill, Keenan Montgomery
WR: Brandon Miller, Jalen Claiborne
HB: Riley Lange, J.J. Quinlan
LT: Josh Leonard, Walker Madden
LG: Tyler Strong, Chase Roullier
OC: Nick Carlson, Rafe Keily
RG: Jake Jones, Rafe Keily
RT: Austin Traphagan, Connor Rains
Defense
CB: Blair Burns, Cortland Ford
CB: Darrenn White, DeAndre Jones
SS: Mark Nzeocha, Andrew Meredith
FS: Chad Reese, Luke Anderson
SLB: Ghaali Muhammad, Zack Berg
MLB: Siaosi Hala'api'api, Oliver Schober
WLB: Korey Jones, Alex Borgs
DE: Miraldo Michel, Eddie Yarbrough
DT: Mike Purcell, B.J. Sumter
DT: Kurt Taufa'asau, Patrick Mertens
DE: Sonny Puletasi, Justin Bernhaler
Special Teams
KO: Justin Martin, Stuart Williams
FG: Stuart Williams, Justin Martin
P: Tim Gleeson, Stuart Williams
KR: D.J. May, Ghaali Muhammad
PR: Blair Burns, Jalen Claiborne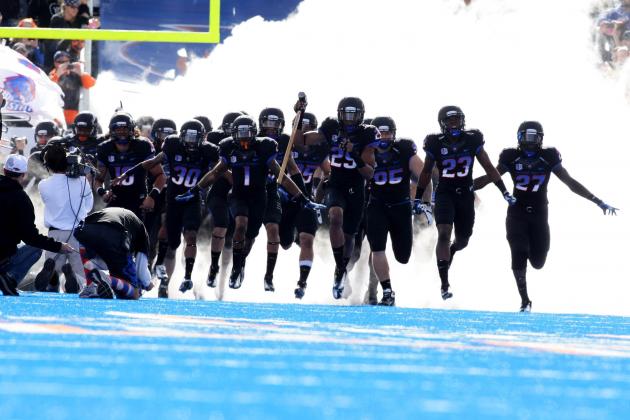 Brian Losness-US PRESSWIRE

Boise State took on UNLV last Saturday in Boise. It was homecoming for the Broncos, and they were dressed in all black for the game.
Black was an appropriate color for the normally blue and orange squad as they played lights out.
The Broncos had it all clicking against the Rebels. The defense led the day once again, stopping the fifth straight opponent from scoring in the first half.
The final score was 32-7 in favor of Boise State, but the game wasn't even that close.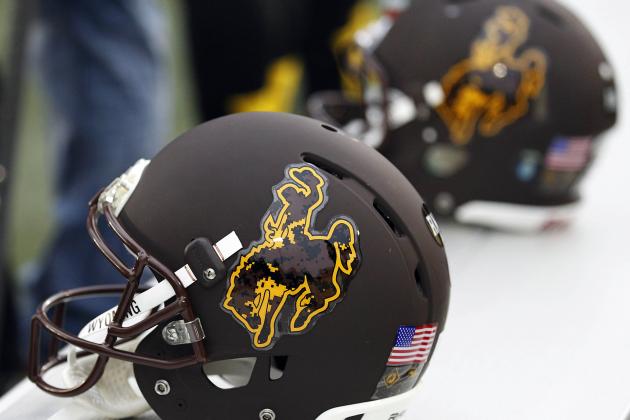 Troy Babbitt-US PRESSWIRE

Last week, Wyoming traveled to Fresno, Calif., to take on the Bulldogs. It was a trip the Cowboys probably didn't enjoy very much.
By halftime, the score was 35-0 in favor of the home team. Wyoming did manage 14 second-half points, but the final score was 42-14.
One of the biggest stories of the week for Wyoming, however, was not last Saturday's loss to the Bulldogs. It was, instead, something that happened the previous week after the Cowboys homecoming loss to the Air Force Falcons.
A very upset Wyoming head coach Dave Christensen gave the Air Force head coach a piece of his mind. It was all caught on video, and it was not one of the Wyoming coach's best moments.
In fact, it was so bad that Christensen has been suspended and fined $50,000 for his actions.
The Cowboys will be without their head coach this week when the Broncos come to town.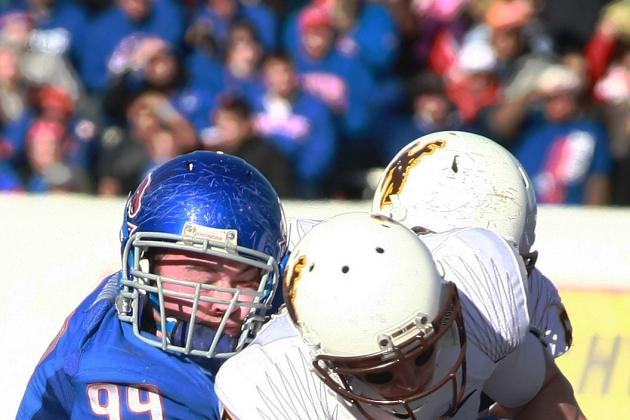 Brian Losness-US PRESSWIRE

This game means a lot to both teams but for different reasons.
For the Broncos, it means another opportunity to get better and to be one step closer to a Mountain West Conference title. It will be another opportunity for quarterback Joe Southwick to get his timing down with his receivers and help him to gain even more confidence.
For Wyoming, it will be an emotional game because of the absence of their head coach. A win for the Cowboys would be huge, and it would go a long way in salvaging a very disappointing season.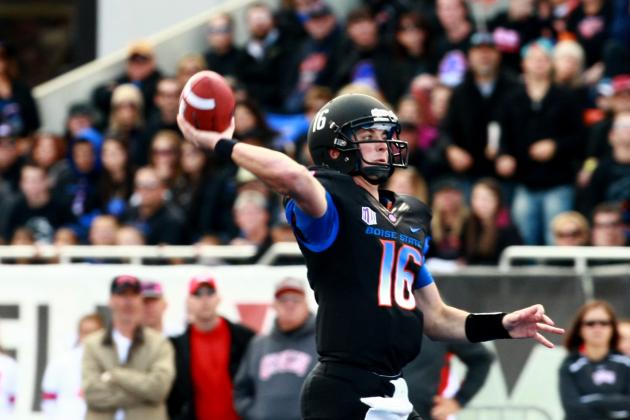 Brian Losness-US PRESSWIRE

The defense for the Broncos will be a huge key to this game, but once again, all eyes will be on quarterback Joe Southwick.
Southwick had a good game against UNLV at home last week, but in the cold on the road, it will be a much bigger challenge for him.
The offensive line has been good at giving Southwick time to throw, but he hasn't looked too bad when he has had to scramble either. Against Wyoming, it will be interesting to see how far he has come.
The timing between Joe and his receivers has improved, and now that the Broncos have a decent running game, the passing game is the last thing on the checklist that needs big improvement. Well, maybe field goals over 30 yards also.
But, if Southwick wants to continue to progress, Laramie is a great place to get it done.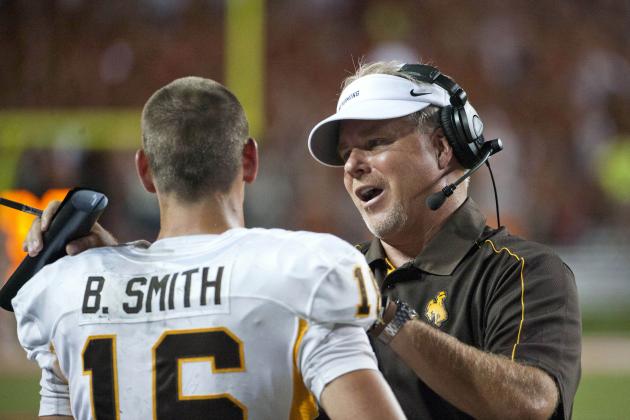 Brendan Maloney-US PRESSWIRE

Wyoming has a good quarterback—when he plays.
Sophomore quarterback Brett Smith has missed two games this season and was kicked out in the fourth quarter of the Nevada game because of two unsportsmanlike conduct penalties.
Wyoming lost that game to the Wolf Pack 35-28 in overtime.
When Brett Smith plays, he makes his team much better. On the season, Smith has 1,335 yards passing, 14 touchdowns and six interceptions. His completion rate is over 60 percent, and he is mobile when needed.
If he is able to have success Saturday, it could keep the Cowboys in the game, and if the Broncos falter on offense, Smith could make it interesting.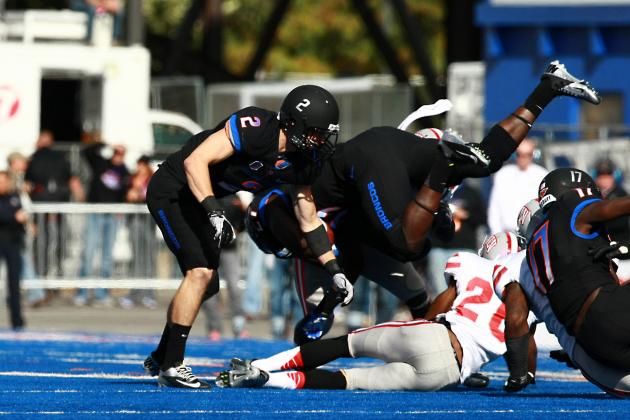 Brian Losness-US PRESSWIRE

Boise State will win the game if they do it the Bronco way.
It all starts with the toughness of the team. First, they can't overlook the Cowboys, and chances are they won't. However, if they do they could have trouble.
Wyoming has played several opponents close this year, and their record doesn't reflect their talent. Still, Petersen has a way of getting his players ready.
Second, Boise State will need to continue to play hard-nosed defense with a relentless pursuit of the ball. This has become the standard operating procedure for the Broncos all season, and it shouldn't stop in Laramie.
Lastly, consistent offense with good decisions from junior quarterback Joe Southwick should get the job done. Southwick can rely on his running backs D.J. Harper and his backup Jay Ajayi. Those two should be able to move the ball and give Southwick the space and momentum he needs all day.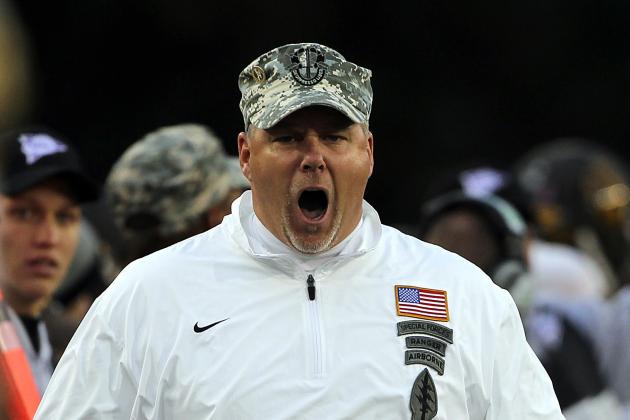 Troy Babbitt-US PRESSWIRE

Wyoming can win this game if they can overcome the loss of their suspended coach, get consistent and remarkable play from their quarterback, shut down the Boise State offense and force turnovers that generate points.
Other than that, they don't need to do much.
Seriously, it will be quite a task for the Cowboys to take a victory from the Broncos. They will need to have their best game of the season. They will also have to have the Broncos have one of their worst.
The Cowboys are talented and a scrappy bunch, but without their head coach and facing the powerful Broncos defense, it is a very tall order.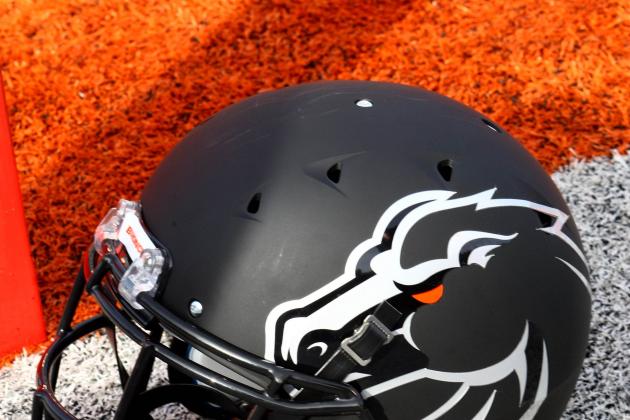 Brian Losness-US PRESSWIRE

Wyoming is ranked 81st in the nation when it comes to points scored per game at 25.6. Boise State, on the other hand, is ranked sixth in the nation in points against the defense allowing just 13.6 points per contest.
The Broncos have held five straight opponents to no points in the first half, and Saturday, it looks like it will be No. 6.
Expect the Boise State defense to rattle the cage of sophomore quarterback Brett Smith. You can also expect the Broncos to force turnovers.
D.J. Harper and Jay Ajayi should have a good day against the Cowboys, and that makes for a good day for Joe Southwick. You can expect the Broncos to generate a solid point total.
When it is all said and done, Boise State should return to Boise with another win under the belt and one step closer to a Mountain West title.
Prediction: Boise State 35, Wyoming 7