20 Athletes Who Started Sucking Without Warning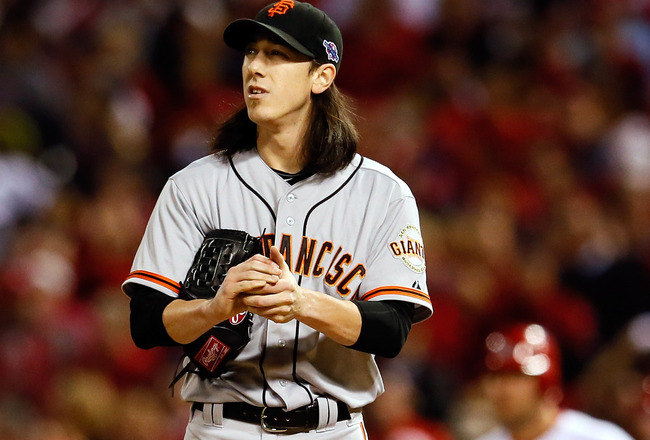 Kevin C. Cox/Getty Images
Great athletes inevitably experience a decline as a long career comes to an end; as the inertia of age begins to overcome the desire to carry on. This story—the rise and slow fade—of the great athlete seeking a graceful way to leave the game, or win that one last championship, is repeated over and over.
Jordan, Montana, Lemieux—the best don't always write the perfect ending, but the end is inevitable. Then, there are those athletes who appear to be laying the groundwork for an outstanding career only to find success slip away...quickly.
The fall is sudden, prompting questions about the cause, or if the player ever truly was on the path to greatness. The nature of a promising athlete's implosion can be as intriguing as the rise of a superstar.
These are 20 athletes who started to suck without warning.
20. Matthew Stafford, Detroit Lions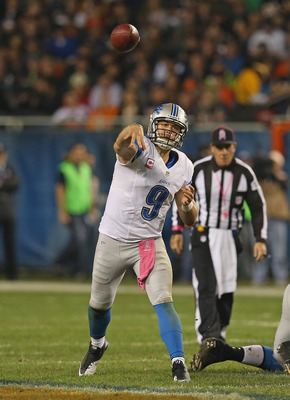 Jonathan Daniel/Getty Images
After two injury-plagued seasons, Lions quarterback Matt Stafford, the 2009 No. 1 overall draft pick out of Georgia, finally had his breakout season in 2011.
He finished third among NFL quarterbacks in passing yards (5,038) and touchdowns (41) and second in total completions, leading Detroit to its first playoff appearance since 1999.
Many were quick to declare Stafford had officially arrived, but the Lions were blown out by the Saints in the playoffs and his production is down across the board six games into the 2012 season.
He has failed to throw for more than one touchdown in a single game and the injury issue has been raised again after he suffered a leg injury in September.
Stafford and the Lions (2-4) are both off to a slow start in 2012, but it's probably a little too early to write either of them off for the season just yet.
19. Marc-Andre Fleury, Pittsburgh Penguins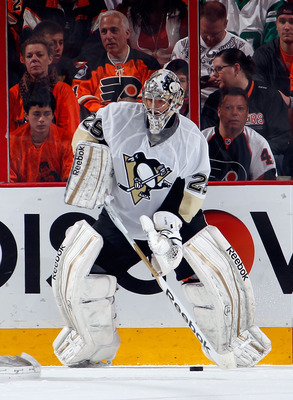 Paul Bereswill/Getty Images
Since earning the starting job for the Penguins during the 2005-06 season, Penguins goalkeeper Marc-Andre Fleury has been one of the NHL's most predictably consistent goalies. In regular-season play, Fleury's save percentage hadn't dropped below .900 since his rookie season, and his goals against average has remained well under three.
Although, Fleury has been known for his solid performance in the playoffs, his postseason statistics have dropped just marginally from his regular seasons in five consecutive playoff performances.
In February 2012, he tied Tom Barrasso's franchise record for career shutouts against the Rangers.
But later in that same season, Fleury's performance in the playoffs was, by far, the worst of his career. His postseason goals against average nearly doubled to 4.63 in the Pens six-game loss to their hated rivals, the Flyers, in the 2012 playoffs.
18. Darren McFadden, Oakland Raiders
Ezra Shaw/Getty Images
Darren McFadden had three excellent years at Arkansas, including two consensus All-American seasons, and he finished second to Tim Tebow in Heisman voting in 2007. He entered the 2008 NFL Draft as the top running back prospect in the country and was selected No. 4 overall by the Raiders.
After two largely disappointing seasons in Oakland, the underachieving McFadden had what looked to be a breakout year in 2010. He rushed for 1,157 yards and scored seven touchdowns while averaging 5.2 yards per carry. McFadden tacked on another 507 yards and three touchdowns in receiving.
However, Injuries kept him out of all but seven games in 2011, and in 2012, his production has dropped substantially through six games. McFadden is averaging just 3.1 yards per carry and doesn't get much of a look from quarterback Carson Palmer in the receiving game.
17. Ricky Romero, Toronto Blue Jays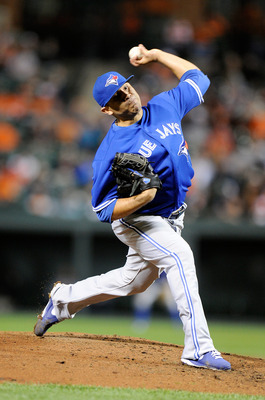 Greg Fiume/Getty Images
The first three seasons of Blue Jays pitcher Ricky Romero followed a promising and predictable trajectory. His total wins improved each year as did his number of strikeouts, while his ERA decreased by nearly .6 each year.
Unfortunately for Toronto fans, after a solid start, Romero slumped through much of 2012. In September, he earned the unfortunate honor of tying Tom Underwood's franchise record of 13 consecutive losses, a record which had stood alone since 1979.
Romero finished the season with 14 losses, an ERA of 5.77 and just 124 strikeouts (54 less than his career high of 178 in 2011).
16. Marc Bulger, Retired NFL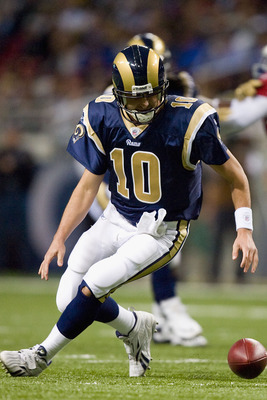 Dilip Vishwanat/Getty Images
After six seasons with the Rams, all but two of which were injured plagued, the Rams released Super Bowl-winning quarterback Kurt Warner in favor of young gun Marc Bulger in April 2004.
He had filled in for an injured Warner since 2002 and had matched his predecessor's success in terms of completion percentage, total yards and turnovers.
Bulger showed great promise in 2006, his first full season as a starter that wasn't shortened by injury, passing for a career high 4,301 yards. He finished just behind Colts quarterback Peyton Manning and Saints quarterback Drew Brees in total yards that year.
Bulger's production dropped off substantially in subsequent years, however, and he never again got anywhere close to matching the performance he had in 2006. Despite interest from a number of teams in 2011, including the suddenly Kurt Warner-less Cardinals, Bulger opted to retire gracefully from the game in August 2011.
15. Alex Rodriguez, New York Yankees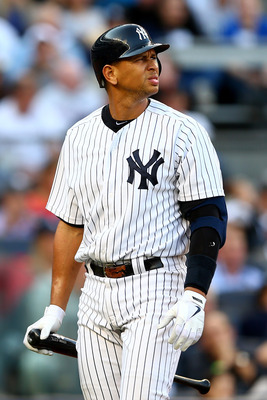 Elsa/Getty Images
With his penchant for coming up small in October and the embarrassing benching he suffered in the 2012 MLB playoffs, it's easy to forget that Yankees third baseman Alex Rodriguez has actually has had a pretty good run in New York. Over seven years, A-Rod averaged 38 home runs and 120 RBI per season with a batting average of .295.
But the wheels seemed to come off the wagon for A-Rod in 2011 and 2012. He had trouble staying healthy and missed substantial time, particularly in 2011, and his productivity across the board sank.
Excluding his first two seasons in Seattle, Rodriguez scored career lows over the last two years in home runs, games played and RBI.
But it's his postseason performance in each of those years that really stunned. A-Rod hasn't hit a playoff home run since 2009 and his batting average has sunk steadily since then: .365 in 2009, .219 in 2010, .111 in 2011 and .120 in 2012.
This is a very bad trend considering the Yanks still owe him $114 million over the next five years.
14. Shawn Kemp, Retired NBA
Doug Pensinger/Getty Images
SuperSonics forward Shawn Kemp had been selected to five straight NBA All-Star games when he became part of a three-team blockbuster trade in October 1997 that sent him to the Cavaliers. Kemp performed well in his first two seasons in Cleveland but veered sharply downward during the 1999-2000 season.
He fell out of his All-Star form quickly with the Cavaliers, and his weight problems and apparent lack of drive led the Cavaliers to trade Kemp to the Trail Blazers in 2000.
Kemp never again returned to the form from his tenure in Seattle, and his career ended prematurely after a disappointing season with the Magic in 2002-03.
13. Roberto Luongo, Vancouver Canucks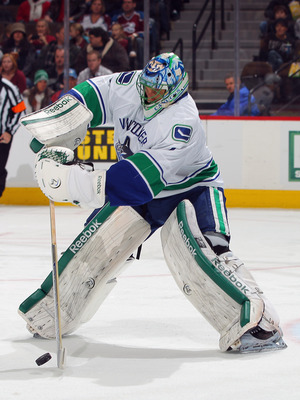 Doug Pensinger/Getty Images
Roberto Luongo has been in net for the Canucks since the 2006-07 season. In that time, they have won the Northwest Division five of six years and captured the Western Conference title in 2010-11. The last six years have been the most successful regular-season run in franchise history ,and Luongo has been a big part of that.
Unfortunately, Vancouver has failed to deliver in the playoffs in each of those six years, and Luongo has been a big part of that as well. He performed well in the playoffs in his first two years with the Canucks, but his solid regular-season stats have not translated into postseason play in recent years.
His poor performance finally cost him his starting job after dropping two straight games to the Kings in the first round of the 2011-12 playoffs.
The Kings went on to sweep the Canucks, and it's unlikely we'll see Luongo back in Vancouver when the NHL lockout is finally settled. Expect to see him crushing playoff dreams in Toronto.
12. Jason Bay, New York Mets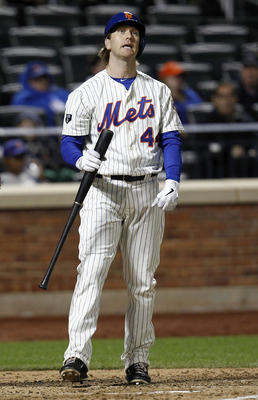 Jeff Zelevansky/Getty Images
Jason Bay had four very productive, full seasons with the Pirates, averaging 29 home runs per season before being traded to the Red Sox in the summer of 2008.
His production continued in Boston for two seasons, averaging 33 home runs per season until he filed for free agency after turning down the Sox offer in arbitration.
In late 2009, Bay agreed to a four-year contract with the Mets worth $66 million, with an option for a fifth year. But in New York, Bay's production completely bottomed out, as is typical for Mets signings.
In three full seasons combined with the Mets, Bay has failed to match the total home runs from his 2009 season with the Red Sox. Bay's batting average has steadily declined, and his 20 RBI in 2012 were the lowest of his career since his sophomore season in 2003.
11. Gilbert Arenas, NBA Free Agent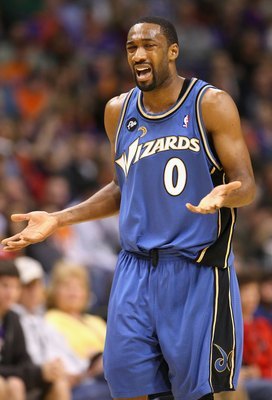 Christian Petersen/Getty Images
In 2003, After two solid seasons with the Warriors, Gilbert Arenas ditched Golden State and signed a six-year deal with the Wizards worth $60 million. His production climbed steadily in Washington, and, in 2005, he led the franchise to its first playoff-series victory in over a decade.
But after back-to-back career seasons in 2005-06 and 2006-07, Arenas was hit by the injury bug, which kept him out for most of the next two seasons. A locker room confrontation with a teammate in December 2010 earned him an indefinite suspension without pay from the league and ultimately punched his ticket out of Washington.
Arenas was abysmal with the Magic and failed to impress during his second stint with the Wizards during the 2010-11 season. The next season he played 17 games with the Grizzlies, but failed to return to anywhere near the stats he put up prior to his injuries.
10. Steve Slaton, NFL Free Agent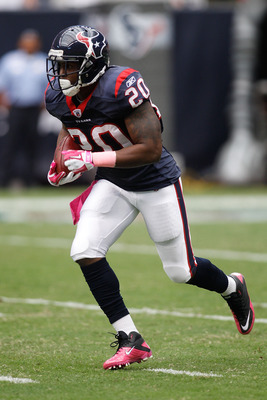 Chris Graythen/Getty Images
After an excellent college career at WVU, running back Steve Slaton decided to forego his senior season with the Mountaineers and declare for the 2008 NFL Draft. He was selected in the third round by the Texans, and he did not disappoint in his rookie season in Houston.
Slaton rushed for just under 1,300 yards, averaged 4.8 yards per carry and scored nine touchdowns for the Texans. He also proved to be an effective receiver, with 50 receptions for 377 yards and a touchdown. Slaton finished sixth in the NFL in rushing, besting rookie sensations Matt Forte and Chris Johnson.
Slaton remained an effective receiver, but his rushing production dropped dramatically in his second season. He also displayed a penchant for turning over the football, fumbling seven times and losing five of them.
He barely saw the field in 2010 and was waived by the Texans in 2011. Slaton played three games for the Dolphins in 2011 but failed to make a splash and was eventually released.
9. Ubaldo Jimenez, Cleveland Indians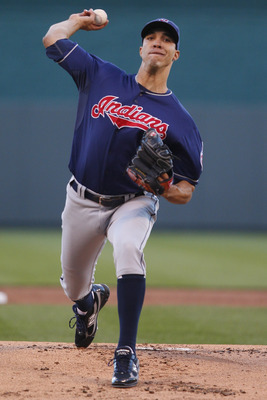 Kyle Rivas/Getty Images
After four seasons of steady improvement, former Rockies pitcher Ubaldo Jimenez had a career year in 2010. His ERA was 2.88 on the season. Jimenez also recorded 214 strikeouts and finished with a record of 19-8.
That year, Jimenez was also selected to the MLB All-Star game, and he pitched the only no-hitter of his career against the Braves.
Jimenez was just the third pitcher in history to win 11 of his first 12 games in a season with an ERA below 1.00. His performance in 2010 made him the most coveted player on the trade market the following year .
He was traded to the Indians for four minor league prospects in July 2011. And then what happens in Cleveland happened to Jimenez...
In 2011, his ERA jumped to 5.10, his strikeouts were reduced dramatically and he finished the season 4-4. In 2012, things just got worse for Jimenez—his ERA climbed to a career-high 5.40, his strikeout numbers fell again and he finished a career-worst 9-17 on the season.
8. Chris Johnson, Tennessee Titans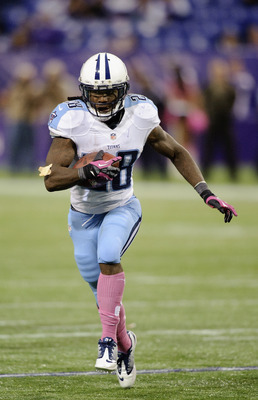 Hannah Foslien/Getty Images
Titans running back Chris Johnson came out of East Carolina and lived up his first-round hype by cracking the top 10 in rushing yards in each of his first three years in the NFL.
He led the league in 2009 and rushing for almost 400 more yards than the second-place finisher. He topped 2,000 yards, averaged 5.6 yards per carry and scored 14 touchdowns with only three fumbles.
Johnson used his production as leverage and held out of training camp until coming to terms on a four-year contract extension worth $53.5 million in September 2011. That year, his production was cut in half from his standout sophomore season. He rushed for just over 1,000 yards, averaged 4.0 yards per carry and scored just four touchdowns.
Johnson was named the AFC offensive player of the week in October 2012 after a monster game versus the Bills, but he is going to have to string together a few good games in a row before we can say that he's officially back.
7. Joe Mauer, Minnesota Twins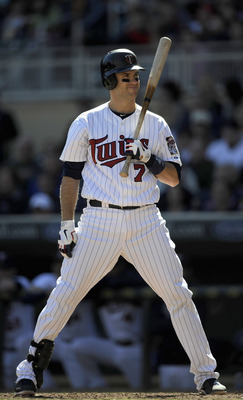 Hannah Foslien/Getty Images
Twins catcher Joe Mauer had, by far, the best season of his career in 2009. His 28 home runs more than doubled his career best and his .365 batting average was his best to date. Minnesota rewarded its hometown boy with an eight-year contract extension worth $184 million.
Mauer rewarded the Twins' generosity by dropping his production substantially in all areas of his game, except for strikeouts—a little premature drop for a 29-year-old. In 2012, he rebounded slightly from his injury-plagued 2011 season, but that didn't stop the Twins from putting him on waivers in August 2012.
6. Alex Ovechkin, Washington Capitals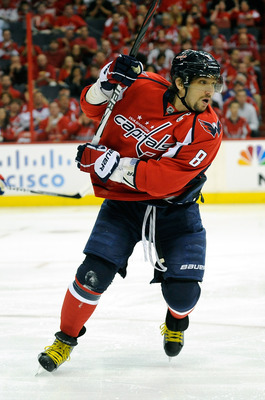 Greg Fiume/Getty Images
Capitals superstar forward Alex Ovechkin was drafted No. 1 overall in the 2004 NHL Entry Draft and lived up to every bit of hype during his 2004-05 rookie season. In fact, over his first five years in the league, Ovi averaged 106 points, 432 shots on goal, 18 power-play goals and eight game-winning goals per season.
That kind of dominating success can't sustain itself forever, though, and he experienced a slight decline in 2010-11. But instead of snapping back to form in 2011-12, the bottom seemed to fall out for Ovechkin, who suffered the first prolonged slump of his career and was routinely benched by two different coaches throughout the year.
Ovi ended the season with a career-worst 65 points, 303 shots on goal and 19:48 average time on ice per game. Also telling was his 26 penalty minutes—a career low—indicating that his passion may be waning for the aggressive two-way style of play that he's noted for.
5. Jake Delhomme, NFL Free Agent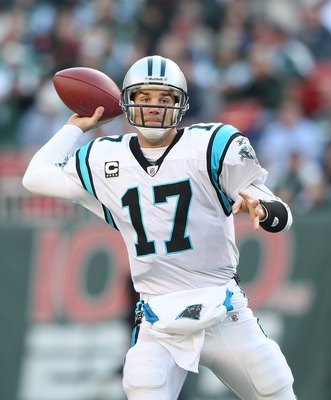 Nick Laham/Getty Images
Former Panthers quarterback Jake Delhomme is the only athlete on this list for whom I am able to pinpoint a single game in his career in which the whole thing fell apart. He spent six solid and serviceable seasons as an effective game manager for the Panthers before a 2008 playoff loss to the Cardinals changed everything.
Delhomme had performed well in the playoffs during two prior runs in Carolina, averaging a quarterback rating of 94, registering a 59-percent completion rate and tossing just six interceptions in 7 games.
In one game in 2008, he went just 17-of-34 passing with one touchdown, one fumble, five interceptions and a quarterback rating of 39.
The Panthers inexplicably rewarded Delhomme with a five-year contract extension worth $42 million, $20 million of which was guaranteed. In 2009, he became a turnover machine, and the extension placed him under an enormous spotlight that killed any chance he had at rebounding.
Delhomme was mercifully placed on injured reserve late in the season and given his walking papers the following March. He never again won a starting job and failed to even land a job as a backup in 2012.
4. Heath Bell, Arizona Diamondbacks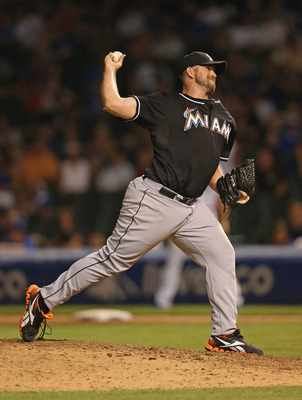 Jonathan Daniel/Getty Images
In his last three seasons with the Padres, relief pitcher Heath Bell had an average ERA average of 2.36, improving drastically from his previous five seasons in MLB. After the 2011 season, San Diego offered him a two-year deal, but he chose instead to sign the three-year deal worth $27 million that the Marlins offered.
After just a month in Miami, Bell lost his role as closer. He tanked four of his first seven save opportunities and recorded an ERA of 11.42 after just 11 games. He struggled mightily through the rest of the season, often clashing with (now fired) manager Ozzie Guillen, and he finished the year with a 5.09 ERA.
After an overall disastrous season for the Marlins, they unloaded Bell via trade to the Diamondbacks in October 2012. Manager Ozzie Guillen actually followed him out the door, as he was fired just days later.
3. Albert Haynesworth, NFL Free Agent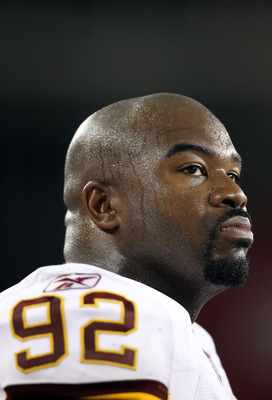 Christian Petersen/Getty Images
After five solid seasons with the Titans, defensive tackle Albert Haynesworth, a 2002 first-round pick out of Tennessee, really upped his game in the 2007 and 2008 seasons.
He had a career year in 2008, with 8.5 sacks, 41 solo tackles and three forced fumbles, which far surpassed any of his single-season achievements to that point.
The following offseason, Haynesworth parlayed two stellar seasons into a lucrative free-agent contract with the Redskins worth as much as $115 million over seven seasons. To say the Redskins didn't get much of a return on their investment would be an understatement, although given their history with free-agent signings, they should've been used to that.
Haynesworth played just 20 games for the Skins ,and each year, cut his production in half from the prior season. After his second season in Washington, he was traded to the Patriots, who cut him after six games of contributing nothing. The Buccaneers signed Haynesworth for the second half of the season, but chose not to bring him back in 2012.
2. Tim Lincecum, San Francisco Giants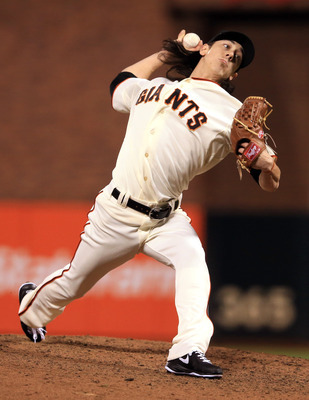 Doug Pensinger/Getty Images
Giants pitcher Tim Lincecum's struggles in the 2012 season have been well documented. In 2012, the back-to-back Cy Young Award winner was simply not the same player who led MLB in strikeouts for three straight years. Lincecum still managed 10 wins, but he failed to rise anywhere near the very high bar he had set for himself over the last four seasons.
In the four seasons prior, Lincecum averaged an ERA of just 2.82, 244 strikeouts and 16 wins. In 2012, his ERA nearly doubled to 5.18, and his strikeouts were down to 190—more than 70 less than the career high he set in 2008 and 2009. The drop in production has been so dramatic that even the Giants postseason run into the World Series has barely been enough to silence trade rumors.
Giants general manager Brian Sabean was quick to deny the reports, which have the potential to be a huge distraction for Lincecum, but it's hard to imagine anything will be off the table if they lose to the Tigers.
1. Shaun Alexander, Retired NFL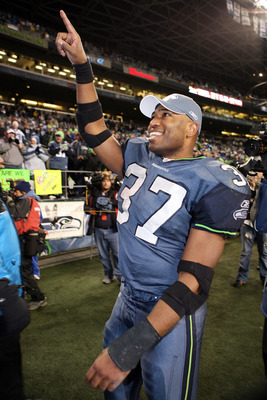 Otto Greule Jr/Getty Images
Because of the wear and tear of the position, we expect running backs, more than any other position in football, to start sucking out of nowhere. However, the decline of former Seahawks running back Shaun Alexander was so sharp and sudden that it didn't follow the normal pattern of ascent and decline.
Since his sophomore season in 2001, Alexander had been among the league leaders in rushing, but his 2005 performance earned him the league rushing title, NFL Alumni Rushing Back of the Year honors and his third-straight Pro Bowl selection. He was also named the MVP of the league.
Alexander's production fell off the cliff after that. His total production in the subsequent three seasons combined didn't even get close to matching the numbers he put up in 2005. After being released by Seattle in 2008, Alexander played his final games later that year for the Redskins, who signed him midseason and cut him after just four games.
I may or may not begin to suck without warning, but you should still hit me up on Twitter: Follow @blamberr
Keep Reading