Los Angeles Lakers: Pros and Cons of Their Star-Studded Lineup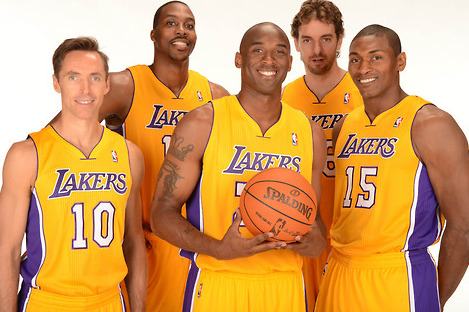 The Los Angeles Lakers have the most star-studded starting lineup in the NBA. It's a historic combination, featuring three sure-fire Hall of Famers (Kobe Bryant, Dwight Howard and Steve Nash), one potential Hall of Famer (Pau Gasol) and one guy who should be in the Hall for his quotes alone (Metta World Peace).
How can head coach Mike Brown get everyone to fit into a newly installed Princeton Offense, sacrifice for the greater good and agree to share a single basketball? I have no idea, but that's why Brown gets paid the big bucks to figure this stuff out.
Ahead is a breakdown of the enormous opportunities and challenges that lay ahead for the Lakers, who have an abundance of talent, ego and star power.
Begin Slideshow

»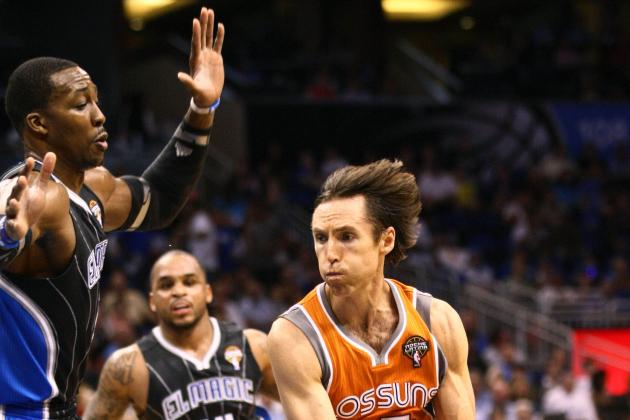 Douglas Jones-US PRESSWIRE

Dwight Howard and Steve Nash are a match made in basketball heaven. Nash, one of the greatest distributors and shooters in NBA history, pairing up with Howard, the game's most devastating low-post presence, is almost unfair to the rest of the league.
What makes the duo special is their ability to execute the pick-and-roll. Steve Nash is the eighth-best pick-and-roll guard in the NBA (minimum 250 possessions), while Dwight Howard ranks first among all centers, averaging 1.38 points per play, while shooting 74 percent from the field as the roll man on pick-and-rolls last season.
Steve Nash's creative ability to find the open man, combined with Dwight Howard's strength, quickness and finishing touch, should make the Lakers' pick-and-roll action a recurring nightmare for NBA defenses.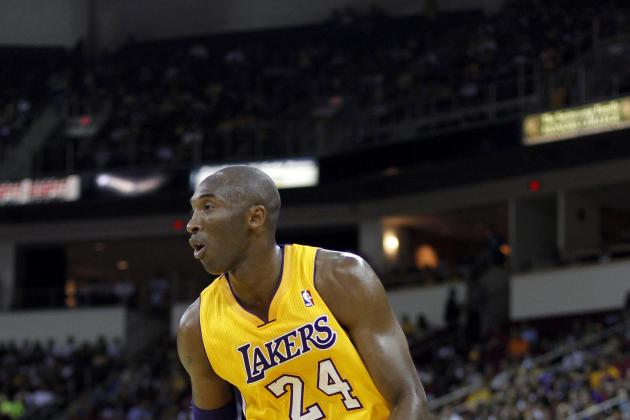 Cary Edmondson-US PRESSWIRE

It's no secret that Kobe Bryant likes to shoot, and shoot often. Laker fans have grown accustomed to watching him single-handedly take on defenders in his relentless pursuit of baskets.
In the Lakers' new Princeton Offense, now infused with staggering talent at nearly every position, the opportunities for Bryant to hoist up shots will become limited. That's the plan, anyway.
While coming in second to Kevin Durant for the NBA's scoring title, Kobe Bryant attempted 23 shots per game last season, and connected on just 43 percent of them (his poorest shooting percentage since the 1998 season, his second year in the league.) With Steve Nash in the backcourt, Dwight Howard and Pau Gasol down low and Metta World Peace on the wing, Kobe's efficiency should improve. With the defense unable to trap him as much as they did the last two years, forcing him into tough attempts with the shot clock running out, Bryant will get much cleaner looks at the basket.
The Princeton Offense is predicated on ball and player movement, and if run correctly, it can provide Kobe Bryant with opportunities to punish smaller defenders on the block and take open shots on the perimeter.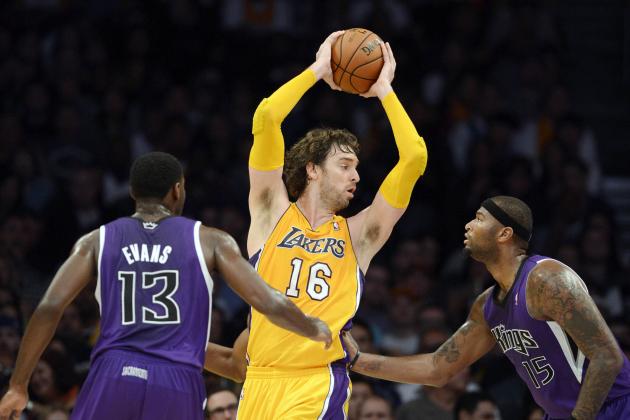 Richard Mackson-US PRESSWIRE

Pau Gasol was a miserable man for much of last season. Head coach Mike Brown could never figure out how to properly utilize him in the Lakers' schemes, trade rumors were rampant and Kobe Bryant repeatedly accused the Spaniard of lacking aggression. After getting nearly shipped off to Houston in the infamously botched Chris Paul trade, Gasol posted a career low 17.1 points per game.
Things should improve during the 2012-13 campaign. Not only are Steve Nash and Dwight Howard vast improvements over Ramon Sessions and Andrew Bynum, but the offense is perfectly suited to take advantage of Pau's vast array of skills. Gasol, a cerebral and unselfish player, can reassert his dominance by finding teammates for open shots and creating opportunities for himself.
The greatest beneficiary of Pau Gasol's playmaking ability will undoubtedly be Dwight Howard. Gasol can pass over the defense to Howard for easy finishes—just like he did in the one game that they have played together so far, as seen in an alley-oop basket that marked the first two points for Dwight in a Laker uniform, and an omen for what's to come.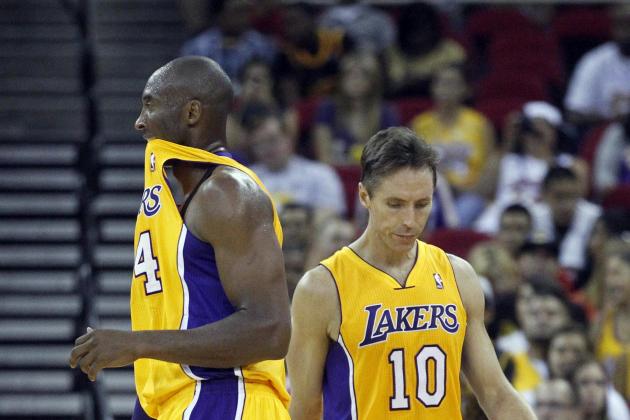 Cary Edmondson-US PRESSWIRE

The simple answer here is yes.
Inevitably, for the Los Angeles Lakers to contend for the NBA championship, everyone will have to make sacrifices. Individual shot attempts have to come down and the ball must zip around the court for this team to reach its potential.
In order to stay happy and engaged, Dwight Howard needs to get established in the post early and often. This will keep him motivated to perform at a high level on both ends of the court. Steve Nash, Pau Gasol and Kobe Bryant (believe it or not) will be the catalysts for this ball movement. They are three of the smartest and most gifted passers in the game today, and it's their job to make it easy for everyone else to score.
Not to be overlooked: While defenses key in on the Laker stars, players like Metta World Peace and those off the bench are going to have to knock down open looks. If they fail to convert, it certainly won't be for a lack of opportunities.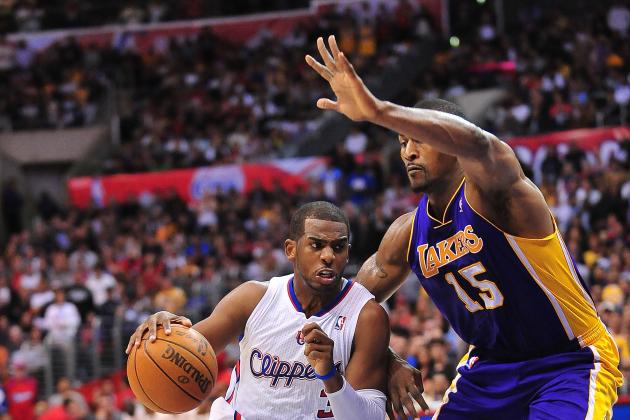 Gary A. Vasquez-US PRESSWIRE

While most people will understandably focus on the glitz and glamour of the Laker offense, the defense will prove to be just as critical to their success. Last season, the team posted a defensive rating of 104.4, good for 13th in the NBA. In the Playoffs, the much younger and more athletic OKC Thunder ran by and over them during a brisk five-game series.
Pau Gasol does a reasonably good job on defense. Kobe Bryant, due to bodily wear and tear accumulated over a 16-year career, is no longer the lock-down defender he once was. Metta World Peace has also lost a step or two over the years and Steve Nash has always been terrible on the defensive side of the ball.
The good news for the Lakers, however, is that their defensive anchor happens to be the best in the world. Dwight Howard, winner of three Defensive Player of the Year awards, is the league's top defender when healthy and motivated. He will help clean up a lot of his teammates' mistakes while protecting the rim and altering countless shots. The Lakers will work to funnel offensive players towards Howard and let him take care of the rest.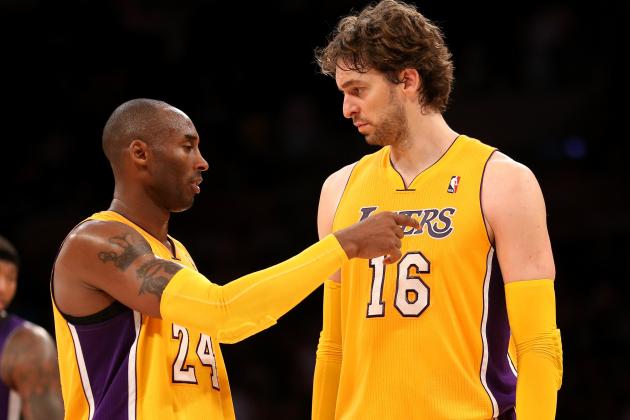 Stephen Dunn/Getty Images

This is the great unknown for the Los Angeles Lakers, and a legitimate cause of concern for their fans: Who will take the shots when games are hanging in the balance?
Traditionally, Kobe Bryant has been entrusted with the biggest and most critical possessions. He built his reputation as a clutch performer over the course of his illustrious career, but with father time catching up to him and defenses knowing he's the one shooting at crunch time, Bryant's ability to pull victories from the jaws of defeat has diminished. Tellingly, in the latest survey of NBA general managers, Bryant is no longer ranked first among clutch shooters (the honor went, instead, to Kevin Durant.)
With so much more talent around now, the Lakers' formula will need some tweaking. It makes little sense to have Kobe try and and win close games by himself. Coach Mike Brown, along with assistant Eddie Jordan (a specialist of the Princeton Offense), will need to devise ways to get the team good shots when things get tight. Steve Nash's court vision should allow for probing of opposing defenses to determine the best options.
The worst thing the Lakers could do is become predictable late in games. They must remain dynamic and take advantage of all of their star power, no matter how much time is left on the clock.
Ideally, they'll be dominant enough that figuring out how to win close games won't become a major concern in 2013.