3 Reasons Buffalo Bills Should Already Be Focusing on Next Year
Chan Gailey and his staff need to regroup over the bye week.
Brian Bahr/Getty Images
The Buffalo Bills head into their bye week at a disappointing 3-4. Their last-minute loss to the Tennessee Titans probably cost them their season. So should they already be focusing on next year?
We're certainly not suggesting that players give up not even halfway through the season. The coaches shouldn't be thinking about next year, either—this team's performance so far should result in many of them being unemployed come January.
That leaves the Buffalo front office to admit to themselves that this team is going nowhere once again.
By far the biggest letdown through seven games has been the ineptness of the D, especially at stopping the run. The pass rush, which was supposed to be led by Mario Williams and his $100 million contract, has been just as underwhelming.
Let's take a look at three reasons why the Bills and their fans should already be hoping that 2013 is the year this franchise finally turns things around.
The Defense Has Shown No Signs of Becoming an Effective Unit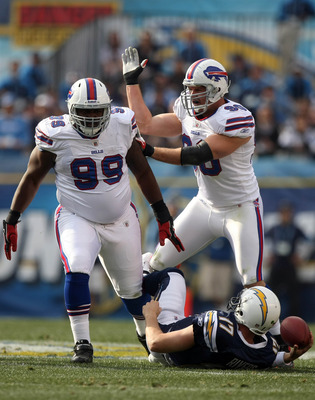 Marcell Dareus hasn't become a difference-maker yet.
Donald Miralle/Getty Images
No matter where you read it or who said it, everyone thought the Bills' defense would be much improved this year. The pass rush would no longer be a glaring weakness.
Yet, right now, the Bills rank dead last at stopping the run and next-to-last in points and yards allowed.
Seventeen sacks in seven games is not nearly enough. For a team that always seems to be challenged at forcing turnovers, the lack of pressure has allowed opposing QBs to sit in the pocket and pick the secondary apart.
There also seems to be some restlessness in the locker room. Listen to what Bills DE Chris Kelsay told Chris Brown of BuffaloBills.com:
You're only as good as the effort you put forth. I don't care who it is. I'd take Mario Williams at full health and full speed probably over anybody else in the league. At the same time I'd take Sean Ferguson, who we cut, over a guy that's playing 50 percent, and I think our coaches would too. The playmakers have to make plays and the way you do that is giving all out effort every play.
That sure sounds like Kelsay calling out Williams, doesn't it?
QB Play Isn't Going to Improve Drastically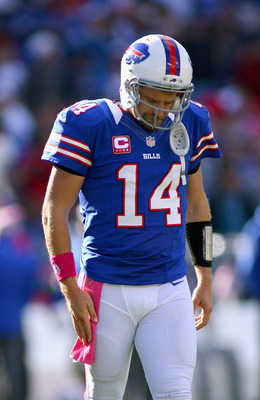 Even at his best, Ryan Fitzpatrick is limited by his lack of arm strength.
Rick Stewart/Getty Images
Even though most Bills fans had high hopes for this season, the realistic ones knew they could get only so far with Ryan Fitzpatrick as the starting QB.
His play has been erratic, and the Titans game is a perfect example. He was on point with his throws for 57 minutes, but his INT with three minutes left gave Tennessee great field position en route to the game-winning TD.
Now, there's no arguing that Fitz gets the most out of the skill set he has.
But that also means there's no room for growth with his game. His inability to throw downfield has been evident on several occasions this year.
Without suggesting that the Bills tank the rest of the season, they desperately need to draft a QB. According to CBSSports.com, there are three of them projected to go in the first round.
So unless the Bills are content with mediocrity (some fans would say they are), their focus in the future has to be on bringing in a signal-caller to replace Fitzpatrick.
Coaching Staff Is Helping Them Lose Games Instead of Win Them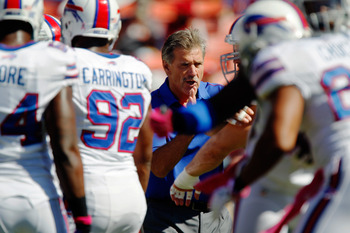 Dave Wannstedt bears a lot of the blame for how poorly the Bills' defense has performed.
Brian Bahr/Getty Images
We've already discussed how poorly Buffalo's defense has played. That left many to wonder whether defensive coordinator Dave Wannstedt would be dismissed while the Bills are in the midst of their bye week. As of Thursday, there's been no move yet.
Wannstedt has been terrible at making in-game adjustments. He's also failed to help generate a pass rush when the front four has struggled.
Buffalo rarely blitzes, which is hard to understand considering the inconsistencies it has seen from the defensive line at getting to the QB.
Offensively, Chan Gailey's use of C.J. Spiller (or lack thereof) still puzzles those familiar with this team. The third-year back's play has warranted him starting and getting the majority of the touches. However, Gailey continues to split time between Spiller and Fred Jackson.
His play-calling has also raised serious questions, most notably when WR Brad Smith threw an INT out of the Wildcat late in the game at Arizona.
Until Buffalo's management addresses these issues, Bills fans are doomed to a 13th straight season of missing the playoffs.
Keep Reading

Buffalo Bills: Like this team?