Ranking the Top 10 Teammates of LeBron James' Career
Marc Serota/Getty Images
LeBron James has played with approximately 90 different NBA teammates since entering the league in 2003.
He played with around 70 different teammates as a member of the Cleveland Cavaliers and just over 20 new teammates since joining the Miami Heat.
If he had crossed paths with guys like Shaquille O'Neal, Antawn Jamison, Ben Wallace, Joe Smith, Mike Bibby, Wally Szczerbiak and Jerry Stackhouse during their primes, he might have more rings by now.
Unfortunately, that wouldn't be the case by the time LeBron teamed up with those guys.
He only ended up playing with Shaq for 64 games anyway, as an example, and Jamison 25.
James has played with a collection of solid players, though, in and around their primes.
While his two teammates in Miami are far and away better than anyone he ever played with before, the players surrounding him in Cleveland might've been more productive than you think.
10. Daniel Gibson
Nick Laham/Getty Images
As a rookie, in 2007, Daniel Gibson shot LeBron James into his first NBA Finals.
During what proved to be a decisive Game 6 victory over the Detroit Pistons in the Eastern Conference Finals, Gibson finished with 31 points on 7-of-9 attempts from the field.
He made 12-of-15 free throws that night, collecting six rebounds as well.
The 31 points he scored were 11 more than LeBron finished with on the game. It also matched the total that James and Zydrunas Ilgauskas combined to score that night.
Gibson played 249 games with LeBron in Cleveland after being drafted in 2006. He averaged 7.3 points per game in that time. His second season with LeBron, the 2007-08 campaign, he averaged 10.4 points.
During LeBron's last season in Cleveland, 2009-10, Gibson shot 47 percent from three-point range.
9. Larry Hughes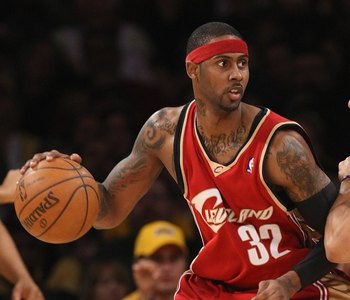 Stephen Dunn/Getty Images
Over the course of two and a half seasons, including a run to the NBA Finals, Larry Hughes was on the floor as LeBron's teammate for 173 games.
During those first two full seasons, from 2005 to 2007, Hughes was paid over $23.6 million to assume that role.
He was nowhere near as good as that money would suggest, either, but he did average 14 points per game over those 173 he played with James.
He was also a starter on that team James eventually led to the 2007 NBA Finals.
That season, Hughes averaged just under 15 points, four rebounds and four assists in 70 regular-season games. His numbers went down in the playoffs each year, but he still averaged at least 11 as LeBron's teammate in the postseason.
For as disappointing as the Larry Hughes chapter was in Cleveland, it could have been much worse.
8. Drew Gooden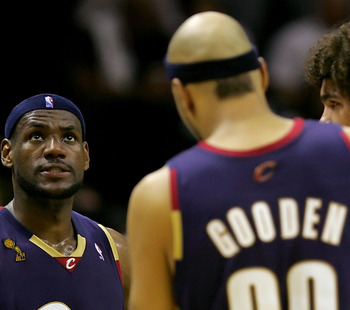 Ronald Martinez/Getty Images
Drew Gooden was the first person I ever heard refer to LeBron as "Video Game James."
I always thought that nickname should've gotten more run.
In 292 games, over three and a half seasons as teammates, Gooden averaged 12 points and 8.6 rebounds playing with LeBron.
His haircut was ridiculous, though.
But from 2004 to 2007, he never missed more than three games in each of those seasons. In 2004-05, he topped out at 14.4 points and 9.2 rebounds on the year.
Probably better numbers than most remember Drew Gooden having. During 20 postseason games for the Eastern Conference champion Cavaliers in 2007, he also averaged 11.4 points and eight rebounds.
7. Delonte West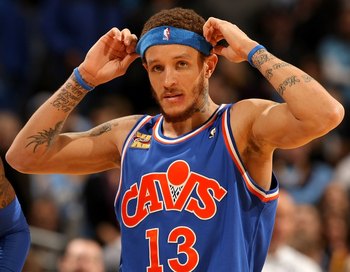 Doug Pensinger/Getty Images
Delonte West made an immediate impact after being acquired at the trade deadline during the 2007-08 season.
In 13 playoff games that year, alongside James, he averaged 10.8 points, 4.2 assists, 3.3 rebounds and 1.2 steals per game.
The following season, during 14 playoff appearances in 2008-09, West improved those averages to 13.8 points, 4.1 assists, 3.5 rebounds and 1.4 steals.
He was a dynamic player at times, affecting the game at both ends of the floor.
He played 150 regular-season games as LeBron's teammate in total from 2007 to 2010. He averaged over 10 points, three assists and three rebounds during that stretch.
6. Anderson Varejao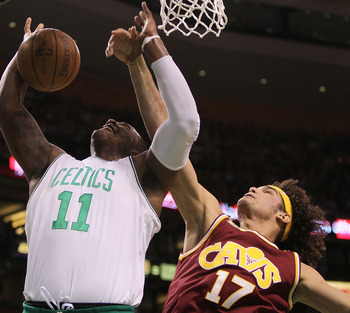 Jim Rogash/Getty Images
The numbers don't tell the whole story for Anderson Varejao.
One of LeBron's favorite teammates during his time in Cleveland, Varejao's impact went well beyond the box score.
He took charges, dove for loose balls, and made hustle plays that went a long way towards earning playoff victories for his Cavaliers.
During that Finals run in 2007, Anderson came off the Cavaliers bench to average seven points and seven rebounds.
In the 388 games he played with LeBron from 2004 to 2010, he averaged roughly the same.
5. Carlos Boozer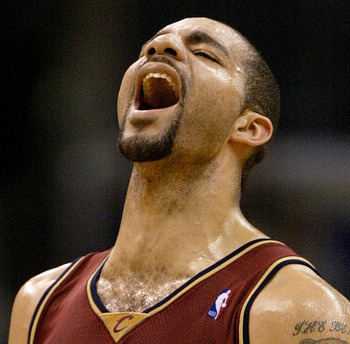 Robert Laberge/Getty Images
Carlos Boozer averaged 15.5 points and 11.5 rebounds as LeBron's teammate during the 2003-04 season. LeBron was a rookie that year, Boozer in his second season.
The way he ended up leaving Cleveland after that year was really the worst.
As a 19- and 22-year-old duo, it seemed likely that James and Boozer would've eventually won an NBA championship together.
Only Carlos Boozer tricked a blind man, Gordon Gund, into thinking that he would sign a new contract just as soon as the Cavs owner let him out of his rookie deal early.
Then he joined the Utah Jazz and the rest was history.
For that one year, though, Boozer led the Cavaliers in rebounding. His 15.5 points were second on the team overall. He started 75 games next to LeBron that season, shooting over 52 percent from the field while also averaging two assists and one steal.
4. Maurice 'Mo' Williams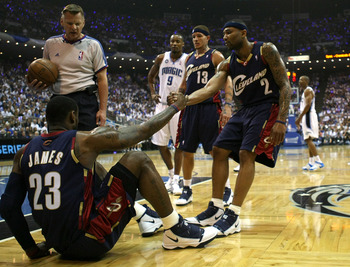 Elsa/Getty Images
In two full seasons playing alongside LeBron, from 2008 to 2010, Mo Williams averaged over 17 points per game.
During the 2008-09 season, Williams was named to the Eastern Conference All-Star team.
That regular season, he averaged 17.8 points, 4.1 assists and 3.1 rebounds, starting 81 games next to James in Cleveland.
In the playoffs each season, his numbers dipped, but he still averaged over 15 points in 25 postseason games as LeBron's teammate.
He shot over 40 percent from three each season. He also took it really hard when James decided he didn't want to play for him anymore.
3. Zydrunas Ilgauskas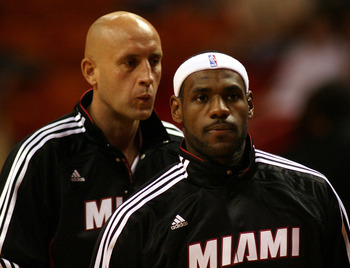 Marc Serota/Getty Images
Zydrunas Ilgauskas played eight seasons with LeBron James. He was there when LeBron arrived as a rookie and eventually went with him to Miami as he left.
For six seasons, from 2003 to 2009, Zydrunas averaged 14.5 points and 8.2 rebounds per game. His high season was 16.9 and 8.6 during the 2004-05 campaign.
The NBA universe outside Cleveland might remember Ilgauskas as a shell of his former self during his one season in Miami, but he meant much more to LeBron as a teammate.
Zydrunas was the best player on the team when LeBron arrived as a rookie from high school. He was also the guy LeBron went to hug after they moved into the NBA Finals in 2007.
2. Chris Bosh
Ronald Martinez/Getty Images
Over 18 points and eight rebounds these last two seasons.
When you look at these numbers, you realize just how much better Chris Bosh and Dwyane Wade are with respect to everyone else LeBron James played with.
There's not much else I can even say about it, either.
Forty-nine percent from the field for Bosh in the last two seasons, over 80 percent from the free-throw line. He's a legit beast.
Bosh averaged 18.6 points and 8.4 rebounds during the 2010-11 playoffs in 20 games. Last season, he averaged 14 and 10 in the postseason despite injuries.
1. Dwyane Wade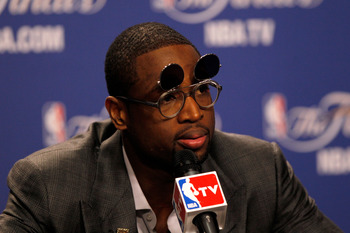 Mike Ehrmann/Getty Images
Obviously, no question here.
While I felt it necessary to build a statistical case for guys like Larry Hughes and Drew Gooden, I really only need to write his name.
Dwyane Wade.
Far and away the best teammate that LeBron James has ever had.
He averaged over 25 points per game during LeBron's first season in Miami and over 22 last season.
Wade is the only player to ever play with LeBron and average 20 or more points in a season.
Keep Reading