Giants vs. Tigers: 5 Biggest Matchups in World Series Game 2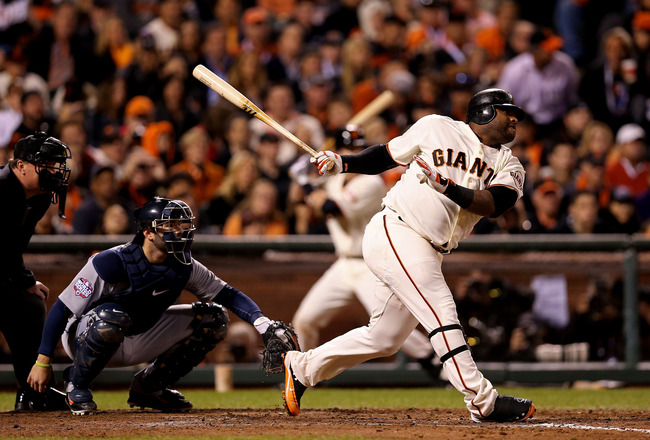 Christian Petersen/Getty Images
It took until the third series, but for the San Francisco Giants, the third time was the charm. They had no trouble defeating the perhaps too-rested Detroit Tigers, 8-3.
Pablo Sandoval homered off Justin Verlander twice and added a third for good measure. The Tigers never got anything going with their hitting, and even a late Jhonny Peralta homer only narrowed the score slightly.
But both teams have to look forward to Game 2. What matchups will prove key to either tying the series or giving the Giants a commanding 2-0 lead?
Madison Bumgarner vs. Doug Fister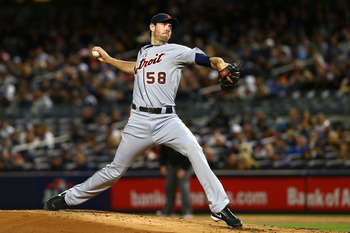 Elsa/Getty Images
First and foremost, the biggest matchup will be the two pitchers, especially after the Barry Zito-Justin Verlander duel did not exactly go as expected.
Doug Fister has no trouble producing quality starts time and time again, but he rarely seems to get run support. Madison Bumgarner, meanwhile, has struggled this postseason to the point where some thought they might have used Tim Lincecum instead for Game 2.
Which Bumgarner will show up, the eight-inning shutout pitcher from the 2010 World Series, or the one we saw against the Cardinals?
Marco Scutaro vs. Jhonny Peralta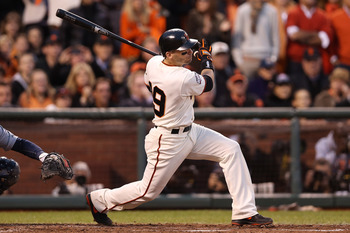 Christian Petersen/Getty Images
Marco Scutaro and Jhonny Peralta have little in common, even if they have primarily been shortstops in their career. One thing they both had, however, was a great LCS.
Peralta hit .389 in the ALCS and followed that up with a two-run homer in Game 1. Marco Scutaro's .500 NLCS batting average continued through Game 1, complete with two RBI of his own.
These two have emerged as leaders for their teams on the hitting side, and if one or the other has another great game, then that could be the tipping point.
Buster Posey vs. Prince Fielder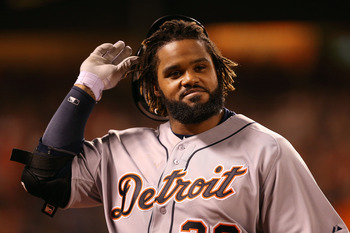 Christian Petersen/Getty Images
As great as Scutaro and Peralta have been, on the other side you have two players who had excellent regular seasons that have not transitioned to the playoffs.
Buster Posey is the potential NL MVP, but he is only hitting .204 in the playoffs this year. That includes two hits in Game 1, so he may be coming around. Potential AL MVP Miguel Cabrera, meanwhile, is playing fine.
Prince Fielder, on the other hand, hasn't been. He has hit .214 this year in the postseason and only has three RBI. Both he and Posey are the cleanup hitters, and while they aren't playing like Alex Rodriguez or Robinson Cano, they still need to step it up big time.
Tigers Bullpen vs. Giants Bullpen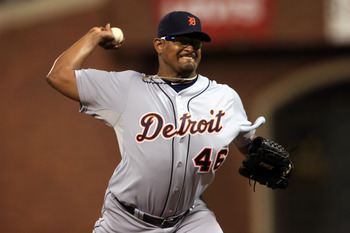 Doug Pensinger/Getty Images
Because of the way the Tigers and Giants have played lately, mistakes or great outings by the bullpen have not affected the game much. Given the two starters for Game 2, however, that looks likely to change.
Both teams have their strengths and weaknesses here. For every Jeremy Affeldt there's a George Kontos, and for every Phil Coke there's a Jose Valverde.
Ideally, neither Valverde nor Guillermo Mota will appear at all. If they do, that's essentially a sign that whatever team put them in gave up on the game.
Pablo Sandoval vs. History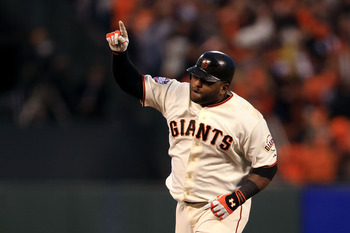 Doug Pensinger/Getty Images
Pablo Sandoval had one of the best Game 1 performances ever. He went 4-for-4, hitting three home runs to singlehandedly lead the Giants to victory. Only Babe Ruth, Reggie Jackson and Albert Pujols have had three homers in the World Series.
How does someone top that moving forward in the series? If he can at least come close to that from here on out, then we won't just be talking about a World Series MVP, but we will be noting an all-time World Series performance.
It would just be a means to an end, though. As long as he doesn't lose sight of the fact that he's playing for another World Series ring, then he should continue to perform.
Conclusion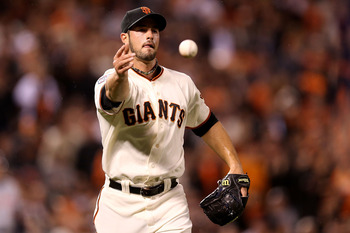 Christian Petersen/Getty Images
There's really two ways that this game can go. Either Detroit is still rusty and getting back in the groove, yielding a San Francisco win, or the Giants will be too overconfident, allowing the Tigers to sneak in and win one.
After how convincing the Giants' Game 1 win was, I see them having little difficulty again. Yes, Bumgarner has struggled, but Sandoval, Scutaro and others are carrying the load well.
I see both teams' bats lighting up, but at the end of the day, the Giants have the momentum to put them that much closer to a World Series win.
Giants 7, Tigers 5
Keep Reading