Patriots vs. Rams: 5 Ways Sam Bradford Can Expose Pats' Weak Secondary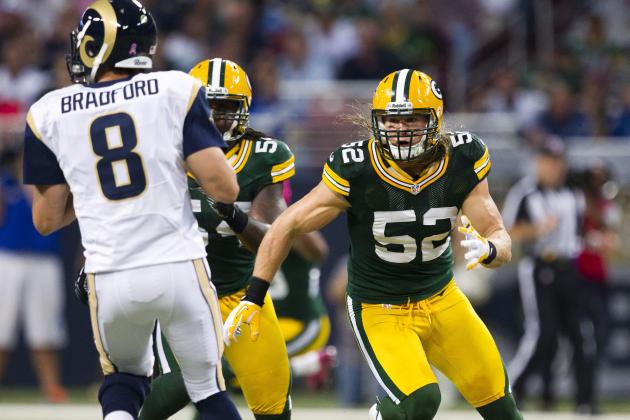 David Welker/Getty Images

This Sunday, October 28, the Patriots and Rams travel across the pond to London, England where they will have their Week 8 clash at Wembley Stadium.
The Patriots, currently first in the AFC East, stand at a 4-3 record with many questions. Many of which come from their suspect defense.
The Rams, at 3-4 and fourth in the NFC West, are still struggling somewhat offensively. However, against a questionable New England secondary Sam Bradford has an opportunity to help score points and upset the Patriots across the Atlantic Ocean.
Begin Slideshow

»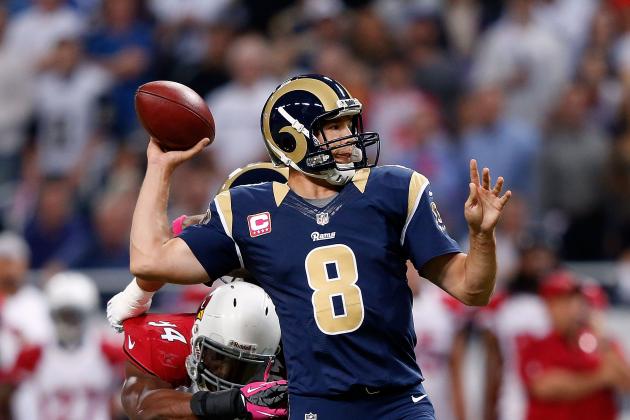 Jamie Squire/Getty Images

The former Offensive Rookie of the Year, Sam Bradford set the record for most completions by a rookie in his first year in the NFL. On top of that accolade, Bradford threw for 3,512 total yards with 18 touchdowns and had a 76.5 rating that year.
Suffice to say Bradford can throw and against New England's cornerbacks this game is a great opportunity for him to showcase his talent.
In the last five games, the Patriots have allowed an average of 338 yards passing and 14 total touchdowns. They've also allowed 20 or more points in their last six contests.
Using his arm strength to connect with receivers downfield, Bradford can establish a strong passing game, all while gaining big yardage that eventually leads to points. Doing all of this early will force Tom Brady and the Patriot offense, which has also struggled, to work harder.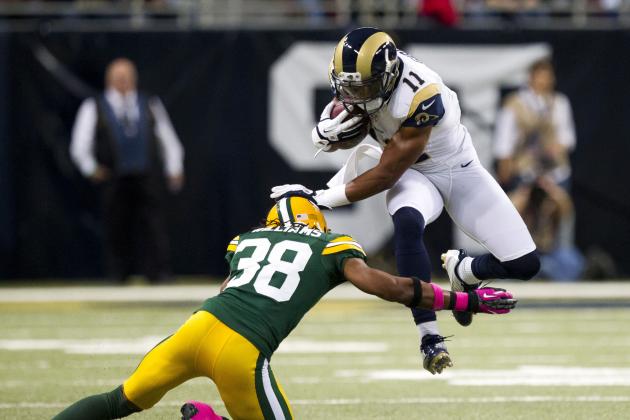 David Welker/Getty Images

The absence of Danny Amendola leaves a big void at the wideout position for the Rams.
Dislocating his clavicle, Amendola will be out for approximately seven weeks which gives Brandon Gibson ample opportunity to make a splash for both himself and the team.
Billed as a great route-runner with the ability to speed off of the line of scrimmage, Gibson will need to come up big if Bradford plans to connect downfield for big yardage.
In his first game as a Ram Gibson played remarkably well as he caught seven passes for a total of 93 yards on November 15, 2009.
With his speed and agility Gibson has the ability to beat any coverage by New England and get open for first downs. In third-down situations those same traits should allow him to keep drives alive.
With Amendola out and a game against one of the NFL's elite teams this is Gibson's chance to do something special.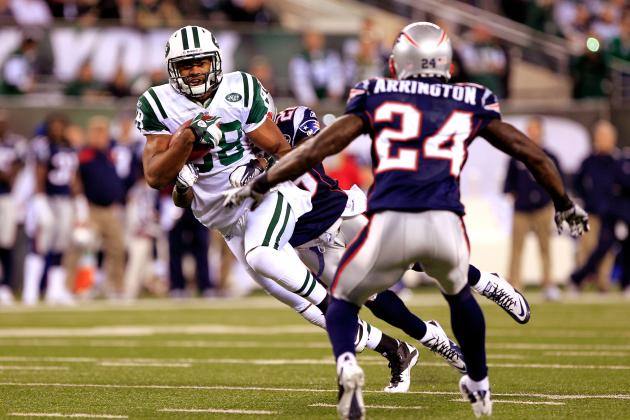 Chris Trotman/Getty Images

Kyle Arrington is having a disappointing season which is one of the reasons the Patriots are struggling so much defensively.
The notion around the NFL and among fans is that the Patriots have a tendency to give up huge plays both in terms of yards and scoring.
After coming off of his best season in 2011 where he recorded seven interceptions and had 88 tackles, this year hasn't been too kind to Arrington.
Through seven games, Arrington has yet to record an interception and only has 31 tackles.
Against a receiver such as Brandon Gibson he will have a tough time keeping up from the line of scrimmage and defending against long throws from Bradford.
Keeping up with wideouts and being able to tackle to keep opposing teams at minimal yardage are key to forcing three-and-outs and keeping first-down conversions at a minimum which is something New England has struggled with through the first half of 2012.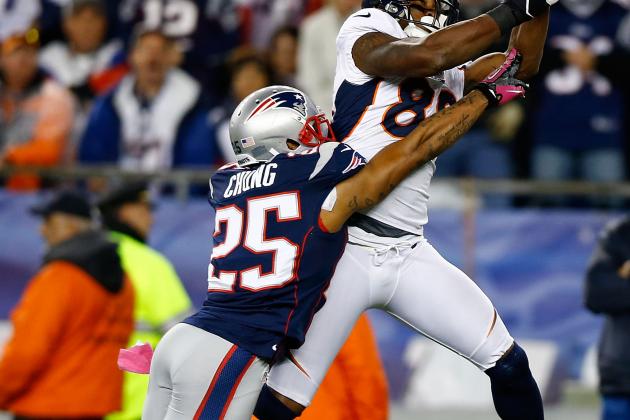 Jared Wickerham/Getty Images

New England's safeties Patrick Chung and Stephen Gregory have been banged up for the most part of the 2012 season which has slowed the team down a bit and forced it to give up as many yards as it has.
Chung, who injured his shoulder in the game against Seattle and sat out against the Jets, was expected to turn into a defensive star this season. On top of that, Chung is on a contract year which only heightened expectations.
However, through six games, Chung has only amassed 26 tackles with no sacks and no interceptions.
Should Chung play this week against the Rams Bradford will be able to capitalize on Chung's woes, connect with his receivers downfield and make a run for six while exposing Chung's injuries.
With the Pats still not sure if veteran Stephen Gregory will make the trip to London rookie Tavon Wilson will continue to take his place at the safety position as he's been doing.
Wilson, who intercepted Jake Locker in Week 1, is still raw and has been thrust into a starting role due to Gregory's hip injury.
In seven games, Wilson has 25 tackles and two interceptions but still struggles to cover a large part of the field and catch up to receivers to prevent big gains.
In essence, Bradford has an open field to play with Sunday as the cornerbacks and safeties will be scrambling to cover wideouts. The threat of being picked off is almost nonexistent as New England has had a tough time collecting interceptions.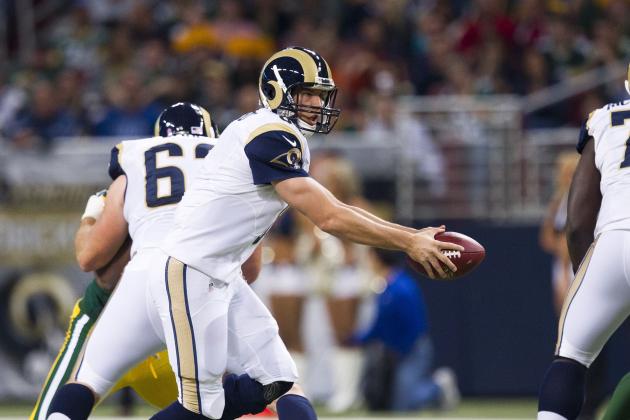 David Welker/Getty Images

It goes without saying but a quarterback with ample protection gets enough time in the pocket to step back, let his receivers run their routes and set up play.
All of that, in turn, leads to successful offensive drives. If Bradford is to have success against the Patriots and do all of the points made previously, then he needs that time and protection.
This season, the Rams' inability to pass block has been evident. Bradford has been sacked at least once on more than 10 percent of his pass attempts which won't fly against New England.
Despite recently making changes on the offensive line, like releasing Quinn Ojinnaka and replacing him with Shelley Smith, the line has do to a better job of not allowing defenses to pressure Bradford often.
The key in this game for the Rams is to establish dominance early which would serve as a disheartening blow to the Patriots.
Making them work from behind early will give St. Louis a better opportunity to win as it will prevent itself from digging out of a hole it may be in if it allows Brady and the offense to put tallies on the scoreboard.
If Bradford is protected, connects on a few nice throws for big gains and puts his team ahead by about two scores, the Rams will be looking at an upset victory in front of an English crowd on a fall day in October.