Grading All 30 MLB Teams Fanbases in 2012
Hunter Martin/Getty Images

Just because baseball fans don't sit outside and tailgate before every home game doesn't mean we are any less passionate about the teams we love. We spend about 11 months out of the year engaged in some type of baseball activity whether it is Spring Training, the regular season, the postseason at the winter meetings. Baseball is a passion that really never goes away.
Of course, not every fan is that passionate. In fact, some teams' fans are less worried about All-Star votes in July than the upcoming NFL season.
This article is dedicated to those super fans that come out to support their team all season no matter how good the team is doing. Those fan bases deserve some recognition.
For full disclosure, all of my attendance numbers are coming from ESPN's MLB Attendance Report.
Begin Slideshow

»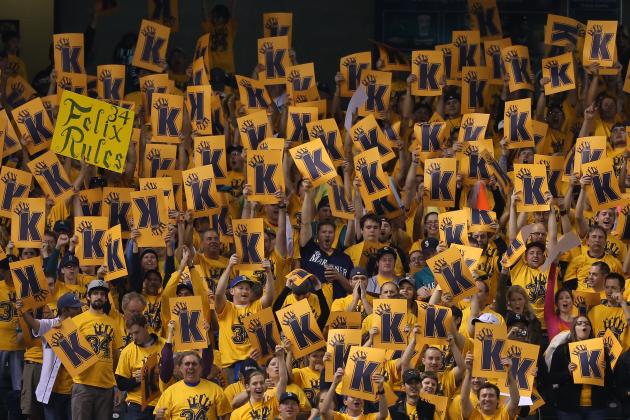 Otto Greule Jr/Getty Images

The Seattle Mariners have a fabulous baseball stadium, and they have one of the most exciting young pitchers in baseball in Felix Hernandez. However, at home games, they only managed to fill 44.4% of their seats which ranked dead last in Major League Baseball.
I know that the Seattle Mariners were nothing special this season, but it is really disappointing to see more than half of the seats empty.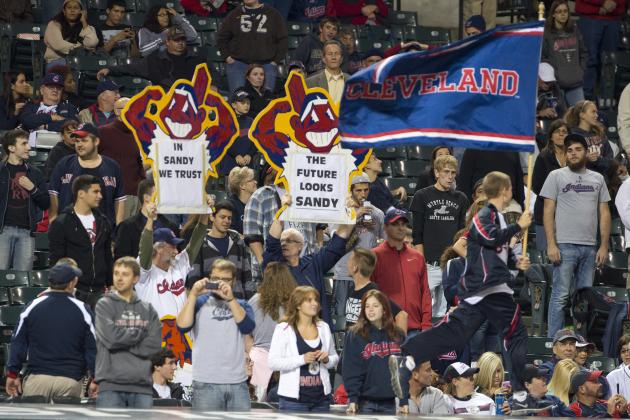 Jason Miller/Getty Images

Cleveland really is not much of a baseball town, and the Indians definitely had a difficult year. The team lost 94 games this season, and they only managed to fill 45.6% of their seats at home. In raw numbers, they had an average attendance of 19,797 fans at their home games.
I know that football is king in Ohio with the perennially powerful Ohio State Buckeyes only a few hours away, but really?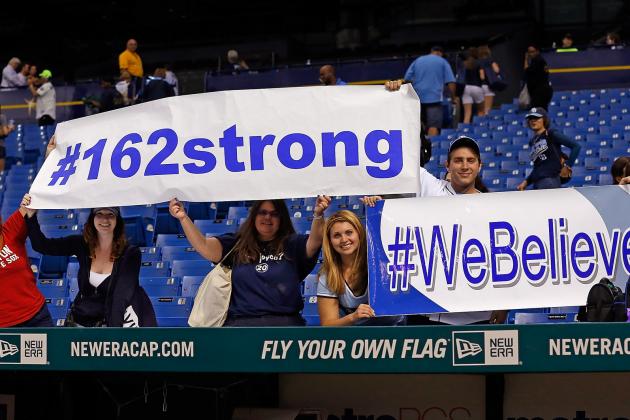 J. Meric/Getty Images

I don't understand the fans in Tampa Bay. I personally have been to Tropicana Field to watch the Rays, and I realize that it is not the best place in the world to watch a baseball game. However, the Tampa Bay Rays have become one of the best teams in baseball, and many more fans come to watch them on the road than they do at home.
Does that really make sense?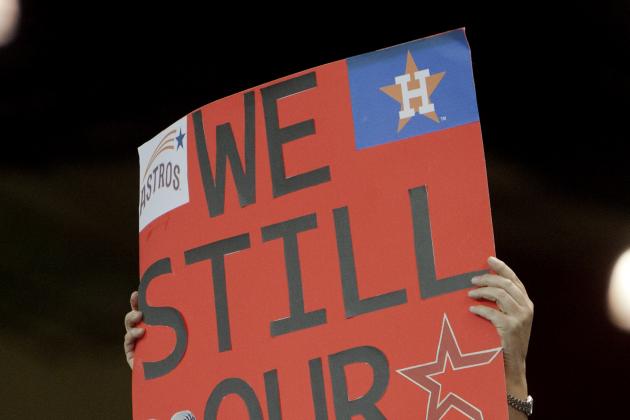 Bob Levey/Getty Images

The Houston Astros have not been good for quite a while, and I guess that there's really not a lot of reason to be excited about this team. That being said, there's really no excuse for only 48.5% of the seats to be filled on average.
Eventually, there will be a reason to get excited about baseball in Houston. I hope the fans are willing to come back when it arrives.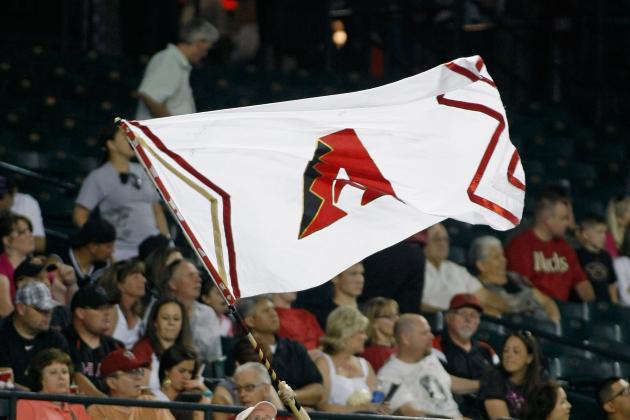 Ralph Freso/Getty Images

The Arizona Diamondbacks had a frustrating campaign, but the team came on like wildfire near the end of the season. However, if you look at their game by game attendance results, many of their home games were still nowhere near sold out.
They are a young team that will definitely make waves in the near future, but the fans need to be there to support this development.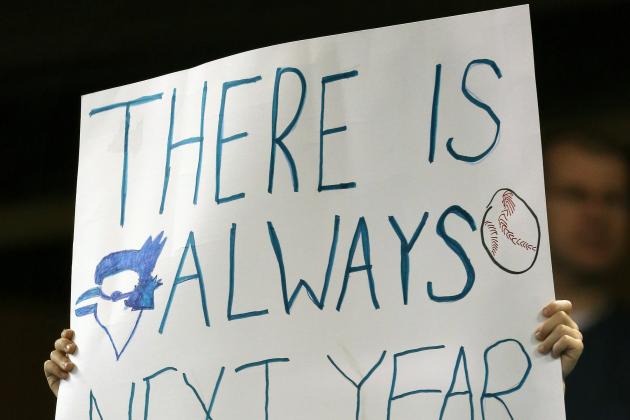 Tom Szczerbowski/Getty Images

With the emergence of the Baltimore Orioles, the Toronto Blue Jays were unable to move up in the standings like they might have with the collapse of the Boston Red Sox. The hopes were high at the beginning of the season, but outside of the home opener, it was rare to find a game where they had more than 30,000 fans in the ballpark.
I know that the disappointment gets harder to bear as the season progresses, but it would have been nice to see a little more support for a team that was supposed to be better than they did.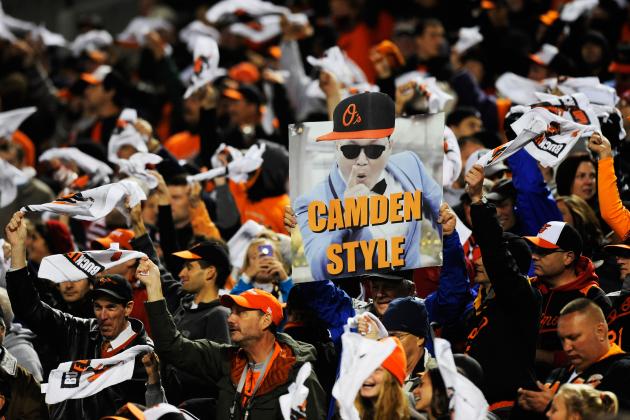 Patrick McDermott/Getty Images

Speaking of the Baltimore Orioles, Camden Yards is one of the best ballparks in all of baseball. On top of that, the Baltimore Orioles actually made the playoffs for the first time in over a decade. With those two major positives in their favor, why were only 58.6% of the seats filled at home games?
I know that whenever I have visited this stadium, there are some very passionate fans, but there are really not an awful lot of them. That makes it difficult to move them up this list.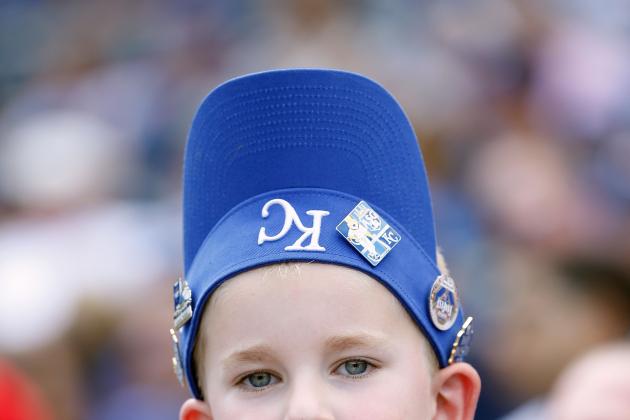 Jamie Squire/Getty Images

The Kansas City Royals have not been that good for quite some time, so that obviously impacts fan support. There is definitely reason to be excited about guys like Billy Butler and Alex Gordon leading the offense for the foreseeable future.
Given the circumstances, the Royals have had decent fan support, but it is still not that great as they only averaged just under 22,000 fans on average at home games.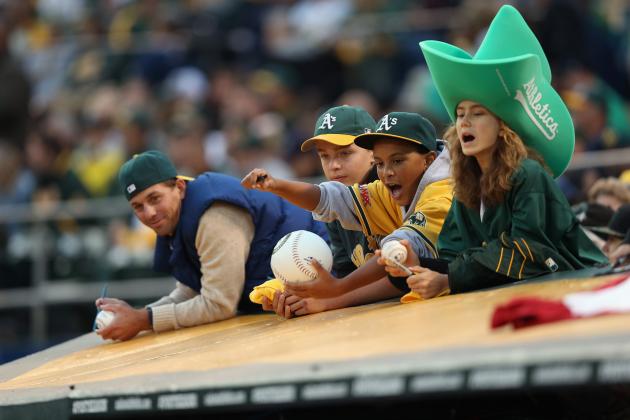 Ezra Shaw/Getty Images

The Oakland Athletics made it to the playoffs again this season by knocking off the highly favored Los Angeles Angels of Anaheim. They also made a big splash last winter by signing Cuban prospect Yoenis Cespedes. That move should have helped motivate ticket sales at the beginning of the year, and their success should have helped near the end.
Obviously, my assumptions were not correct as the averaged just under 21,000 fans per home game.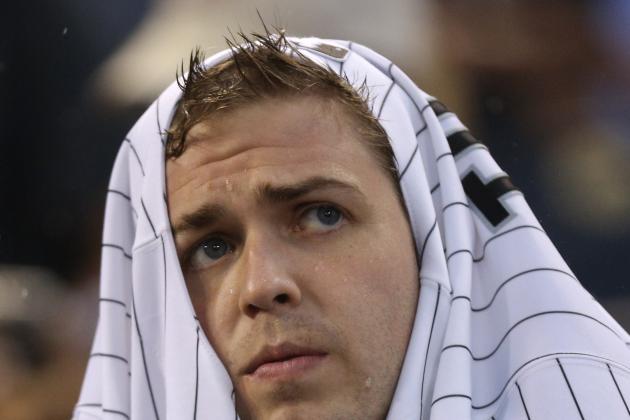 Ed Zurga/Getty Images

It is kind of ironic that the more successful baseball team in the Windy City has not been able to generate fan support like their neighbors on the other side of the city. For most of the season, the Chicago White Sox were on top of the American League Central, but that didn't generate ticket sales.
When they were on the road, 5000 more people on average came to see them play. That is a little bit backwards for successful teams.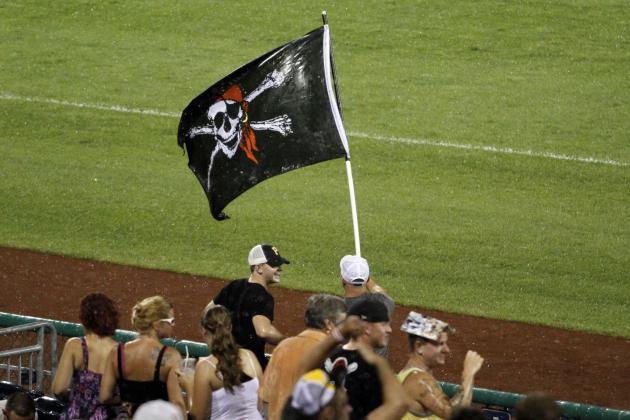 Justin K. Aller/Getty Images

Andrew McCutchen is one of the most exciting players in baseball today, and the Pittsburgh Pirates were actually on pace to break .500 for most of the season. Although that did not end up happening, the fact of the matter is that only 68.2% of this stadium was filled on average.
While that is much better than every team I have already mentioned on this list, for a team that was on the verge of breaking a streak of futility, you would have hoped for a little more support at home.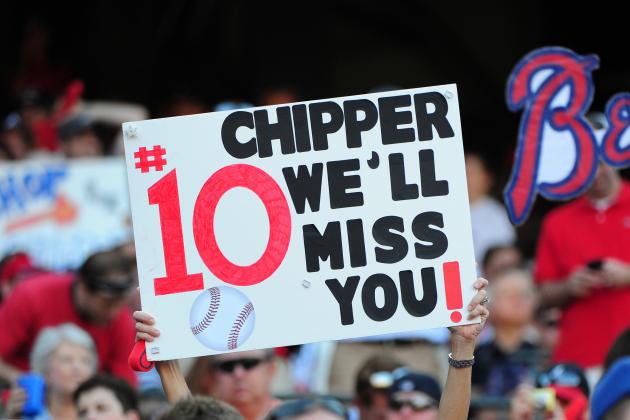 Scott Cunningham/Getty Images

The Atlanta Braves are not nearly as dominant as they were a few decades ago, but baseball is definitely still alive in Georgia. It is still a popular sport, but for some reason the Atlanta Braves get 15.1% more fans when they go on the road than when they play at home.
I am not sure why that is the case, and even though they do get almost 30,000 fans on average at Turner Field, you would expect more out of this franchise.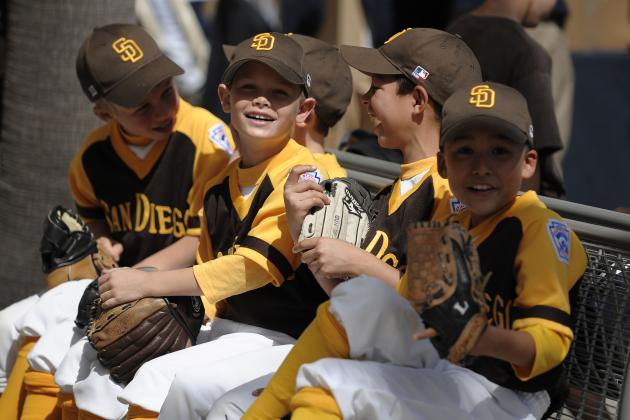 Denis Poroy/Getty Images

The San Diego Padres don't tend to score very many runs, so the baseball is not always the most exciting. Also, they have not necessarily been successful for quite a while, so it is surprising that they typically had 6000 more fans per home game than the Oakland Athletics did.
If they are ever able to have more success, maybe the fans would start pouring in.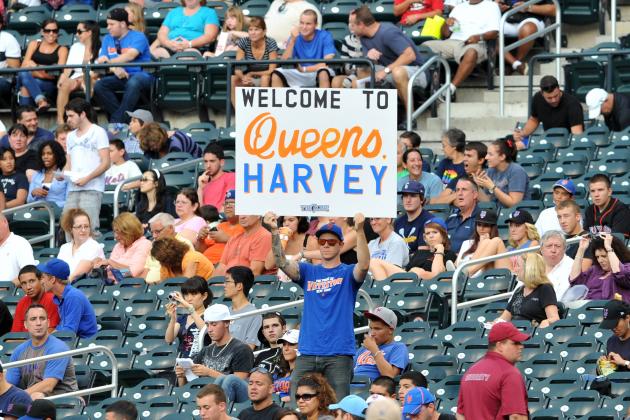 Jason Szenes/Getty Images

Of course, the New York Mets have not been very successful lately, and 2012 was no exception. That being said, they play in the biggest city in the United States, and everything that it would be a little bit easier to sell more than 67.1% of the available tickets.
However, this franchise will always be in the shadow of the New York Yankees, so I guess it is somewhat understandable that they don't sell out every night.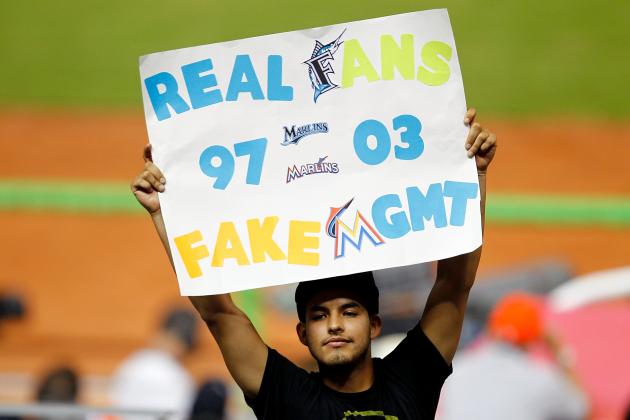 Sarah Glenn/Getty Images

The Miami Marlins had a great fan turnout this season by selling 73.2% of their seats, but the reason I dropped them so long on this list is because their fans only came out because all of the major moves they made in the winter. In the past, the Marlins had no fan support, and when the weather seemed like it was going to get fairer, the fans came out.
While it is much easier to cheer for a winning team, it is still hard to see this type of jump and assume that all of the fans are a die hard all of a sudden.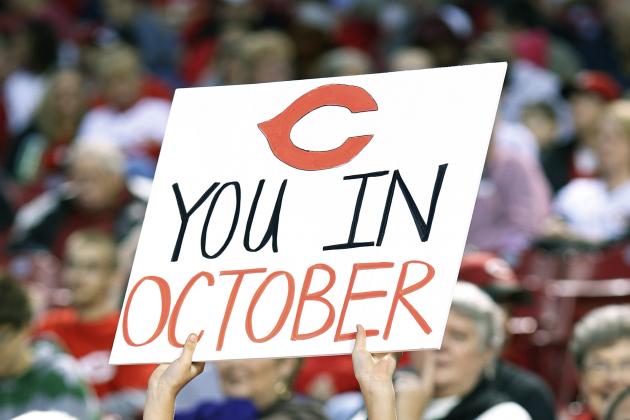 Joe Robbins/Getty Images

The Cincinnati Reds have been gaining more momentum every year, and while the fans are definitely starting to take notice, they're still not quite up to the level where a team of her caliber should be. Only 68.5% of the seats are full at Great American Ball Park on average, so while that is not bad, it should definitely be better.
The Reds score a lot of runs, and even though that exciting baseball should bring in the people, it hadn't really done quite that so far.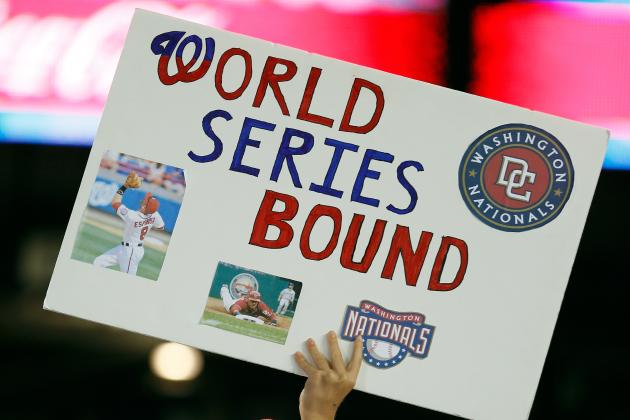 Rob Carr/Getty Images
Well, maybe not...
The Washington Nationals came out on top of what should have been a very competitive National League East, and you would think that their fan support would have been a little bit better. While they did fill 72.3% of their seats, it is kind of surprising that that number was not a little bit higher.
With a young team headlined by Stephen Strasburg and his electric arm, the momentum is only going to build even though I would have expected a little bit more this season.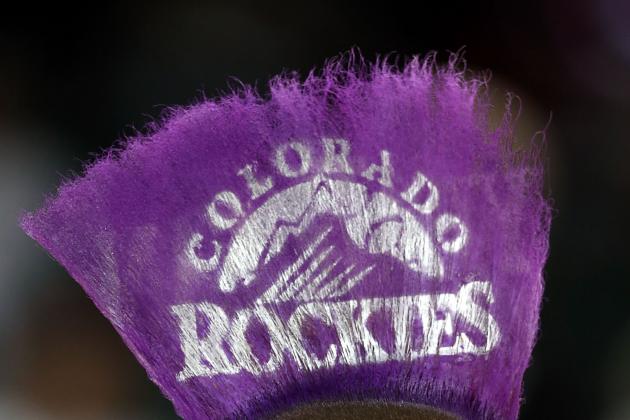 Christian Petersen/Getty Images

The Colorado Rockies are somewhat of an anomaly on this list. They had an incredibly difficult season and played a lot of it without their star shortstop Troy Tulowitzki. However, they still managed to average 32,474 fans at all of their home games.
The combination that I cited at the beginning would normally drive down attendance, but for some reason it worked out all right for the Colorado Rockies in terms of fan support.
Rob Carr/Getty Images

I know that the New York Yankees probably have more fans than any team in baseball. However, sometimes you do have to wonder how many of those fans are Yankees fans by default. They know that the Yankees are almost always good, so they simply jump on the bandwagon.
That being said, I know that there are plenty of strong Yankees fans out there who legitimately know a lot about baseball, but I have also seen far too many fans who only want to join in the fun of victory.
Harry How/Getty Images

The Los Angeles Dodgers made some major moves at the trade deadline to try to make a playoff run, and even though it did not pan out quite the way they had anticipated, they still averaged 41,040 fans over the entire season.
Dodger Stadium is huge, so the percentage did not look nearly as impressive as the total I just mentioned. Obviously, they belong near the top of this list, and they may even move up higher when they have a full season with their All-Star caliber roster.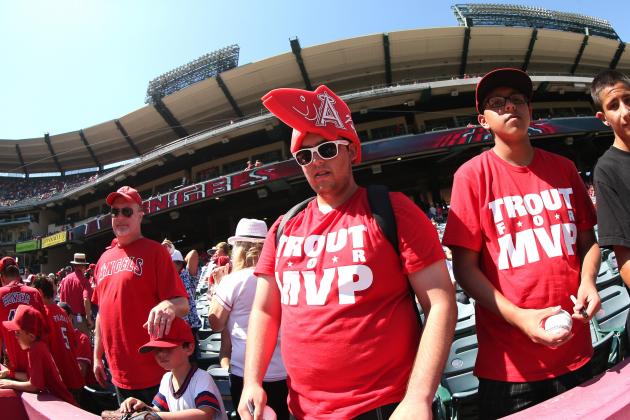 Stephen Dunn/Getty Images

The Los Angeles Angels of Anaheim have had substantial fan support for a long time, and much of that is due to their consistently strong play. With the acquisition of Albert Pujols and the emergence of Mike Trout, the excitement is going to stay around the city for a little while longer.
Like the Dodgers, they could easily move up this list in the near future if they're able to get off to a better start than they did this season.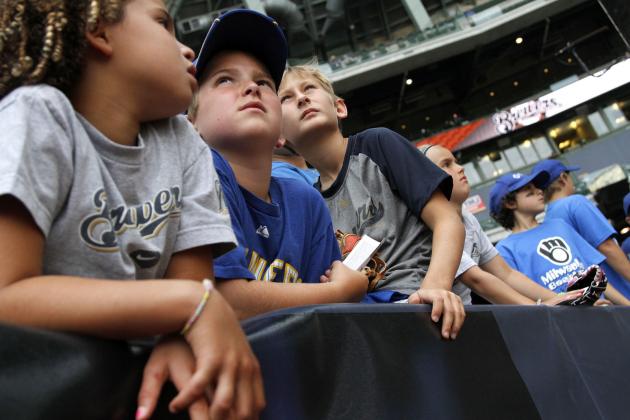 Mark Hirsch/Getty Images

Even though the Milwaukee Brewers took a while to get themselves on track, when they started to rally, everyone around baseball started to get excited. However, in Milwaukee, that excitement was there most of the season as they sold 83.4% of their tickets on average.
For a team that was virtually out of the race for a good portion of the early season, that is definitely an impressive feat.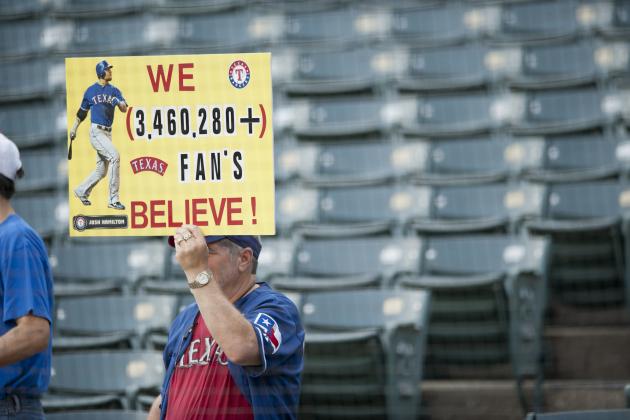 Cooper Neill/Getty Images

The Texas Rangers have been enjoying excellent fan support for the past few seasons because of their great run of success. This season, even though they failed to make it out of the wild-card round of the playoffs, and they were on top of the American League West for most of the season.
Obviously, success is one of the most important characteristics of a team that is trying to build a strong fan base, so it makes sense that the Rangers would be near the top of the list.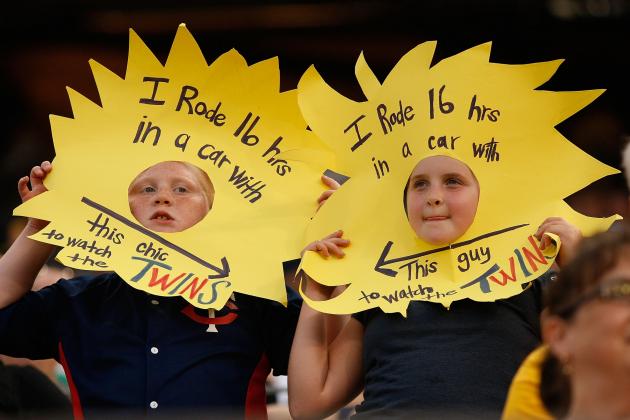 Jared Wickerham/Getty Images

It had been a while since Minnesota Twins were any good, but you have to hand it to their fans. 86.8% of their seats were filled when they played at Target Field. For comparison's sake, when they played on the road, only 66.5% of the seats were full at the stadiums.
That would seem to indicate that there might not be many Minnesota Twins fans around the country, but the ones in Minnesota care quite a bit about this franchise and support them through thick and thin.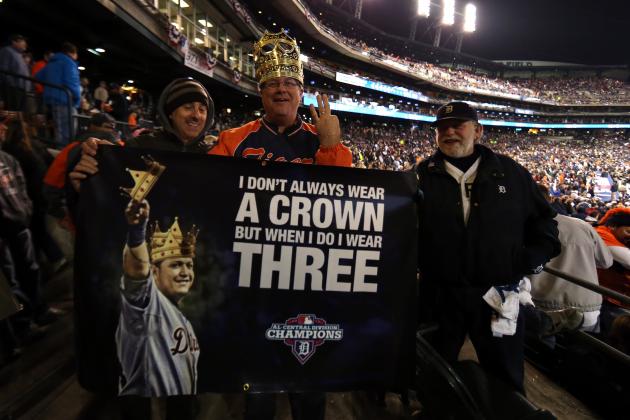 Leon Halip/Getty Images

The Detroit Tigers fans deserve some major credit. Even though Detroit struggled through a great portion of the season and only managed to slip ahead of the Chicago White Sox right at the end, their fans still came out by filling 90.6% of the seats.
Miguel Cabrera, Prince Fielder and Justin Verlander are not going anywhere anytime soon, so the team will have many more highly successful years ahead which will motivate the fan base.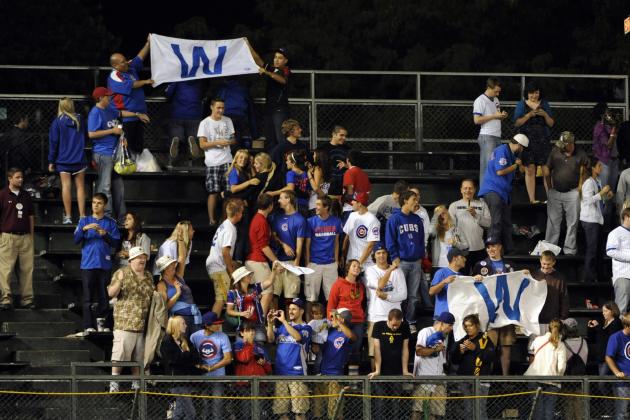 David Banks/Getty Images

The Chicago Cubs' fans are legendary for their support, and even though their team had a very difficult 2012, they still came out to fill up Wrigley Field. On average, 35,589 people came out to home games, and I'm sure that they were not quiet.
While this is not necessarily as strong a position as they would have held in previous seasons, there are still definitely plenty of passionate fans in Chicago.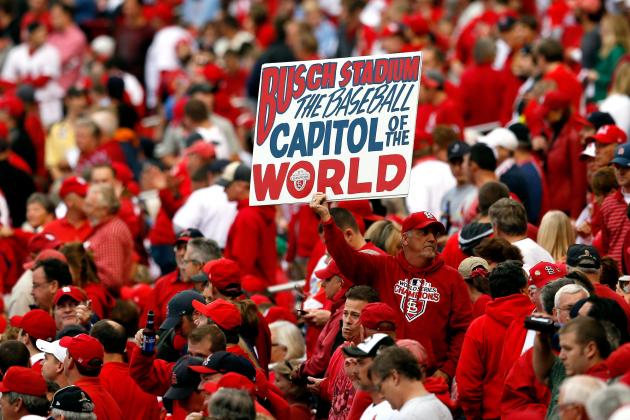 Kevin C. Cox/Getty Images

The St. Louis Cardinals are one of the most legendary teams in baseball, and their fans have been loyal for a long time. This season, they filled 91.6% of their seats, but I am sure that that is not surprising to you whatsoever.
When you put a good team on the diamond for many years in a row, the fans come. It is kind of like in Field of Dreams. They are reaping the benefits of building a strong franchise.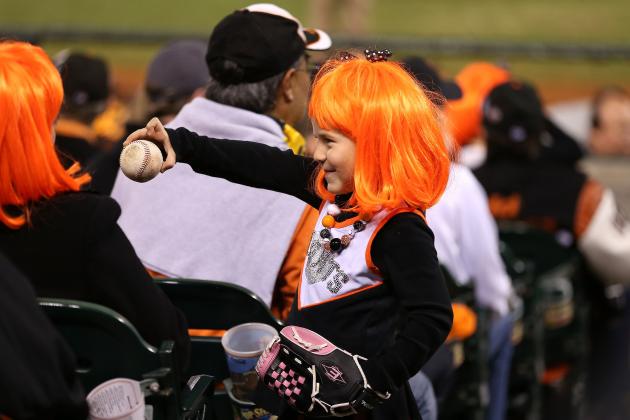 Ezra Shaw/Getty Images

It is a pretty crazy year when a team that filled 99.5% of its seats all season has to come in third place on my list. However, the San Francisco Giants had an excellent year, and it makes a lot of sense that their fans came out.
As you will soon see, the two teams ahead of the Giants on my list had substandard seasons, and I had to reward their fans for sticking through incredibly difficult circumstances.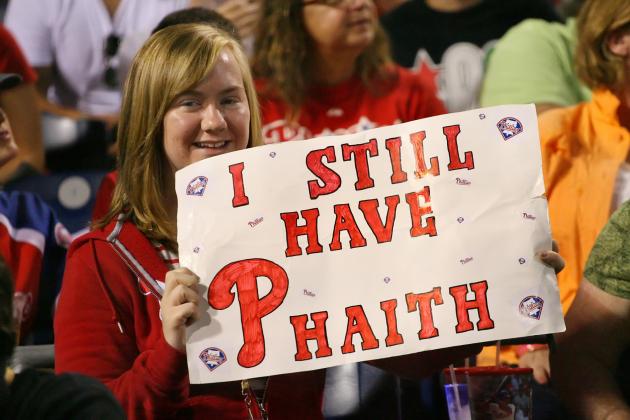 Hunter Martin/Getty Images

The Philadelphia Phillies tried to rally near the end of the season, but the playoffs were just out of reach. They struggled with injuries to key players throughout the season, and they had stretches where they played poor baseball.
All of that being said, the Phillies had the best average turnout in baseball with 44,021 people per game. These fans have a reputation for being loud and loyal, and they proved it this season.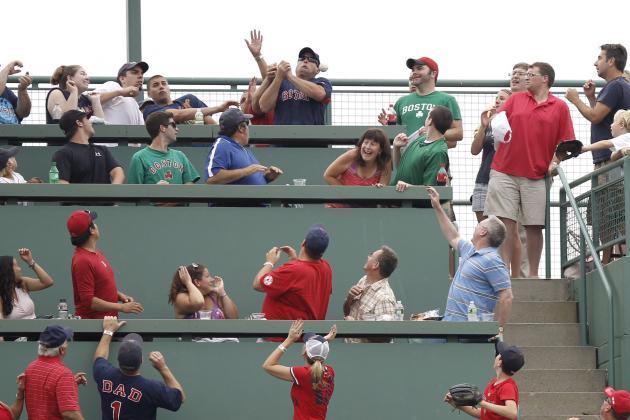 Winslow Townson/Getty Images

The Boston Red Sox had a difficult season to say the least. Drama seemed to spin around this team, and a massive firesale went down at the trade deadline. However, even with all of that going on, the Red Sox sold 101.4% of their capacity on average at every game.
When you have a team that finishes in last place in their division but still manages to do even better than a sellout, those fans are by far the most passionate in all of baseball.
Whether you think I know everything or nothing about Major League Baseball, you should follow me on Twitter or become a fan on Facebook and keep in touch. I love hearing what you all have to say!