Top 10 NBA Players with the Most to Prove in 2012-13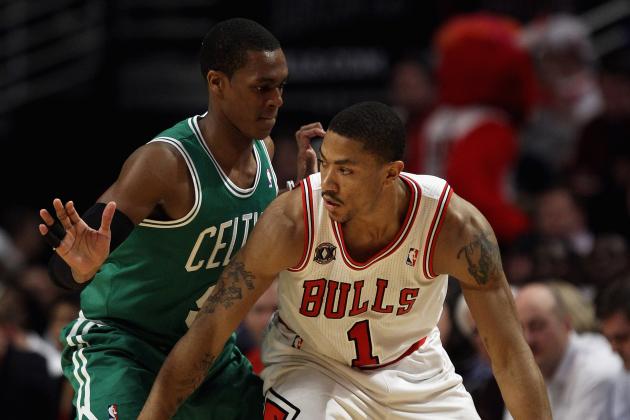 Jonathan Daniel/Getty Images

With the NBA offseason long gone, and training camps and preseason wrapping up, it's time to take a look at which players have the most to prove during the 2012-13 campaign.
Some are looking to prove they're worth their contracts, while others are hoping to bounce back from injuries. Either way all 10 of these guys are counting on good seasons to prove they belong with the NBA elite.
Begin Slideshow

»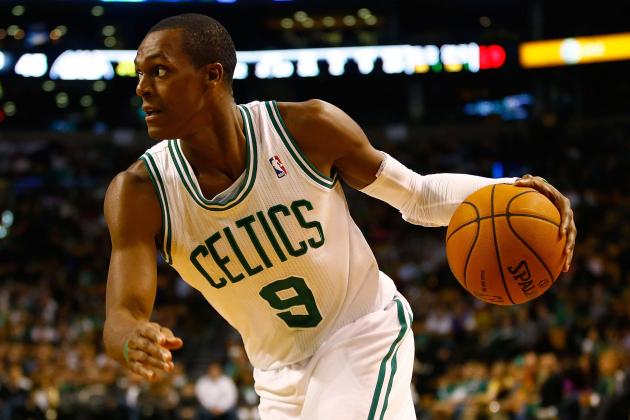 Jared Wickerham/Getty Images

For the first time in his career, Rajon Rondo goes into this season as the best player on the Celtics roster. Some may have thought this at the beginning of last season, but many others still believed Paul Pierce and Kevin Garnett were still the unquestioned leaders of the locker room, which was likely true.
But while Pierce and Garnett are still expected to provide a veteran presence, it is Rondo who is expected to take his career to the next level and prove that he is indeed one of the top players in the league.
Many place much of the blame on Rondo for Ray Allen's departure, and the burden will be on him to show that the Celtics can be better off without him. With a more youthful team this season, expect Rondo's assists to go up.
During the postseason, we saw Rondo start to be a little more aggressive in terms of scoring, which was especially evident in his 44-point outburst in Game 2 of the Eastern Conference Finals.
If he can continue to improve his jump shot to go along with his elite passing ability (second-best to Steve Nash) and willingness to rebound, the sky is the limit for the 26-year-old.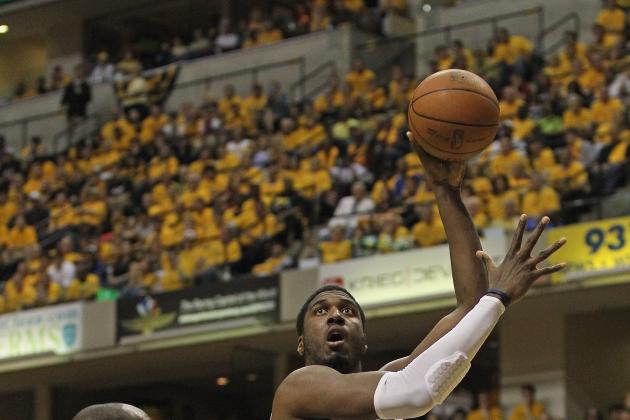 Jonathan Daniel/Getty Images

Roy Hibbert might be the only player in NBA history to receive a max deal whose career high in points per game over the course of a season was less than 13 (12.8 ppg to be exact).
Of course, scoring is not what the Pacers are paying him for. Being one of the few true centers still left in the game, his size and defensive ability are what sets him apart from other big men in the league.
Hibbert averaged only 8.8 boards per game last season. When you are getting paid at the elite level, you're expected to play at an elite level, and at 7'2", 8.8 is certainly not elite.
But that is not to say that Hibbert has not gotten better. To his credit, he has showed steady improvement in each of his four years in Indianapolis and came up especially big during the postseason.
The major difference now is that he is on a max deal, and from here on out the expectations will be much higher. He will have to show the Pacers and the rest of the league that he is worth the max.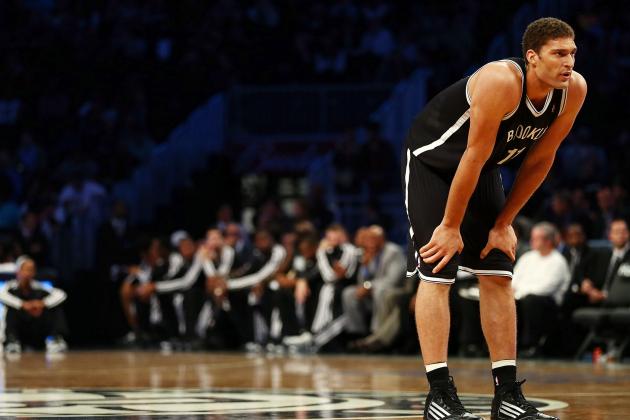 Alex Trautwig/Getty Images

Much like Hibbert, Brook Lopez received a max deal largely because he is one of the few remaining true centers in the NBA. The main difference between Hibbert and Lopez is that Lopez spent most of the season on the shelf with a broken foot and twisted ankle, while Hibbert showed gradual improvement throughout the season.
But unlike Hibbert, Lopez is a much more offensive-minded, back-to-the-basket post. He also is a poor rebounder, especially by seven-footer standards.
In 82 games in 2010-11, Lopez managed just six rebounds a game in 35 minutes. For standing 7'0", that's unimpressive to put it nicely, especially given the number of minutes he was playing.
The Nets reloaded this offseason, and Deron Williams expects to move the ball around quite a bit, which means Lopez is going to have to prove his worth in more areas than just scoring. To do this he'll have to get his rebounding average above 10, while also providing a solid low-post defensive presence.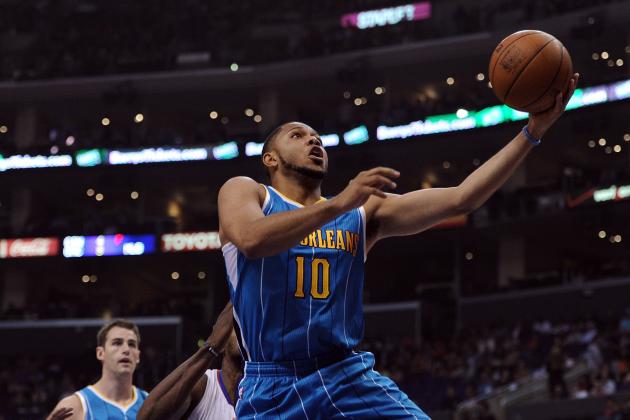 Harry How/Getty Images

Eric Gordon is still somewhat of an enigma by NBA standards. Over the course of his four-year career, he has played in 205 out of 312 possible games, which comes out to just 66 percent. And during the time he was listed as "healthy," he was really battling various lingering ailments.
Despite this, when healthy, Gordon has proved that he has the potential to be one of the most lethal scorers in the game today. After initially agreeing to terms of a max deal with the Phoenix Suns this offseason, the New Orleans Hornets matched the deal, much to the chagrin of Gordon, who preferred the up-tempo style of Phoenix Suns Coach Alvin Gentry.
Whether he likes it or not, Gordon is a member of the Hornets, who suddenly appear to have a promising future with freshman phenom Anthony Davis now on board. Unfortunately for Gordon, his season is off to a shaky start, having already missed all of the preseason with the same lingering knee problems.
At just 23 years old, there is still plenty of time for him to validate his contract, but if he goes through another injury-plagued year, general managers and coaches around the league will begin to write him off.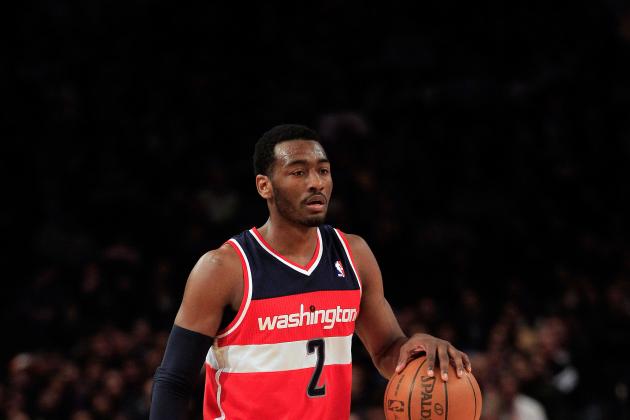 Chris Trotman/Getty Images

John Wall has had a somewhat unspectacular first two years in the league. Despite a promising rookie season, he showed little improvement in year two, and if anything, he might have slightly regressed in terms of decision making.
In order to ensure that Wall is part of the Wizards' future, general manager Ernie Grunfeld went out and traded for two talented but overpaid role players in Emeka Okafor and Trevor Ariza. In addition, he also drafted promising young guard Bradley Beal to pair with Wall in the backcourt.
Unfortunately due to a knee injury, Wall has missed most of training camp and all of the preseason. In addition, he is expected to miss at least the first month of the regular season. With no time to get acclimated with his new teammates, it is feared that the missed time will make for a slow start.
You can bet that Wall wasn't thrilled with all the chatter about Kyrie Irving being the next big thing in the league, and when Wall returns from his injury, he will hope to assert himself as a perennial All-Star.
To do this, he will have to improve his outside shooting, and more importantly his decision making, as he has averaged almost four turnovers per game over the course of his first two seasons.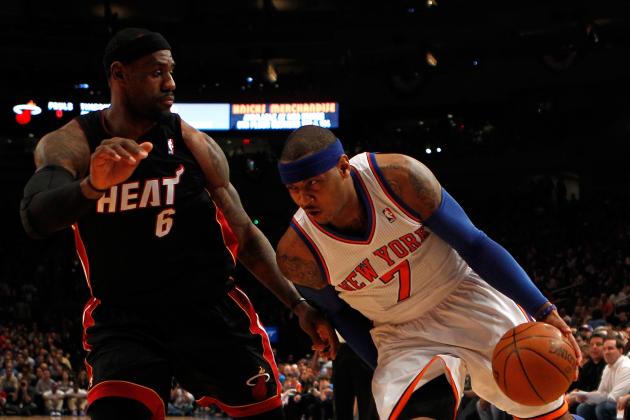 Jeff Zelevansky/Getty Images

One of the worst things that ever happened in Carmelo Anthony's career was being drafted in the class of 2004. For the remainder of his career he will always be compared to LeBron James and Dwyane Wade, who both now have championship rings in their trophy cases and will inevitably go down as two of the greatest to ever play.
Melo has been one of the best pure scorers in the NBA over the last decade, but he hasn't experienced the same glory in terms of wins and losses as LBJ and D-Wade have. He hasn't exactly done himself any favors having forced his way out of Denver to be under the bright lights of New York, only later to go on to push out Mike D'Antoni and fan-favorite Jeremy Lin.
But that is part of the problem with him. He insists he wants to win and wants to be "the guy" like LBJ and Wade, yet isn't willing to sacrifice as they have in order to get there.
At just 28, Melo is in the prime of his career. If this is the year he can put it all together, not just as a scorer but as a defensive presence and locker room leader, then maybe the Knicks can surprise some teams this postseason.
But until the Knicks are competitive on a year-in, year-out basis, Melo will always be looked at as an underperformer.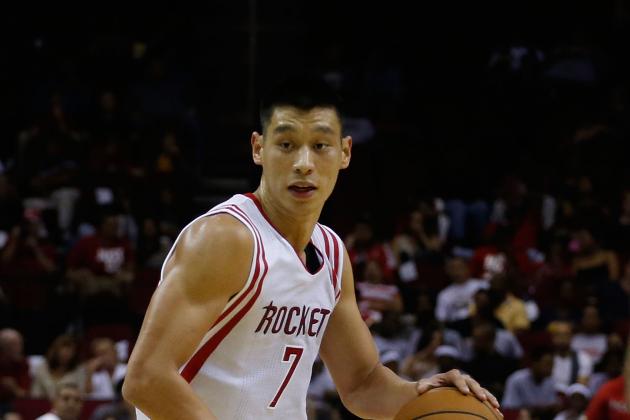 Scott Halleran/Getty Images

Jeremy Lin, or "Linsanity" was truly one of the most inspirational stories of the NBA over the last several years. How could he not be? Asian-American Harvard graduate overcoming the odds to become an NBA sensation. Sounds great. But at the same time, it really put the New York Knicks in a tough situation.
He had an incredible run while Carmelo and Amar'e Stoudemire were out with injuries and went on to average close to 15 points, six assists and three rebounds per game before a season-ending injury to his knee. More importantly, he gave the team a boost when many Knicks fans were beginning to wonder what direction they were headed.
Unfortunately, with Lin being a free agent, Knicks management had to decide whether or not 25 games as a starter was enough to warrant a major pay raise. Ultimately they decided against it and let Lin walk for a back-loaded deal worth close to $30 million dollars with the Houston Rockets.
In addition, the Rockets traded promising point guard Kyle Lowry, clearing the way for Lin to be the clear-cut starter on a very, very young team (11 players aged 24 or younger).
We all know what Melo thought about the deal Lin received, but after Lin's sub-par preseason, some are beginning to wonder if he was on to something. So far, through four games, Lin is averaging 5.8 PPG and shooting an abysmal 25 percent from the field. Not much to brag about when you're talking about your franchise point guard.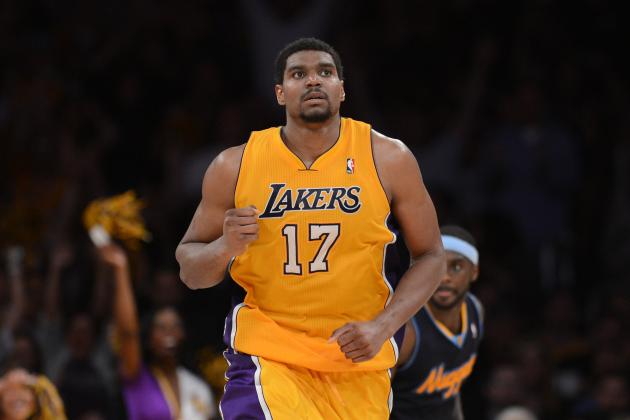 Harry How/Getty Images

It can be agreed that Dwight Howard and Andrew Bynum are far and away the top two centers in the NBA. While Dwight Howard is obviously the best low-post defender in the league, many would argue that Bynum is the best overall center.
Offensively, Bynum is much more polished and skilled with his back to the basket than Howard. With the Lakers, Bynum was often the second, or even third option, and he got many of his points off offensive rebounds and put-backs. But at times Bynum looked absolutely unstoppable on both offense and defense.
With his trade to the Philadelphia 76ers, Bynum now becomes the clear-cut focus of the Sixers' offense. With no Kobe or Pau to take away from his touches, Doug Collins hopes that Bynum can become the league's next great big man.
Given Bynum's size and skill, this is an attainable feat, but as a Laker his work ethic and health were frequently questioned. So far, Bynum is not off to a hot start, having already missed all of training camp and preseason with a nagging knee injury.
Bynum was supposed to have his first practice with his new team Wednesday but experienced discomfort. In order to become elite, he will have to prove in the upcoming week that his conditioning and knee are ready for the grind of the NBA regular season.
If he can do that, it is not unrealistic to think Bynum could boast nightly averages of close to 24 and 13, with the increase in touches he is in line to receive from the 76ers.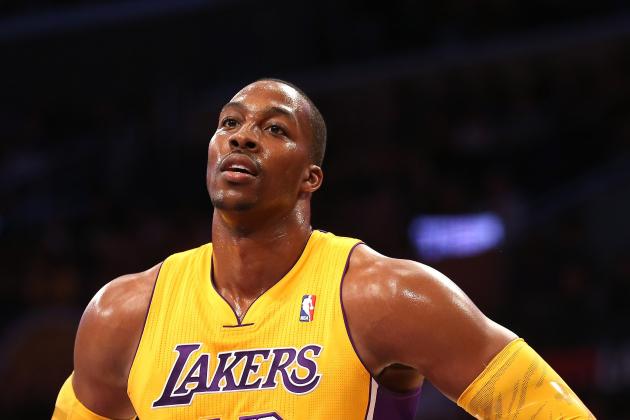 Stephen Dunn/Getty Images

After over a year of "he said, she said" between Dwight Howard and the Orlando Magic, Howard finally got his wish and was shipped off to L.A. He joins Kobe Bryant, Pau Gasol and Steve Nash to a form a video game-like lineup.
The main adjustment for Dwight will be his new role. In Orlando the team was built around him with three-point shooters who could spread the floor, allowing Dwight all the space he needed to be a threat offensively.
In L.A., he will serve as more of an elite role player, expected to do only the things that he is capable of doing on nightly basis, i.e. rebound, defend and finish alley-oops.
This could be good and bad. It is well-known that Howard is not an offensive minded talent, and in L.A. he certainly won't need to be. But if the Lakers struggle early and Howard isn't getting the ball when he thinks he should be, personalities could clash.
From his publicized feud with former coach Stan Van Gundy, to clashing with his own teammates, it was clearly evident in Orlando that Dwight wasn't the best at fighting through adversity. And everyone knows that Kobe won't take much BS, as evidenced by his "this is still my team" comment earlier in the preseason.
Howard is off to a great start, making his preseason debut much earlier than anticipated on Sunday and posting 19 points, 12 rebounds and four blocked shots in 33 minutes. Not a bad way to start your career as a Laker, but with all the hoopla surrounding Dwight's trade, anything less than an NBA championship would be considered a failure.
With so much talent around him, just like D-Wade did for LeBron, and Shaquille O'Neal did for Wade, Howard will have to prove that he can sacrifice in order to win a championship.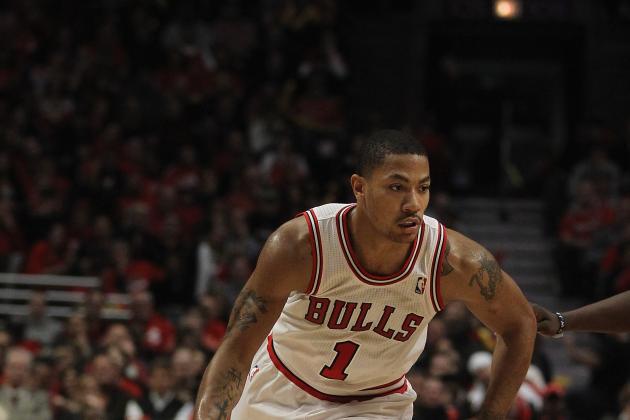 Jonathan Daniel/Getty Images

No one has a bigger challenge ahead of him than Derrick Rose. After tearing his ACL at the beginning of the playoffs last season, he is not expected to be able to return to the court until after the All-Star break, if at all.
It is well-documented how hard Rose has been working to rehab his left knee on a daily basis (thanks, Adidas) so that he'll be able to return for at least a portion of the season. But the question is will he be able to come back and contribute at the MVP level he performed at in 2010-11.
The good news is that the Bulls' roster is talented enough to stay afloat in the Eastern Conference without him and should still be competitive during the back quarter of the season.
If Rose comes back healthy and unfazed, much like Minnesota Viking running back Adrian Peterson has in the NFL, the Bulls could be the team that no Eastern Conference foe wants to meet come postseason play.
In the recent survey taken by NBA general managers, Russell Westbrook was voted the fastest player with the ball in the NBA, while Rose was voted second.
No one is saying Russ isn't one of the quickest players in the open floor, because he certainly is. But many forget just how unstoppable Rose was during his MVP year in 2010-11, when he led the Bulls to the best record in the NBA.
In addition, Rose had begun to show some major improvements defensively prior to his injury. Coming back hasn't been easy, and certainly won't get any easier as the season gets underway. But when Rose returns, you can be assured that he'll come back with a vengeance and look to assert himself as a Top Five NBA player.