World Series 2012 Game 1: Live Score for Detroit Tigers vs San Francisco Giants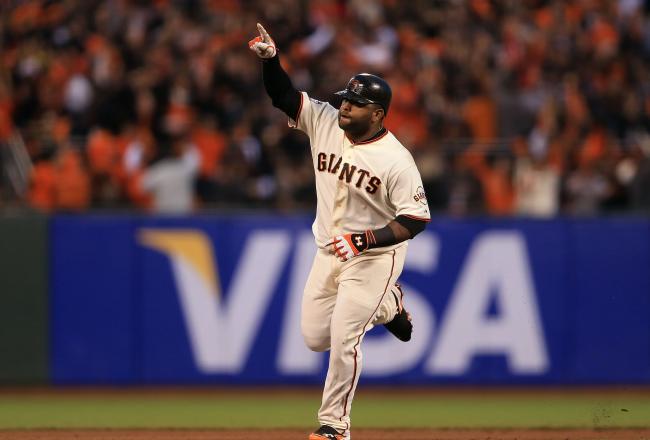 Doug Pensinger/Getty Images
The 2012 World Series starts tonight from San Francisco's beautiful AT&T Park.
The champions of the National League, the Giants, host the American League champion Detroit Tigers.
Barry Zito gets the call for the Giants while Justin Verlander will carry the Tiger hopes on the hill.
SCORE UPDATE:
FINAL: Giants 8 - 3 Tigers
Sandoval homers three times in a row
W: Zito
L: Verlander
Giants lead series 1-0
All it takes is one pitch as Santiago grounds out to short.
Giants dominate Game 1 and win 8-3.
A walk to Avila ends the night for Kontos.
Ramon Santiago is the announced pinch hitter and Affeldt will try to nail this down for San Francisco.
Jeremy Affeldt warms in the pen as Andy Dirks pinch-hits for Garcia.
Dirks grounds out to Belt and Avila is the last hope for the Tigers.
Peralta homers just over the outstretched glove of Pagan in center.
They trail now, 8-3.
Young singles through the hole between second and first and Peralta is up.
Joaquin Arias takes over for Sandoval at third and the new pitcher is Jose Mijares gets Fielder to ground out to third.
He only gets to face Fielder as George Kontos gets Delmon Young.
Aubrey Huff, pinch-hitting for Lincecum has a ball stabbed by Cabrera at third and it is a perfect eighth for the Tigers.
Rick Porcello is now in for the Tigers and he strikes out defensive hero Gregor Blanco.
Crawford flies out to a running Jackson for the quick second out.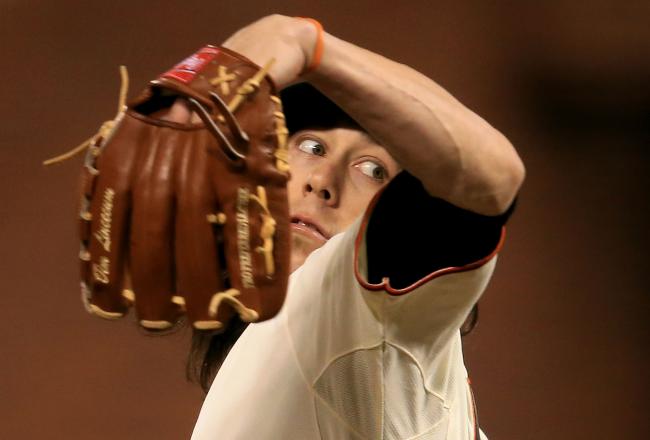 Lincecum strikes out Cabrera and has retired all seven batters faced so far.
Lincecum starts the eighth by striking out Austin Jackson.
Infante then grounds out to second quickly for two out.
Bruce Bochy has pulled the strings beautifully tonight in the Giants' dugout.
Bye Bye Papa Grande. What's his playoff ERA now? Over 50.00?

— Drew Sharp (@drewsharp) October 25, 2012
Actually, it is 54.00
Benoit strikes out Belt swinging to end the inning, but the Giants are in full command as we go to the eighth.
After a wild pitch, Benoit strikes out Pence.
If you were ever curious about what a manager's nightmare might be like, you are living Jim Leyland's.
Posey bloops one into short right and another run scores.
Valverde is done. He only gets one out.
Benoit is next, two on and one out.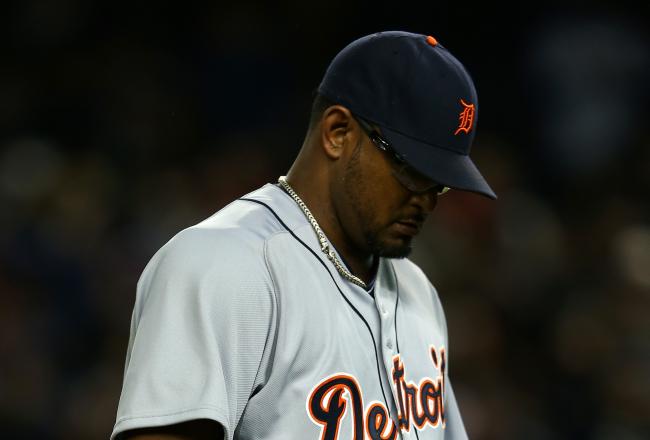 Sandoval keeps it in the yard, but he singles to left-center and Scutaro moves to third.
Valverde is in trouble.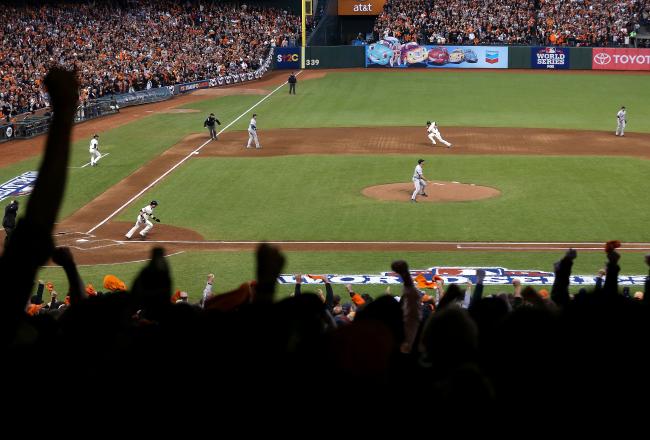 Scutaro singles into the hole in left.
Pagan scores easily as Benoit warms up and here comes SANDOVAL.
After Lincecum strikes out, Pagan doubles with a line drive all the way to the wall in right.
The Tigers have given up as many runs and home runs tonight as they did the entire ALCS.
It is indeed Valverde out to pitch and Lincecum will bat.
Barry Zito's final line:5.2 ip - 6 H - 1 ER - 3 Ks - 1 BB - and 1 RBI #RallyZito

— San Francisco Giants (@SFGiants) October 25, 2012
Qunitin Berry pinch-hits in the pitcher's spot and grounds out to second.
Stretch time in San Francisco.
As San Francisco Police Sargent Jeff D'Arcy sings God Bless America, Pablo Sandoval would bat fourth for the Giants.
After getting Garcia to strike out swinging on a full-count slider, Avila goes down swinging.
Lincecum looks so much more comfortable coming out of the pen.
After Blanco strikes out, Crawford grounds out to second.
Valverde is warming up as the sixth ends and He will get a chance in the seventh.
Alburquerque starts the sixth and gets Belt to fly out to left.
It is Peralta that greets Lincecum.
Zito was not happy at all about being yanked, but he drew a standing ovation on his way back.
Lincecum strikes out Peralta and slams the door.
Zito stands in line to get the win.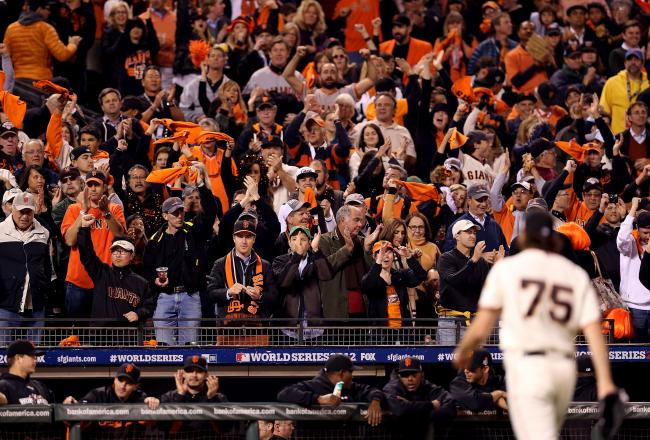 As Tim Lincecum starts to warm up, Gregor Blanco just robs Fielder of a base hit for the second out.
Like before he was running forward and made the catch diving just off the grass again!
Young singles and there are two on and two out as that is the night for Zito.
This article is
What is the duplicate article?
Why is this article offensive?
Where is this article plagiarized from?
Why is this article poorly edited?