Ranking Pro Wrestling's 7 Worst Ring Names of All Time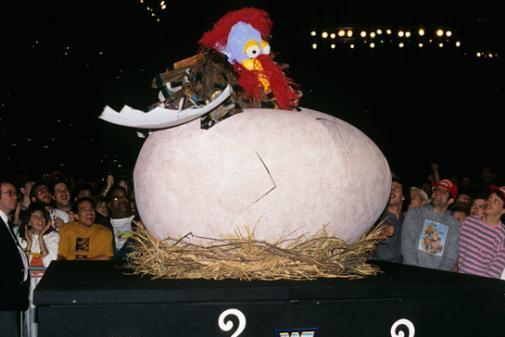 Photo by WWE.com
What's in a name?
Apparently everything.
Professional wrestling is a world among itself and has always been known for its colorful characters and storylines so wild that they make soap opera writers blush.
So it's no surprise that the names wrestlers use are just as colorful as the wrestling world is. And a good name can make or break a wrestler. A poorly chosen name can turn even the best wrestler into a joke.
For every Rock or Big Show, there are plenty of misses.
Here are the seven worst ring names of all time.
Begin Slideshow

»
Juan Rivera wasn't even Asian.
The former WWC Universal Heavyweight champion made his WWE debut in 1994 at the Royal Rumble as Kwang, a horrible take on a Ninja. It encompassed all the bad clichés of Asian wrestlers, including colorful masks and ring attire, as well as green spray from the mouth.
Luckily for Rivera, he was a good wrestler and his skills helped to lift the bad name somewhat, where he eventually faced WWF champion Bret Hart in the main event of Monday Night Raw.
But he never quite got over with the fans and by 1995 was gone from WWE television.
He later returned as Savio Vega, became the first man to beat both The Rock and Stone Cold Steve Austin, and he went on to have great success in the early years of the Attitude Era.
Somewhere Bill DeMott is shaking his head.
The NXT trainer and two-time WCW United States champion is better known as Hugh Morris, an impressive beast of a 300-pound wrestler who was capable of performing a moonsault that ended with a headbutt from the top ropes.
As part of a storyline, WCW thought it was a great idea to have him change his name to General E. Rection.
While this happened in 2000, in the final years of WWE's Attitude Era and envelope pushing, this play on words was way over the top.
He may have been leading the comedic Misfits in Action, but this name only elicited moans.
Bill Irwin deserved better.
His wrestling career started in 1979, in the NWA and World Class Championship Wrestling. He won 14 tag team titles in various organizations, and also captured two different heavyweight titles on three separate occasions.
He was a legend on the indie circuit.
But for whatever reason, when he finally arrived in the WWE in 1995, he was suddenly transformed into a super-tough hockey player who was kicked out of every league he ever played for.
The name and the gimmick bombed, and The Goon left yet another organization.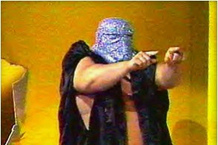 Photo by Fruno Bulax on flickr
The Shockmaster suffered from two things: A ring name that sounded like it came from an early '80s Hasbro toy line and the most bumbled debut in the history of the sport.
Fred Ottman was The Shockmaster. In the WWE, he was also Tugboat before becoming Typhoon and winning the tag team championship.
But when he went to WCW, he was given a spray painted Stormtrooper helmet, jeans and a vest. He looked like a joke. But when he tripped in his big entrance on Ric Flair's "Flair for the Gold" interview segment, with his helmet flying off, he became a joke too.
He left WCW the following year after they tried to repackage him as The Super Shockmaster.
Ron Reis could have been a monster wrestler, instead of just a wrestler who was a monster.
Standing an inch taller than The Big Show and weighing 365 pounds, Reis was trained by wrestling legend Big John Studd. He had all the tools to be a breakout star.
Instead WCW turned him into the Yeti, a huge giant monster wrapped from head to toe in bandages. He was Kevin Sullivan's "insurance policy" for his Dungeon of Doom stable.
The Yeti was an instant joke. He was a cartoon character too far-fetched even for the mid-'90s WCW.
He made three more appearances as the Yeti, but appeared more like a ninja. His named was later changed to The Super Giant Ninja, and finally he became Big Ron Studd.
He left WCW in 1998 for the more cartoon-friendly Japan.
The evil brother of Santa Claus debuted at WWF In Your House 5: Season's Beatings, and he should have stayed there.
Instead he appeared the next night on Monday Night Raw and then a few more times after that.
Jon Rechner was Xanta Claus and it was a disappointing thing that the former tag team partner of Cactus Jack got saddled with such a bad name. The WWE never got a chance to see what potential the man had.
He eventually moved on to ECW where he became known as Balls Mahoney and captured three tag team titles.
When WWE purchased ECW in 2006, he made some appearances but was gone once again by April 2008.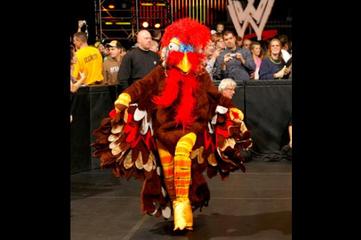 Photo by WWE.com
If the Gobbledy Gooker had never stepped foot in a ring, then he could have faded into obscurity as a bad mascot for one pay-per-view.
Hector Guerrero, brother of the late Eddie Guerrero, was the unfortunate wrestler chosen to be the Gobbledy Gooker. At the 1990 Survivor Series, he hatched from an egg and danced in the ring with "Mean" Gene Okerlund.
The crowd hated him and he disappeared after the event, making only the occasional appearance.
Until 2001 that is.
At WrestleMania X-7, the WWE held a gimmick battle royal that the Gooker was unfortunate enough to be in. He was eliminated second, right after Repo Man.
The WWE's most famous turkey has steered clear of the ring since then.