After one very disappointing season managing in Miami, Ozzie Guillen was fired by the Marlins today (source).
According to one Marlins official, the club's dismal 69-93 performance wasn't the only reason for his dismissal, however. Guillen's public-backlash-igniting comments about Fidel Castro at the beginning of the season also played a part.
The Marlins moved their franchise to Miami and in to a brand new, state of the art, $634 million ballpark hoping they could finally build a decent fanbase after seasons of league-worst attendance figures. Planning on making a splash immediately, they opened 2012 with a $118 million payroll, the most expensive roster in franchise history and the second largest in the NL.
Part of the Marlins new look and new direction was a new manager. After running through four skippers in the two previous years, the club set its sights on Ozzie Guillen. A former World Series champion and a fiery, controversial, attention-grabbing figure, Guillen seemed like a perfect fit. He held a lifetime .524 winning percentage before 2012, and his resume included a 2005 AL Manager of the Year award as well as a pennant and a World Series ring.
Not only did his teams produce results, but Ozzie himself attracted fans, and that's something the Marlins sorely needed.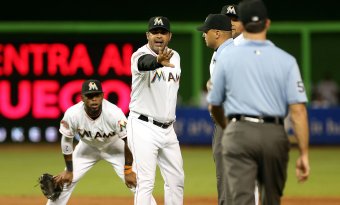 Marc Serota/Getty Images
Big money, big expectations and Ozzie didn't live up to his side of the bargain.
Guillen's Marlins crumbled in the spotlight, posting the franchise's worst win total since 1999 despite their record-setting payroll. Even worse, Ozzie didn't attract fans, he drove them away. Just a week into the season, a Time magazine issue featuring Guillen raving about his love for Fidel Castro hit store shelves. Immediately, the Little Havana neighborhood surrounding Marlins Park erupted in anger and outrage.
Despite their new stadium, expensive team and hefty investment from their owner, the Marlins didn't attract as many fans as they hoped they would. Guillen's regime was supposed to help in that department, but in the end, nobody really cared. After the Marlins average attendance sat at 18-22 thousand a game in their old park (since 2004), they saw a 20-30% increase to about 27 thousand per game. But considering all of the promotion, hype and attention from the press, averaging 10,000 empty seats a night in a small park—that sits in a huge market—is nothing to be proud of.
Did Ozzie deserve another season to work things out in Miami?
On the field, the Marlins poor performance wasn't all Ozzie's fault. He's a manager, and baseball skippers don't generally have a sizeable impact on season-long performance, at least not compared to the kind of value a head coach in the NFL or a college basketball coach holds. Poor free agent signings of Heath Bell (5.09 ERA, -0.7 rWAR) and Jose Reyes (2.8 rWAR) had a lot to do with their underachieving
Injuries did too. The club's best young players, Giancarlo Stanton and Logan Morrison, were both forced to miss large chunks of time while sitting on the disabled list.
But Ozzie does deserve a hefty portion of the blame for the Marlins on-field problems. He wasn't the player's manager that he was billed to be coming in to the season. When his gold bullion-priced All-Star closer Heath Bell struggled, he killed his confidence with mismanagement. With the local media watching closer than ever, he let Bell flounder in game-deciding situations and rack-up loss after loss before finally benching him.
Before Bell was traded to the Diamondbacks this offseason, he offered some choice words for his former manager, saying he didn't "respect" Guillen. He later rescinded his comment, only to have Guillen rip him a new one on his own radio-aired interview.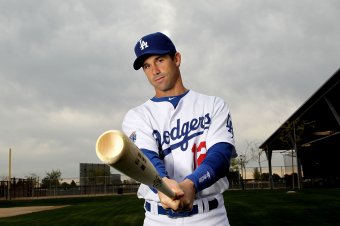 Jed Jacobsohn/Getty Images
Whether or not one season is enough to judge a manager is debatable. But the Marlins need to win, and they need to attract fans. They can't risk another ugly season during such an important period. After years of awful revenue figures and zero fan support, they have a second chance, and they can't continue to squander it.
The Marlins record has now declined in four straight seasons, and the new look team didn't attract like they were supposed to. Ozzie was hired to win and put fans in the seats and he didn't succeed on either front. So, they're going to look for someone who can.
To replace Guillen, Miami needs a manager that can turn their luck around and can attract more positive attention. They've already started the interview process, and right now, they're taking a long look at two of the game's hottest managerial prospects—Mike Redmond and Brad Ausmus.
Ausmus retired as a player following 2010. One of the best defensive catchers of his generation, Ausmus' pre-game preparation and work ethic earned him a reputation as one of the sport's role models. A Dartmouth graduate, he's also one of the most intelligent players to have ever played the game, often using regression analysis to draw up scouting reports on opposing hitters. His pitchers loved working with him, and during his Astros career, the team's staff annually ranked near the top of the league in performance.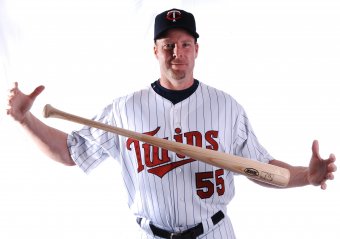 Marc Serota/Getty Images
Former Astros general manager Tim Purpura once compared Ausmus to a "college statistics professor," and he often raved about his valuable contributions to his team:
I think he's a key member of our team...What we've been able to accomplish pitching-wise is due in large part to Brad's influence on the staff and what he's been able to impart to our young pitchers and how well he's worked with our veterans. He really takes on that type of role. He goes through scouting reports and all the statistical information like a college professor going through an exam. He really puts a lot of time into it.
Though he has never managed professionally, he definitely has the mind and the resume to succeed in the role. The Marlins need someone who can sort out their pitching staff's problems and who can rebuild their team from the clubhouse to the diamond. At forty-three years old, he's young enough to relate to the Marlins' young players, and he knows the modern game well. Plus, the flip side of his lack of managing experience is low expectations, low pressure and no baggage.
Earlier this month, Ausmus interview for the Red Sox (then) vacant managerial position, and though they ended up giving the gig to John Farrell, he apparently impressed the club in a big way during his interview. Right now, he's working as a special assistant to the Padres, and plans to coach Team Israel during the World Baseball Classic.
According to industry sources close to the Marlins, Mike Redmond is a leading candidate for the job. He's almost a carbon copy of Ausmus, as a well-respected, former top-shelf defensive catcher in his early 40s. He too retired following 2010, but unlike Ausmus, he does have some pro managing experience under his belt. In his first season in the role in 2012, Mike Redmond led the (class-A) Florida State League's Dunedin Blue Jays to a 78-55 record and a playoff birth.
Redmond spent his first five big league seasons playing for the Marlins, and he's highly regarded by the organization's front office. The Blue Jays have a new policy that allow their employees to pursue jobs with other organizations as long as they are more advanced positions. In that case, if Miami offers him the skipper's job, the Blue Jays would release Redmond from his contract.
Bobby Valentine, Mike Lowell, DeMarlo Hale, Luis Gonzalez, Pat Hentgen, Jeff Conine and Tony Pena are other possible candidates for the Miami Marlins manager job. Lowell, Gonzalez, and Conine all spent time playing for the Marlins, and they all fit the young, familiar face mold that the club appears to be looking for. However, earlier this month Lowell told CBS Sports writer Jon Heyman that he wasn't interested in managing this season.
Bobby V is probably a long-shot at this point. He's similar to Guillen in many ways, including his infamous temper and media attention-drawing personality. The Marlins are already familiar with him, as he interviewed to manager for them two years ago. But, considering his poor performance with an expensive Red Sox team last season, Miami will probably steer clear of him.
So, no more Ozzie in Miami. After signing him to a three-year contract last spring, the club dismissed him after one particularly awful one. Considering their desperate need for attendance, ownership's hefty investment in the team and their annually declining performance, it was definitely the right move. He won't be the toughest act to follow either, and hopefully the Marlins find a manager that can turn their fortunes around.