NHL Lockout: Toronto Maple Leafs Prospect Update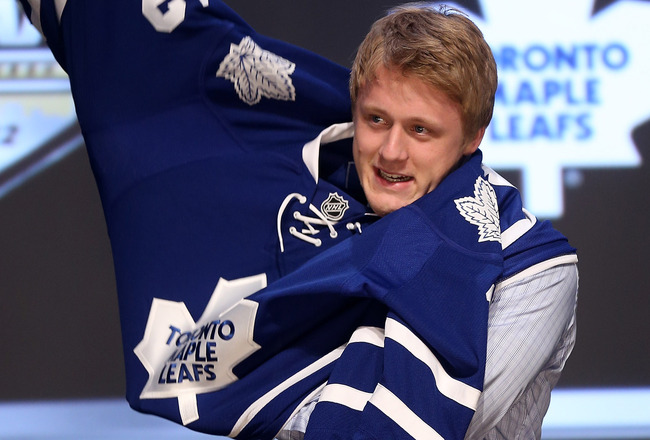 Bruce Bennett/Getty Images
Isn't the lockout great? It gives us Leaf fans plenty of time to talk about other things going on, like the weather, basketball and politics.
Give me a break.
While some of us would still keep tabs on how players are performing in the CHL and AHL as well as those taking the NCAA route, the discussion right now would be all over the Leafs. And depending on how camp could have gone with players making the team or being cut, how everyone was going to fit into those spots with line combinations, positions and spot on the depth chart, we could have some very interesting conversations right now.
Also, there would have been a few games played now too. Something I desperately would like to watch. How about you?
But we have no choice. So prospect update it is. Lets take a look at how some of the young guns are doing.
Players in the AHL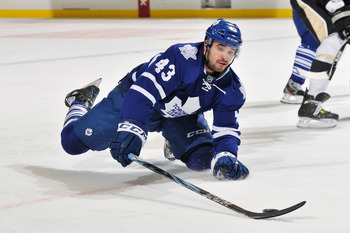 Jamie Sabau/Getty Images
With the lockout and what would be NHL players being sent down to lace them up with their affiliates, I'm often intrigued to see how dominant or mediocre these individuals perform. Here are the stats courtesy of the Toronto Marlies.
Mike Kostka
GP: 5 G: 2 A: 3 P: 5 +/-: 0
Coming over from the Calder Cup-winning Norfolk Admirals this offseason, Kostka has jumped out to an impressive start with the Marlies, playing alongside Jake Gardiner.
Jake Gardiner
GP: 5 G: 2 A: 2 P: 4 +/-: 0
Though I'm guessing he would rather be with the big club starting a new fresh season, Gardiner is making the most of his time in the AHL and will likely benefit from playing under head coach Dallas Eakins.
Kenny Ryan
GP: 2 G: 2 A: 1 P: 3 +/-: 3
One of the bubble players coming out of the Marlies camp, Kenny Ryan has been playing hard to prove he deserves an increased role.
Keith Aucoin
GP: 5 G: 0 A: 3 P: 3 +/-: -3
The AHL veteran with two Calder Cups has fit into the Marlies roster quite nicely. Look for him to continue to have a big impact on the younger roster players as the season progresses.
Joe Colborne
GP: 5 G: 0 A: 3 P: 3 +/-: 2
Coming off the surgery to his wrist this summer, Colborne will be looking to find his way again before he truly gets back to 100 percent. After another five games or so, I don't think it would be too much of a stretch to see Jumbo Joe get back to playing like he was at the beginning of the season last year when he was lighting it up.
Korbinian Holzer
GP: 5 G: 1 A: 1 P: 2 +/-: 2
Another player expecting to be competing for an NHL roster spot, Holzer is proving that he can indeed be an effective shutdown defenseman to replace a player like Luke Schenn or take a spot from Mike Komisarek.
Leo Komarov
GP: 5 G: 1 A: 1 P: 2 +/-: 1
New to North American hockey, the lockout will most definitely help Komarov adjust to the intricacies of playing in the AHL. His agitator/pest role could be invaluable to a team so long as it isn't a liability. With a little seasoning, I don't foresee him having an issues.
Greg McKegg
GP: 5 G: 1 A: 1 P: 2 +/-: 0
In his first full season with the Marlies, McKegg is one of the new faces many hope will push the rest of talent forward. After a successful season in the OHL last year, look for the maturity of McKegg to push him past any adjustment period that would hinder others.
Nazem Kadri
GP: 5 G: 0 A: 2 P: 2 +/-: 0
Insert controversial comment here. In the end, it's going to be about results. Kadri has played quite well and has dedicated himself all the way through to getting better, but he will need to put up points at a higher pace if he wants people to stop questioning his ability.
Jerry D'Amigo
GP: 3 G: 0 A: 1 P: 1 +/-: 1
After an excellent postseason in which he plotted eight goals and five assists, D'Amigo has been relegated to the bottom of the depth chart. With so many bodies up front capable of playing, D'Amigo will need to set himself apart to earn a top-six role.
Carter Ashton
GP: 5 G: 0 A: 1 P: 1 +/-: 0
Acquired last season, the Leafs hope that Carter Ashton can become a top-six power forward with the big club. He still will most likely need another two season of conditioning with the Marlies, but don't be surprised if he really starts to shine in the second half of this season.
Players in the CHL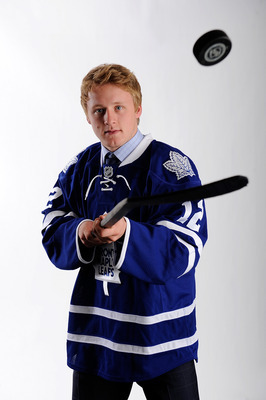 Jamie Sabau/Getty Images
The Leafs have a decent amount of young talent in the CHL at the moment. Here are some of the top guns we will likely see don the blue and white over the next several seasons. Information obtained off of the WHL and OHL websites.
Ryan Rupert - OHL London Knights
GP: 11 G: 0 A: 7 P: 7
Ryan and his twin brother Matt, who was also invited to the Leafs rookie camp this summer, form a pesky duo. While undersized, both bring the intensity and compete level every night to their team. It will likely be a few years before either would break the Leafs lineup, and a long shot at that, I wouldn't count either of them out this early in their careers. Matt has five goals and one assist on the year.
Stuart Percy - OHL Mississauga Steelheads
GP: 11 G: 3 A: 2 P: 5
Much like a Carl Gunnersson, Percy doesn't necessarily have a lot of flash in his game, but does the little things right that coaches love. He goes about his game quietly and gets the job done. I would expect his point-per-game total to be a little bit higher by the end of the year. Expect Percy to head to the AHL next year for some seasoning. After a year or so, Percy will likely contend for a spot with the Leafs.
David Broll - OHL Soo Greyhounds
GP: 13 G: 2 A: 6 P: 8
Broll is a bruising player who is very tough to play against. While he isn't known for putting up a lot of points, his tough and aggressive play would benefit a Leafs team not known for delivering any punishing hits nor aggressive style of play, much to the chagrin (I would assume) of Brian Burke. Broll will need at least a couple seasons to develop in the AHL before having a chance to make it to the show.
Josh Leivo - OHL Sudbury Wolves
GP: 13 G: 8 A: 3 P: 11
A third-round pick with the Leafs, Leivo has played quite well to start this season. I think he is still a few years and a couple seasons in the AHL away from skating with the big boys, but has the ability to mold into a good all-round player.
Tyler Biggs - OHL Oshawa Generals
GP: 13 G: 6 A: 5 P: 11
The name says it all. This is a big boy with a nasty side who plays with an edge. After leaving the NCAA last season, Biggs has fit in well with the Generals. I expect that he can turn into a solid power forward at the NHL level if given the proper time to develop. While already physically mature, Biggs needs to continuing working on the finer points of his game to become a solid and reliable forward.
I believe that he could use a full season in the AHL before joining the Leafs the following year, but he may be fast-tracked depending on his development.
Matt Finn - OHL Guelph Storm
GP: 12 G: 5 A: 7 P: 12
I was shocked that Matt Finn dropped to the Leafs' second-round pick. This is a player who logs a lot of minutes each night and is used in all situations. He is off to a great start this season, and I'm sure Leafs management hopes that it continues. After this season, I wouldn't be surprised if Finn was there near the end of Leafs training camp next year. However, he will need to continue playing well and developing if he wants to be considered sooner rather than later.
Morgan Rielly - WHL Moose Jaw Warriors
GP: 12 G: 3 A: 12 P: 15
Definitely worth the fifth pick in the draft. This kid can flat-out play. Morgan Rielly has picked up where he left off last season before his knee injury. Off to a great start this year, he's bound to have Leafs fans drooling over his god given talent. While he still needs to work on the defensive side of his game to become a complete player, his skating ability often allows him to get out of trouble. Many assume he will be with the Leafs to start next season based on talent alone unless he is absolutely ready I wouldn't mind seeing him develop for another year. Only time will tell, though. He is pretty amazing.
Spare Time on Your Hands?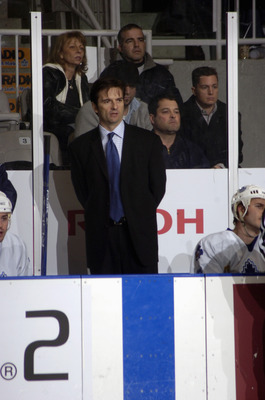 Graig Abel/Getty Images
If you are suffering from withdrawals from the NHL, or more specifically, the Leafs, I recommend you start following the progress of these guys throughout the season. Especially with no end in sight to the lockout.
It'll definitely be a lot more entertaining that reading news about the non-progress or false hope from the lockout.
Also watch Dallas Eakins. He is an amazing coach, and I'm glad he is responsible for getting the Leafs' young talent ready for the NHL. I wish everyone of these young prospects could spend some time developing under Eakins, as I believe he knows how to get these kids ready for the big leagues.
Cheers.
Keep Reading

Toronto Maple Leafs: Like this team?