10 Most Surprisingly Efficient Players in the NBA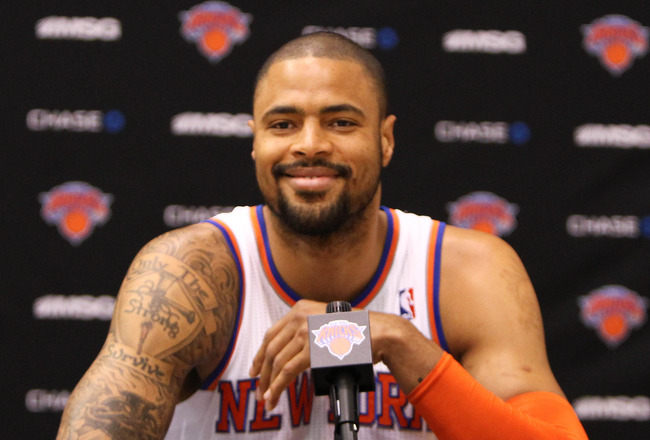 Debby Wong-US PRESSWIRE
The NBA has its share of worker bees—players who step on the court night after night and through sheer hard work, determination and effort put up numbers that are surprisingly good. They don't overwhelm you with pretty plays. They impress you with diligence.
These aren't the NBA's elite players. They aren't supposed to be, and they are never going to be. They are players that produce a surprising amount for the time they have their hands on the ball.
Some of these guys are "surprising" just because they're producing more than most people are giving them credit for.
Some them are "surprising" because they came out of nowhere.
Some are "surprising" because we tend to think of them as defensive specialists and they produce more on the offensive end than they get credit for.
With each of them, you'll probably raise an eyebrow when you see what they did last year if you weren't already aware. They are "ranked" in terms of the difference between in the gap between perception and reality.
10. Greg Monroe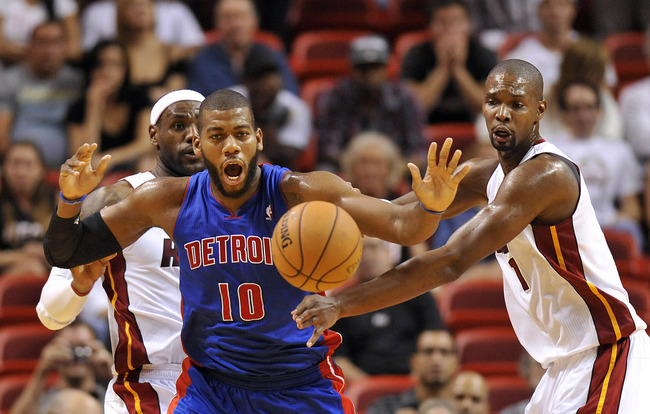 Steve Mitchell-US PRESSWIRE
Greg Monroe barely makes this list, but only for the reason that he shouldn't be a surprise. If there's a rising player most people should be aware of but aren't, it's Greg Monroe.
Monroe had the 13th-best Player Efficiency Rating (PER) at 22.0 in the NBA last year. He was ranked 49th in the ESPN Player Ranking.
I'm not going to argue that he's a top-13 player or even top-20, but I was surprised to see him so low in the ESPN rankings. Considering that he didn't have a teammate that averaged even four assists per game and that his Pistons had the third-fewest assists in the Association, his 15.4 points and 9.7 boards are impressive.
Those numbers would be higher if he were playing with a more experienced point guard.
9. David Lee
Kelley L Cox-US PRESSWIRE
Two summers ago, when the power forward sweepstakes were on, Chris Bosh was the grand prize, Amar'e Stoudemire was a close second and Carlos Boozer was the consolation prize.
The booby prize was David Lee.
Here's what the four power forwards did last season.
Looks like the booby prize is the big winner here—yet nary a word has been mentioned about him. Lee deserves some credit for what he's done.
He's also achieved his success with both positions in the backcourt going through dramatic changes.
Probably more than a few people are surprised to see he had the most productive year of the four power forwards.
8. Nikola Pekovic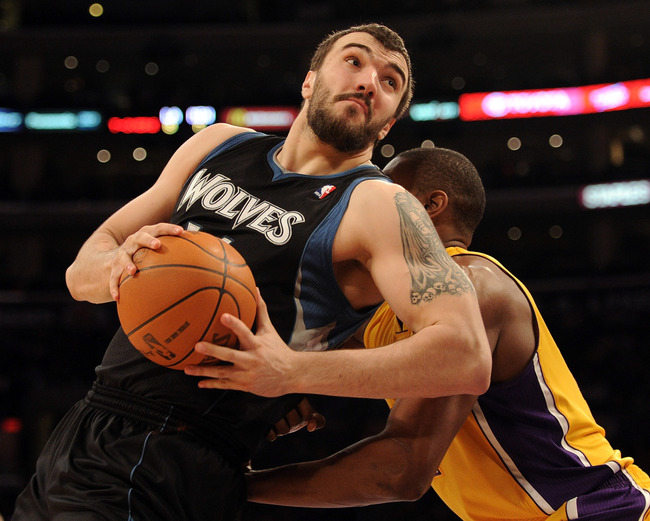 Harry How/Getty Images
Nikola Pekovic is a player virtually no one other than his teammates and mom had heard of before last season started. By the end of the season he had some people murmuring that he and Kevin Love might provide one of the best big-man combos in the NBA.
As a starter he averaged 15.4 points and 8.5 rebounds a game.
Pekovic has two great qualities: He's huge and he's strong. He's a big man in the traditional sense of big men, an increasingly rare commodity in the NBA.
His climb from total obscurity to relative obscurity makes him one of the most surprising players in the NBA.
7. Thaddeus Young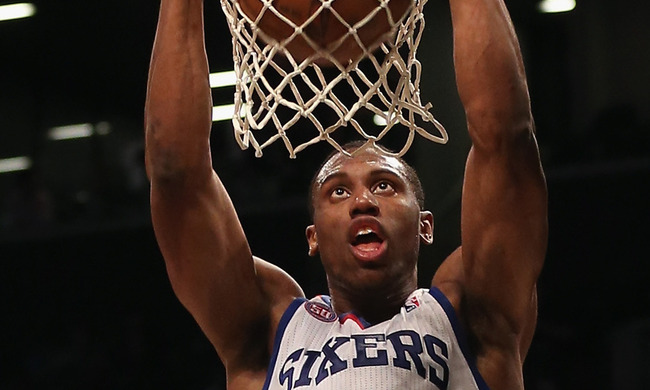 Bruce Bennett/Getty Images
Thaddeus Young is just a tad overlooked. Young is on a level of players that receive far more recognition but is almost completely unheard of.
For instance, Michael Beasley is a name that would get a lot more recognition in spite of the fact that Young has accomplished more than Beasley.
Young was 30th in Win Shares per 48 minutes, earning .171 last season. That's even better than superstar players like Russell Westbrook and Carmelo Anthony.
Young's only problem is that he's been playing on a Philadelphia team flooded with forwards. With the jettisoning of Elton Brand and Andre Iguodala, look for he and his teammate Evan Turner to break out this year. Just don't be surprised when it happens.
6. Marcin Gortat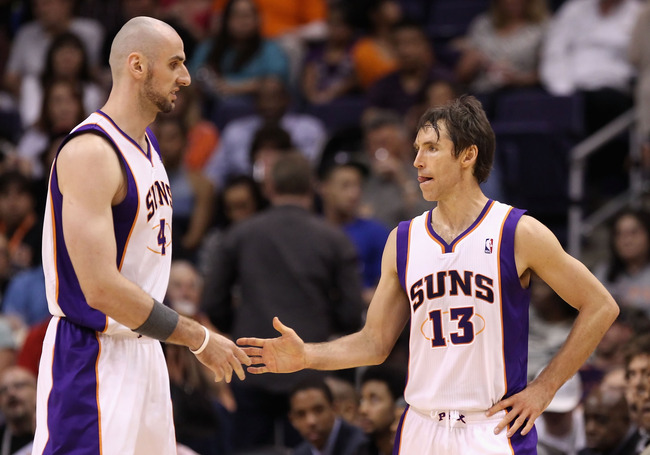 Christian Petersen/Getty Images
Marcin Gortat was 18th in the NBA in Win Shares last year, but his name barely breaks any fan's top-10 centers list.
This in spite of the fact that the only two centers in the NBA who had more than his 15.4 points and 10.0 rebounds were Andrew Bynum and Dwight Howard.
That's pretty elite company to be barely cracking top-10 lists.
Perhaps it's because he is perceived as being a product of the great Steve Nash, so he gets overlooked. People tend to see his numbers as somehow fake. Next year will tell.
For now though, when it comes to his production, there's a surprisingly good case to be made for Gortat as one of the best at his position.
5. Kenneth Faried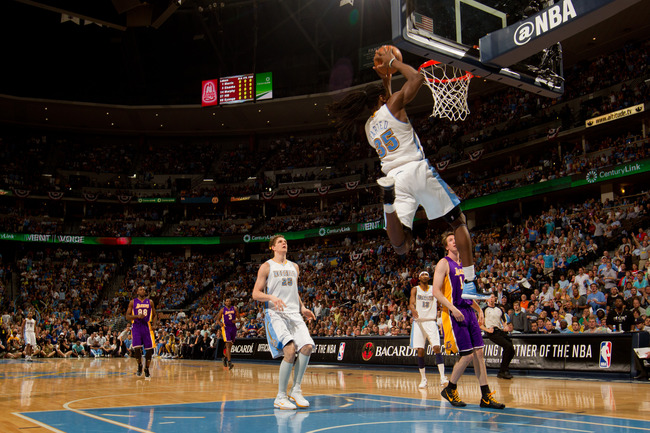 Justin Edmonds/Getty Images
Kenneth Faried was a huge surprise to the NBA last season. The 22nd pick was the steal of the draft, hands down. Among all rookies who played at least 20 minutes per game, Faried had the highest PER of any of them at 21.9.
Yes, that includes Kyrie Irving.
Raise your hand if you saw that coming. If you have your hand raised, repent for lying.
Faried has been an absolute revelation. The so-called "Manimal" plays with terrific energy and intelligence, and that resulted him in averaging 10.2 points and 7.7 boards in just 22.5 minutes per game.
4. Nate Robinson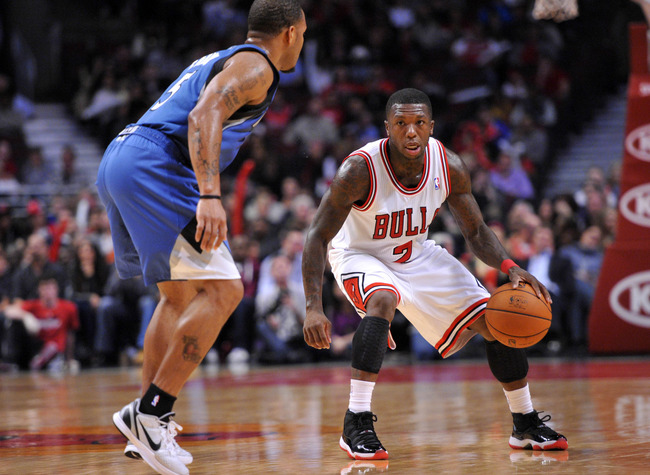 Rob Grabowski-US PRESSWIRE
Nate Robinson had a PER of 18.0 last year and averaged 11.2 points and 4.5 assists, which made him the 21st-most efficient guard in the NBA last year.
It might surprise you to know the only guards who weren't primarily starters last year that did better were James Harden, Louis Williams and Manu Ginobili.
That's not going to establish him as one of the best players in the league, but it establishes he's a pretty good bench player. In fact, he might be the best player in the league that's on a non-guaranteed contract with a minimum salary.
What's surprising about Robinson is that a player who was coming off the best year of his career—and a pretty good one compared to most careers—would have such a struggle finding work in the NBA.
3. Andre Iguodala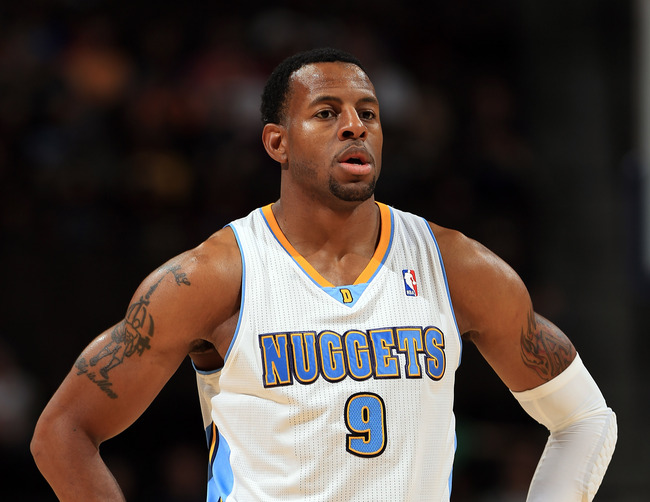 Doug Pensinger/Getty Images
Andre Iguodala is one of the best wing defenders in the NBA and is arguably the best not named LeBron James. He is not one of the best scorers though.
Still, he's not a "defensive specialist" as some would like to portray him. In fact, his offensive game is surprisingly good and complete.
He is one of only two players (the other again being LeBron James) who averaged 10 points, five rebounds and five assists.
Iguodala is now going to Denver, where George Karl should unleash him. His fast-break style should mesh extremely well with the NBA's best fast-break team. Look for Iguodala to explode next year.
2. Joakim Noah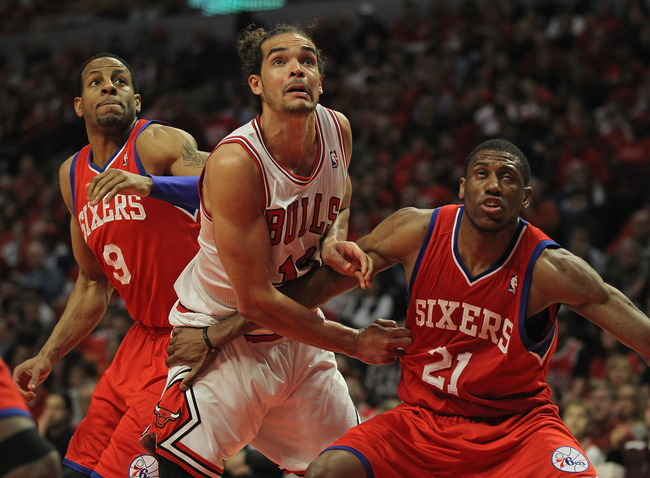 Jonathan Daniel/Getty Images
Joakim Noah is generally regarded as a player who has a lot of hustle and is good for a few cleanup points a night but doesn't have much of an offensive game.
This may come as a shock to some, but Noah finished 19th in the NBA in Offensive Win Shares. That's not to be confused with Total Win Shares, where he finished eighth, or Defensive Win Shares, where he's seventh.
Certainly Noah is a better defensive player than offensive player, but he's no slouch as an offensive player. He just doesn't have a lot of plays run for him, and he's not a great scorer. There's more to being an offensive player than scoring, though.
Noah is a terrific passer—possibly the best-passing full-time center in the league. He also makes a case as having the best handles of any full-time center. His offensive rebounding is, again, near the top of the league.
He salvages possessions, turns broken plays and missed shots into points and leads fast breaks.
That has a huge impact on the game. Only one player has more impact in that manner, and he's No. 1 on the list.
1. Tyson Chandler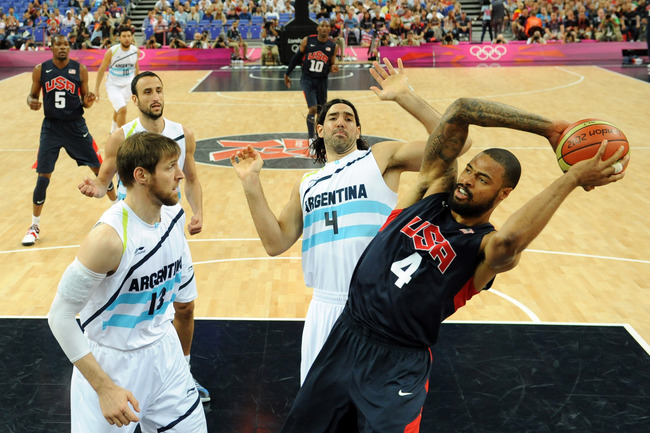 Pool/Getty Images
The most surprisingly efficient player in the NBA is Tyson Chandler. He had more Offensive Win Shares than any player who scored fewer than 12 points per game.
His offensive rating of 130 was the highest of any player in the NBA.
Of course, offensive rating has its limitations ("he said, anticipating commenters"), but it also tells something. It shows the impact a player has by being on the court and how it affects the offense.
For the Defensive Player of the Year, it's impressive to see Chandler is a highly efficient offensive player as well. He's not even close to the best offensive player on the Knicks—that's easily a title held by Carmelo Anthony. Nor is he the second-best. That would be Amare Stoudemire
However, don't let that distract you from the impact he has on the offensive end of the court. His offensive rebounding and NBA-leading .679 field-goal percentage maximize his effectiveness when he does touch the ball.
He's also a celebrated screen-setter (even if he does get away with a lot of illegal screens).
Chandler might be a great defensive player, but people shouldn't be surprised to see he's an impactful offensive player as well.
Keep Reading