Seattle Seahawks: 5 Most Disappointing Players Through the First Half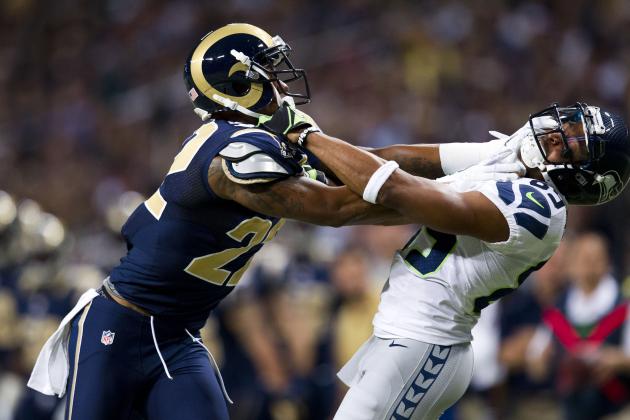 David Welker/Getty Images

Last week, while focusing on the Seahawks five best players through the first half of the season, I started to wonder if it would be worthwhile to focus on the other side of the coin.
With a record of 4-4, the Seahawks have shown they are capable of competing for a playoff spot, with several solid players; however not everyone has put together a stellar first half of the season.
So today I'd like to focus on the five players who have disappointed based on either failing to meet expectations and/or on their play (or lack thereof) thus far.
Rest assured, you won't find any members of the "Legion of Boom" here, but there might be a surprise or two on the list.
Begin Slideshow

»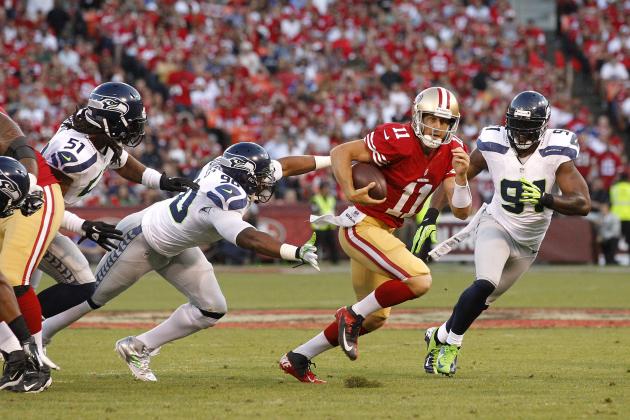 Cary Edmondson-US PRESSWIRE

Fair or unfair, a lot of the credit for the Seahawks' improved pass rush has been given to veteran Chris Clemons and rookie Bruce Irvin; meanwhile, free agent Jason Jones has yet to cash in.
Through seven games this season (he sat out the Detroit game with an ankle injury), Jones has 2.5 sacks, two passes defended and at times has just missed making the big play.
You could also argue that his absence against the Lions indirectly contributed to quarterback Matthew Stafford's big day against the 'Hawks once-vaunted defense.
Still, for someone who signed a one-year "prove it" deal with the hopes of distinguishing himself, this has to be a disappointing start to a make or break year.
It will be interesting to see if Jones presence makes a difference once he's back in the lineup.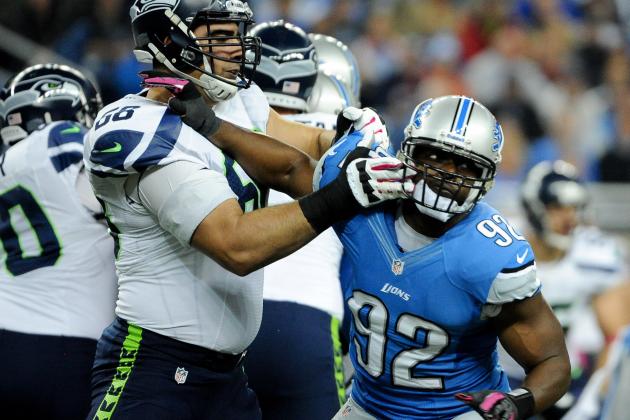 Tim Fuller-US PRESSWIRE

What a difference a week makes.
Prior to his performance in Detroit last weekend, Breno Giacomini arguably could have taken the No. 1 spot on this list.
Fortunately for him, a solid block on Marshawn Lynch's 77-yard touchdown run as part of a solid day overall against the Lions front helped earn him some breathing room, at least for this week.
The hope for Breno is that he can build upon this game and avoid collecting any more penalties both before and after the whistle.
The same could be said for a few other 'Hawks linemen this year (the exception being center Max Unger) as they too have struggled from time to time with penalties and pass protection.
As for Breno, he's come a long way since coming to Seattle.
The 'Hawks need him to play smart and physical football each and every week in order to both run and pass the football effectively. He hasn't been able to do that consistently the first half of the season.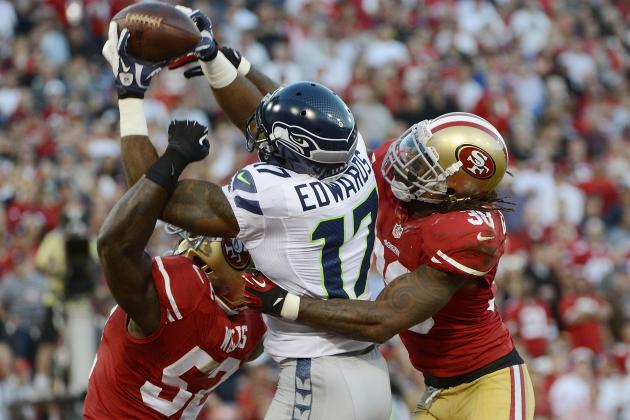 Thearon W. Henderson/Getty Images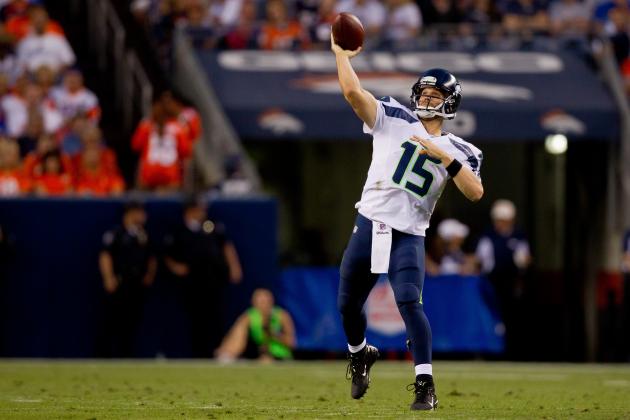 Justin Edmonds/Getty Images

Speaking of slim odds of getting back on the field, as much as I hate to include Flynn here, it would be strange to exclude him.
Flynn came with question marks when he signed in March, but he also came with a deal that seemed fair to all parties. As the months progressed, it seemed that head coach Pete Carroll would be setting up a competition between Flynn, incumbent starter Tarvaris Jackson and rookie Russell Wilson, but deep down, Flynn appeared to have the edge.
Once camp opened, Carroll gave Flynn every opportunity to succeed, including the team's first two preseason starts against Tennessee and Denver, while also keeping Jackson off the field in both games before shipping him off to Buffalo.
The one thing that neither Carroll or Flynn could do was stop Russell Wilson from winning the competition.
Honestly, it wasn't even close.
Wilson basically took Flynn's lunch money, stole his bike and gave him a wedgie.
Flynn is on this list because this was supposed to be his big chance. He was supposed take over and lead the 'Hawks to the next level.
What are the odds of that happening now?
Like it or not, Russell Wilson, provided he's healthy, is probably going to be the Seahawks' starting quarterback the rest of the season. Whether or not he takes the 'Hawks to the next level remains to be seen, but it has to be painful to watch for Flynn.
It's frustrating for fans because it's so hard to tell if the current plan with Wilson at the controls is the best one. Time will tell, but it's still taking some getting used to.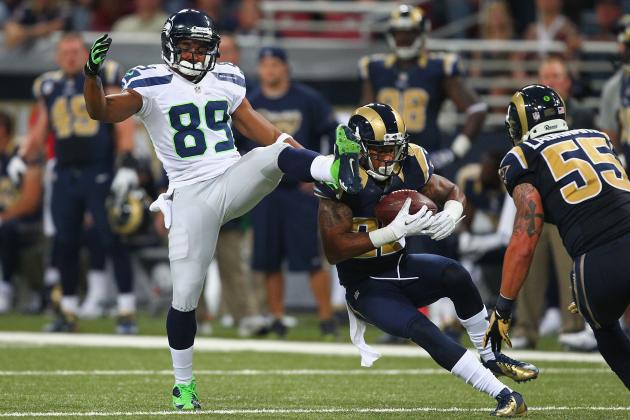 Dilip Vishwanat/Getty Images

Doug Baldwin was a revelation last year and is currently an enigma this year.
He has struggled with as assortment of ailments ever since training camp.
When he's healthy, he's looked like the guy we all fell in love with last season, but those moments have been few and far between through the season's first half.
While I was unsure that Baldwin would become a Pro Bowl-caliber receiver this year, I'd be lying if I said I didn't hope he could at least duplicate his performance from his rookie season.
Baldwin, as far as I could tell, was supposed to be the 'Hawks equivalent of Wes Welker, helping make plays underneath in the slot to help keep the chains moving on offense. Instead the 'Hawks continue to rely heavily on Marshawn Lynch, pray that Sidney Rice stays healthy and hope that Golden Tate or tight end Zach Miller emerges within the passing game to help Russell Wilson.
Understand that I'm not pinning all of the 'Hawks problems at wide receiver on Baldwin, nor do I consider him the team's worst player
Before the start of the season he represented one of only a handful of offensive players that we didn't need to worry about.
But what can be said of his performance this season?
Part of me wants to believe that the offense could open up a bit if Baldwin were fully healthy.
Part of me also wonders if what we saw last year was the high point of Baldwin's career.
The truth likely lies somewhere in between, at least for this season.
Both the 'Hawks and Baldwin need each other, yet whether they get together remains to be seen.
Making matters all the more complex is if Baldwin is really hurt, rushing him back to action probably won't help. At the same time, do the 'Hawks have enough time and options available to make things work?
If you'd told me that Baldwin would top this list a few months ago, I'd figure the season was already a lost cause, but there still is time.
Let's just hope Baldwin and everyone else on this list can figure out how to make the most of a season that currently remains up for grabs.