UFC Fighters Who Don't Live Up to Their Nicknames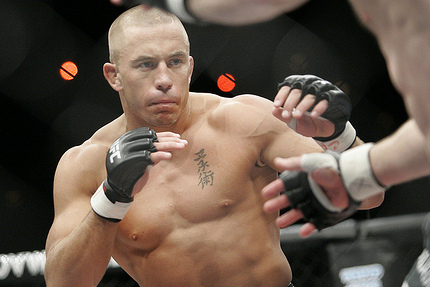 lowkick.blitzcorner.com
Nicknames are more meaningful than we think.
They're established as a means of connecting fighters with their fans.
It may sound silly, but nicknames often lead to an established popularity within the sport. One that is not defined by a last name or significant victory, but rather a catchy literary symbol.
Certain namesakes like "The Spider," "The Demolition Man," "The Natural" and "The Iceman" speak for themselves, but others often fall short in satisfying actual Octagon performances.
So like finding out one day that Santa Claus isn't real, here are 15 UFC nicknames that command an unequivocal fallacy.
Begin Slideshow

»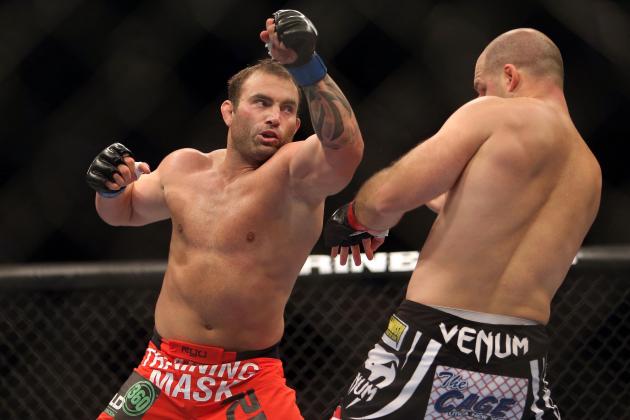 Tom Szczerbowski-US PRESSWIRE

Roger Hollett was anything but powerful in his first fight in the UFC.
Opposite the aging Matt Hamill, who will be mentioned fairly shortly, "The Hulk" was unable to inflict significant smashing.
In reality, Bruce Banner's evil spawn should never lose to a guy wielding a hammer, whether his name is Thor or Hamill.
This just doesn't make sense.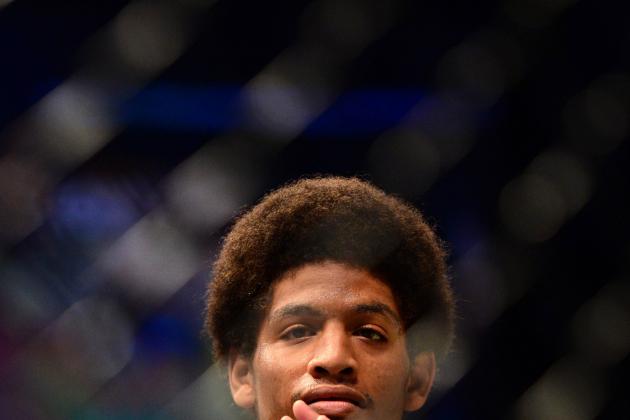 Kyle Terada-US PRESSWIRE

Bruce Lee is highly regarded as the greatest martial artist of all time.
The guy could literally inflate his muscles minutes before fighting. That's crazy.
Unfortunately for Lee, a guy who used to smack around Chuck Norris for a living, UFC prospect Alex Caceres sports his name.
It's not a good way to pay tribute to one of the greatest athletes of all time considering Caceres has lost more UFC fights than he's won.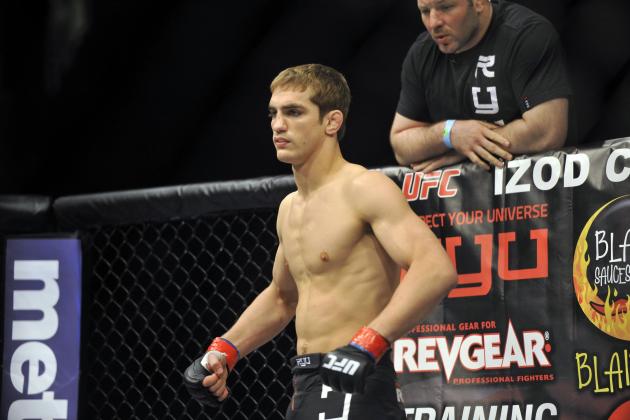 Joe Camporeale-US PRESSWIRE

There are two people who should come to mind when mentioning the nickname "The Hitman".
Martin Kampmann should be the first. He's legit.
The other should be a dangerous fighter who can assassinate his opponents.
Truth be told, England's John Hathaway fails to meet the bill.
In actuality, he has only secured one finish in eight UFC fights. That's hardly the action of a hired gun.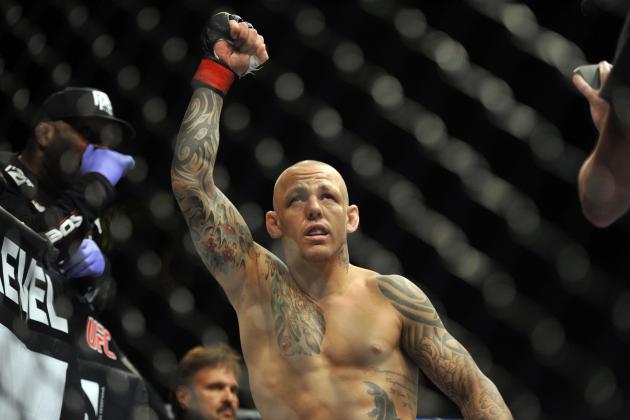 Joe Camporeale-US PRESSWIRE

Is Ross Pearson the real deal?
While it's relatively too soon to say, it's unlikely that he is. That immediately creates speculation regarding his nickname.
Now don't get it wrong, Pearson has been a very serviceable and relevant UFC fighter.
However, his recent performance opposite top contender Cub Swanson hardly satisfied his cocky nickname.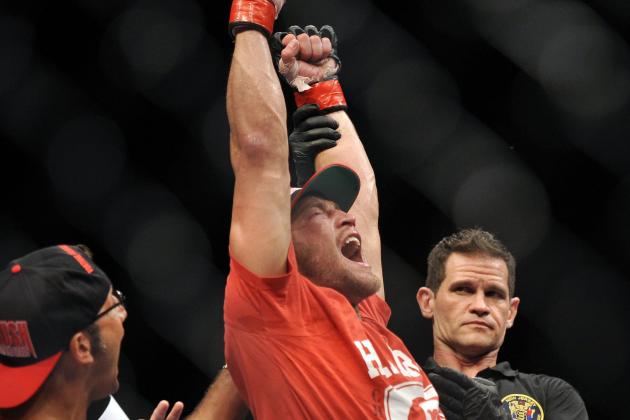 Joe Camporeale-US PRESSWIRE

Hands of stone?
Think again.
Sam Stout has recorded just one victory via TKO throughout his six-year UFC career.
He's been out-struck and out-powered on multiple occasions.
So while he claims to have punches made of granite and iron, his actual power isn't that intimidating.
It may be time to for Stout to change his nickname to "Hands of Pebbles". That was a gimme.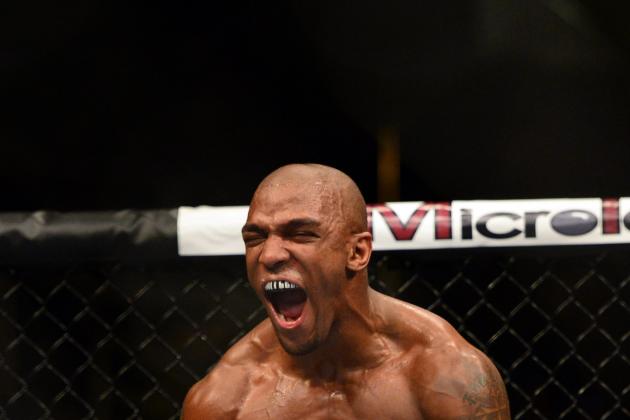 Kyle Terada-US PRESSWIRE

Francis Carmont is good. Actually, he's really good.
In fact, he may be one of the most untalked about fighters in the entire UFC.
But, is he truly limitless?
Does Carmont possesses unmatched skills that seem to escape the laws of physical ability, professional maturation and overall will to perform?
Probably not.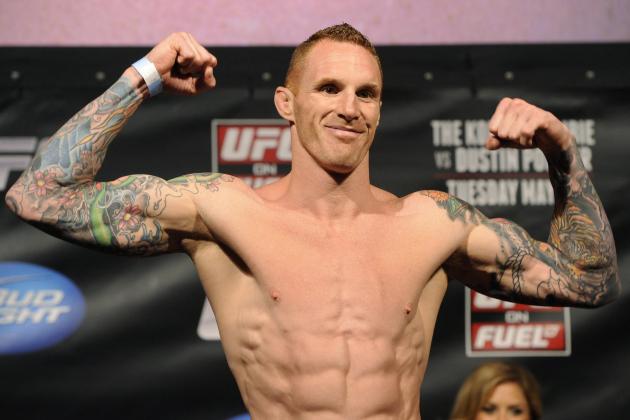 Rafael Suanes-US PRESSWIRE

Jason MacDonald is a very athletic dude, but in no way do his physical capabilities surpass all others.
His career has been very impressive in the fact that he's still competing at the age of 37, but MacDonald really hasn't looked good in a while.
The bottom line is that athletes always decline. In MacDonald's case, he's way past his prime.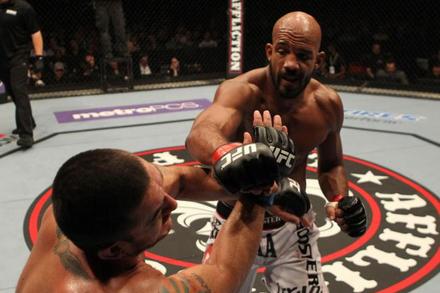 Photo by Josh Hedges/Zuffa LLC/Zuffa LLC via Getty Images
Snakes are suppose to weave their way in and out of tight positions.
They're supposed to possess the ability to strangle their prey, coil around its body and feast until the sun comes up.
What snakes aren't supposed to do is get submitted in each of their two UFC losses.
So by following the actions of the natural world, it's evident that Cyrille Diabate is in fact not a snake. It's common sense, people.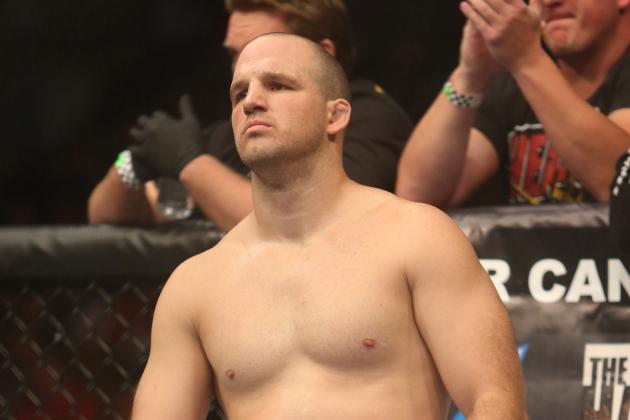 Tom Szczerbowski-US PRESSWIRE

If Matt Hamill is truly "The Hammer" then it must be one of those household ones that you use to fix a crooked nail.
The fact of the matter is that Hamill doesn't possess the power he once did. He can no longer beat up opponents by smashing his fists into their skulls.
It's taking him longer to gain the upper hand, making him borderline irrelevant within the light heavyweight division moving forward.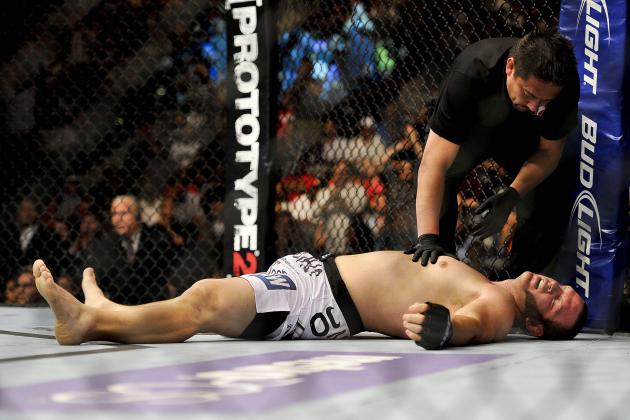 Paul Abell-US PRESSWIRE

Unless he's shoveling his own six-foot ditch, Chad Griggs is no grave digger.
Just look at how his first fight in the UFC against Travis Browne ended (pictured here).
Enough said.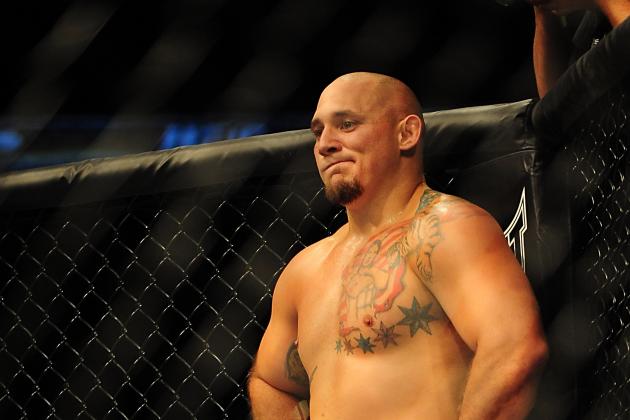 Anne-Marie Sorvin-US PRESSWIRE

Shawn Jordan was hardly a savage in his last UFC fight opposite heavyweight gatekeeper Cheick Kongo.
It was Jordan's biggest test to date, but unfortunately he faltered to a tee.
Unable to escape the fence for nearly three straight rounds, the 28-year-old looked downright pitiful.
In order to regain his youthful prominence within the weight class, Jordan needs to feast in his next fight.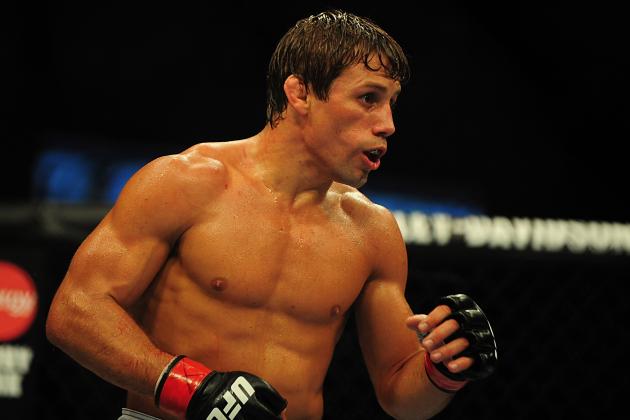 Anne-Marie Sorvin-US PRESSWIRE

Relax. Urijah Faber's nickname is beyond classic.
But what fails to hold truth is the fact that he's still mentioned as a kid.
It may be fairly picky, but Faber is no kid. He's one of the most tenured fighters in all of MMA and has done so much for the sport.
And even though his legacy has been fulfilled, his success as a UFC bantamweight contender hasn't.
Looks like father time has revealed his evil self once again.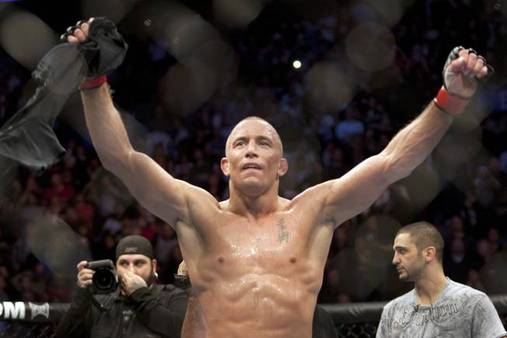 lasvegassun.com
There's no disputing that Georges St-Pierre is one of the best fighters in the world and one of the most respected UFC champions of all time.
There's also no disputing that "GSP" is a much cooler nickname than "Rush," but the latter is still mentioned.
The bottom line is that St-Pierre rarely finishes fights, especially championship ones. He doesn't really rush opponents to the brink of defeat.
Instead he waits for them to make a mistake, throw some strikes, implement some crucial takedowns and grind out a unanimous victory.
Now while there's nothing wrong with that, "Rush" is no nickname for a guy who takes his time and looks to outsmart his foe.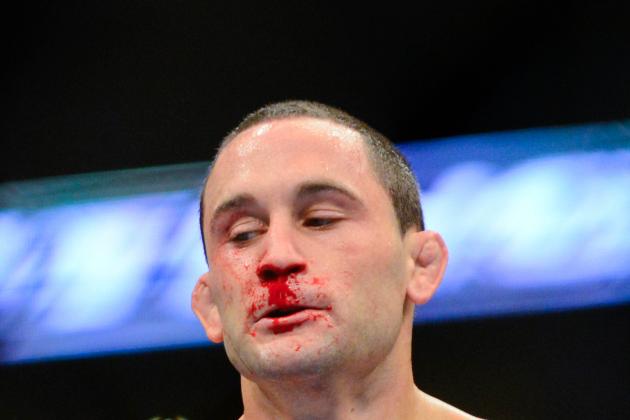 Ron Chenoy-US PRESSWIRE

Despite what he has done in the past within the lightweight division, beating B.J. Penn and Gray Maynard, Frankie "The Answer" Edgar is known for one thing.
Losing to Benson Henderson on back-to-back occasions.
Now while that reputation serves as a direct product of the "What have you done lately?" motto of the sports world today, fact is still fact.
Over a span of 10 rounds, Edgar couldn't find an answer to Henderson's athleticism, strength, speed and will to persevere.
The former champion could find immediate top-end success within the featherweight division, but until he wins again, Edgar's troubles inside the cage will remain a riddle.
For more UFC news and coverage, Follow @DHiergesell