Notre Dame Defense: Midseason Grades for Each Position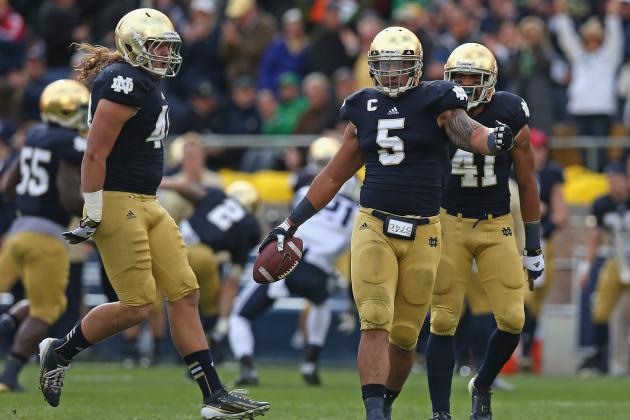 Jonathan Daniel/Getty Images

It's time to turn our attention to the defense.
Last week, I handed out midseason grades to the offense, which you can find here.
However, the main ingredient to the success of the Irish this season has come from their defense. Led by senior linebacker Manti Te'o, this group is one of the best in the country.
While Te'o is the heart and soul of this dominant defense, there is plenty of top-tier talent to be found elsewhere in this unit.
How did they grade out?
Begin Slideshow

»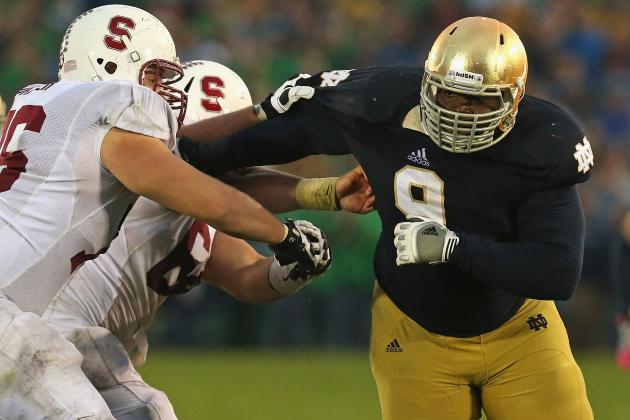 Jonathan Daniel/Getty Images

Last week, I mentioned that only two groups received A's. This is the other group.
The defensive front has been dominant.
Led by sophomore Stephon Tuitt, they have overpowered every front put in front of them. Tuitt is nearly impossible to block. He is as athletic as he is big, and that spells trouble for opposing lineman.
Not to be outdone, junior Louis Nix III has been a monster in his own right. Nix demands a constant double-team which makes life much easier for Te'o and company to clean up running backs trying to find holes. Nix is going to play a huge role down the stretch as he has to occupy as many blockers as possible to free up Tuitt, Shembo and company.
Rounding out the defensive front, Kapron Lewis-Moore has seen a majority of the snaps opposite Tuitt and has played very well the last couple of contests.
Sheldon Day and Tony Springmann have also seen time, and both of them have impressed me when they do get their chance—especially Day.
Many in the media thought this defensive front would struggle after the transfer of Aaron Lynch last spring. The opposite has proven true. They've become a tight-knit group that rivals any front in the country.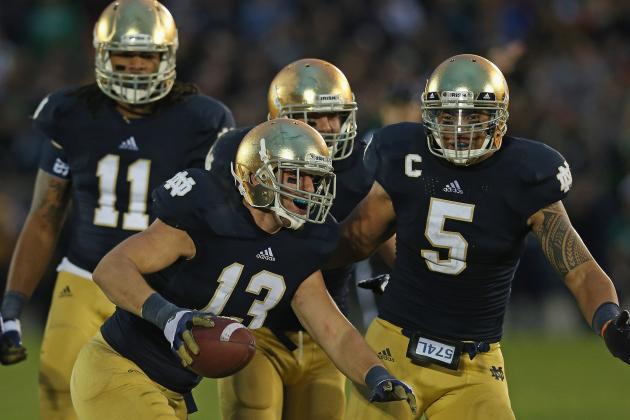 Jonathan Daniel/Getty Images

I know what you're thinking. "You gave a group that includes Manti Te'o an A- ?"
Yes, I did.
Nothing against Te'o as he's been an A++ this season.
To be honest, it has very little to do with the outside linebackers either.
Prince Shembo has been huge for the most part. He does have a tendency to disappear every once in awhile, but for the most part he's in the backfield causing problems and (literal) headaches for the quarterback.
On the other side, Danny Spond has been nothing short of fantastic. Spond is solid against the run and has held up extremely well in pass coverage. After Slaughter went down, it was up to a couple outside linebackers to step up in passing situations, which Spond has done very well.
Ishaq Williams has also been great in pass coverage. Although, I have expected a lot more impact plays this season, but it seems his biggest problem is simply not letting his athletic ability take over. Granted, he has a ton on his plate right now as he's being asked to drop into coverage quite a bit—not surprising when you take his athleticism into account. If he ever gets the opportunity to pin his ears back and get after the quarterback, you could see quite a bit of chatter regarding the young linebacker.
The reason this group received an A- as opposed to an A was because of Dan Fox and Carlo Calabrese.
That's not to say they have played poorly. Fox and Calabrese have played at a B level thus far, which is solid. My main concern is when they are asked to stick with backs coming out of the backfield. Also, there are times where they will get a little confused in coverage or lack discipline within their assignments, but both of them have drastically improved since last year and are doing an admirable job opposite Te'o.
As for Te'o, do I really have to write anything?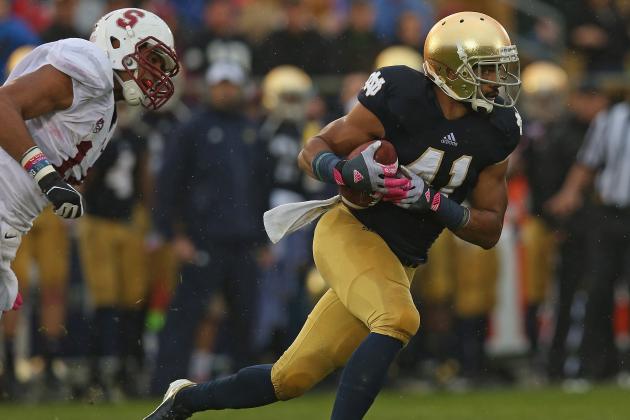 Jonathan Daniel/Getty Images

Heading into the season, this was the group that was going to be the "downfall" of the Notre Dame defense. So far, they have held their own.
Before they even played a game, starting cornerback Lo Wood was lost for the season with a ruptured Achilles tendon.
Losing the most experienced corner on the team heading into the season forced freshman KeiVarae Russell into a starting role opposite converted wide receiver Bennett Jackson. If you recall, Russell was recruited to be a running back, but his uncanny athletic ability made the transition to corner relatively seamless.
As for the back-end, Notre Dame suffered another huge blow after Jamoris Slaughter also ruptured his Achilles a few weeks into the season during the Michigan State game. Slaughter was rising up draft boards and was heavily leaned on after his superb play down the stretch last season.
Stepping in for Slaughter, sophomore Matthias Farley has played extremely well. I'll be honest, I expected freshman Elijah Shumate to see the field a little more, but it's hard to complain when Farley is playing so well. Farley just picked up football in the latter years of his high school career and will only improve with each snap.
Finally, the rock of the secondary is Zeke Motta. Motta is looking more and more like a mid-round pick in the upcoming draft, and he supports against the run as well as any safety in the country.
The reason for the B grade is that far too often opposing receivers find themselves wide open. The Irish have had a little luck up to this point with drops—something that is not likely to continue moving forward.
The coaching staff also has to figure out how to handle teams either running at or running screens toward Russell. This grade could see a huge boost or significant downgrade following the showdown this weekend in Norman.