Braves' 5 Biggest Needs Heading into Free Agency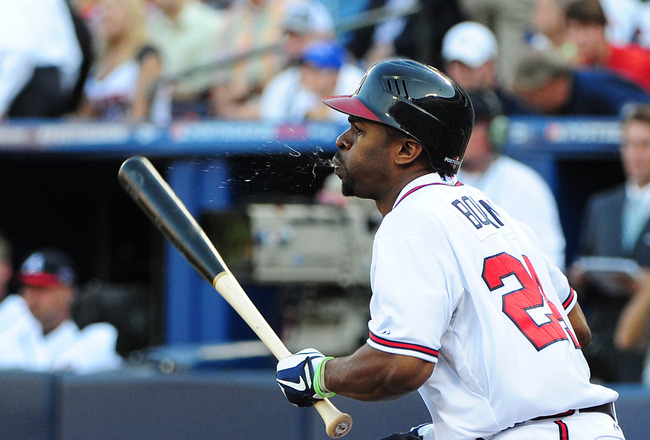 Scott Cunningham/Getty Images
The Atlanta Braves head into this off-season with many difficult decisions looming and glaring holes in their lineup.
This is not uncommon in the free agency era. Some years are more difficult than others, but there are always certain needs each off-season.
The Braves face some unfamiliar decisions this year due to injuries and retirement.
How the organization attacks upcoming free agency is yet to be seen. Will they go with an aggressive approach or try to build from within?
Here's a look at how general manager Frank Wren and the entire front office needs to prioritize this offseason.
1. Center Field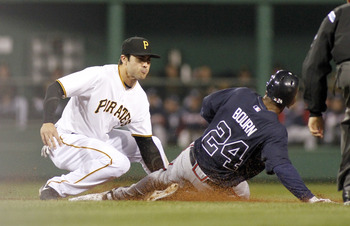 Justin K. Aller/Getty Images
The Braves' biggest priority this off-season will be finding a center fielder.
Michael Bourn is a free agent, and his agent Scott Boras will be able to command a high offer for Bourn's services.
A type of deal at which the Braves will likely scoff.
Finding Bourn's replacement will not be easy. Despite struggling in the second half, Bourn still finished top 10 in the National League in WAR—hitting and fielding.
Potential players the Braves could look at include B.J. Upton, Shane Victorino and Angel Pagan.
I like the idea of adding Victorino. He will be much more affordable than Bourn and fill both the center field position and hit leadoff.
That would also allow Martin Prado to remain in the No. 2 hole and gives the Braves a balanced lineup with speed and power.
He will be 32 when the season begins, but his 2012 numbers (.321 on-base percentage, 11 home runs and 39 stolen bases) are comparable to Bourn (.348 on-base percentage, nine home runs and 42 stolen bases).
Victorino would be a nice addition and would adequately fill the Braves' biggest need this offseason.
2. Third Base
Scott Cunningham/Getty Images
For the first time since the '90s, Chipper Jones will not be the starting third baseman for the Atlanta Braves.
Replacing Chipper's presence in the clubhouse will be impossible. However, finding similar offensive production and upgrading on defense is doable.
The Braves have been rumored in trades for Mets' third baseman David Wright and Padres' third baseman Chase Headley. Both these scenarios are long shots.
The free agents at third base don't look like good fits for the Braves, so the most logical option for the Braves would be to insert Martin Prado as the starter with Juan Francisco as the backup.
Prado has established himself as a major league hitter and would provide better defense at the hot corner than Chipper could last year.
I like Francisco as a backup but not a starter. This scenario would allow him to play every five to six days to add power to the lineup but not be a defensive liability as a starter.
How Frank Wren decides to fill third base will determine how the rest of the Braves offseason will play out.
3. Left Field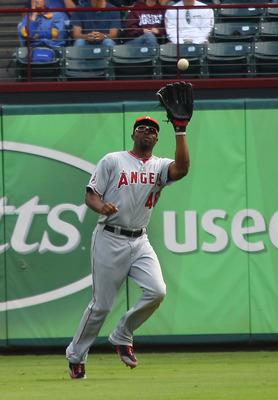 Rick Yeatts/Getty Images
If the Braves choose to make Prado the starting third baseman, that would obviously leave a hole in left field.
Reed Johnson is a free agent, and the Braves will aim to re-sign him. The Braves will have in mind to keep him as a bench player and fill-in player rather than an everyday starter.
Some fans are hoping for Josh Hamilton, but I don't see the Braves willing to pay that much for an aging player.
This is the position where I see the Braves looking elsewhere for help. The Braves will have some payroll flexibility with Chipper, Derek Lowe and Michael Bourn coming off the books.
Three names I see the Braves targeting are Delmon Young, Torii Hunter and Josh Willingham.
All three feature different skill sets, but all three are run producers.
Fredi Gonzalez could place any of these guys in the No. 5 or 6 hole and expect them to drive in runs.
Keep an eye on the left field position this offseason. It has the potential to be the wild card and could go in a number of directions.
4. Starting Pitching
Kevin C. Cox/Getty Images
The Braves used a bunch of arms in their rotation over the course of 2012.
They will now need to pinpoint a core group of arms moving forward into 2013. They don't need to test the free agent market for starting pitching but will have to make decisions on who to keep and who to let go from the current roster.
Kris Medlen and Mike Minor are locks to be in the rotation. They will likely pick up the options on both Tim Hudson and Paul Maholm to bring them back.
Jair Jurrjens and Tommy Hanson have both likely pitched their last games in Atlanta.
That will leave Randall Delgado and Julio Teheran to battle for the fifth spot in the rotation in spring training, and the Braves will also have to work Brandon Beachy back into the rotation as he comes back from Tommy John surgery.
The biggest decisions the Braves will make with their pitching involves Hudson, Maholm, Hanson and Jurrjens.
Hudson and Maholm will likely be back while Hanson and Jurrjens will not.
5. Catcher
Thearon W. Henderson/Getty Images
The Braves will have to make decisions regarding both Brian McCann and David Ross this off-season.
Ross remains one of the top backup catchers in the game, and the Braves will look to retain him.
At the beginning of the 2012 season, it would have been a no-brainer for the Braves to pick up McCann's $12 million option.
After an unproductive year in which McCann battled through injuries, the decision becomes much tougher.
McCann recently underwent shoulder surgery, and it's a questionable he'll be ready for Opening Day in 2013. The Braves have top catching prospect Christian Bethancourt and could gamble that he's ready to make the jump.
However, his offensive skills need improvement, and he's not ready just yet.
That means the Braves will look to pick up McCann's option and hope he can return to one of the best hitting catchers in the game.
The Braves will only have three days after the World Series to decide on McCann's options, so Braves fans will know shortly what the Braves plan to do at the catcher position.
Keep Reading

Atlanta Braves: Like this team?