Defining a Champion: Venus Williams' Top 12 Most Significant Victories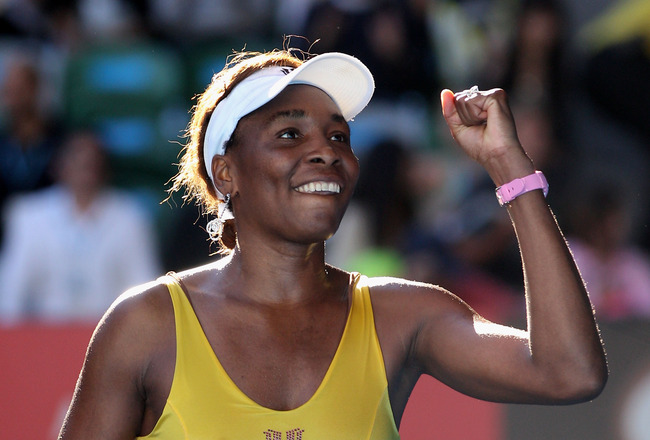 Venus Williams
Mark Kolbe/Getty Images
Over the past 16 years Venus Williams has been one of the world's most famous tennis stars. She has astonished the sport with her power and athleticism on the court and has also attracted legions of first-time fans to tennis by being a pioneer as an African-American tennis champion.
Sometimes overshadowed by younger sister Serena, Venus has still built a world-class resume of her own. She will also forever be remembered by the WTA for being a leader in the fight for equal prize money for women.
Now at 32, Venus still has a bright future in competitive tennis, although it is hard to deny that her best days have probably passed.
This is a look back at 12 victories that helped define Venus Williams as the champion we know today.
12. 1999 Miami Masters, Venus Defeats Serena Williams 6–1, 4–6, 6–4
Teenage Venus and Serena met in the final of the Miami Masters in 1999
Clive Brunskill/Getty Images
During the beginning of the 1999 season, Venus and Serena Williams had yet to win a Grand Slam title, and many critics were starting to accuse the sisters of being overrated and over-publicized.
The tournament in Miami is often referred to as the Fifth Grand Slam, in which all of the top players participate, and the prize money offered is amongst the highest of the season.
It was here, in 1999, that the Williams sisters began to silence the critics by making it to the final together.
Venus won in three tough sets, but the confidence Serena gained from the match led her to her first U.S. Open title later that year.
The victory for Venus started a long tradition of Williams dominance at the Miami tournament—currently, Serena hold five titles, and Venus holds three.
11. 2000 Wimbledon Quarterfinals, Venus Defeats Martina Hingis 6-3, 4-6, 6-4
Venus defeats rival Martina Hingis for the first time at a Grand Slam, in the 2000 Wimbledon tournament.
Gary M. Prior/Getty Images
In 1997, Venus Williams made it to the final of her first Grand Slam tournament ever: the U.S. Open. She faced another teenage prodigy in the final in Martina Hingis, who won that anticipated battle in 1997, as well as the next three meetings between the two.
However, at the 2000 Wimbledon final Venus defeated Martina for the first time.
The victory began a change in guard for women's tennis, transitioning the game to a more athletic and powerful sport. Hingis faded in the years to follow, while Venus would continue to win at least four more Wimbledon titles.
10. 2008 WTA Tour Championship Final, Venus Defeats Vera Zvonareva 6–7, 6–0, 6–2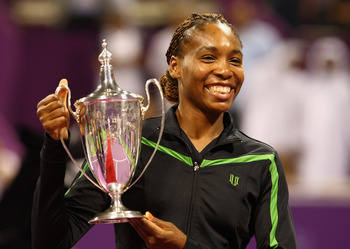 Venus wins her first WTA Tour Championship Title in 2008
Julian Finney/Getty Images
It is no secret that Venus Williams has always put more emphasis on the Grand Slam tournaments than anything else in the season.
However, the WTA Championships are among the most elite tournaments of the year, and the absence of one of these titles on Venus's resume was a bit surprising.
She finally broke through and won her first and only Championship title in 2008, dominating the rest of the field and proving her strength against the top players in the world.
9. 2005 Wimbledon Semifinal, Venus Defeats Maria Sharapova 7-6, 6-1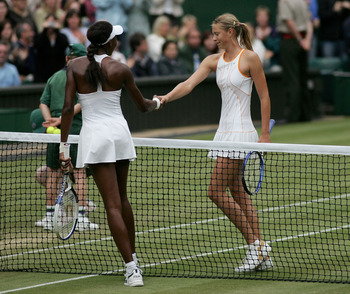 Clive Brunskill/Getty Images
For four straight years (2000-2003), either Venus or Serena Williams had won Wimbledon.
However, in 2004 a young blonde Russian shocked the world and defeated defending champion Serena in a straight-sets final.
Many forecasted a new domination in women's tennis because of Sharapova's victory, but the following year Venus crushed the hopes of the defending champion in keeping her title.
Taking the court with a level of concentration and focus we seldom see from Venus, it became obvious that the match was personal, and neither woman wanted to accept defeat. With pinpoint accurate aces and dozens of clean winners, Venus sent Sharapova home in two sets and avenged her sister's beat-down from the previous year.
8. 2001 US Open Final, Venus Defeats Serena Williams 6-2,6-4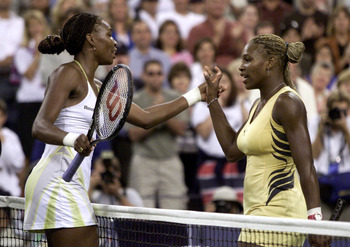 Venus defeats Serena in the siblings' first ever U.S. Open final face-off.
Jamie Squire/Getty Images
In 2001, it seemed as though the Williams sisters would own the U.S. Open for many years to come—Serena had won the title in 1999 (defeating then-No. 1 Martina Hingis), and Venus had won the title in 2000 (defeating then-No. 1 Lindsay Davenport).
Then, in 2001 the two former champions faced off for the first time ever in a Grand Slam final.
The USTA changed the match from the traditional daytime women's final game to an evening spectacle under the lights of New York City. The match received some of the highest television ratings ever seen in tennis.
Venus would take the 2001 U.S. Open victory, her second (and last) title at Flushing Meadows, to date.
7. 2001 Miami Masters Final, Venus Defeats Jennifer Capriati 4–6, 6–1, 7–6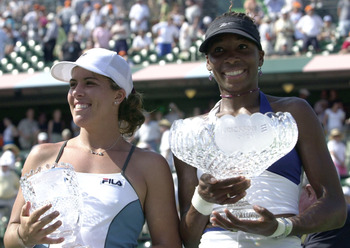 Venus defeats Capriati in three sets
Ezra Shaw/Getty Images
Venus Williams and Jennifer Capriati were two of the biggest stars of the WTA in the late 1990's and early 2000's. However, Venus dominated the pair's face-offs at 4-0—Capriati, a former No. 1 player and three-time Grand Slam Champion, only won two sets in her entire career against Venus.
In 2001, the American stars met in the final of the Miami Masters and battled well into a third-set tiebreak. Capriati undoubtedly played the best tennis we had seen from her against Venus, but her efforts were not enough for the victory.
Having previously won the title in 1998 and 1999, Venus's 2001 win would be her last title victory in Miami, to date.
6. 2000 U.S. Open Final, Venus Defeats Lindsay Davenport 6–4, 7–5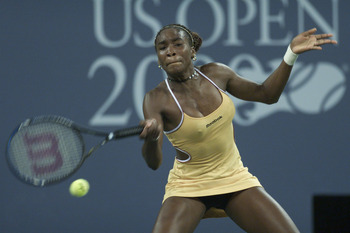 Venus wins her first US Open in 2000
Jason Squires/Getty Images
By 2000, Venus Williams and Lindsey Davenport had developed one of the WTA's most popular rivalries. Both women were at the top of their games.
Heading into the U.S. Open final that year, Williams and Davenport were both making their second appearance at that stage of the Grand Slam tournament—Venus had lost in 1997, while Lindsey won in 1998, both matches against Martina Hingis.
Venus had the mental edge, having just defeated Davenport in the Wimbledon Final and successfully used that advantage to win the title in straight sets and earn her first ever U.S. Open title.
5. 2000 Wimbledon Final, Venus Defeats Lindsay Davenport 6–3, 7–6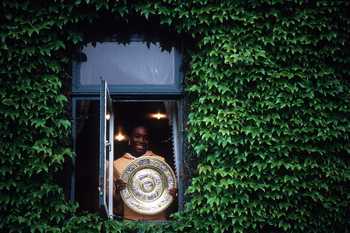 Clive Brunskill/Getty Images
Wimbledon 2000 would be Venus's first ever Grand Slam victory.
She had last made the 1997 U.S. Open final and failed to make it to that stage of any tournament for almost 3 years.
However, she silenced any critics as she started what would be a long love affair with the grass on Wimbledon's center court.
Lindsay Davenport and Venus Williams went into the final, with neither player having a clear edge: Both women possessed huge serves, powerful groundstrokes and solid net-play.
However Venus's mental toughness and athletic advantages allowed her to win the first of the currently five Wimbledon titles in her career.
4. 2008 Wimbledon Final, Venus Defeats Serena Williams 7–5, 6–4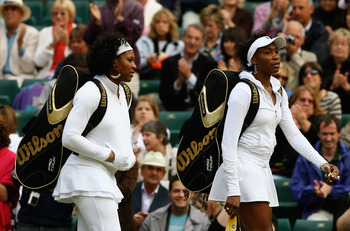 Venus with sister Serena before the 2008 Wimbledon Final
Julian Finney/Getty Images
Heading into the 2008 Wimbledon final, Serena Williams and Venus Williams had met in six previous Grand Slam finals, with Serena holding a dominant 5-1 advantage.
Both of the sisters were in exceptional form and had stormed through the rest of the players en route to the final. The straight-sets win would be crucial for Venus's confidence and ability to feel competitive again in her matches against Serena.
That year's win gave Venus her fifth Wimbledon title and crowned her the best grass court player of her generation.
3. 2000 Sydney Olympics Semifinal, Venus Defeats Monica Seles 6-1,4-6,6-3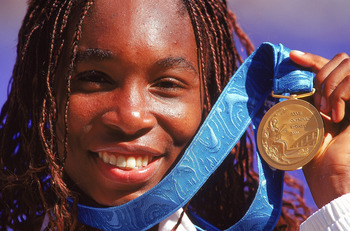 Venus wins Olympic Gold in Singles in 2000
Clive Brunskill/Getty Images
The Olympic Games have always been a major priority for the Williams sisters. It was Venus who took the first Singles Gold Medal for the family with her victory in 2000 at the Sydney Olympic Games.
Although Venus won the final easily, it was her Semifinal match against fellow American Monica Seles that was a career-defining win.
The veteran and the newcomer battled through long sets, with Williams finally winning to advance into the final gold-medal match. Venus dominated her head-to-head with Monica Seles, but this win was especially significant because of the emotional reward attached to the Olympic gold medal.
To date, Venus is tied with Serena Williams as the tennis players with the most ever Olympic gold medals (5).
2. 2001 Wimbledon Final, Venus Defeats Justine Henin 6–1, 3–6, 6–0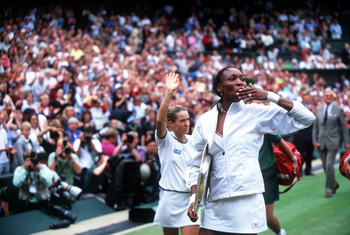 Venus wins her second Wimbledon Title 2001
Clive Brunskill/Getty Images
in 2001 Venus Williams was the defending Wimbledon champion and was entering her fourth Grand Slam final (having already won two).
Justine Henin was the young promising "journeyman" who fought valiantly through the draw and surprisingly made it into her first Grand Slam final.
Throughout their careers, both Venus and Justine won seven Singles Grand Slam titles. This match is especially significant when comparing the two champions because it was the only time they met in a Grand Slam final. This three-set battle ended with Venus "bageling" Justine 6-0.
Overall, Venus has maintained a 7-1 record in head-to-head meetings with Justine Henin.
1. 2005 Wimbledon Final, Venus Defeats Lindsay Davenport 4–6, 7–6(7–4), 9–7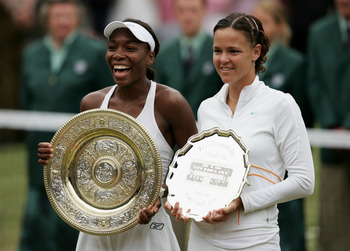 Clive Brunskill/Getty Images
in 2005, Venus Williams was no longer a favorite entering Grand Slam tournaments. Her results had been surprisingly inconsistent and injuries had taken a toll on her ranking.
Lindsay Davenport was the world No. 1 during most of 2005, but she had lost her previous Grand Slam final appearance to Serena Williams in Australia. This time, Davenport seemed focused on topping a Williams and winning a long-awaited fourth Grand Slam title.
After winning the first set in the 2005 Wimbledon final against Venus, Davenport took the lead in the second set and held several match points against Venus.
However, Venus's mental toughness and cat-like movement on the grass ended up being too much for Lindsey to overcome. After battling in a tiebreaker, the two fought on into a 9-7 third set.
Venus's win would be her fifth Grand Slam title and her first in nearly four years.
The match is considered by many to be one of the best ladies finals in Wimbledon history.
Keep Reading