10 Worst Free-Throw Shooters in the NBA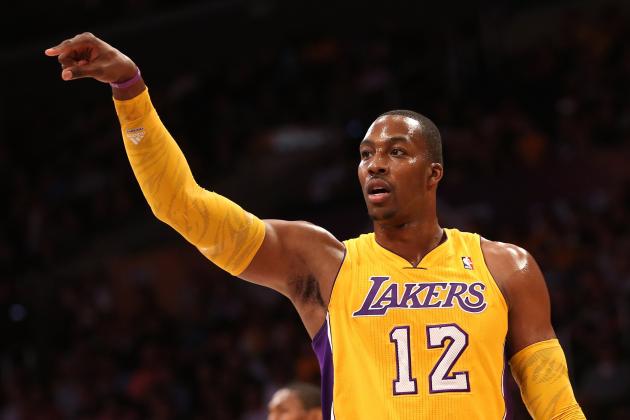 Stephen Dunn/Getty Images

Free-throw shooting is one of the most amazing and perplexing aspects of a game of basketball. One of the most clichéd phrases by casual fans usually is, "They are professionals; how can they miss such an easy shot?"
It truly is a mystery why Tim Duncan can attempt a 15-foot jump shot with a hand in his face, bounce the ball off the glass on purpose and make that shot more often than not.
However, when he has all the time in the world and nobody is trying to get in his way, Duncan is 102nd in the NBA with an effectiveness of 69.7 percent from the line.
Shooting free throws is about form, consistency and most of all, concentration.
Every team wants to possess a Dirk Nowitzki at the line, but it is far more likely that it will have a Shaquille O'Neal kind of shooter who is riding the bench in the last seconds of a close game.
Shaq has gone from the basketball court to the TNT studios, but the NBA currently has plenty of worthy successors in the "art" that can be the cringe-inducing, please-look-away free-throw shot.
Let's take a look at the 10 worst players in this category—both form and percentage-wise.
Begin Slideshow

»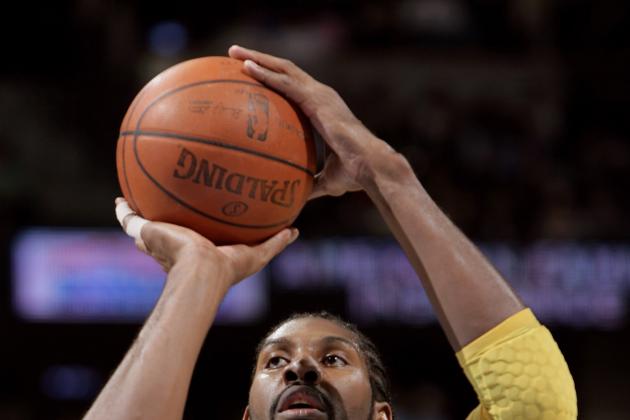 Doug Pensinger/Getty Images

2011-12 Regular Season: 67.3%. Career: 67.8%
We start this list with a little international flavor and appropriately perhaps, with a big man who struggles from the free-throw line and would prefer that you let him do his thing and grab seven rebounds per game instead.
The Brazilian center has only made more than 70 percent of his free throws in three of his 11 seasons in the NBA, and he has never even scratched the surface of making three out of every four attempts.
His career-high from the line was 72.3 percent, and he has been in the 60s during the past two years.
Nené is who he is. He won't change after over a decade in the league, and that seems to be just fine with the latest team to acquire him, the Washington Wizards.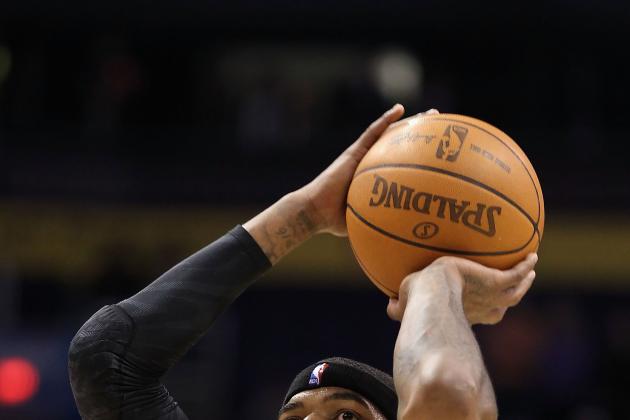 Christian Petersen/Getty Images

2011-12 Regular Season: 63.0%. Postseason: 76.2%. Career: 67.0%
Josh Smith can dunk from the free-throw line like he did in 2006, but that seems to come easier to him than actually, you know, shooting from there.
J-Smoove made 16-of-21 free throws during last year's playoffs, but his effectiveness in the regular season has always left something to be desired.
Smith regressed at the line last season, converting just 63 percent of his opportunities at the line after shooting a career-high 72.5 percent in the 2010-11 campaign.
His free-throw attempts were roughly the same, 316 one year and 322 the next. Plus, if you take out the 2010-11 season, Smith leaves something to be desired with a 61.2 percent conversion rate in the last four seasons.
That is something for him to work on as he becomes a cornerstone of the Atlanta Hawks this upcoming season.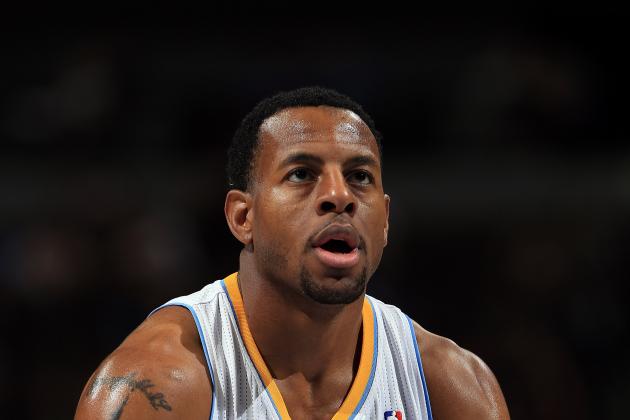 Doug Pensinger/Getty Images

2011-12 Regular Season: 61.7%. Postseason: 58.9%. Career: 73.7%
Andre Iguodala wouldn't have been anywhere near this list a year ago, but his numbers from the line were far off his career averages and resembled a clumsy center more than a nimble shooting guard.
There has to be credit given where credit is due, since Iguodala was absolutely clutch making the two free throws that eliminated the Chicago Bulls and sent the Philadelphia 76ers to the second round of the playoffs last year.
However, the 28-year-old veteran recently told CSN Philadelphia that "(he) hasn't enjoyed basketball a lot in the last couple of years."
Iguodala's free-throw percentage during the last two seasons had dropped steadily from 73.3 to 69.3, and then to last season's 61.7 percent.
That may or may not be a coincidence, but perhaps a fresh start in Denver with the Nuggets will allow Iguodala to remember what it was like to make 82 percent of his freebies, like he did in the 2006-07 campaign.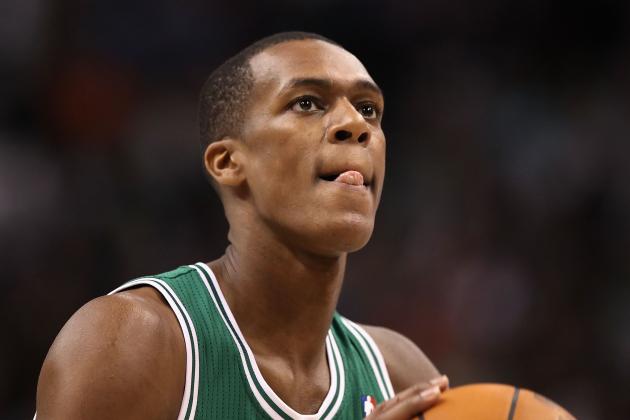 Christian Petersen/Getty Images

2011-12 Regular Season: 59.7%. Postseason: 69.7%. Career: 61.7%
Rajon Rondo is the second consecutive guard in our list. Not exactly the position one would associate with horrendous free-throw shooting, but the Boston Celtics point guard is a worthy member of this club nonetheless.
Rondo can do a lot of things really, really well both on offense and defense.
He can steal the ball and score on the break, create a scoring opportunity out of nowhere and even guard LeBron James one-on-one, but shooting free throws has never exactly been his forte.
His free-throw percentage has never been higher than 64.7 percent, which was during his rookie year.
Rondo couldn't even get to 60 percent during the last two seasons, shooting 56.8 and 59.7 percent (you can round up that last one, but let's not pretend that 60 percent would be some kind of an achievement for a ball-handler).
Rondo is a hard worker and he is committed to his craft, so there is no reason to not expect him to improve in this area of his game after six years in the NBA.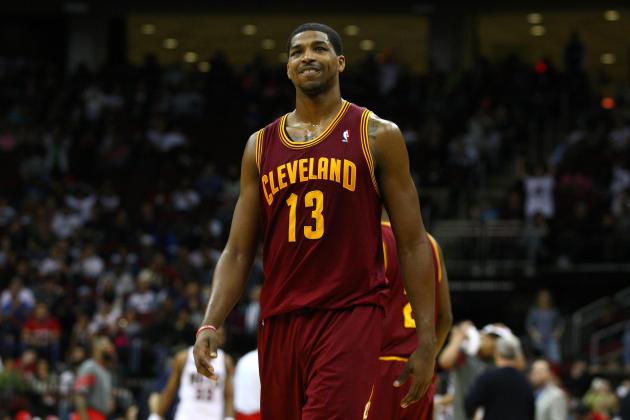 Chris Chambers/Getty Images

2011-12 Regular Season: 55.7%. Career: 55.7%.
Tristan Thompson is entering his second year in the league this season, so there certainly is room for improvement.
That is why Thompson is sixth on this list, despite his being the third worst free-throw shooter in the league last year behind two players you will see prominently displayed later on in this list.
His effectiveness has continued to decline into the 40s during this preseason, but the most important thing is that Cleveland Cavaliers head coach Byron Scott seems to be trying to help Thompson improve his form.
There is no such thing as getting better overnight, especially when it comes to shooting free throws.
It takes a lot of repetition and dedication, and it will be up to Thompson to find out how much of it he has in order to someday possibly become a decent 75 percent free-throw shooter.
2011-12 Regular Season: 66.7%. Career: 60.8%
Chuck Hayes' percentage wasn't nearly as bad as Tristan Thompson's last year, but he is also a seven-year veteran and…oh god…what is this? It looks like Hayes had an involuntary spasm right before the shot and he should go to the doctor.
Now look at this (also featured above). Notice how at ease Jose Calderon is at the line, worry-free and certain that he will make the shot.
Compare that with Hayes. His team is up by 15 in the first quarter, there is absolutely no pressure on him whatsoever and yet, he has a look of disgust and dread in his face like he would rather be anywhere but shooting that free throw.
Then he stops midway through the shooting motion, as if trying to make sure he is doing it right (he is not) before inevitably missing the shot.
This kind of form makes you wonder how he made any free throws, let alone two-thirds of them last season. Life is full of mysteries.
DeAndre Jordan: 2011-12 Regular Season: 52.3%. Postseason: 33.0%. Career: 44.0%
Blake Griffin: 2011-12 Regular Season: 52.1%. Postseason: 63.6%. Career: 59.3%
Blake Griffin and DeAndre Jordan are teammates with similarly awful percentages, so we will put them together at No. 4.
Both of them welcome us into the deep end of free-throw shooting, the part of the list that makes you understand why "Hack-a-Shaq" ever existed in the first place.
Griffin comes with bigger expectations, so it should come as no surprise that the Los Angeles Clippers hired a free-throw shooting coach to straighten him out (via Slam Online).
Meanwhile, Jordan is entering his fifth year in the league and has navigated the waters of futility without being able to make half of his free throws throughout his career. Kids, don't try this at home.
2011-12 Regular Season: 48.3%. Career: 48.3%
Bismack Biyombo was part of the worst team in NBA history last season with the 7-59 Charlotte Bobcats, and now he is at the podium of this not-so-glamorous list. Poor guy can't catch a break.
There probably aren't worse feelings in basketball than when your team is down by 22 at home and you air ball a free throw to boot.
As with Tristan Thompson, the 20-year-old rookie from Zaire has plenty of room for improvement and there is nowhere to go but up for him after making just 48 percent of his free throws last year.
Biyombo is a likable player and possesses a good work ethic, so NBA fans who know of his plight will probably be rooting for him when he steps up to the line this season.
2011-12 Regular Season: 49.1%. Career: 58.8%
NBA fans may root for Biyombo, but odds are that nobody but Lakers fans will be pulling for Dwight Howard to succeed at the charity stripe this season.
Howard hasn't converted more than 59.6 percent of his free throws in the past seven seasons. Last year, he plunged below 50 percent for the first time in his career.
This is particularly disappointing for a superstar who is so dominant on the defensive end and wants to improve his post moves, but he seems to not be able to refine his stroke from the free-throw line.
The big hurdle for him seems to be mental. Otherwise, there is no way to explain how he could possibly ever commit a 10-second violation before shooting a measly free throw.
Howard worked on improving his form last year, even though that seemed to do more harm than good as reflected by his career-worst performance last season.
Take a deep breath and simplify things. That might be the most straightforward solution for Howard if he wants to be a positive factor in the waning seconds of a game from now on.
2011-12 Regular Season: 11.1%. Career: 50.6%
Andris Biedrins, look up at that percentage from last season, now back at this sentence, now back at the percentage—11.1 percent. Really?
Biedrins is a power forward/center. He should be no stranger to the painted area and the free-throw line, yet he attempted just nine free throws last year, making exactly one of them.
This isn't the first time the 26-year-old from Latvia fell below the Mendoza line, since he also made 16 percent of his free throws in the 2009-10 season.
His form looks like someone who has seen what shooting a free throw is supposed to look like, but then everything goes awfully wrong and the ball ends up nowhere the rim.
Biedrins and his chronic aversion to making free throws take home the No. 1 spot in our list. His reign as worst of the worst will surely be challenged, but it will probably not have been surpassed once the summer of 2013 rolls around.