Power Ranking the Semifinalists for 2012 Davey O'Brien Award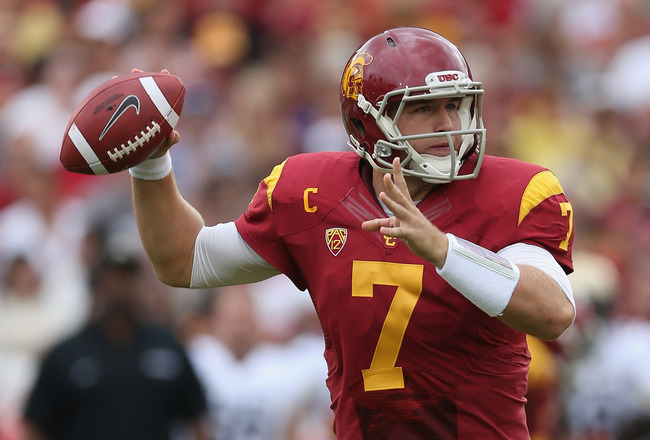 Jeff Gross/Getty Images
The Davey O'Brien watch list has been drilled down from the 34 preseason quarterbacks to 16, and with every award watch list comes power rankings. The Davey O'Brien is no different.
There is a lot of talent scattered throughout the list, with little separation between the nation's elite signal-callers.
There has been some impressive quarterback play across the country this year. The Big 12 is full of quarterback talent as always, landing five quarterbacks on the semifinalist list. The SEC is second with three.
Names like Matt Barkley, Tajh Boyd, Collin Klein and Landry Jones should be recognized. Guys like Teddy Bridgewater and Colby Cameron may not be as familiar, but their quarterback play has been elite this season.
Here are the 16 best signal-callers in the country and how they stack up.
No. 16: Denard Robinson, Michigan, Big Ten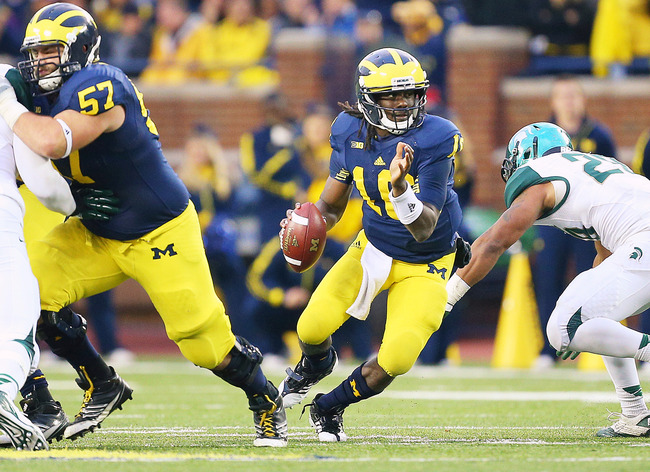 Mike Carter-US PRESSWIRE
Denard Robinson has star power for a number of reasons, but his rushing ability is what lights up the highlight reel. He is not the most prolific passer, but he does well enough to keep Michigan in most games.
There has been some falloff this season for Robinson, and his stock has dropped, but he is still one of the top quarterbacks in the country. His one-play scoring ability is immeasurable.
Key Stats
Passing: 83-of-155 for 1,264 yards, 53.5 CMP%, 9 TDs, 9 INTs
Rushing: 121 carries for 900 yards, 7.4 YPC, 6 TDs
No. 15: E.J. Manuel, Florida State, ACC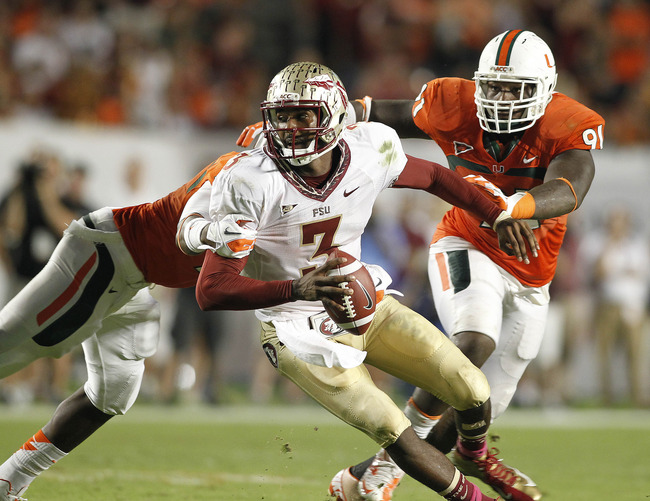 Robert Mayer-US PRESSWIRE
E.J. Manuel was supposed to be leading the No. 1 team in the country this season. N.C. State had other plans and ruined the Seminoles' shot at the national title. Manuel is still having a good season despite the loss, but his national stock has dropped immensely.
This is by far the best season by Manuel in Tallahassee, and the Seminoles should push for an ACC title. If Florida State can make it past the ACC title game, Manuel should be back in the national discussion.
Key Stats
Passing: 153-of-214 for 2,033 yards, 71.5 CMP%, 14 TDs, 4 INTs
Rushing: 57 carries for 220 yards, 3.9 YPC, 1 TD
No. 14: Nick Florence, Baylor, Big 12
Brendan Maloney-US PRESSWIRE
The Baylor Bears were expected to have a big falloff this season with the departure of Robert Griffin III, but Nick Florence has stepped in and been a show-stopper for the Bears.
Florence has been good as a passer and has added some yards with his feet. He isn't going to be a Griffin III type player, but he is good enough to lead Baylor to big wins inside the Big 12.
Key Stats
Passing: 142-of-217 for 2,226 yards, 65.4 CMP%, 20 TDs, 10 INTs
Rushing: 47 carries for 217 yards, 4.6 YPC, 4 TDs
No. 13: Marcus Mariota, Oregon, Pac-12
Mark J. Rebilas-US PRESSWIRE
There are two freshmen signal-callers on this list, and Mariota is one of them. He has done amazing things in the Chip Kelly offense, leading one of the most prolific offenses in the country this season.
Mariota is leading the No. 2 scoring offense in the country and doing it without missing a step. There are a lot of skill players surrounding him, but what he has done as a freshman is nothing short of amazing.
This guy has a bright future for the Ducks.
Key Stats
Passing: 123-of-180 for 1,347 yards, 68.3 CMP%, 16 TDs, 5 INTs
Rushing: 53 carries for 356 yards, 6.7 YPC, 2 TDs
No. 12: Tajh Boyd, Clemson, ACC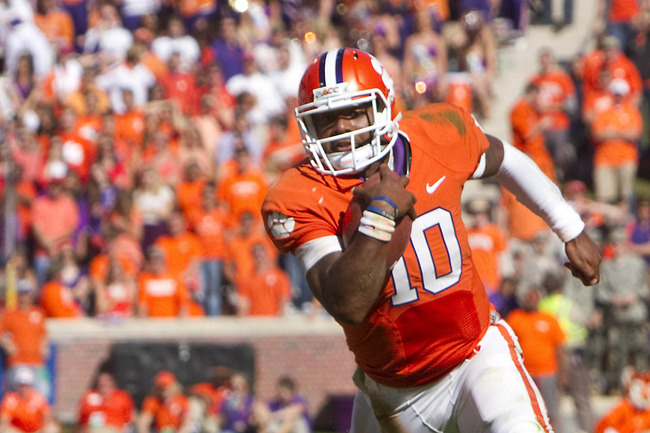 Joshua S. Kelly-US PRESSWIRE
One loss buried Clemson in the national discussion, but Tajh Boyd is still doing work for the Tigers from the Carolinas. Boyd has accounted for 19 total touchdowns so far this fall and is leading the No. 16 total offense in the country.
There is a lot of opportunity for Boyd to climb back into the national picture with a lot of football left to play. He has been a very impressive performer for Clemson, but without an ACC title he will likely be overlooked on award day.
Key Stats
Passing: 149-of-222 for 1,908 yards, 67.1 CMP%, 15 TDs, 6 INTs
Rushing: 91 carries for 251 yards, 2.8 YPC, 4 TDs
No. 11: Matt Barkley, USC, Pac-12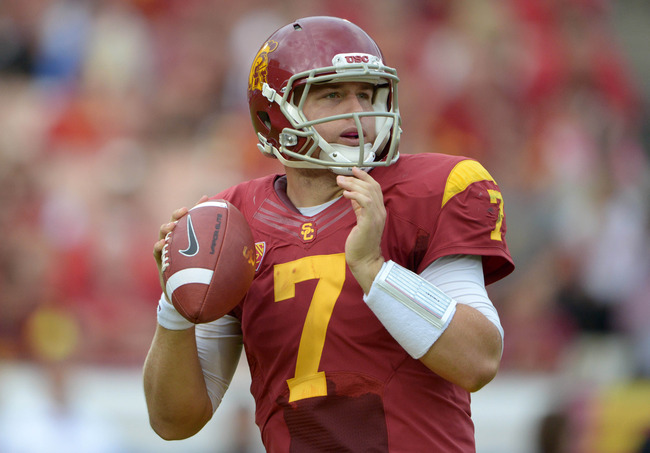 Kirby Lee-US PRESSWIRE
The Trojans have leaned on their offense often in big games this fall, and Matt Barkley has been able to prop up his team on almost every occasion. Barkley has had a few unimpressive games, but he has also had some unworldly performances this season.
Barkley has set Pac-12 and school records this fall, which helps his exposure, but USC has to continue to win ballgames, and Barkley needs to be a big piece of the wins. There are some tough games ahead, but Barkley could continue to grow his stock with high level performances.
Key Stats
Passing: 140-of-213 for 1,773 yards, 65.7 CMP%, 22 TDs, 6 INTs
No. 10: Teddy Bridgewater, Louisville, Big East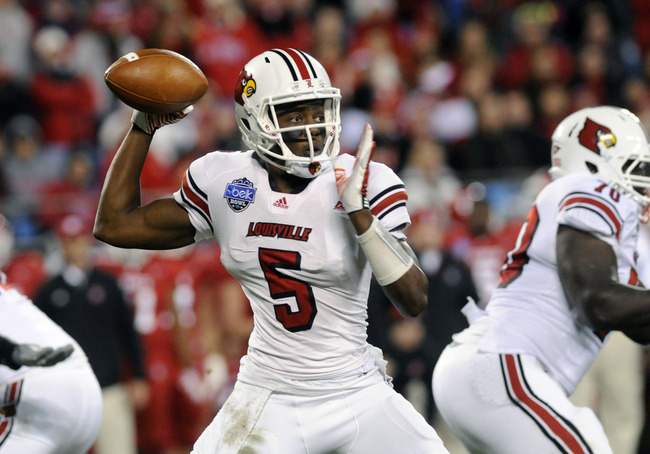 Sam Sharpe-US PRESSWIRE
Teddy Bridgewater was expected to be a stud this season, and he hasn't disappointed. Louisville is undefeated and staring down a Big East title and BCS bowl. He has been very proficient in the Cardinals' offense and has done enough to keep his team winning.
Bridgewater did have a tough time with Southern Miss this season, but his performance overall has managed to place him on the final watch list for the Davey O'Brien Award.
If the wins keep coming, he will continue to climb deeper into the award conversation.
Key Stats
Passing: 138-of-188 for 1,694 yards, 73.4 CMP%, 11 TDs, 3 INTs
No. 9: Colby Cameron, Louisiana Tech, WAC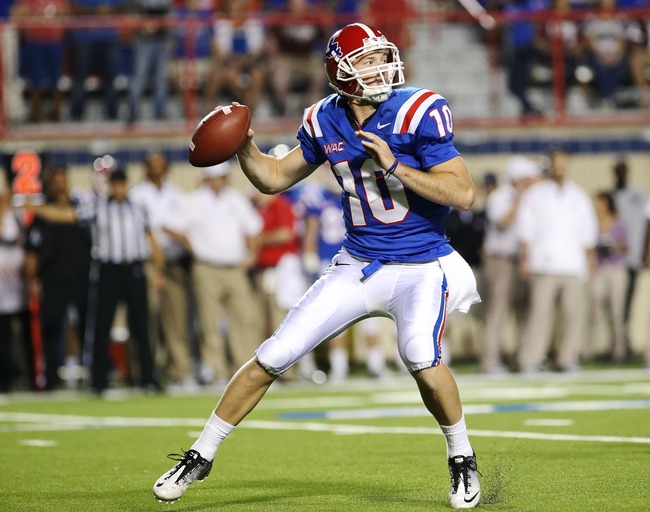 Kevin Jairaj-US PRESSWIRE
Colby Cameron is not a popular name on the major college football circuit, but he has been one of the most explosive quarterbacks in the country this year. He has 20 touchdowns and no interceptions.
Cameron has led the Louisiana Tech Bulldogs to a 6-1 record, the one loss coming in a close overtime game against Texas A&M. Cameron already has two games with more than 400 yards this season.
The schedule is set for success, and success will be had. Remember this name when the season draws to a close.
Key Stats
Passing: 196-of-275 for 2,306 yards, 71.3 CMP%, 20 TDs, 0 INTs
No. 8: Seth Doege, Texas Tech, Big 12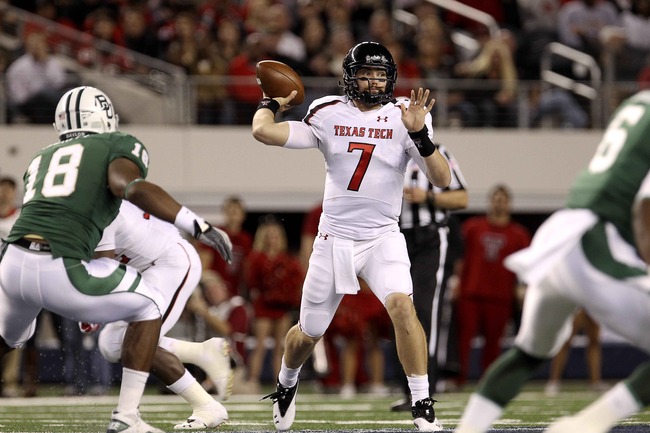 Kevin Jairaj-US PRESSWIRE
Seth Doege has helped guide the Red Raiders to a stunning 6-1 record this season. Doege has tossed a ton of scores and is well on his way to topping last year's 4,004 passing yards.
A few key games remain that could skyrocket Doege's stock if he has strong showings.
Doege does a lot with his undersized receivers against some of the country's most elite defenders. Even though Tommy Tuberville has not been known as a passing-minded coach, having a quarterback like Doege has changed old habits.
Sometimes change is good.
Key Stats
Passing: 189-of-267 for 2,209 yards, 70.8 CMP%, 28 TDs, 7 INTs
No. 7: Aaron Murray, Georgia, SEC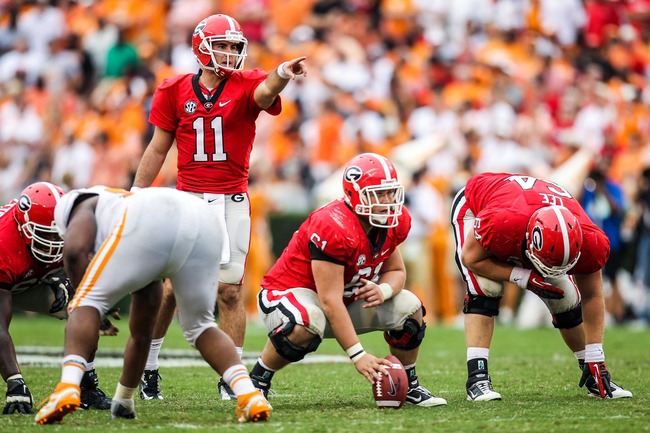 Daniel Shirey-US PRESSWIRE
Every time Murray gets the chance to win big games for Georgia he drops the ball. Against South Carolina he was 11-of-31 for 109 yards and an interception. That one game would have put Georgia in great position nationally and in the conference.
Georgia is having a good season, but they should be a Top 5 team.
Murray is an elite passer when he is playing regular-level competition. When he enters the pressure cooker and faces elite talent, he tends to crumble. The lack of poise drops him on the list, but you have to respect the guy's overall season performance.
Key Stats
Passing: 130-of-199 for 1,914 yards, 65.3 CMP%, 16 TDs, 4 INTs
No. 6: Braxton Miller, Ohio State, Big Ten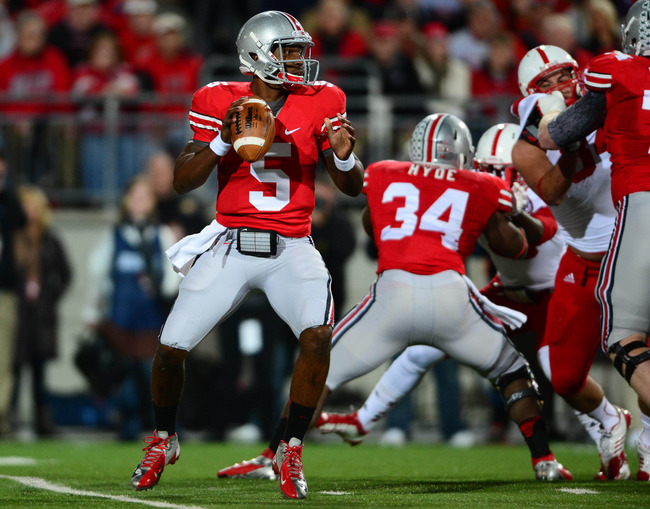 Andrew Weber-US PRESSWIRE
Miller has led the Ohio State Buckeyes to an undefeated run so far through the 2012 season. His performances have been big for the offense this year. Miller has become one of the best dual-threat quarterbacks in the game.
Urban Meyer has done a great job fitting Miller into his offense. With Penn State, Wisconsin and Michigan remaining on the schedule, Miller will have plenty of opportunity to prove that he is one of the elite quarterbacks in the country that has staying power.
Key Stats
Passing: 105-of-179 for 1,384 yards, 58.7 CMP%, 11 TDs, 5 INTs
Rushing: 141 carries for 959 yards, 6.8 YPC, 10 TDs
No. 5: Geno Smith, West Virginia, Big 12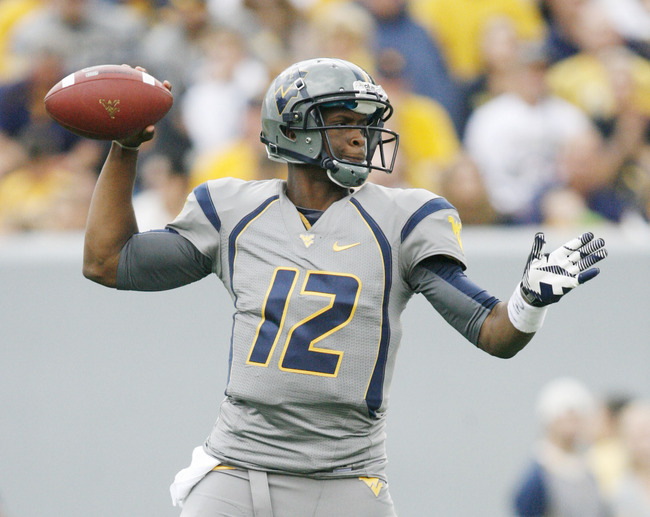 Charles LeClaire-US PRESSWIRE
Geno Smith has shredded defenses this fall with amazing passing numbers for West Virginia. His team has lost two games in a row, but his performance throughout the season has done enough to keep him in the top half of the list.
Smith has been a strong leader for the Mountaineers and is still pushing for a Heisman. His schedule will be manageable to turn the corner back to excellence, but if he continues to slide, he will drop in the awards discussions as well.
Key Stats
Passing: 216-of-291 for 2,414 yards, 74.2 CMP%, 26 TDs, 2 INTs
No. 4: Landry Jones, Oklahoma, Big 12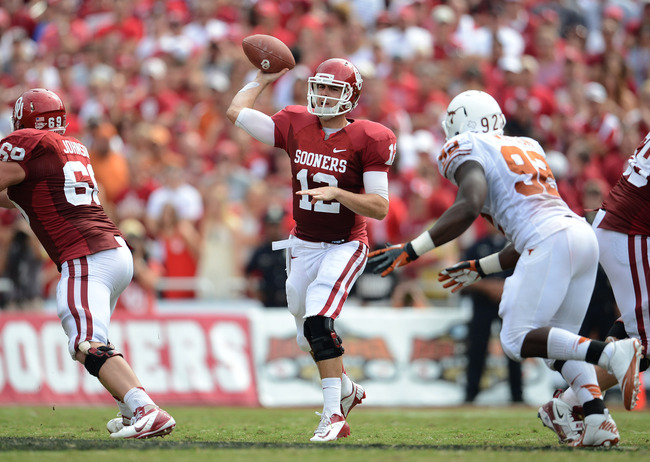 Matthew Emmons-US PRESSWIRE
For four seasons, Landry Jones has been one of the top quarterbacks in the country. He has hit elite status this season.
Jones has thrown for over 220 yards in every game this fall, with his last two games topping the 300-yard mark. He is having his most proficient season as a starter and has guided the Sooners to a 5-1 record.
A big game comes to Norman this week, and a win will push Jones closer to the top of the awards lists.
Key Stats
Passing: 134-of-213 for 1,653 yards, 62.9 CMP%, 12 TDs, 3 INTs
No. 3: Johnny Manziel, Texas A&M, SEC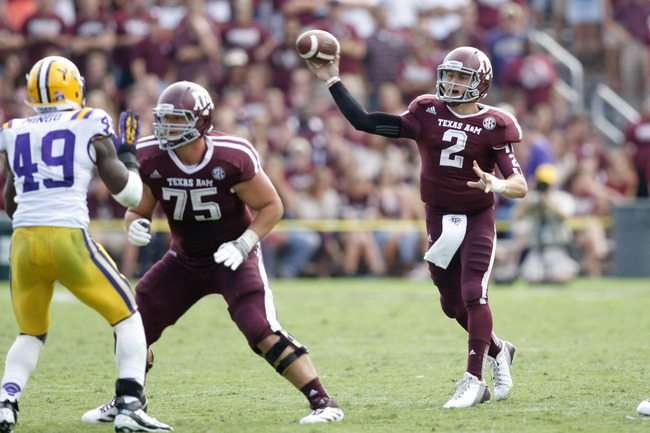 Brett Davis-US PRESSWIRE
Not often does a quarterback capture the attention of the nation as quickly as Johnny Manziel has. "Johnny Football" has become an overnight household name in college football, and it hasn't been an easy road to get there.
Manziel has guided the Texas A&M Aggies to a 5-2 record and two wins inside the SEC. The Aggies have only lost to LSU and Florida this season, and they did that by only eight total points.
It is a dangerous mix of the run and pass with this young quarterback. The schedule hasn't been easy, and the road is tough, but through the first half of the season Manziel has been one of the most impressive quarterbacks in the country.
Key Stats
Passing: 157-of-246 for 1,956 yards, 63.8 CMP%, 14 TDs, 6 INTs
Rushing: 108 carries for 703 yards, 6.5 YPC, 10 TDs
No. 2: A.J. McCarron, Alabama, SEC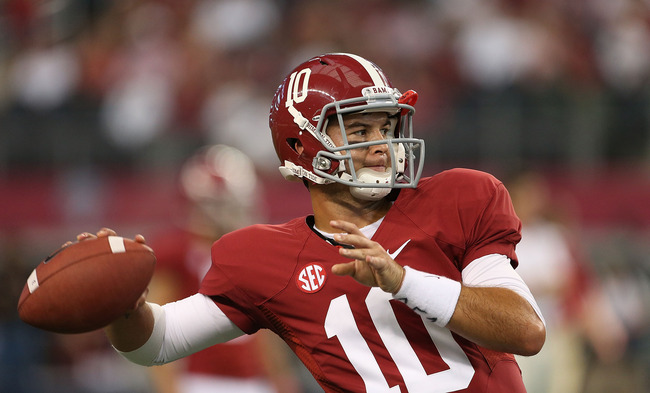 Leon Halip/Getty Images
Have you seen what A.J. McCarron is doing at Alabama? Just when the rumors began to swirl that the Crimson Tide were a running team, McCarron decided to show up for work. He has accumulated a few good seasons with the Tide, but this year he has been one of the best in the country.
McCarron hasn't thrown an interception this season. He has only tossed five in his career.
McCarron has led the Tide to the No. 1 ranking and an undefeated season. The closest win of the year came against Ole Miss, where Alabama won by 19 points. McCarron has been a big part of the offensive power that Alabama has exerted on the competition this fall.
If he keeps this up, McCarron may push himself into the Heisman discussion.
Key Stats
Passing: 106-of-154 for 1,476 yards, 68.8 CMP%, 16 TDs, 0 INTs
No. 1: Collin Klein, Kansas State, Big 12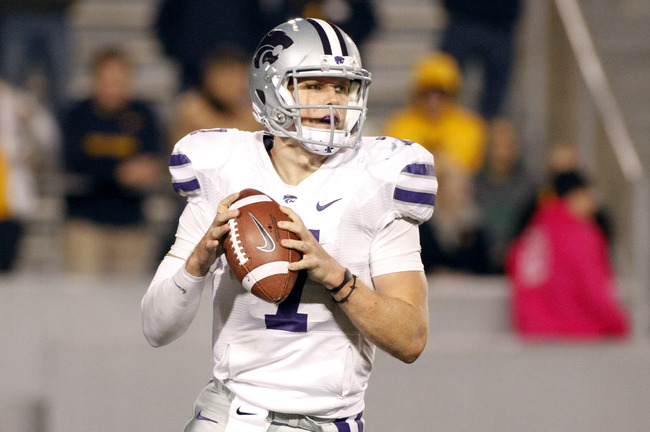 Justin K. Aller/Getty Images
Collin Klein has solidified his place among the quarterback elite in college football with his performance so far this season. Klein has blasted through the competition, leading the Wildcats on a 7-0 run and No. 3 ranking in the BCS.
Klein's leadership and grit are two factors that separate him from the rest of the competition. He has solid control of the Kansas State offense and has guided it to one of the best seasons in school history.
Through the first half of the season, Klein takes the top spot in the Davey O'Brien power rankings.
Key Stats
Passing: 98-of-139 for 1,397 yards, 70.5 CMP%, 10 TDs, 2 INTs
Rushing: 110 carries for 551 yards, 5 YPC, 14 TDs
Keep Reading