UFC 154: 5 Reasons to Be Pumped for Georges St-Pierre's Return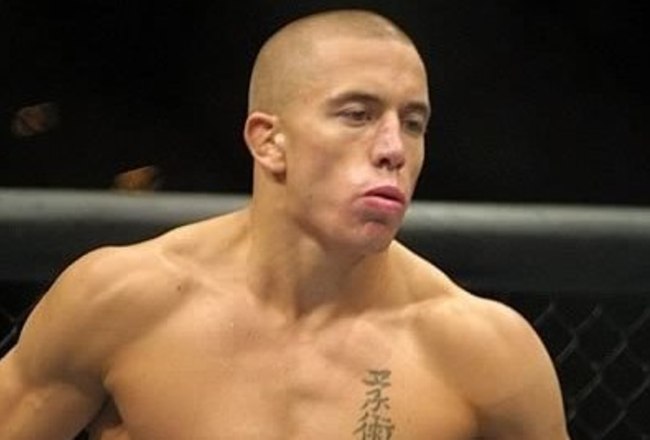 Via Bodyslimdown.com

At the height of his power, Georges St-Pierre was the biggest pay-per-view draw at the UFC, with arguably the biggest paycheck. But a lot of has changed in the year that he's been out of action due to a knee injury.
Anderson Silva has now secured the spot as the UFC's most bankable star, and Jon Jones has gone on to secure the No. 2 position, leaving GSP in the distance.
On Nov. 17, his home city of Montreal will play host to his return at UFC 154 as he prepares to unify the welterweight title with a fight against Carlos Condit.
Here are five reasons why you should be pumped.
He's a Pleasure to Watch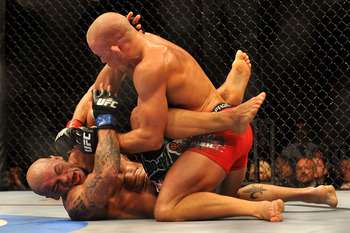 Jon Kopaloff/Getty Images
There are many people who would fervently disagree with this statement. To them, GSP's four straight decisions in his last matches are enough to label him a safe and boring fighter. But those opinions do him an injustice.
He is one of the most technically gifted mixed martial artists fighting today, and his style is fascinating to watch. Whether it was the masterful way he incorporated the boxer's jab—learnt from Freddie Roach himself—to defeat Jake Shields, or how he outgrappled Jon Fitch, what we see with GSP is true mastery.
What's more, he always does fight aggressively as opposed to his opponent in November. It's remarkable that the doctor's didn't stop Josh Koscheck, as his eye was destroyed by St-Pierre, or that Dan Hardy survived all those wince-inducing submission attempts.
He's a Huge Benefit for the Sport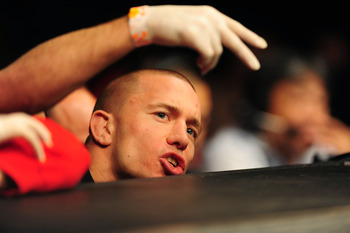 Mark J. Rebilas-US PRESSWIRE
When GSP defeated Matt Hughes in 2006, the young Canadian immediately became the new icon of MMA.
Clean cut with an endearing media personality, he's done more to widen the appeal of MMA than almost anybody else.
That's a huge value to the sport of MMA as well as to the UFC, and his return will only add to that benefit.
Carlos Condit Is a Great Fighter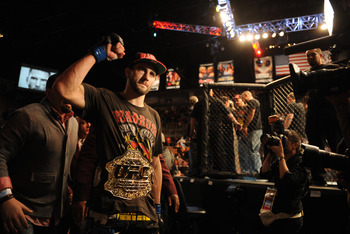 Kelvin Kuo-US PRESSWIRE
It's hard to predict how any fight will go in this sport. No one predicted that Carlos Condit's fight against Nick Diaz would turn out to be such a lacklustre five-round decision. Condit was, after all, coming off two straight "Knockout of the Night" wins.
There is a chance that—both with GSP's recent run of decision wins and some of Mike Winkeljohn's strategising—we may see a similar main event at UFC 154.
But there's also a chance, considering the career history of both fighters, that we will see an exciting, thrilling contest.
Condit did amazing things at the WEC before coming to the UFC, and St-Pierre's career is littered with performances that earned him the "Rush" nickname.
The stakes today are much higher for both men, but that in itself could feed into a high-pressured contest between two of MMA's finest.
We're Witnessing a Legend in the Making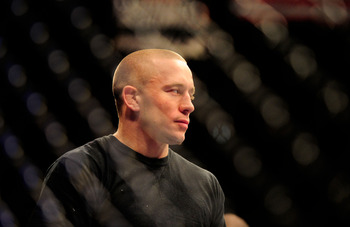 Mark J. Rebilas-US PRESSWIRE
In sports, icons define an era. In mixed martial arts, we are blessed with witnessing several fighters from the same generation, and across weight divisions, fighting to become legends.
Jon Jones, Anderson Silva and George St-Pierre are all establishing streaks and setting records which we previously thought impossible.
With St-Pierre on the sidelines, the title of greatest of all time had shifted greatly in Silva's favour. But St-Pierre is a lot younger (31) and has all the potential to do in the sport what Silva (37) never managed.
A Superfight with Anderson Silva Is Just Around the Corner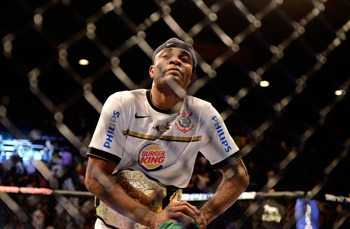 Mark J. Rebilas-US PRESSWIRE
The fight mixed martial arts fans have been begging for has inched that much closer to reality with GSP's return.
Anderson Silva has already done his part (cleared out the division and hyped the interest in the matchup). Now it's St-Pierre's turn.
All he has to do is defeat Condit, and we could be faced with the biggest fight in MMA history.
Keep Reading