USC Trojans Football: 5 Keys to the Game vs. Arizona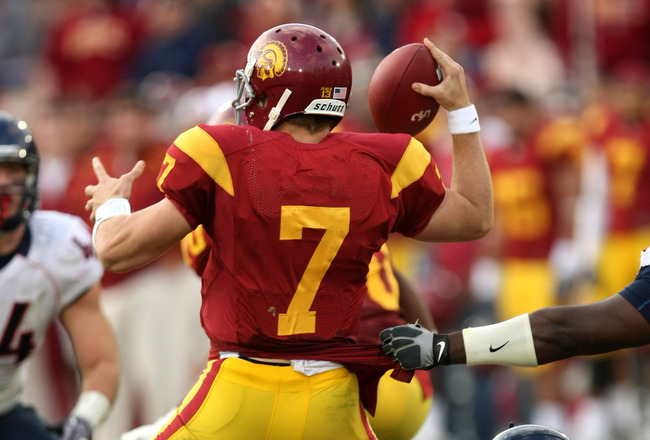 Stephen Dunn/Getty Images
It is excessively cliche to offer analysis which suggests that for the 2012 USC Trojans, every game is "do or die."
Except that in this case it is true.
For a team that still entertains lofty BCS goals, the Trojans know they can't afford a single stumble if they hope to play in an important bowl game once the regular season is wrapped up.
When USC trots on to the field Saturday against Arizona, they will have an chance to compete in a game that offers both opportunity and disaster.
If the Trojans can prevail in the desert, they will have beaten a team that plays an up tempo offense, much like next week's opponent, the mighty Ducks of Oregon.
As previews go, it will be as advantageous as could be hoped for in terms of preparation, but it all hinges on that all important "W."
Do I need to mention what would constitute a disaster for USC in this game? I didn't think so.
This slideshow will look at five keys to this game as the Trojans try to keep their 2012 dreams intact by beating a very good opponent in a hostile environment.
Satisfy the requirements listed within this slideshow and next week remains huge. Stumble and well...you know...
No. 5: The Trojans Need to Get Off to a Fast Start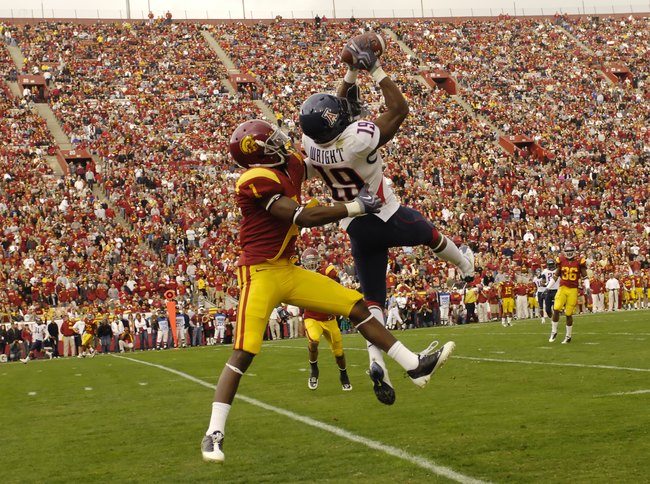 Matt Kincaid/Getty Images
Included among the holy mantra for any road game should be an admonition for USC to start fast, and this is especially true for Saturday when they encounter a hostile Wildcat crowd that truly thinks their team can win.
A slow start for USC will give added fervor to the Wildcats, and with a difficult task already in front of the Trojans defense to slow a talented Arizona offense, things could go south in a hurry for Lane Kiffin and his boys.
Of course, this is easier said than done, and given other slow starts this year for the Trojans, a concerted effort should be focused on this particular area.
Otherwise, it could be a very, very long game for the men of Troy.
No. 4: USC Must Reduce Arizona's Scoring Opportunities to Field Goals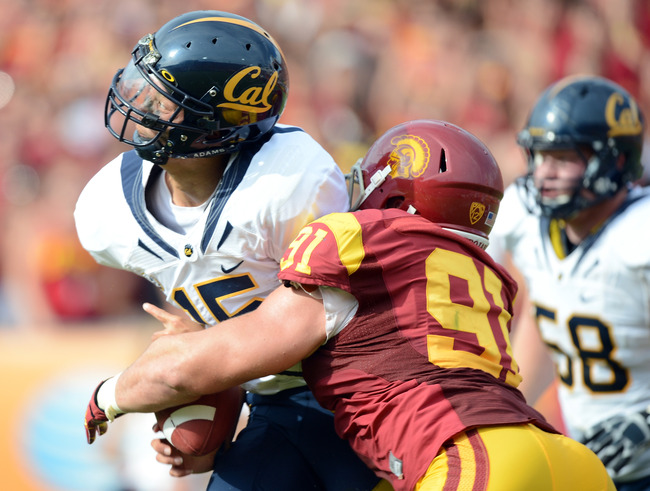 Morgan Breslin (defensive End)
Harry How/Getty Images
Despite the fact that USC's defense is much improved in 2012, it is unrealistic to expect them to shut down a very high-powered Arizona offense, especially when they are playing in front of their home crowd.
Playing a high tempo, spread offense mastered by Rich Rodriguez and orchestrated to perfection by quarterback Matt Scott, Arizona finds themselves ranked fifth in the nation in total offense at almost 550 yards a game.
Because of the efficiency of the Wildcat's attack, USC must qualify what should be considered a successful defensive effort; in this case, that means reducing Arizona's touchdown capability.
In other words, if the Trojans can force Arizona to kick field goals, that should be considered a short-term success.
Defensive coordinator Ed Orgeron's boys have been very good in 2012, and holding the Wildcat's offense to three-point attempts will give the cardinal and gold a great opportunity to get out of Arizona with a much-needed win.
No. 3: The Trojan Running Game Must Dominate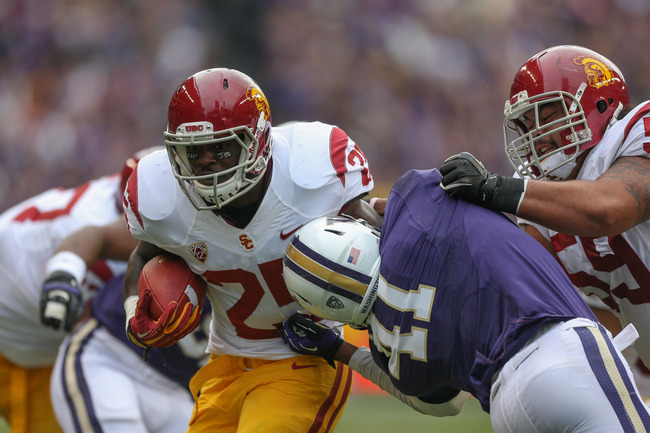 Otto Greule Jr/Getty Images
As mentioned before, in order for the Trojans to be successful in this game, they must sustain drives so their defense can get some rest against an Wildcat offense that certainly won't be so accommodating on the field of play.
To do that they must get big games from their running backs, Silas Redd, Curtis McNeal and D.J. Morgan, and an even bigger effort from their offensive line.
It won't be easy though because left tackle Aundrey Walker left last week's game with an injury and his status is somewhat up in the air, which leaves true freshman Max Tuerk as the go-to guy if Walker can't find his way on to the field.
Sustained drives that result in scores for USC is a surefire plan for Trojan success, and no one will be happier than the defense if they can make that happen.
No. 2: USC's Defensive Line Must Control the Line of Scrimmage
George Frey/Getty Images
Did I mention that Arizona has a pretty good offense?
The reason this is so is because Rich Rodriguez has a really good tailback in Ka'Deem Carey and a great spread quarterback in Matt Scott.
Because both of these skill players are so effective in this offense, it will require USC's defensive line to be active and both penetrate and disrupt the Wildcat backfield.
Fortunately for the Trojans, the defensive line has the talent to do both.
Ranked third in the nation in sacks and tied for 11th in tackles for loss, USC's d-line has been a thorn in the side of their opponents all year long.
That must continue on Saturday for the sake of the Trojans' BCS hopes in 2012.
No. 1: The Trojans Must Take Advantage of Red-Zone Opportunities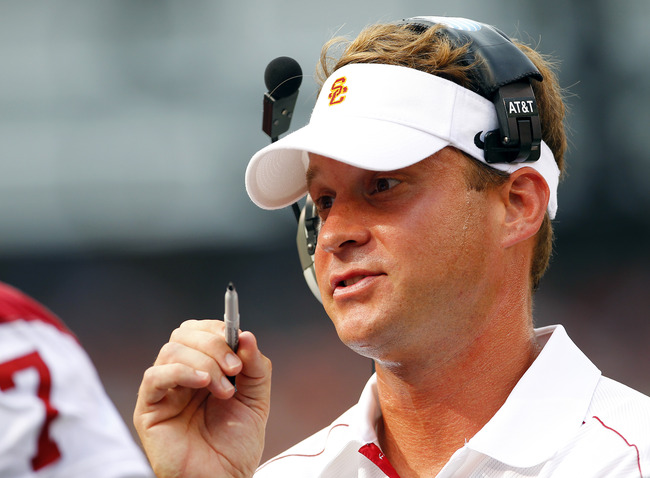 Rich Schultz/Getty Images
While the Trojans defense must hold Arizona's offense to three-point opportunities, the exact opposite is true for Matt Barkley and his crew.
Fortunately for the Trojans, the Wildcat's defense has been very accommodating to opposing offenses in the red zone.
Ranked a lowly 88th in the country in red-zone defense, Arizona is democratic in how they allow opponents to score, allowing an equal amount of rushing and passing touchdowns.
And that is the key; once inside their 20-yard line, the Wildcat defense has only forced four field goals in 24 tries.
Do the math...If the Trojans are scoring seven and giving up only three, well, that should find plenty of smiling faces on the men of Troy by game's end.
Keep Reading

USC Football: Like this team?