The 15 Most Egotistical Figures Currently in the NHL
Would you expect anyone else as the cover photo?
Bruce Bennett/Getty Images
In sports there is, of course, no "I" in team.
I made the mistake of letting my high-school lacrosse coach know that there was in fact a "me" in team if you moved some letters around. My big mouth cost me an afternoon of practice running laps for about an hour around the field.
It was during my extra conditioning that I came to the realization that what I had said was self-serving and egotistical. I put a good laugh and wisecrack ahead of what the coach had to say. I had diminished his game plan by putting my own agenda first.
Of course my 17-year-old brain took about 15 laps to process this, but I begrudgingly admitted to learning my lesson to the coaching staff at the end of my run.
We're wired as humans to be self-serving, survival-of-the-fittest types. When it comes to collective efforts and reaching team goals, the ego must be kept in check to a certain degree. T
he ability to reach certain levels of achievement is directly related to one's motivation to reach said goal. Whether you are motivated by money, ego, sex, survival or anything else, human beings are driven by a multitude of things that aren't as obvious as you might think.
In professional sports, the NHL is widely regarded as the major sport with the smallest number of egomaniacs.
That said, there are still plenty of gentlemen in the NHL who love to be the center of attention. From players on the ice who love the spotlight (and themselves), to announcers who love the sound of their own voices. Of course we can't forget the agenda-driven suits who currently have the game we love on ice.
Here's my list of the 15 biggest egomaniacs currently in the NHL. Enjoy now!
Don Cherry
Whether it's marginally racist, misogynistic or inflammatory comments directed towards a particular group of people, Don Cherry loves to hear his voice more than anyone else does.
Cherry seems to subscribe to the theory of "talking louder makes you right".
Hockey Night in Canada's favorite blowhard wants as much attention for his mouth as he does his obnoxious suits. It's hard to tell if Cherry actually believes some of his rants or if he's just trying to get some press.
It should be noted that Don Cherry has done great work for charities over the years, including working with the Humane Society and pet adoption policies. He also created a charity in the name of his late wife Rose, and honors her by wearing a rose on his jacket lapel.
A story that I love about Cherry was from his coaching days. After being fired by Boston in 1979, Cherry was hired by the Colorado Rockies. Though his Rockies only managed 19 wins in Cherry's only season, one of them was an away win at Boston.
With just over two minutes left in the game with the Rockies leading 5-3, Cherry called timeout and signed autographs for fans behind the Rockies bench.
The story is hilarious, but a shining example of the larger-than-life persona created by Cherry.
Pierre McGuire

Hey Pierre, could you stand closer to me?

While Pierre McGuire is creepy ahead of anything else, there has to be a huge ego that drives him. Why else would he end up in the situations that he does?
The NBC Sports on-ice reporter lurked around the TSN studios for a few years making people uncomfortable, before getting in front of the camera for the NBC hockey coverage.
As an analyst, McGuire's take on everything reeks of a false sense of comfort and insider knowledge. He talks to the players and coaches as if they are old friends to give the viewers the sense that he is part of the club.
Sure, he may be connected to the NHL insiders, but McGuire always seems to come off as a giant tool when delivering the message.
Brendan Shanahan
I'm a little torn as to whether I should label Brendan Shanahan as egotistical or clueless.
Remembering him as a player, Shanahan was never short on charisma or being outspoken. As a former player representative Shanahan never met a microphone he didn't like.
Now as a representative of the league, the unofficial "Lord of Discipline," Shanahan has taken over for Colin Campbell as the league's director of player discipline.
He has attached videos explaining his interpretation of rules violations to accompany his decisions.
While I loved Shanahan as a player, particularly in Detroit, some of the decisions rendered from his office have bordered on the absurd.
The only explanation that I can logically conclude is that Shanahan feels that he can pretty much do whatever he wants without consequence.
Much like a parent who supplies the reasoning, "because I said so."
Dany Heatley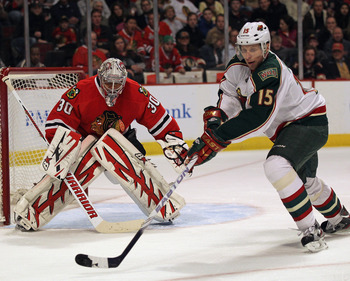 Jonathan Daniel/Getty Images
Another player that always pops up on lists involving egos is Dany Heatley.
No one will ever deny that Heatley is one of the most gifted players to ever lace up the skates, but in the same breath, it will also be mentioned that Heatley is one of the more disliked players in the game.
Humility is something that has always been lacking with Heatley both on and off the ice.
While most of his interviews are overdubbed parodies on YouTube, the real ones come across as only slightly less pretentious.
If you ever get the chance to ask Dany Heatley who the best player in the game is, don't be surprised at his answer.
Brian Burke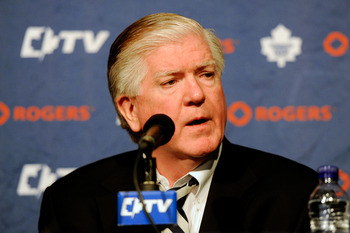 Richard Wolowicz/Getty Images
I'll go out on a limb here and throw Brian Burke's name into the mix.
As the general manager for one of the most financially successful teams in all of sports, with a fan base that stretches worldwide, Burke has hardly been earning his paycheck.
Living off of the Stanley Cup he was present for in Anaheim, Burke parlayed his resume-padding title to land the job as general manager of one of the most storied franchises in the NHL, the Toronto Maple Leafs.
I don't really understand the reverence given to Burke in the hockey community.
With a fan base as loyal and hungry as the Leafs, they deserve better and deserve more.
Maybe it's his Harvard Law School pedigree that gives us the impression that Burke thinks he is the smartest guy in every room he walks into, but his time in Toronto is running out, unless he can put together a playoff team.
Jack Edwards
Let me first say that I don't dislike Jack Edwards. I think his knowledge of the game is commendable and he is certainly entertaining.
However, at some point the light goes off in Edwards' dome, and he starts calling the game that he wants to see versus the actual game taking place.
I get that the regional sports announcers are supposed to have a little bit of "homer" in them, but Edwards gets a tad ridiculous more often than not.
In the clip above, Edwards enjoys some face-time with a self-serving ramble and compares the Bruins' Game 7 win over Montreal to the conflict between colonial America and England.
Gary Bettman

Love this clip!

What can be said here that hasn't already been written about the unlikable little commissioner?
His defenders will say that he is just doing his job, but he does it with such a preening, weasel-y disregard for the fans that ultimately pay his salary.
I love the clip above, because it literally captures Bettman double-talking and just generally defying facts.
Note to Gary Bettman: The fans boo you, not the Stanley Cup being won on the visitors' ice.
Got it? Now please go away.
P.K. Subban
Let it be known that I love me some Pernell Karl Subban.
I love the way he attacks all the time on the ice, though he does take more risks with the puck than a defenseman should. He seems to have a pretty good head on his shoulders and has the utmost confidence in his game.
That being said, his confidence drifts into arrogance at times with his decisions on the ice.
Granted he is still very, very young (23) and plays under a hockey microscope in Montreal, but Subban has the potential to be one of the best players in the game.
I think it's fair to say that he already knows that, but as he matures, the cockiness should be reigned in more, and be just confidence.
Jeremy Roenick
When you see him talk, and how he acts, you might think that Jeremy Roenick gave himself the nickname "Styles."
These clips are just a small sampling of what is out there regarding Roenick, who never met a camera or microphone he didn't like.
That said, J.R. was always honest to a fault, and I love when an athlete is candid. There are far too many "we're taking it one game at a time" cliche machines out there, and Roenick's take is almost always refreshing.
It was no surprise to see Roenick and his perpetually frosted tips show up in the announcer's booth or on some type of broadcast.
While I consider myself a fan of Roenick, as a player and as a commentator, I think we can agree that Styles' biggest fan is of course, Jeremy Roenick.
Alex Ovechkin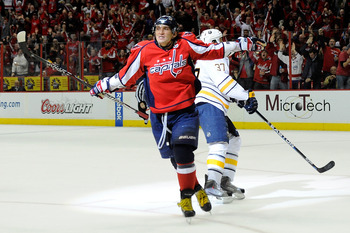 Patrick McDermott/Getty Images
I know it's easy pickings to dump on Ovechkin as one of the most arrogant players in the league, and Alex has tempered his cockiness lately.
However, his decision to skip the All-Star Game because he was suspended was selfish and completely self-serving.
I tend not to hold his excitement/enthusiasm against him, but his critics will say that every goal he scores is celebrated like a Game 7 overtime winner.
Regardless of his status in the league at the time, Ovechkin is a fan-favorite and was selected to play in the mid-season exhibition.
Knowing it would be a an opportunity to give a literal middle finger to the NHL by not showing up, the pouting Russian showman decided to stay home.
The winner in this? Nobody but Ovechkin, while everyone else missed out.
Sidney Crosby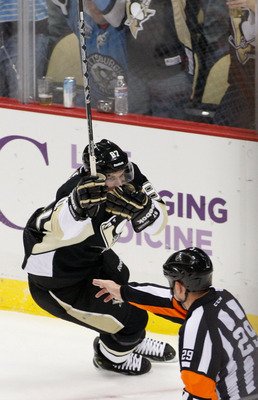 Jared Wickerham/Getty Images
All right all you Sid-heads, stay with me here.
Stop defending your boy by telling me that he isn't one of the cockiest players in the game and instead embrace his arrogance. Or call it confidence, if you don't feel good about that word.
At any rate, Sid seems to enjoy wearing the black cowboy hat of the villain, and you know what, I kind of like it.
Hey, he already has the Snidely Whiplash mustache.
Remember when LeBron ditched Cleveland for South Beach, leaving his hometown club to win a title in Miami? (That's the NBA for those of you who don't know what a "LeBron" is.)
The point is that LeBron wanted to be liked so much that he struggled to deal with the backlash felt from fans who thought he bailed on his team, teammates and city.
He did nothing wrong, but the court of public opinion thought otherwise. LeBron tried to embrace his villain's role, but was better served just playing through the boos.
Crosby has actually impressed me by stepping up and running his mouth about the Claude Giroux "Wristgate".
I'm not going out to buy an 87 jersey, but I can appreciate the fact that he will do whatever the hell he wants without apology, and essentially tell everyone else to buzz off.
Bill Daly
Bruce Bennett/Getty Images
When you aren't hearing "good news" from Gary Bettman these days about cancellations and general pessimism, you'll be getting smug quotes from deputy commissioner Bill Daly.
Daly is Bettman's partner in almost every sense of the word, and wears the crown of Executive Vice President and Chief Legal Officer for the NHL.
It may not shock you to know that Daly was also Ivy League-educated and attended the same law school (New York University) as his partner in cr.....er, hockey.
Also "shocking" is that Daly has no connection with the NHL. His only experience with sports is working on anti-trust litigation and labor issues in sports, specifically the NFL and NBA.
I'm not saying that the guy isn't qualified for his job, but it's very telling when the top two officers of a league have no prior connection to said league.
I don't want my commissioner or league executives to be fanboys, but is there no one else out there qualified to do these jobs that might have any prior connection to the NHL?
They might actually care if there is a season or not.
Mike Milbury
Though Mike Milbury is in the center of one of my favorite video clips, he seems to want to be the American Don Cherry.
Milbury also subscribes to the "if I talk louder than you, I will sound like I'm right" theory of argument, and will engage as many people on air as possible just to be controversial.
Milbury is hit-or-miss in my book.
I appreciate the mindset of anyone willing to beat someone with their own shoe, but Milbury often comes off like a loudmouth blowhard.
I do love that he calls Pierre McGuire a "soccer mom".
Barry Melrose
Barry Melrose is the current face/mouthpiece for the NHL on ESPN right now.
How he managed to garner such a choice gig at the worldwide leader in sports is beyond me.
Melrose's resume looks like this: 300 NHL games, 33 points and 728 penalty minutes. The coaching record is this: 225 games coach and 84 wins. That's a .373 winning percentage.
He's a pundit, for sure.
Melrose's claim to fame is his mullet, and the coincidence that he happened to be coaching the Los Angeles Kings when Wayne Gretzky carried them to the Stanley Cup Final in 1993.
His true value to the NHL community is reflected by the fact that the one job offer to coach since he was canned in 1995 was from a desperate Tampa Bay franchise.
That job lasted for about 10 minutes before he was invited to leave.
The clip above shows Melrose's classy parting shots to the Tampa Bay organization.
NHL Ownership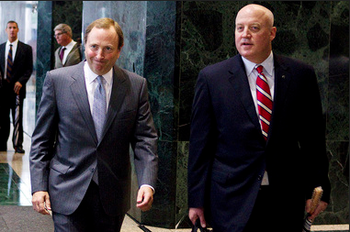 photo: blog.syracuse.com
I'll apologize in advance for the rant, but this lockout is a direct result of NHL mismanagement from the owners.
While it's easy to say that the employees need to make concessions and have to know their role in the machine, the owners were the ones putting out the ridiculous salaries that they so desperately want to roll back.
Shame on them for not running their businesses better, for allowing the collective bargaining agreement to run out on them.
Shame on them for absolutely NO SENSE OF URGENCY to resolve this.
Yesterday's NHL headline: Islanders to play at Barclay's Center in Brooklyn.
OK, no offense Brooklyn, New York or any Islander fans, but that means absolutely nothing without a labor deal between ownership and the NHLPA.
Sure, Islander fans should be pumped about upgrading their facility by around 439 percent, but is that what the NHL should be trumpeting right now?
Clearly this group of people didn't make their money running their NHL franchise, so how about applying some of that business sense to your hockey team?
Keep Reading