MLB Free Agency: 6 Players Who Teams Should Not Overpay This Offseason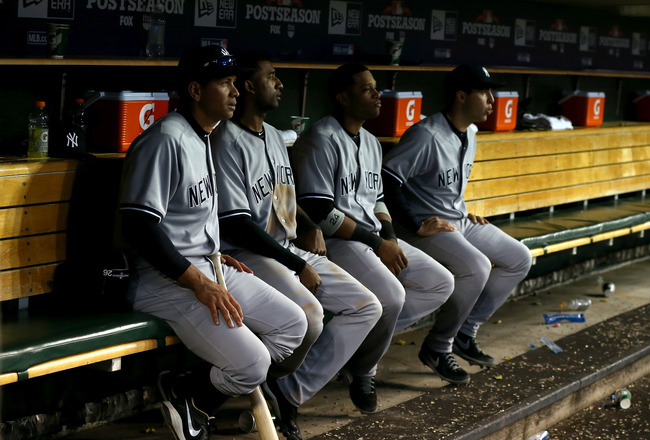 Yankees sit in the dugout during a 2012 playoff game against Detroit. Alex Rodriguez is one free agent on the Yankees team this year.
Jonathan Daniel/Getty Images
In the 2012 MLB free agency class, there are a lot of quality players looking for new homes, or just new contracts. Some of better quality than others.
So what are these players worth? Well, for a few guys on the market, it's not as much as you'd think.
Let's take a look at some of the big leaguers who teams should be careful about overpaying this year.
Josh Hamilton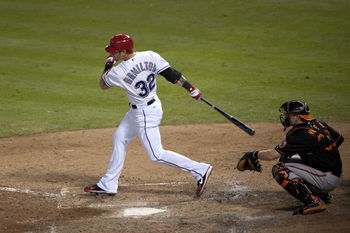 Josh Hamilton went 0-4 in the Rangers' wild card game against the Orioles
Cooper Neill/Getty Images
Will he stay or will he go?
The Rangers would like to keep Josh Hamilton if he's willing to take a lower salary. He's getting paid more than $15 million this year, though you wouldn't know it from the way he played the last few games of the season for the Rangers.
Hamilton batted .154 in the Rangers' final series against Oakland that ended up knocking them out of first place in the division. He then went 0-4 in Texas' wild card loss to the Orioles.
He's a player any team would want on its roster; he hit 43 homers and has 128 RBI this season on a .285 BA. But with injuries and his inability to deliver in clutch games this season, teams will have to decide what he's really worth. And chances are, it won't be $15 million annually.
Nick Swisher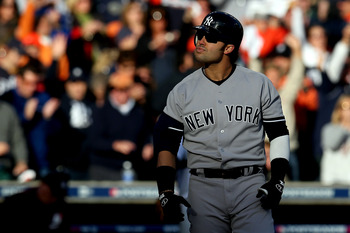 Nick Swisher went 5-for-30 in the Yankees playoff run
Jonathan Daniel/Getty Images
Nick Swisher is another solid player that any team would like to have in its lineup, but for how much?
Swisher has hit more than 20 home runs in every season but his first and has had more than 80 RBI in all his years with the Yankees.
But Swisher hasn't performed well in the postseason. He went 5-for-30 in this years playoffs before the Yankees were eliminated by Detroit. And he wasn't any better for New York in previous playoff series. Since his arrival in 2009, Swisher has batted .169 in 11 playoff series.
Whoever takes Swisher will have to decide what solid regular season and poor postseason performance is worth.
Torii Hunter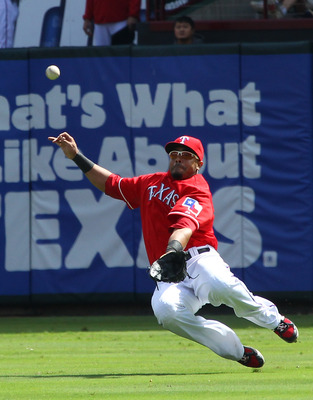 Torii Hunter in a late September game against the Texas Rangers
Rick Yeatts/Getty Images
Torii Hunter has been a great asset to the Angels since he joined the club in 2008. He's hit more than 20 home runs in each season with the team with the exception of this year, when he only hit 16 (but we'll let his .313 season average make up for that).
Hunter is now a free agent and says he'd like to stay with the Angels for a few more years. They're paying him $18.5 million now, and likely won't continue to pay him that much if he stays. And if he doesn't, well the 37-year-old outfielder should still expect a bit of a pay cut.
Francisco Rodriguez
Francisco Rodriguez pitches for the Brewers in a September game against the Reds
Joe Robbins/Getty Images
Rodriguez has moved around a couple times after leaving Anaheim, where the now 30-year-old began his career 10 years ago.
In his third year with the Angels he struck out 123 batters. But K-Rod isn't the same pitcher he was when he played for the Angels.
This past season with Milwaukee, Rodriguez went 2-7 with three saves and an ERA over four.
He's getting paid $8 million this year and teams looking to pick him up (or keep him) will have to decide if he's still deserving of that kind of money.
David Ortiz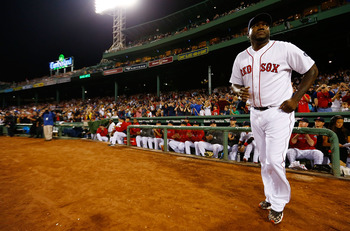 David Ortiz in a September game against Tampa Bay
Jared Wickerham/Getty Images
Ortiz had been as productive as ever this past season for the Red Sox. That is, aside from the Achilles injury that kept him out for most of the season after mid-July.
The Red Sox have said they plan to re-sign Ortiz, who is getting $14.5 million this year. But it doesn't make a whole lot of sense for Boston to pay a player that kind of money when they just unloaded huge contracts and talent in that midseason trade involving Carl Crawford.
Whether he stays or goes, the 36-year-old veteran's salary should be a little smaller wherever he is. Especially considering he only played in 90 games this season.
Delmon Young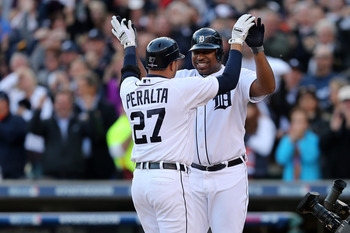 Delmon Young high-fives his teammate in Game 4 against the Yankees
Leon Halip/Getty Images
Delmon Young has played very well in the postseason with the Tigers. He's hitting .294 and has two home runs and eight RBI thus far.
He's just 27-years-old and may be in the process of turning his career around. But probably not. And in that case, he's just been an average player throughout his MLB career.
He had a good year with the Twins in 2010 when he hit 21 HR and had 121 RBI. Aside from that year, he's averaged about 65 RBI and 12 HR a season.
Teams looking to pick up Young shouldn't let this playoff run affect the money they're willing to spend on him too much.
Keep Reading