Manchester United Debate: Should Hernandez Start over Welbeck?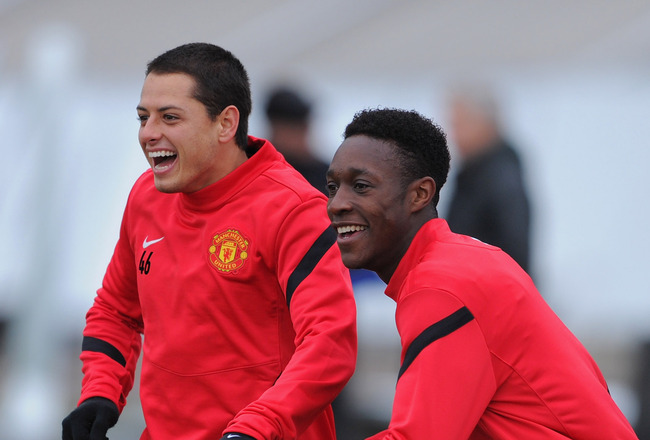 Michael Regan/Getty Images
Coming off Javier Hernandez's fantastic showing in the UEFA Champions League tie with Braga, does he he deserve to start in place of Danny Welbeck?
Competition for a place in Manchester United's fabled strike force is fierce. The Red Devils haven't had this much firepower to choose from since the days of Ole Gunnar Solskjaer.
So from a diverse pallet, who should Sir Alex Ferguson choose to man his front line for this weekend's game against Chelsea and beyond?
The Situation
Michael Regan/Getty Images
Robin van Persie is the de facto No. 1 striker at Manchester United, taking Wayne Rooney's mantle upon his arrival this summer.
Rooney has played a variety of roles over the course of his eight-year career at Old Trafford, but moving to central midfield was probably a culture shock above all others.
While his adding of steel and bite to an otherwise flaccid midfield is a certifiable bonus, it also removes him from the striking conundrum Sir Alex Ferguson currently faces.
That leaves the contest as to who will partner with Robin van Persie down to just two players—Javier Hernandez and Danny Welbeck.
The Catalyst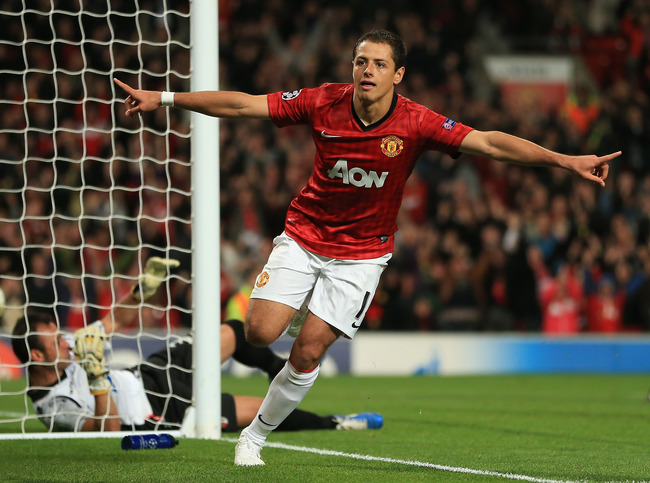 Richard Heathcote/Getty Images
While there have been calls for Javier Hernandez to start over the past month, his performance against Braga will intensify those to the extent Sir Alex Ferguson cannot ignore.
With Manchester United 2-0 down at home to the Portuguese side, Hernandez slipped his marker and rose to head the ball into the net just before halftime.
With substitute Nani giving the Red Devils fresh impetus, it wasn't long before Jonny Evans saw his scuffed effort crawl over the line to draw things level.
Then, finally, after a right-wing cross, Chicarito pulled off his marker at the far post and nodded home to give United a vital win.
All while Danny Welbeck sat on the sidelines.
Welbeck's Scorecard
Alex Livesey/Getty Images
Danny Welbeck will always be endeared by the fans of Manchester United considering his lifetime allegiance to the club.
Crowds always warm toward a youth product exploding out of the academy, and that's exactly what happened when the now England international put this stunner into the top corner facing the Stretford End.
His versatility remains key in his battle for a spot in the starting XI, as he can take up a wide role as well as a central striker's role.
Team chemistry is important, too, so his innate understanding with Wayne Rooney simply cannot be devalued—they just seem to know exactly where the other is at all times.
It also appears Sir Alex Ferguson wants Robin van Persie to concentrate on getting the goals, so he asks Welbeck to do the nitty-gritty work on the front line in addition to providing a goal threat himself.
Hernandez's Scorecard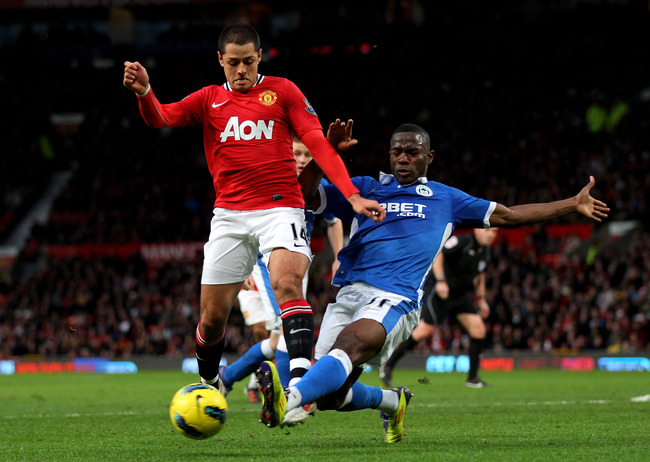 Alex Livesey/Getty Images
Javier Hernandez is an entirely different player than Danny Welbeck.
His first season was simply stunning. He was unheralded, even unheard of, as he moved to Manchester United from Guadalajara in the summer of 2010. His 20-goal debut season soon sawed off that tag.
He established himself as one of the very best poachers in the game, and his exploits for Mexico only further that argument.
He's not able to take up a wide role like teammate Danny Welbeck, as his strengths lie exclusively in finding the back of the net.
Out of all the United forwards, it's arguable that "Chicarito" is the very best at finding the goal—even more of a natural finisher than Robin van Persie, perhaps.
Conclusion?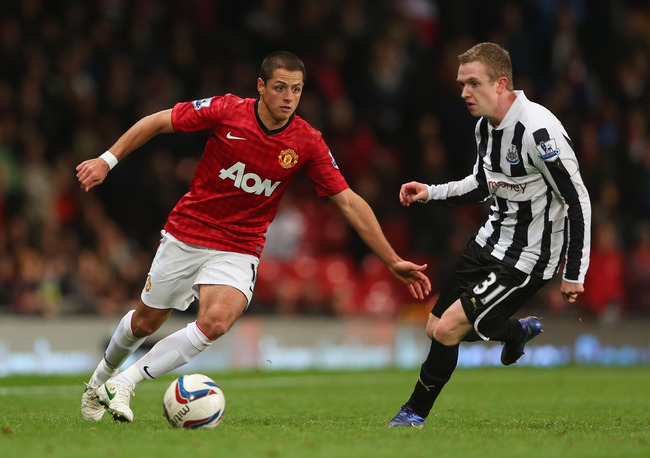 Alex Livesey/Getty Images
In an ideal world, Sir Alex Ferguson has 10 strikers. They're all slightly different, offer something the others don't, and they're all happy to sit around and wait for their occasional chance.
This is no ideal world.
Fergie faces a real issue—an issue which was magnified by Javier Hernandez's superb, messianic performance against Braga.
The question is, should Chicarito's performance be rewarded with a chance to stake his claim in the first team, or does Danny Welbeck resume normal service against Chelsea this weekend?
Please read:
Six things we learned from United's win over Braga
Keep Reading

Manchester United: Like this team?