Boston Celtics: Where Will They Finish This Season?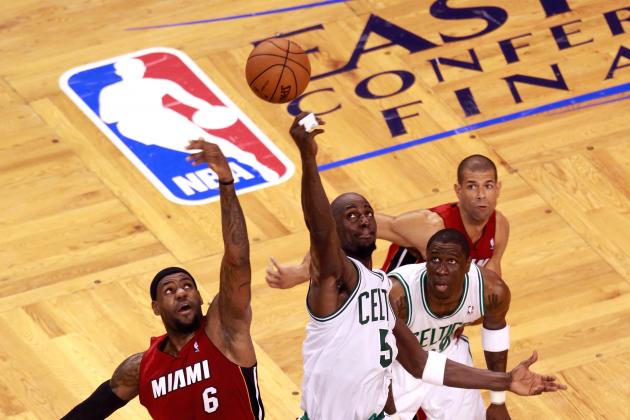 Jared Wickerham/Getty Images
With tip-off around the corner, the Celtics hope to edge their best competition
Anyone on the Internet who predicts the Boston Celtics will reach the NBA Finals this season should lose his writing privileges, right?
I sure hope not.
Many facets of the the Celtics' upcoming season have been under the scrutiny of fans and experts alike. After being ousted by the NBA champion Miami Heat in Game 7 of the Eastern Conference Finals less than a year ago, the C's have much to look forward to in 2012-13.
Size and athleticism were among the main differences between the winners and losers in 2012. With a few new-look teams around the NBA (think Brooklyn and a revamped Lakers squad), the Celtics will be forced to fight to remain in NBA Finals conversation.
Offseason acquisitions such as Jason Terry and Leandro Barbosa aren't exactly on par with blockbuster signings of Dwight Howard or Joe Johnson, but their integration into the C's lineup could prove equally as influential.
Let's take a look at what kinds of thoughts are swirling around the web regarding Boston's upcoming campaign just before the season's opening tip.
Begin Slideshow

»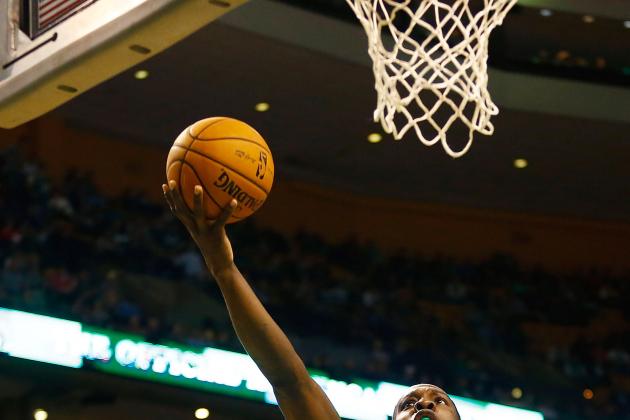 Jared Wickerham/Getty Images
Jeff Green is back and will help the C's run the floor
As previously mentioned, teams like Miami were able to run circles around an aged Celtics squad in the 2012 playoffs.
That will no longer be the case.
After Rajon Rondo, the Celtics have not had with a point guard capable of protecting the ball while pushing the pace. Although he almost single-handedly held down the guard position for the C's in the postseason after Avery Bradley's injury, Rajon won't have to be as much of a hero this season.
According to Chris Forsberg of ESPN Boston, Doc Rivers has emphasized improving and more frequently implementing the fast break. Offensive production in half-court sets was cause for concern in 2012, especially when Rondo was on the bench.
As a team founded on generating offense from efforts on the defensive end, the Celtics often haven't needed to out-shoot teams to beat them. However, those days are gone as well.
With the addition of new faces Jason Terry, Leandro Barbosa and Courtney Lee, and the return of a healthy and hungry Jeff Green, look for the Celtics to explode more quickly out of their defensive sets.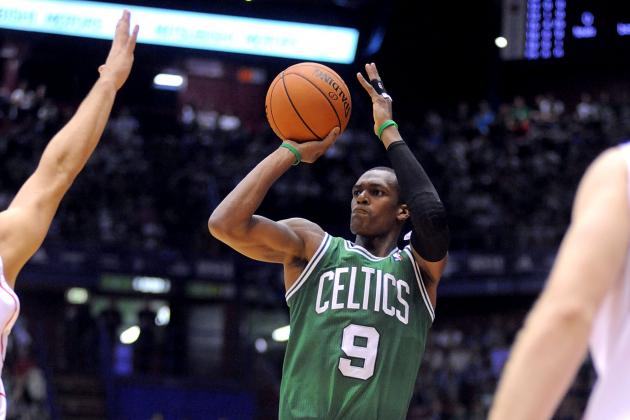 Roberto Serra/Iguana Press/Getty Images
Rise, Release, Repeat.
Rajon Rondo needs to get to the line more than the 3.3 times he averaged over 36 minutes in 2011-12.
Grantland's Zach Lowe believes he'll do so and chip in his highest scoring average yet in 2012.
Both need to be true for the Celtics to achieve their ultimate goal. Rondo will make a concerted effort to shoulder more of the scoring load when necessary this season.
He has shown flashes of offensive potential (think Eastern Conference Finals Game 2 in Miami), but has often deferred to teammates seemingly more qualified for the scoring role.
The Celtics are going to run more this season because they have more quick athletes than last season. Rondo will lead a potent break and reap the rewards.
Fear not, he will still expertly deliver the ball to players more suited to shoot it. However, the Celtics will go as far as Rondo takes them, making his aggression around the hoop a key to their success.
Roberto Serra/Iguana Press/Getty Images
Doc may not be so quick to sacrifice home-court advantage this season
The Celtics have proven they don't care too much about postseason seeding as long as they are in the hunt.
Coach Doc Rivers' strategy in recent seasons has been to rest his players as much as possible during the regular season in hopes of having a fresh squad come playoff time.
While a good idea in theory (after all, the past few teams have featured some old legs), giving up the potential to play more games at home in the postseason has become too high a price to pay.
Ousted in a road Game 7 once more, Boston must finally realize the significance of playing in front of the home fans.
Despite their acquisitions and promised greater sense of urgency, ESPN expert John Hollinger still has Boston falling short of 50 wins (48-34). He predicts this record will earn the Celtics the third rank in the East and another Atlantic Division title.
That will not cut it for the Celtics this year, not if they aspire to be champions. This team needs every possible advantage it can gain on the other superpowers in the NBA (hint: Miami, Oklahoma City and the Los Angeles Lakers).
Simply put, Boston has much more to gain by performing well during the regular season than in seasons previous. For this reason, I disagree with Hollinger's prediction and instead see Boston winning closer to 55 games.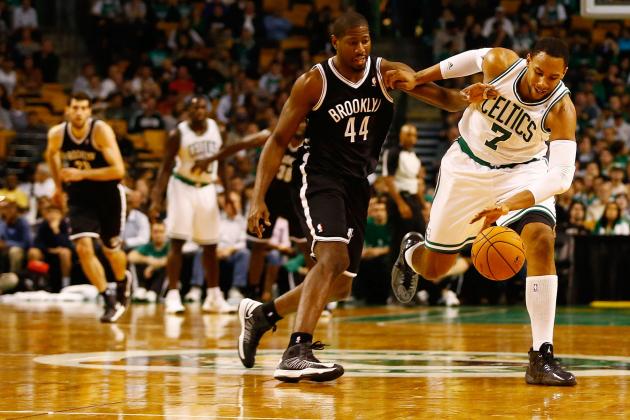 Jared Wickerham/Getty Images
Size, strength, and scoring ability make Sullinger an attractive ROY candidate in the Atlantic Division
A lot of hype has followed former Ohio State big man Jared Sullinger this preseason. Entering his rookie season, many are expecting Sully to make an immediate impact.
Some, like CBSSports.com's Matt Moore, believe he will turn in efforts worthy of a divisional Rookie of the Year award.
Others believe that he is even worthy of starting over 2012 unsung hero Brandon Bass.
Does Sullinger possess the talent to turn in the most outstanding debut campaign? Yes. Will he?
I say no. Doc Rivers and the Celtics will at times employ as much as a 10-man rotation this year and will be good while doing so. Unfortunately for Sullinger's postseason awards prospects, such a deep rotation will not allow him to shine as much as an individual.
That's not to say that Sully's contribution won't be of tremendous importance to Boston. He just can't shine (statistically speaking) for the C's as bright as a rookie like Jonas Valanciunas can for a team like Toronto.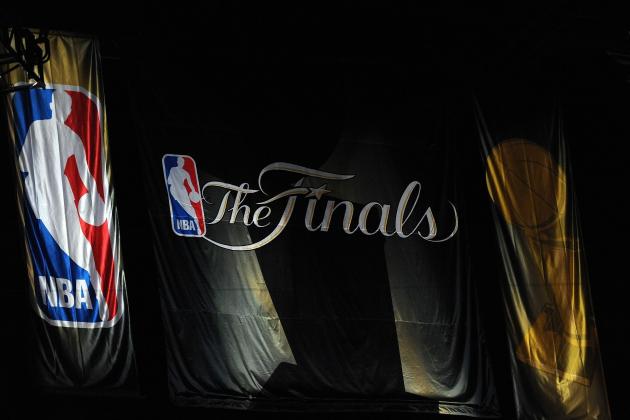 Lisa Blumenfeld/Getty Images
They can and they will
Alright, so this one is my prediction.
Not too many others are willing to pick Boston beating Miami to reach the Finals, but this team is as equipped as any to hang with LeBron and Co.
Veteran leadership, dependable coaching, a budding superstar point guard and added roster depth has Boston in position to avenge last season's sorrows.
Last year, the C's were four better quarters of basketball away from sending the Heat home and advancing. What's to say they couldn't have had a better game that day and run away with it?
This offseason both teams got better and Ray Allen stoked the rivalry's flames by switching sides. Both teams are elite and both teams (now) know how to win big games.
I expect the usual grittiness from the men in green, but with a bit more punch from the reserves to push Boston over the hump. Remember how effective Leon Powe and James Posey were in the 2008 NBA Finals against the Lakers? This year Jason Terry and Jeff Green could spur similar magic against Miami.
The keys will be claiming home-court advantage, staying healthy and bench scoring. It may be a long shot, but do not for a second doubt that Doc Rivers and the Celtics are relentless and talented enough to pull off an upset over the defending champions come playoff time.