Old School Feuds That Should Have Been Settled in Hell in a Cell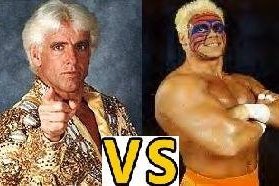 tribalwrestling.com
This is what I grew up on.
Wrestling matches that were settled in "themed events" many coming from the fertile mind of Dusty Rhodes. Many of them conceptually seen as part of Georgia Championship Wrestling of from the Florida based CWF with Gordon Solie behind the desk and some wrestling talent giving commentary.
Yes, these matches are the ones etched in my mind as those that mattered.
And yes, these matches needed to be decided in Hell in a Cell.
I agree that HIAC is a great concept if it is used right, but not if it is some knockoff of a fruitless feud between two mid-card wrestlers or better yet, divas who cannot perform at a high rate of success.
But these matches could have worked in any wrestling generation.
Here are some matches I would have loved to have seen in today's PPV format.
Begin Slideshow

»
In Japan, they were considered royalty. Whether they were playing the role of face or heel, Stan Hansen and Bruiser Brody tore arenas apart.
And when they joined forces as tag team competitors against some of the great Asian superstars, they created a chemistry that was unmatched.
This wasn't the Funks coming to Asia. This was war.
When they fought each other, they left it all in the ring. Well, around the ring too.
They bled each night they faced each other for 18 solid months.
The feud was so intense it almost destroyed each other,
Tommy Rich was the good looking, blond wrestler who once captured the NWA World Title. He was the up and coming star of the NWA.
Buzz Sawyer partied hard and acted like every day was his last. He was one of the more vicious wrestlers of his time.
While they were involved in many different matches in their long-lasting feud, Hell in a Cell might very well have ended in a blood bath.
There weren't two tougher tag teams in the heyday of the NWA then the Russians and The Road Warriors. They met many times in cage matches and in major NWA events.The main match was seen at the Great American Bash in 1986.
Ivan Koloff and his "nephew" Nikita Koloff were joined by Krusher Kruschev where any of the three could battle.
For every battle these two teams were in, there was never a dull moment. The pure power of the Road Warriors and the raw style of the Russians.
In a time where the NWA was king and Vince McMahon was just beginning to branch out. And these two teams help the NWA stay on top a little longer.
This is one of those feuds that had more meaning than most.
When Ric Flair and McDaniel feuded in the Carolinas, they were fighting over the Mid-Atlantic Heavyweight Champion. Except one thing tripped up this great rivalry, Flair was injured in a plane crash that almost cost him his life.
While Flair recuperated from his injuries, which broke his back, he remained the top contender for the Mid-Atlantic Title and when he returned to action, the two picked up where they left off.
There were few tougher in the business when McDaniel was in his prime. And he brought out the best in Flair.
According to About.com, the two had their "first major battle was a 45-minute draw that took place at the first Clash of the Champions in 1988. Despite going head-to-head against WrestleMania IV, this is the match that most fans remember most from that day.
To me, this is one of the all-time great feuds. At one point, Dusty Rhodes was the lead hero of the NWA and Ric Flair was the top heel. When Sting emerged at Clash of the Champions, that all changed.
No one brought out the best in Sting like Flair. And while Lex Luger and Barry Windham were both friends and foes of the man from California, none could get Sting to the level he was with Flair.
Some of the best battles of he early 1980s in Dallas involved Fritz Von Erich's boys and three southern rednecks from Georgia.
And there battles were stuff of legend.
Michael Hayes lived life like he wrestled; on the edge. Terry Gordy was a big body with such raw power. Buddy Roberts was the least liked of them all, and he was truly mediocre.
David, Kevin, Kerry and Mike Von Erich were gods in Texas. And while Mike was the weak link in the brotherhood, the three older brothers could have carried the NWA.
This was certainly one the all-time great rivalries.
Before they were stars in the WWF, these two were huge stars in the Carolinas for Jim Crockett Promotions.
Both men held the United States Title at various times in the 1970s and 1980s. And they were heated rivals during their time in the south.
The infamous "Dog Collar" Match was one for the ages when the two met at the 1983 Starrcade.
According to pwponderings.com, "The story telling in this match is what raises it from the level of just a brutal match, to a truly great one. With the vast amounts of blood [spilled] in this match, it would have been remembered for sheer violence alone. However, not only is this one of the most hard hitting matches of all time, it is also a terrific example of ring psychology and in-ring story telling."
The match left damage to Piper's ear.
No one caused as much hell for Dusty Rhodes in Florida like Kevin Sullivan did with his cult-like stable.
Sulllivan invited pain, almost liking it. And when he and Rhodes got into the ring, it as a battle from the sound of the bell.
With Gordon Solie providing commentary, these two men showed what hatred was all about and when Sullivan needed some help along the way, he called on the Purple Haze or Jake Roberts to help him out.
At times, Barry Windham and Mike Graham were part of this feud.