Florida vs. Georgia: Complete Game Preview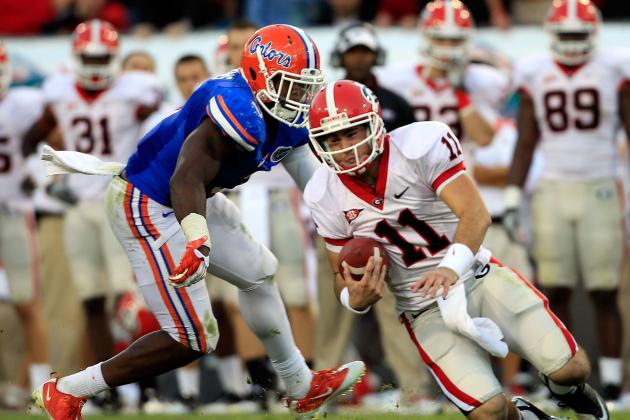 Sam Greenwood/Getty Images

It's another big week in the SEC as Georgia takes on Florida in their annual battle in Jacksonville.
But this is not any other Georgia-Florida rivalry game. The winner will take control of first place in the SEC East and will likely play in the SEC Championship in December.
Florida is the favorite coming into the contest, but the Gators have not faced an offense like the Bulldogs. This has all the makings to be another memorable game in this compelling series.
Who: Georgia vs. Florida
When: Saturday, 3:30 p.m.
Where: EverBank Field (82,000)
TV: CBS
Radio: Sirius 91, XM 91
Internet: GTV at georgiadogs.com
Begin Slideshow

»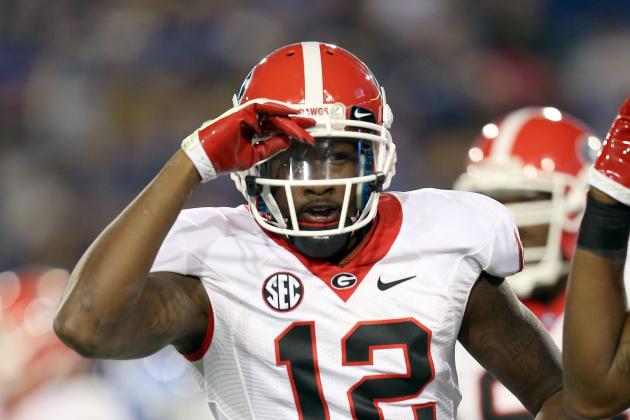 Andy Lyons/Getty Images

QB: Aaron Murray, Hutson Mason, Christian LeMay
RB: Todd Gurley, Keith Marshall, Ken Malcome
FB: Merritt Hall, Richard Samuel
FLK: Tavarres King, Rantavious Wooten, Chris Conley
SE: Marlon Brown, Michael Bennett, Malcolm Mitchell
TE: Arthur Lynch, Jay Rome
LT: Kenarious Gates, Mark Beard, Austin Long
LG: Dallas Lee, Ben Reynolds
C: David Andrews, Chris Burnette
RG: Chris Burnette, Greg Pyke
RT: John Theus, Watts Danztler
DE: Abry Jones, Garrison Smith
NT: John Jenkins Kwame Geathers
DE: Cornelius Washington, Ray Drew, Mike Thornton
OLB: Ramik Wilson, Chase Vasser, Josh Dawson
OLB: Jarvis Jones, Jordan Jenkins, T.J. Stripling
ILB: Michael Gilliard, Amarlo Herrera
ILB: Alec Ogletree, Christian Robinson
CB: Malcolm Mitchell, Sanders Commings, Devin Bowman
CB: Branden Smith, Damian Swann
SS: Shawn Williams, Corey Moore, Josh Harvey Clemons
FS: Bacarri Rambo, Sanders Commings, Connor Norman
P: Colin Barber, Adam Erickson
PK: Marshall Morgan, Jamie Lindley
PR: Rhett McGowan, Damian Swann
KR: Malcolm Mitchell, Todd Gurley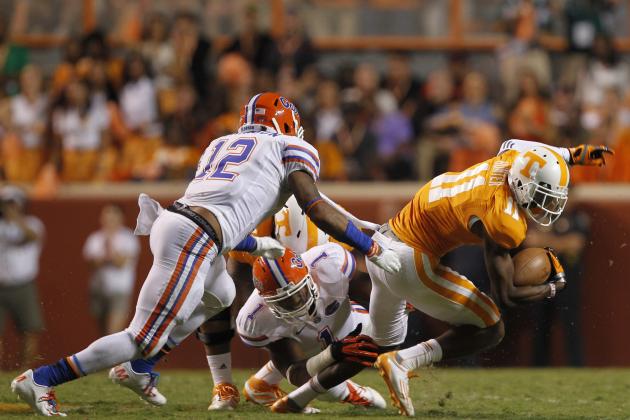 John Sommers II/Getty Images

QB: Jeff Driskel, Jacoby Brissett
RB: Mike Gillislee, Mack Brown
FB: Hunter Joyner, Trey Burton
X: Frankie Hammond Jr., Latroy Pittman
Z: Quinton Dunbar, Soloman Patton
F: Trey Burton, Omarius Hines
LT: Xavier Nixon, D.J. Humphries
LG: James Wilson, Ian Silberman
C: Jonotthan Harrison, Sam Robey
RG: Jon Halapio, Jessamen Dunker
RT: Chaz Green, Kyle Koehne
TE: Jordan Reed, Clay Burton
END: Dominique Easley, Jonathan Bullard, Earl Okine
NOSE: Omar Hunter, Leon Orr
TACKLE: Shariff Floyd, Damien Jacobs
BUCK: Lerentee McCray, Dante Fowler Jr.
SAM: Neiron Ball, Darrin Kitchens
MIKE: Jonathan Bostic, Michael Taylor
WILL: Jelani Jenkins, Antonio Morrison
CB: Jaylen Watkins, Loucheiz Purifoy
SS: Matt Elam, Valdez Showers
FS: Josh Evans, Jabari Gorman
CB: Marcus Roberson, Jeremy Brown
K: Caleb Sturgis, Brad Phillips
P: Kyle Christy, Todd Fennell
KR: Andre Debose, Solomon Patton
PR: Andre Debose, De'Ante Saunders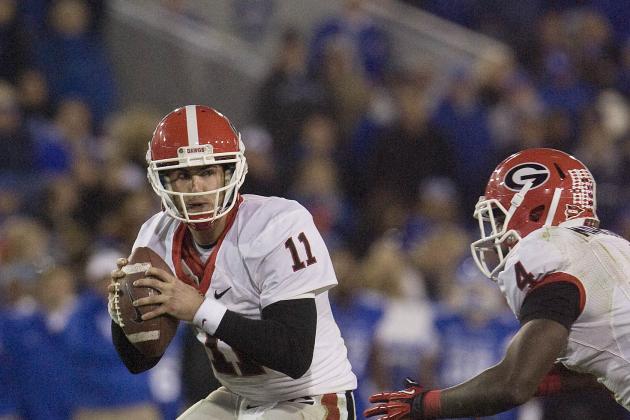 Mark Zerof-US PRESSWIRE

The Bulldogs did not make it look easy, but they were able to get past Kentucky 29-24.
Aaron Murray was the star player for the Bulldogs, throwing for 427 yards and four touchdowns in the win. The running duo of Keith Marshall and Todd Gurley could not get going, though, as they rushed for a combined 70 yards on 18 carries.
On defense, the Bulldogs struggled to slow down Kentucky's ground attack as the Wildcats rushed for 206 yards. And because of the rushing attack, the Wildcats were able to jump to a 7-0 lead at the start of the game that was 14-7 with 12 minutes left in the first half.
But thanks to Murray and the defensive adjustments made in the second half, the Bulldogs were able to somewhat pull away in the third quarter and hold on in the fourth.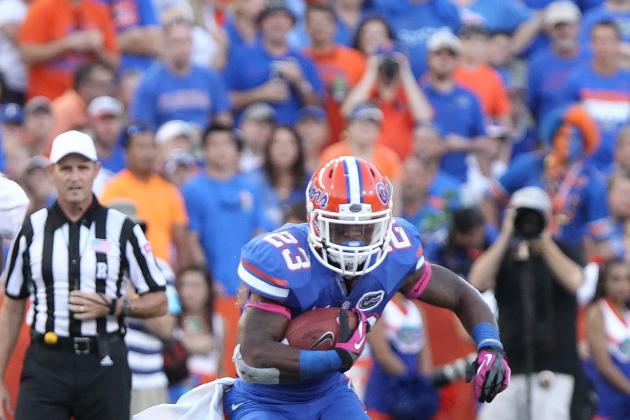 Kim Klement-US PRESSWIRE

The Gators had an easier time with their opponent, as they dismantled South Carolina 44-11.
Jeff Driskel threw four touchdown passes while Omarius Hines and Matt Jones had rushing touchdowns.
The Gators only had 183 yards of total offense but scored 21 of their 44 points off turnovers. They also held the Gamecocks to 191 yards and forced four turnovers, which proved to be the difference.
Driskel's four touchdown passes were the most by a Florida quarterback since Tim Tebow did it in 2007. The 44 points is the most points scored against an SEC opponent since the Gators scored 48 points against Kentucky last year.
Mark Zerof-US PRESSWIRE

This game means a lot for both teams as they try to take the top spot in the SEC East.
For Georgia, a win would wash the bad taste they have in their mouths from the South Carolina game. If they can defeat the Gators, the road to Atlanta will be a lot easier for them, and a lot of fans will be a little more satisfied with this team that has not played up to standards the last three games, especially on defense.
For Florida, a win would mean they are back in the national championship picture after a two-year hiatus. Head coach Will Mushcamp and his team have come a long way from last year, and even if they lose this game, they will be a legit SEC title contender for a long time.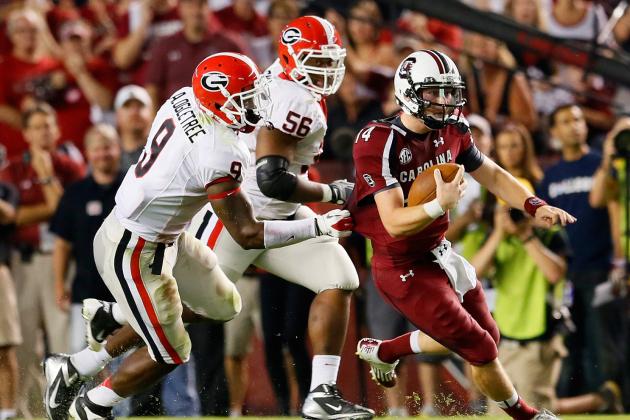 Kevin C. Cox/Getty Images

They have had to deal with injuries and suspensions, but there is too much depth and experience to go from being one of the top units in the country last year to not even in the top 5 in the conference.
Players such as Jarvis Jones, John Jenkins, Amarlo Herrera, Shawn Williams and Sanders Commings have to step up their play in order to shutdown a very athletic Florida offense.
Players like the ones on the Gators roster have given the Bulldogs fits all year long. But if the unit plays smart and aggressive for 60 minutes, they should have some success on Saturday.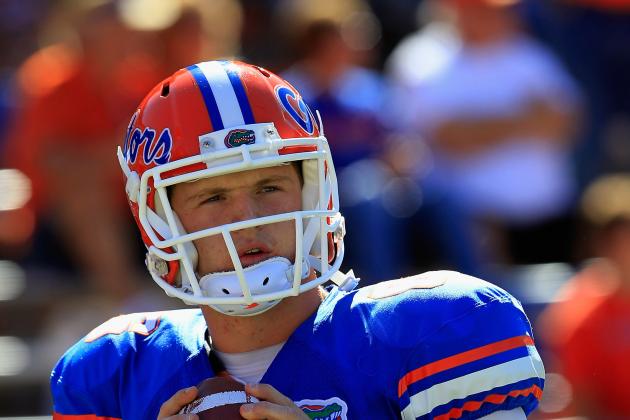 Chris Trotman/Getty Images

If the Gators do win on Saturday, it will be because of the play of Driskel.
He does not have mind-blowing stats, but he has the ability to make clutch throws as well as run with the football.
This was a problem for Georgia when they faced South Carolina, and it was also a problem for them last week against Kentucky. So rest assured Muschamp and the rest of the coaching staff will make sure Driskel will see a lot of carries, which should open up the passing game.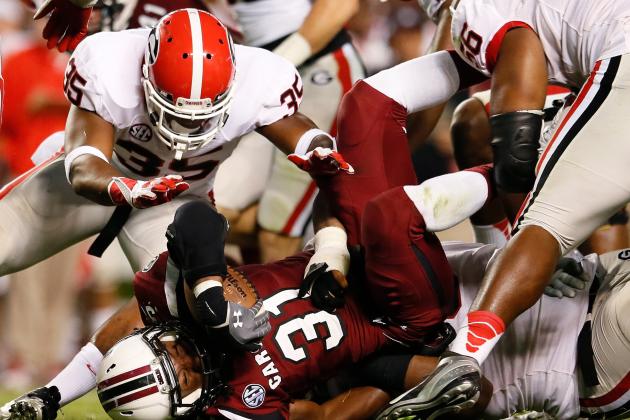 Kevin C. Cox/Getty Images

The Bulldogs will win if the offensive and defensive lines win the battle up front.
The reason the Bulldogs lost to South Carolina is the offensive and defensive lines were dominated. That has to change on Saturday if the Bulldogs want to knock off the No. 2 team in the country.
They also need to play loose. It seems like every time the Bulldogs take on Florida, they play tight and make costly mistakes. If they can be relaxed and play like it's another game, they will play a lot better and could surprise some people.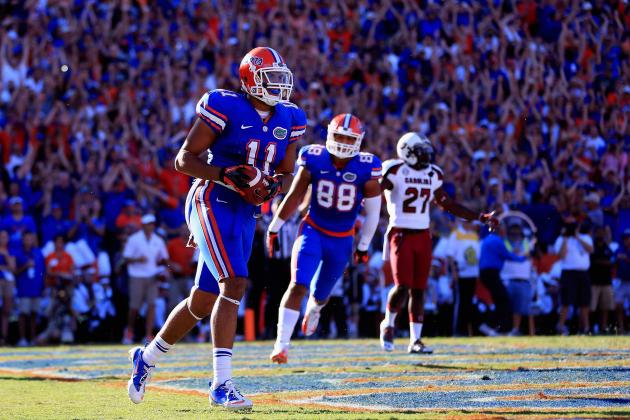 Chris Trotman/Getty Images

The Gators will win if they continue to do what they have been doing, and that is being efficient on offense and creating turnovers on defense.
Driskel has to play well, but the defense, led by Jonathan Bostic, will try to apply pressure on Murray as much as possible.
The Gators also need to make sure they can't have Marshall and Gurley run wild on them. If the Gators can slow down a balanced Georgia offense, it could be another dominating win for them.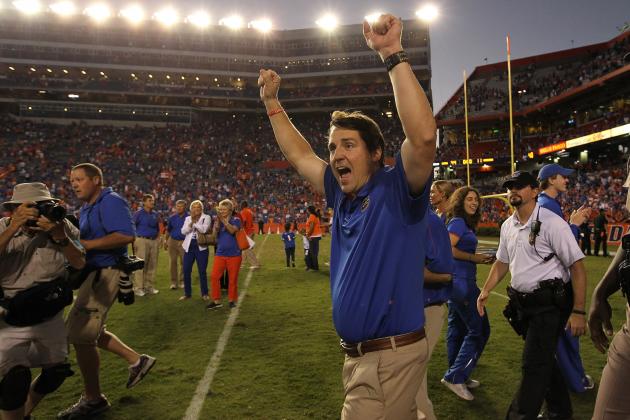 Kim Klement-US PRESSWIRE

No matter how good or bad these teams are coming into this game, it's always a battle, and this year will be no different.
Georgia needs to win this game because they want to silence the critics that have said they are overrated. Florida wants to win this game because they want to remain undefeated and keep their No. 2 BCS ranking.
At 6-1, the Bulldogs are a desperate team and will come out firing on Saturday. But the defense for the Bulldogs is not the same for whatever reason, and Florida will be another team that will expose the unit. Also, the Gators defense will get after Murray, which will lead to another victory for the Gators in this annual rivalry in Jacksonville.
FINAL SCORE: Florida 28, Georgia 10