Oklahoma City Thunder vs. Chicago Bulls Live Blog: Analysis, Reaction and More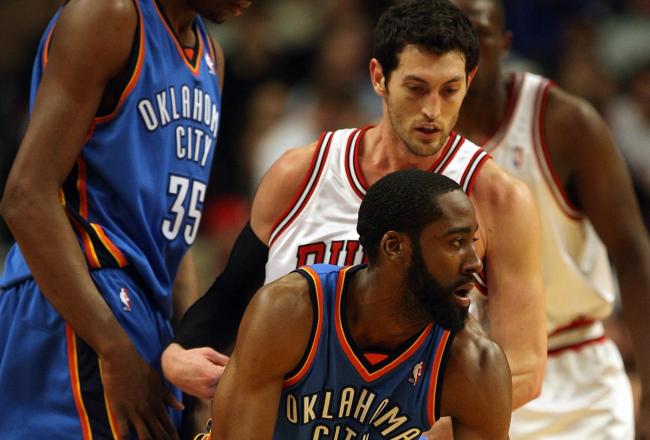 Jonathan Daniel/Getty Images
The Chicago Bulls defeated the Oklahoma City Thunder 94-89 on Tuesday night at the United Center. Carlos Boozer led the way for the Bulls with 24 points and 12 rebounds.
Some highlights from the first half of the game
Here's a Hinrich update...which is not really an update at all:
Good to see Bulls in midseason form on injury news. Thibodeau said he didn't get update on Kirk. Hinrich isn't talking. Trainer off limits.

— K.C Johnson (@KCJHoop) October 24, 2012
Some final thoughts. It was a shame that Durant and Westbrook didn't play. It would have been a really nice test for the Bulls' starters. The Bulls will see them soon though, as the Thunder visit the United Center in November.
A question some may have is whether there's any chance that this was a NBA Finals preview. Sadly, I see almost no way the Bulls can reach the Finals unless Derrick Rose has some sort of miraculous recovery. Even then, I still don't think this Bulls team can beat Miami. The bench is not as strong as it used to be and the rest of the core is pretty much the same.
A Bulls/Thunder final would be a dream for me, but this year, I'd say only the Thunder have a legit shot at getting there.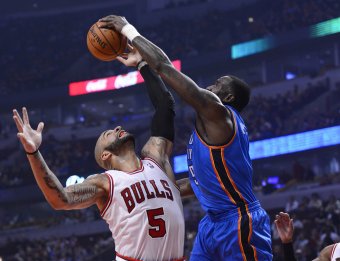 Mike DiNovo-US PRESSWIRE
Bulls starters looked pretty darn good in this one. They were a combined +43 on the night. It was really nice to see Boozer put forth a second straight strong effort. The last game he was facing scrubs, but tonight he played well against legit big guys in Kendrick Perkins and Serge Ibaka.
Joakim Noah and Luol Deng also played well, with Noah notching a double-double and Deng pouring in 21 points.
The trio of Boozer, Noah and Deng will need to be big this year, because it's looking like the bench won't be nearly as productive as year's past. The bench really struggled tonight, and have for the most part of the preseason.
Also a negative on the night for the Bulls was the groin injury to Kirk Hinrich. Groin injuries are never good, so the Bulls will just have to hope that he'll be back soon.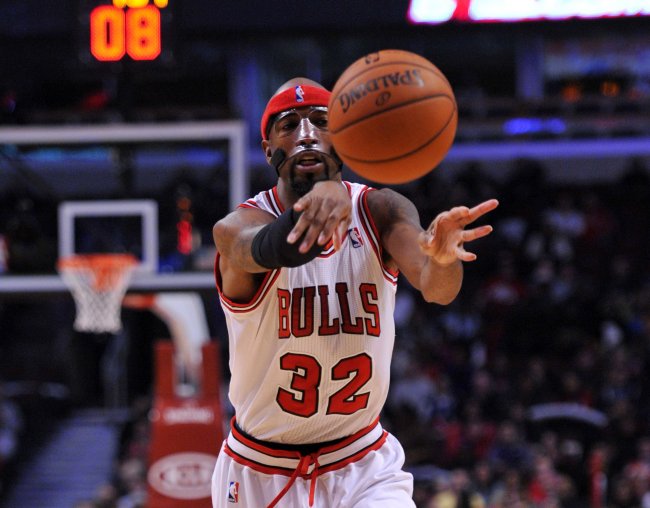 Rob Grabowski-US PRESSWIRE
Hamilton knocks down both free throws, and the Bulls will move to 4-2 on the preseason. Hard-fought win, but remember, Durant and Westbrook did not play.
Bulls 94 Thunder 89 FINAL
Hamilton knocks down both free throws, but Maynor puts in another bucket. Hamilton fouled AGAIN. Two free throws to ice it.
Bulls 92 Thunder 89 3.9 seconds left
Robinson splits a pair of free throws. Harden does the same. Hamilton to the line.
Bulls 90 Thunder 87 12.6 seconds left in the 4th quarter
Perry Jones scores again to make cut Bulls lead to 3. Jones with 12 points in 20 impressive minutes. Thunder bench outscoring Bulls' 32-12.
Nate Robinson to the free throw line.
Bulls 89 Thunder 86 18.5 seconds left in the 4th quarter
Boozer hits the tough fadeaway jumper over Perry Jones to extend the lead to five. That may do it.
Bulls 89 Thunder 84 34.4 seconds left in the 4th quarter
Bulls' offense sputtering down the stretch, which will likely be a theme with Rose out for a good chunk of the year. When the going gets tough and defenses clamp down, the Bulls just don't have that guy they can rely on to hit tough shots.
Bulls 87 Thunder 84 44 seconds left in the 4th quarter

RT @mcgrawdhbulls: You can practically see Thibs' faith in Belinelli evaporating. Marco with 12 mins tonight, 0-1, 0 pts, 1 ast.

— BullsBlogger (@BullsBlogger) October 24, 2012
Another disappointing night for Marco Belinelli, who has been dreadful this postseason. I mentioned his relation to Korver earlier tonight: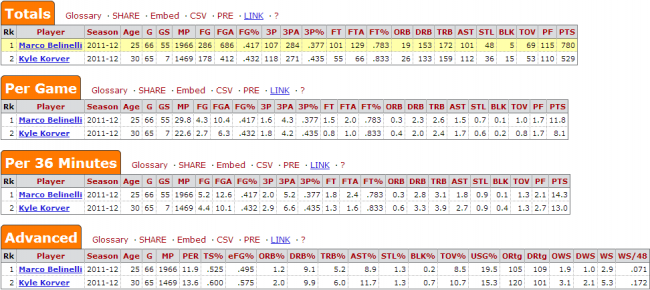 The numbers are pretty close, but Korver clearly has the edge. And so far, Korver was clearly a better fit in Chicago.
Noah checks back in for Gibson, who had a rough night offensively. 0-3 from the field and passed up several open shots in the fourth quarter.
Perry Jones continues to play well.
Bulls 87 Thunder 80 2:00 minutes left in the fourth quarter
Bulls going with the Gibson/Boozer frontcourt down the stretch. With Omer Asik gone to Houston, expect more Gibson/Boozer lineups this season.
Bulls 85 Thunder 78 3:36 left in the 4th quarter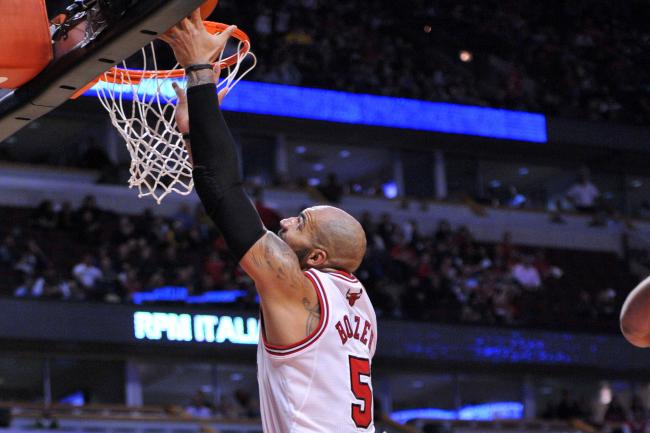 Boozer doing work against Thabeet down low. Two straight Buckets gives Bulls some breathing room.
Bulls 85 Thunder 76 5:15 left in the 4th quarter
Bulls bench has really struggled tonight. So far, Bench Mob they are not.
Noah and Thabeet exchanging some words. Jo has been fired up all game long.
Bulls 80 Thunder 74 7:52 left in the 4th quarter
Luol Deng is already over 30 minutes. He played 37 minutes against the Timberwolves this weekend. No doubt he plays nearly 40 minutes per game this year...again.
Bulls 75 Thunder 71 10:50 left in the 4th quarter
Marquis Teague may end up being good, but I was salivating at the chance at taking Perry Jones.
Every time I see Perry Jones I'm going to remember how close he was to being a Bull.

— Kelly Scaletta (@KellyScaletta) October 24, 2012
Thunder have tightened things up a bit on defense. Playing a bit more physical. Should be a good finish.
Bulls 71 Thunder 65 41.7 seconds left in the 3rd quarter
From Sam Smith:
Hinrich with groin strain. Ouch....oh no!....Out for rest of game... He's the most important Bull with Derrick out.

— Sam Smith (@SamSmithHoops) October 24, 2012
At first blush, saying Hinrich is the most important Bull seems ridiculous. But maybe it's true? Going into season with Robinson and Teague as point guards would not be good. And since Bulls are hard capped, they can't sign anybody until end of November.
Ibaka showing some range from three-point land. If he has truly added that to his arsenal, watch out.
Bulls 66 Thunder 55 4:48 left in the 3rd quarter
Neil Funk reports that Kirk Hinrich has a groin strain and will not return. That's already two injuries this preseason for Hinrich, who has battled injuries the past few years. Not a good sign.
An Ibaka dunk leads to a Bulls timeout. Ibaka with 14 points.
Bulls 59 Thunder 49 with 7:30 left in the 3rd quarter
James Harden with a layup, but he's just 2-12 from the field. He is coming off a groin injury, but is that contract issue wearing on him a little bit? The Thunder have to make a decision about whether they'll be willing to pay four guys double-digit dollars per season. Grantland's Zach Lowe had a great take on it earlier today.
This article is
What is the duplicate article?
Why is this article offensive?
Where is this article plagiarized from?
Why is this article poorly edited?