TCU Horned Frogs vs. Oklahoma State Cowboys: Complete Game Preview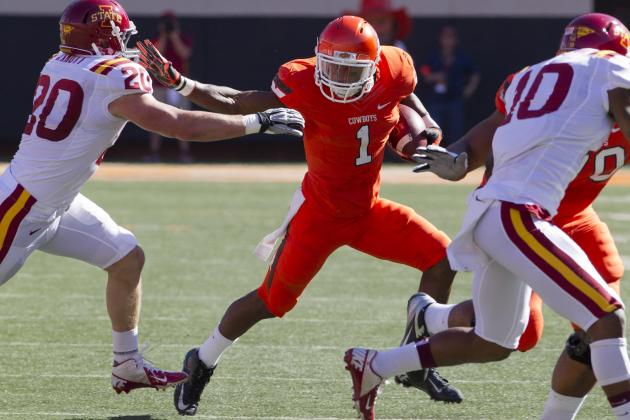 Richard Rowe-US PRESSWIRE

The Oklahoma State Cowboys came out last weekend against the Iowa State Cyclones and played a great game on both sides of the ball after disappointed performances in their two previous games.
TCU, on the other hand, lost a heartbreaker in triple overtime against the Texas Tech Red Raiders, which makes them 1-2 in the past three weeks since Casey Pachall left the program.
Given the amount of teams fighting it out in the middle of the Big 12 this season, this game could be the most important game either team has played so far this season.
The winner will take the next step towards getting out of the middle of the pack and controlling where their season goes. Either way, it's sure to be a great matchup between two good teams.
Begin Slideshow

»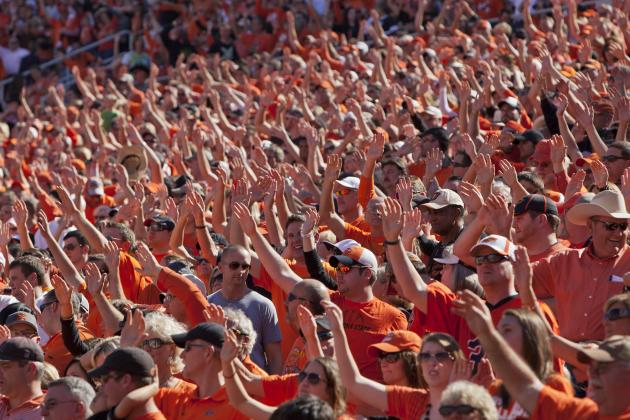 Richard Rowe-US PRESSWIRE

Who: TCU at Oklahoma State
When: Saturday, October 27 at 2:30 p.m. CT
Where: Stillwater, Oklahoma
Stadium: Boone Pickens Stadium (cap. 60,218)
Series History: Oklahoma State 11-9-2
TV: FSN Affiliates
Radio: Cowboy Radio Network
Internet Stream: OkState.com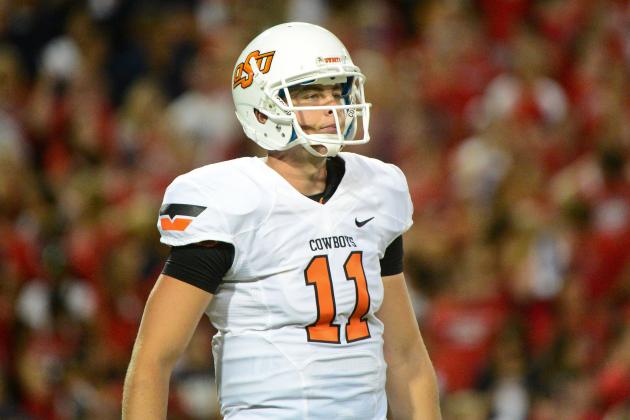 Matt Kartozian-US PRESSWIRE

Offense
Position Number Name Height Weight Class
Quarterback 11 Wes Lunt 6'4" 211 Fr.
Running Back 1 Joseph Randle 6'1" 194 Jr.
Fullback 9 Kye Staley 5'10" 236 Sr.
Wide Receiver 87 Tracy Moore 6'2" 215 Sr.
Wide Receiver 5 Josh Stewart 5'10" 170 So.
Wide Receiver 18 Blake Jackson 6'3" 238 Jr.
Wide Receiver 17 Charlie Moore 6'2" 202 Jr.
Offensive Tackle 71 Parker Graham 6'7" 292 Jr.
Offensive Tackle 58 Daniel Koenig 6'6" 295 So.
Offensive Guard 70 Jonathan Rush 6'4" 284 Sr.
Offensive Guard 68 Lane Taylor 6'3" 328 Sr.
Center 60 Evan Epstein 6'3" 291 Sr.
Defense
Position Number Name Height Weight Class
Defensive End 80 Cooper Bassett 6'5" 270 Sr.
Defensive End 96 Ryan Robinson 6'4" 246 Sr.
Defensive Tackle 91 James Castleman 6'2" 296 So.
Defensive Tackle 99 Calvin Barnett 6'2" 299 Jr.
Linebacker 11 Shaun Lewis 5'11" 222 Jr.
Linebacker 37 Alex Elkins 6'3" 222 Sr.
Linebacker 45 Caleb Lavey 6'3" 240 Jr.
Cornerback 19 Brodrick Brown 5'8" 185 Sr.
Cornerback 4 Justin Gilbert 6'0" 194 Jr.
Safety 7 Shamiel Gary 6'0" 205 Jr.
Safety 8 Daytawion Lowe 5'11" 198 Jr.
Special Teams
Position Number Name Height Weight Class
Punter/Kicker 13 Quinn Sharp 6'1" 205 Sr.
Punter Returner 6 David Glidden 5'7" 171 Fr.
Kick Returner 4 Justin Gilbert 6'0" 194 Jr.
Longsnapper 53 Andrew Suter 6'2" 268 Jr.
Holder 39 Wes Harlan 5'7" 178 Sr.
Key Injuries
QB Wes Lunt—Knee—PRB
WR Tracy Moore—Ankle—QST
CB Andrae May—Knee—QST
WR Isaiah Anderson—Finger—DBT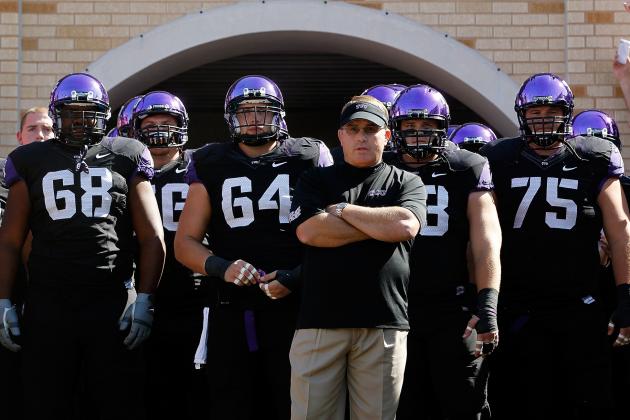 Tom Pennington/Getty Images

Offense
Position Number Name Height Weight Class
Quarterback 2 Trevone Boykin 6'2" 215 Fr.
Running Back 29 Matthew Tucker 6'1" 218 Sr.
Wide Receiver 82 Josh Boyce 6'0" 203 Jr.
Wide Receiver 3 Brandon Carter 5'11" 161 So.
Wide Receiver 85 LaDarius Brown 6'4" 220 Fr.
Wide Receiver 11 Skye Dawson 5'9" 183 Sr.
Offensive Tackle 59 Tayo Fabuluje 6'7" 315 So.
Offensive Tackle 69 Aviante Collins 6'6" 310 Fr.
Offensive Guard 73 Eric Tausch 6'3" 295 Jr.
Offensive Guard 66 Blaize Foltz 6'4" 310 Sr.
Center 64 James Fry 6'3" 290 Sr.
Defense
Position Number Name Height Weight Class
Defensive End 90 Stansly Maponga 6'2" 265 Jr.
Nose Tackle 98 Jon Lewis 6'2" 275 So.
Nose Tackle 57 Davion Pierson 6'2" 305 Fr.
Defensive End 95 Devonte Fields 6'4" 240 Fr.
Linebacker 36 Joel Hasley 6'1" 215 So.
Linebacker 51 Kenny Cain 6'1" 210 Sr.
Cornerback 2 Jason Verrett 5'10" 180 Jr.
Cornerback 25 Kevin White 5'10" 174 So.
Safety 17 Sam Carter 6'1" 220 So.
Safety 3 Chris Hackett 6'2" 200 Fr.
Safety 6 Elisha Olabode 5'10" 182 Jr.
Special Teams
Position Number Name Height Weight Class
Kicker 33 Jaden Oberkrom 6'3" 170 Fr.
Punter 37 Ethan Perry 6'4" 220 Fr.
Returner 11 Skye Dawson 5'9" 183 Sr.
Key Injuries
DE Stansly Maponga—Foot—QST
QB Casey Pachall—Left Team—OUT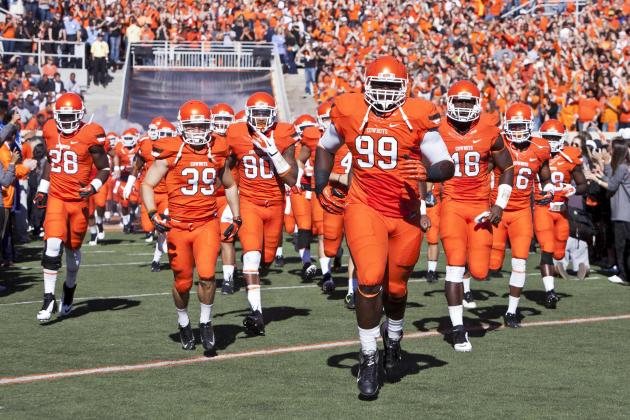 Richard Rowe-US PRESSWIRE

Last weekend, the Oklahoma State Cowboys quieted many of those in the media who questioned their offensive firepower following a 20-14 victory against Kansas. A performance best described as lethargic for the Pokes high-flying offense.
Against Iowa State, the Cowboys were back to their old ways; putting up 31 points on what was widely regarded as the Big 12's best defense. The offensive line got back on track, Joseph Randle got back to being explosive, and J.W. Walsh threw for over 400 yards on a bum knee.
Speaking of that knee, Walsh is now out for the season and will be replaced by either Wes Lunt or Clint Chelf. Lunt is the favorite right now, as he began the season as the starter before getting injured, but that injury has kept him out for three weeks. Chelf has experience in the offense, but Mike Gundy went with Lunt for a reason to start the year.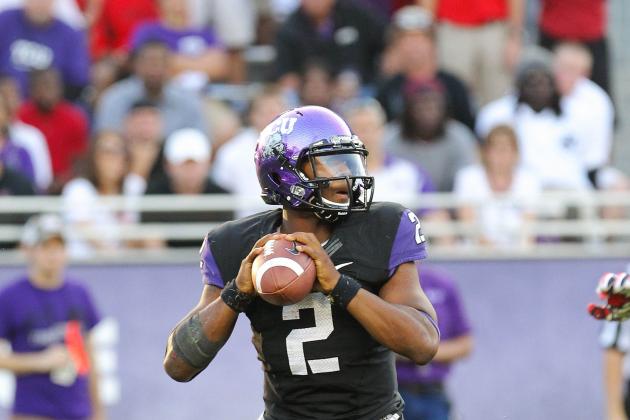 Kevin Jairaj-US PRESSWIRE

TCU played well against a talented Texas Tech team, but in the end, they couldn't keep up with Seth Doege and Co.'s firepower, losing 56-53 in triple OT.
That loss makes the Horned Frogs 1-2 in games since Casey Pachall went down with injury; however, outside of turnovers, backup Trevone Boykin has looked good so far. Fans have to keep in mind that the young signal-caller is still only a freshman and should grow as we move forward.
In fact, TCU boasts a good young core across the board with Boykin, WR LaDarius Brown, and DE Devonte Fields. TCU hasn't been great this season, but they have the talent to separate themselves from the pack, especially with a win this weekend.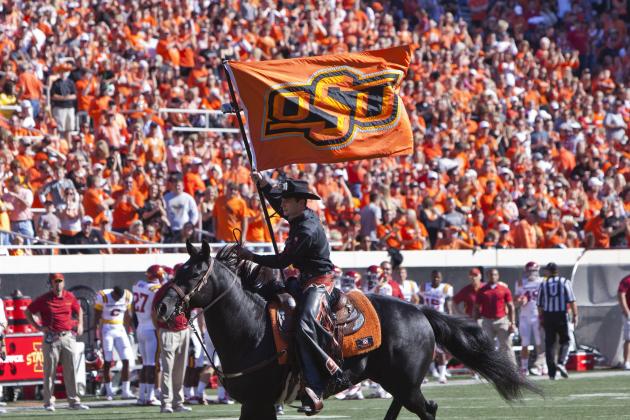 Richard Rowe-US PRESSWIRE

Obviously, the Kansas State Wildcats are the one team in the conference that truly controls its destiny. They're the only undefeated team and with a win over OU and WVU. It looks like they are the favorites to win the Big 12 title.
After them, it's almost anyone's race. Sure, Kansas has absolutely no shot, but there's six teams who could easily step up and take that second spot. Both TCU and Oklahoma State are among those teams, sitting at 2-2 and 2-1 in the conference respectively.
There's some work to be done after this game is played, but whoever wins is putting themselves in a good spot to make a run towards the Big 12's top three or four teams.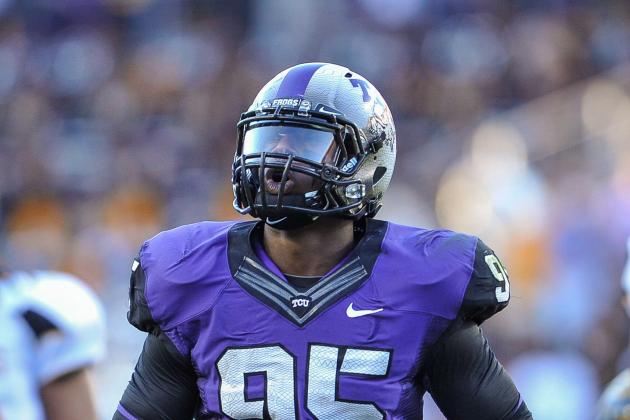 Jerome Miron-US PRESSWIRE

Devonte Fields
The easy answer here is obviously Trevone Boykin, who really needs to cut on turnovers if the Horned Frogs plan to win this game. However, I'm going with pass-rusher Devonte Fields as my key player.
Now that we know J.W. Walsh won't be suiting up this week, we can safely guess that Wes Lunt is probably going to get the start. That means a freshman QB with three career starts who is just coming back from an injury is going to be under center.
If you don't think Fields is licking his chops, you're kidding yourself. The odds don't get much better if Clint Chelf is in the back field either, as he hasn't ever started a game and is the team's third-string QB for a reason.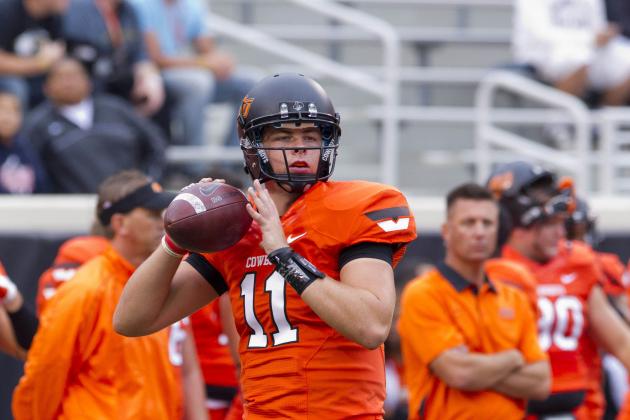 Richard Rowe-US PRESSWIRE

Wes Lunt
I thought about getting cute and putting either WR Josh Stewart (being Lunt's safety blanket) or LB Shaun Lewis (leading the defense to a big day); however, I just couldn't go with anybody besides the returning Lunt.
No player will likely have a bigger impact (positively or negatively) than Lunt in this contest. He could either come and pick up where he left off, or he could throw out an absolute egg and cost the Pokes the game.
Thankfully, the Cowboys have a stud running back in Joseph Randle who can put away some heat off of the young quarterback, but at some point, he has to throw the ball and how effective he is at that could easily decide the game.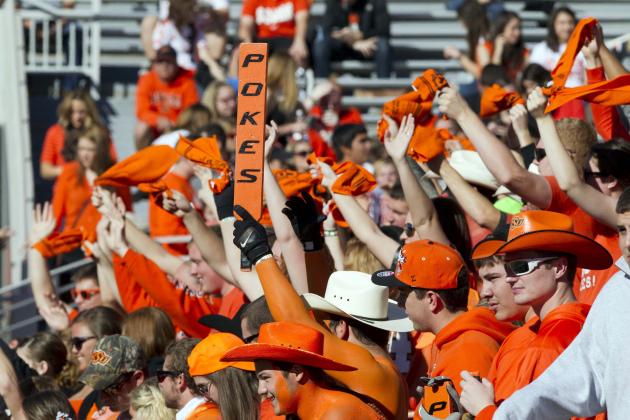 Richard Rowe-US PRESSWIRE

This really is one of those games that could turn either way. Both teams have a talented, young quarterback, and both have question marks at various places.
However, I have to pick the home team here for multiple reasons. The Cowboys defense is due for a big day in the turnover department, and it's not like Trevone Boykin is the poster boy for ball security. Also, Joseph Randle is always going to be an x-factor with his game-changing ability.
It's going to be a close one, but the home crowd, and a good effort from Randle as well as a good defense should mask any mistakes in the passing game. Lunt's going to have to shake the rust off quickly. If he can minimize his negatives, the Cowboys will take this one.
Oklahoma State 31 TCU 24