The Tough Luck Continues for Anthony Pettis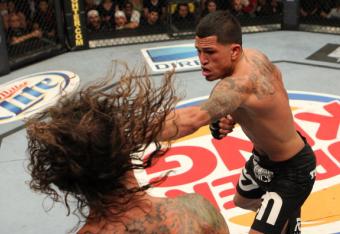 Josh Hedges/Zuffa LLC/Zuffa LLC via Getty Images

The issues continue to pile up for UFC lightweight Anthony Pettis. "Showtime" has been sidelined most of the year recovering from a shoulder injury and recently found himself hospitalized with a staph infection in his elbow.
The news first broke on Inside MMA and was confirmed by MMA Weekly shortly thereafter. Pettis's struggle to stay healthy has pushed a near-certain matchup with Donald "Cowboy" Cerrone into limbo for the time being.
It has been a tough road for one of the sport's most touted young stars as he went from a proposed immediate title shot to the uncertain position where he currently stands.
Two years ago, Anthony Pettis was one of the most buzz-worthy fighters in the sport. He helped close out the final chapter of the WEC with a brilliantly-placed "Showtime Kick" and defeated Benson Henderson to win the lightweight title.
With the merger to the UFC complete, Pettis was lined up to face the winner of the bout between Frankie Edgar and Gray Maynard at UFC 125. Everything appeared to be going in the right direction for the Duke Roufus-trained fighter, as he waited for the next step in his career to take shape.
Unfortunately for Pettis, things took a strange turn following the main event at UFC 125. The fight between Edgar and Maynard turned out to be one of the year's best but ended in a draw. Based on the excitement factor of the fight, UFC President Dana White decided the two lightweights needed another opportunity to settle the score. In this chaos, Pettis saw his immediate title shot fall by the wayside.
The trilogy bout between Edgar and Maynard was originally scheduled for UFC 130, but after both fighters sustained injuries and were forced to withdraw, the fight was pushed to UFC 136 in October. Pettis decided he was tired of waiting and took a fight against Clay Guida at The Ultimate Fighter Season 13 Finale.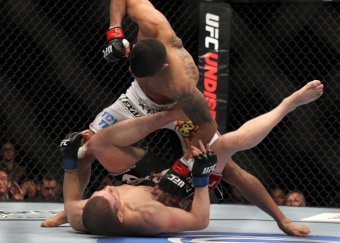 By stepping in with Guida, Pettis knew he was putting his title shot at risk and following a three-round wrestling clinic by "The Carpenter," his UFC debut and title hopes were dashed for the time being. The Milwaukee native would bounce back strong in his next two outings as he defeated veteran Jeremy Stephens via unanimous decision and scored a first-round knockout over Joe Lauzon at UFC 144 in Japan.
Back-to-back victories helped Pettis regain some of the previous ground he lost following the fight with Guida, but in the competitive waters of the lightweight division, it wasn't enough to secure him a title shot.
Most indicators would place Pettis a fight or two away from an opportunity for UFC gold, and the proposed matchup against Cerrone would be the exact caliber of fight he needs to get there. With the rest of the organization's top lightweights all locked into upcoming fights, Pettis and Cerrone's career paths have seemingly intersected.
It is a fight Cerrone has been vocal about for some time. Both have taken to social media to exchange barbs at one another, but the health issues which have arisen for Pettis continue to push the fight further away. Cerrone is a fighter who loves to stay active, but with Pettis being the only opponent that makes sense at this time, the options for Cerrone are limited.
As for Pettis, his time in the UFC certainly hasn't gone exactly as planned. He has won two out of three showings, but his time off has allowed the division to move on without him. The 25-year-old certainly has an extreme amount of talent and a diverse skill set, but he has been besieged by injury anytime he begins to build momentum.
It is a situation you hate to see happen to a young fighter, and the true measure will be in how he handles the adversity of it all. Pettis has been a champion in the past, and is one of the only men to defeat current champion Henderson. He has the potential to once again become a world champion but will have to adapt to obstacles that arise along the way.
As things stand at this moment, it is back to the shelf to recover for Pettis. My personal hopes for him are a speedy recovery and a return to the Octagon in early 2013. For that to happen, he is going to need things to start breaking in his favor.
This year has been a trying time, filled with injury and frustration. A healthy Anthony Pettis is one of the most dangerous 155-pound fighters on the planet, but until he can get on top of the injury situation, the climb to the top of the division will be stalled.
For just how long remains to be seen, but if Pettis can regain his footing and get back to firing on all cylinders inside the Octagon, he can make 2013 the type of year that makes the troubles of 2012 nothing more than a memory.
This article is
What is the duplicate article?
Why is this article offensive?
Where is this article plagiarized from?
Why is this article poorly edited?