It's difficult to decide which game is the biggest in Week 9 of the college football season. The No. 5-ranked Notre Dame Fighting Irish play at No. 8 Oklahoma, and No. 2 Florida invades No. 10 Georgia.
You could say either game is the biggest, but these contests are likely make or break for all four teams.
Here's why:
Potential Fallout from Notre Dame at Oklahoma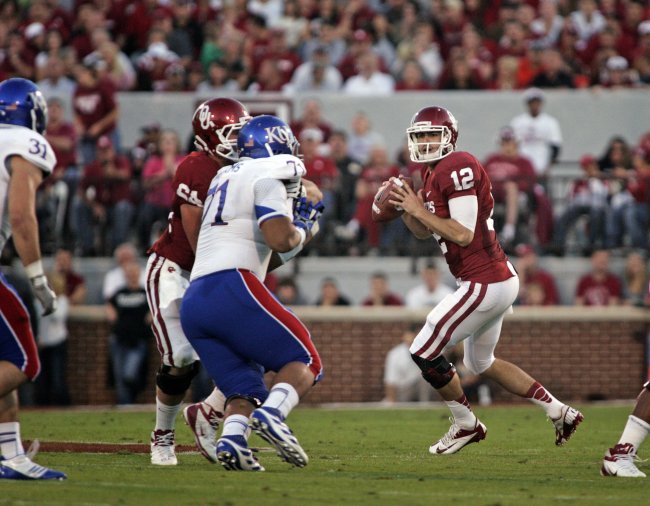 Brett Deering/Getty Images
Both teams need a win to validate their national championship-contention status. What originally looked like a really tough early schedule for the Irish has begun to look watered down. A few of the teams they have beaten have looked less than impressive throughout the season.
Namely, the Michigan schools have fallen flat.
Michigan was supposed to be the biggest win, but the Wolverines are perhaps the nation's most disappointing team. They are 5-2, but they failed both of their tests against Top 25 teams. The Michigan State Spartans have fallen out of the Top 25 all together.
Were it not for these two teams' misfortunes, the Irish's resume would look stronger.
The Irish need this win to stay in the hunt for a national championship. If they lose, they will likely fall out of the top 10. It would be a long and almost impossible road back. They have only one game remaining against a ranked opponent, and that is in the season finale against the USC Trojans.
If the Irish win this game, their schedule gets a lot easier until then, and the chances of going into the final game of the season undefeated increase dramatically.
If the Sooners win this game, it would further support the growing sentiment about them since they lost to Kansas State at home. Right now, that loss is excusable because of how well the Wildcats are playing.
If the Sooners lose another game at home, they can kiss their shot at playing for a BCS title away. If they win, it makes the Wildcats look better, but it also plays to the notion that the Sooners and Wildcats may truly be two of the nation's elite.
That helps the perception of the conference, and both teams.
Potential Fallout From Florida vs. Georgia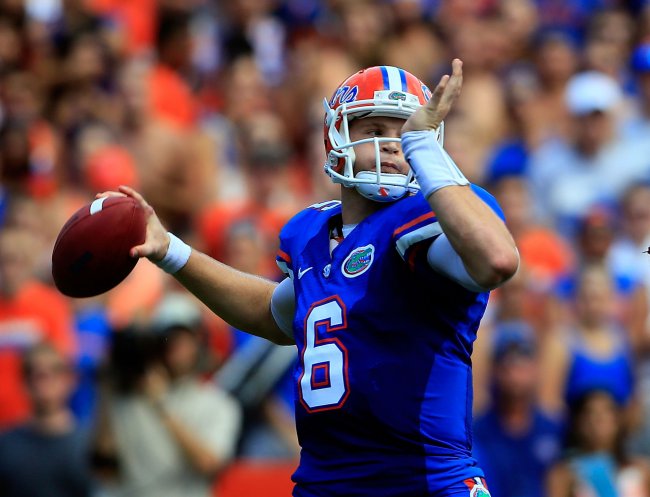 Sam Greenwood/Getty Images
It may seem like Florida can afford to lose this game and stay in the BCS title hunt, but I beg to differ. Losing at Georgia isn't a terrible loss, but if you consider how hard both Oregon and Kansas State are charging, the Gators can't afford to slip up.
They have a series of unimpressive opponents lined up after this game. The Gators will finish at Florida State, but by that time, the Ducks may have taken firm control of one of the top two spots in the BCS standings.
If the Gators win, it will be yet another impressive SEC victory over a top 10 team. That would be the third win over such an opponent this season. No matter what Oregon does, if the Gators run the table, it's hard to see a scenario that would allow Oregon to pass them, even if they match Florida;s results.
Georgia is on the outside looking in because they were blown away by South Carolina. The best they can hope for is to complicate things by knocking off the Gators.
The question is: does beating the Gators at home make up for being destroyed by the Gamecocks on the road?
Georgia has to win for us to find out.
Other Teams With Big Games on Tap
Kansas State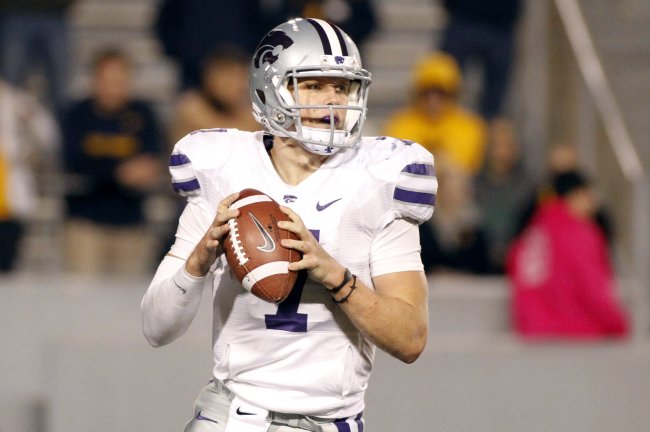 Justin K. Aller/Getty Images
Collin Klein is atop my Heisman ballot—well, he would be, if I had one. The Wildcats have answered every challenge this season, but they can't underestimate Saturday's battle with No. 14 Texas Tech.
The Red Raiders sent Geno Smith and West Virginia plummeting in Week 7. They'll be looking to derail another Heisman candidate and a conference opponent.
The big difference between the Wildcats and the Mountaineers is defense. The Wildcats are holding teams to just 16.1 points per game. Klein is the driving force, but this isn't a one-man show. If they win this game, the Wildcats have a great shot at finishing the season unbeaten.
Alabama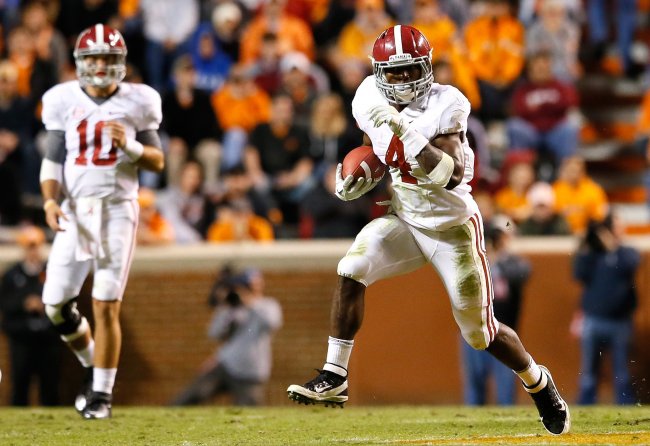 Kevin C. Cox/Getty Images
Bama is largely untested this season. Their schedule was a bit downgraded because of the Wolverines' disappointing season. That win over the Wolverines in Week 1 would be Alabama's biggest if things had played out as many thought it would.
As it stands, Saturday's game against No. 11 Mississippi State is a statement-making opportunity for the Tide. It could be the first win over a team currently ranked in the top 15. In addition to that, Mississippi State is undefeated.
If the Tide lose this game, they will take a hard fall because they don't have a ton of quality wins to fall back on.
If they win, the train keeps chugging along. A win for Mississippi State would firmly introduce a serious new player in the chase to play for a BCS title. They would be 8-0 and owning a win over Alabama.
That seems like it would be enough to lift them into the top 5. It's hard to say for sure, but this is certainly a huge game in Tuscaloosa.
Follow Brian Mazique and Franchiseplay on YouTube and Twitter for reactions, analysis and news from the world of sports and sports video games