Peyton Manning and 7 Fantasy Stars to Watch in Week 8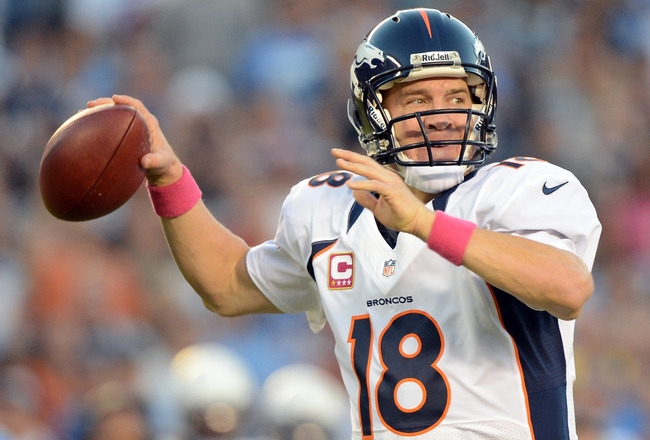 Harry How/Getty Images
When Moby sang, "We Are All Made of Stars," I highly doubt he had fantasy football in mind. But any owner worth his salt—or cosmic dust, for that matter—knows that if you don't have a fantasy team made of stars, you probably won't be winning a championship anytime soon.
Yes, I just started an article with a Moby reference. Let's just try to move past it.
That's why you'll want to have one of the fantasy stars found in this article. From favorable matchups to players who are on serious hot streaks, the following list of players all have the potential to either win you this week's matchup or provide you with a serious advantage at an unpredictable position.
Plus, there won't be any more Moby references. What else could you ask for?
Heath Miller, TE, Pittsburgh Steelers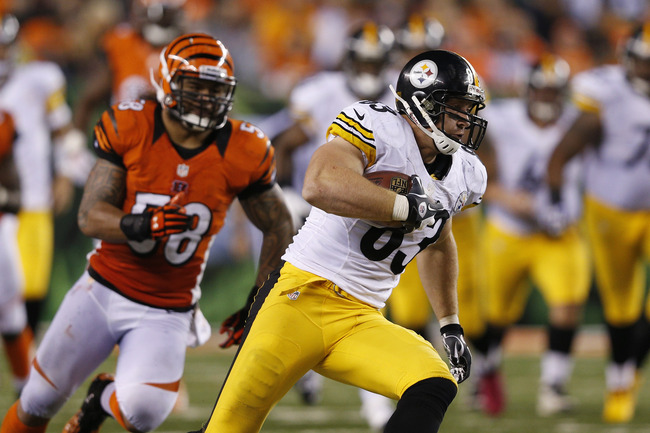 Joe Robbins/Getty Images
You may not think of Heath Miller as a fantasy star, but you should. He's fourth amongst tight ends in fantasy points in standard-scoring leagues and has five touchdowns on the year.
He also has a really tasty matchup against the Washington Redskins this weekend. Washington is allowing 328.4 passing yards per game (32nd in NFL) and 12.1 fantasy points to opposing tight ends each week (31st).
I think the Steelers will look to run the ball and shorten the game to keep Robert Griffin III off the field, so I kept Ben Roethlisberger, Mike Wallace and Antonio Brown off this list. But Miller is a factor no matter what the game plan, and I expect he'll be a thorn in Washington's side all afternoon.
Jamaal Charles, RB, Kansas City Chiefs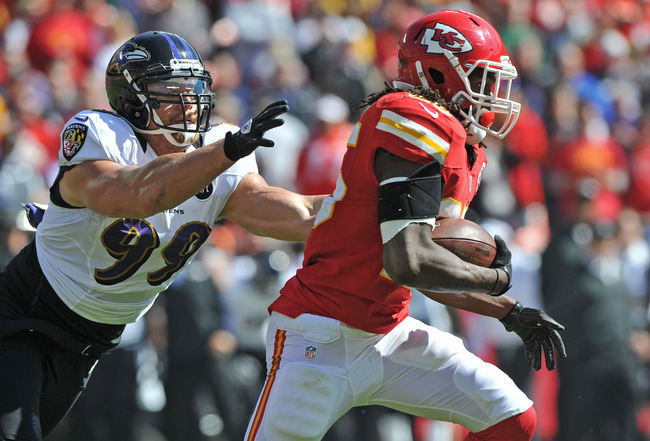 Peter Aiken/Getty Images
Oakland is an interesting defense to consider against the run. They're giving up 102.2 rushing yards per game, leaving them with the 13th-ranked rushing defense in the NFL.
Not too shabby, right?
They're giving up 20.3 fantasy points to opposing running backs each week, 21st in the NFL, but even that is misleading. Take away huge performances by the Miami Dolphins and Denver Broncos, and they've been pretty solid against opposing backs in terms of fantasy production.
And with Brady Quinn slated to get the start, there is a really good chance they'll stack the box and force Quinn to beat them through the air.
So how exactly is this a good matchup for Jamaal Charles?
Because he's one long run away from having a huge afternoon. Because the Chiefs have run the ball really well this season, averaging 164 rushing yards per game (third in NFL). And mostly, because the Chiefs are going to need Charles to carry them to victory.
The Raiders generally play well against the run, but when they're beaten in the running game, they're beaten pretty badly. I'm banking on the Chiefs chewing up yardage behind Charles in that regard.
Demaryius Thomas, WR, Denver Broncos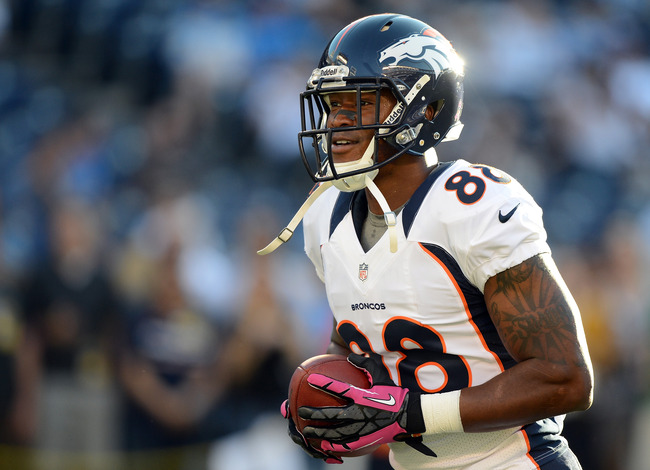 Harry How/Getty Images
Take away his three catches for 34 yards in Week 3 against the Houston Texans, and Demaryius Thomas has been very good to fantasy owners this season.
Not nearly as good as the New Orleans Saints have been to opposing wide receivers, however.
The Saints are allowing a whopping 31.6 fantasy points to wide receivers this season, 31st in the NFL. They're also allowing 305.2 passing yards per game and have given up 10 touchdowns to opposing wideouts
As you can tell, this is a very good matchup for Thomas. In case you didn't think the Broncos were likely to carve up the Saints in the passing game, click to the next slide.
Peyton Manning, QB, Denver Broncos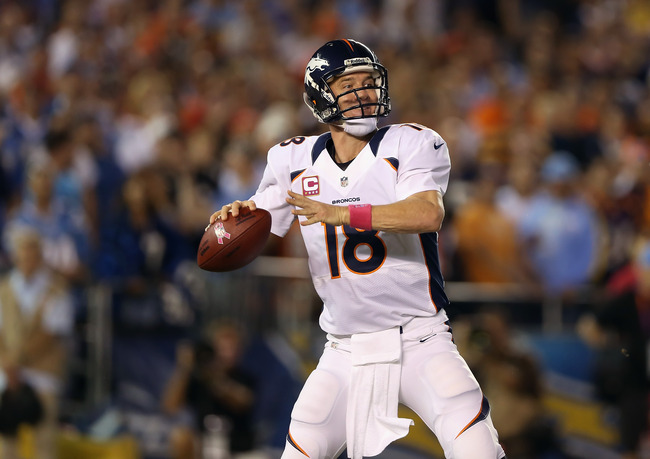 Jeff Gross/Getty Images
If you thought the Saints were bad against opposing wide receivers, they're even worse against quarterbacks.
The 21.6 fantasy points they allow to opposing quarterbacks is the worst in the league, but it sounds even worse when you consider the context. I mean, they were torched by Josh Freeman last week. Josh Freeman!
And now they get Peyton Manning, who has scored at least 20 fantasy points in all but one game this year. Manning might put up 35 fantasy points on the Saints this week.
Darren McFadden, RB, Oakland Raiders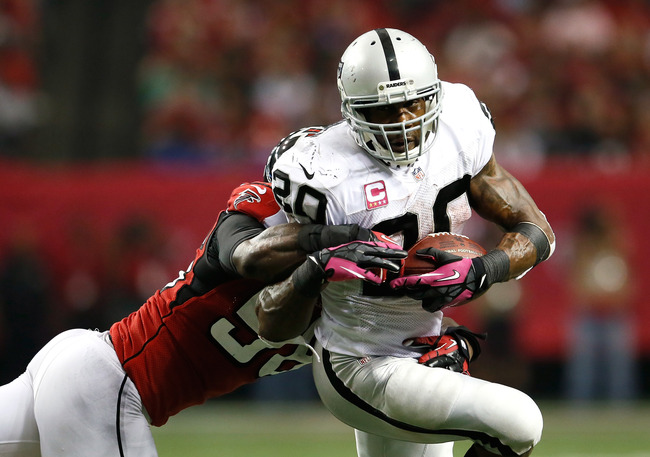 Kevin C. Cox/Getty Images
Darren McFadden is due to have a big week.
While the Raiders running back has only hit double-digit fantasy points three times this season and hasn't been the fantasy stud we all expected, he hasn't been a total bust either. And if ever there was a team that could facilitate an explosive afternoon, it's the Kansas City Chiefs.
The Chiefs are allowing 23.1 fantasy points to opposing running backs per week (27th in NFL) and 125 rushing yards (22nd). Besides, even though the Raiders haven't run the ball well at all this year (31st in NFL), McFadden is still a threat out of the backfield.
Expect big things this week from Run DMC. He's going to carve up the Kansas City defense like a jack o' lantern.
Percy Harvin, WR, Minnesota Vikings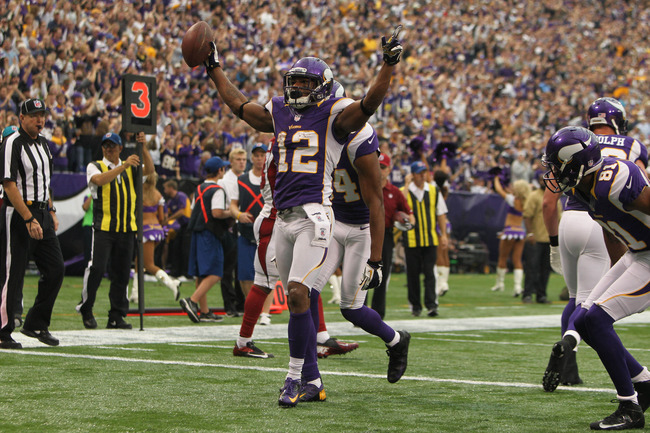 Brace Hemmelgarn-US PRESSWIRE
Somewhat quietly, Percy Harvin has been one of the steadiest players in fantasy football this season.
His lowest fantasy output is 9.4 points in Week 4, and he's hit double-digit points five times. He's one of the few players who can still have value even if he has a slow receiving day because the Vikings give him a few carries per game as well.
This week he faces a Tampa Bay defense that has struggled against the pass this year.
The Bucs are allowing 323 passing yards per game (31st in NFL) and 30 fantasy points to opposing wide receivers per week (29th). They allowed Drew Brees to throw for four touchdowns against them last week... in the first half!
Harvin should feast on this Tampa Bay secondary. Mr. Steady will turn into Mr. Spectacular on Thursday.
Aaron Rodgers, QB, Green Bay Packers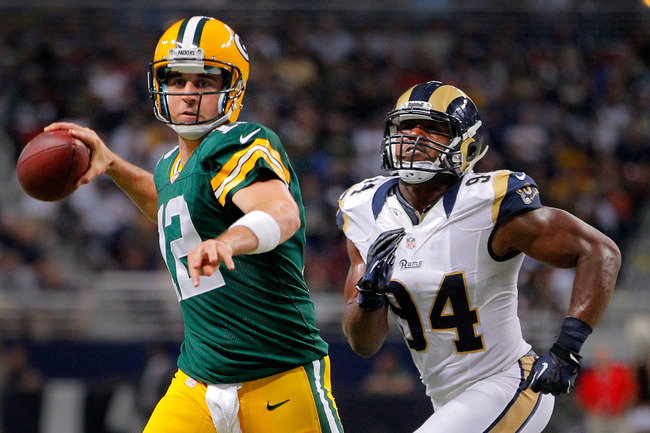 Doug Pensinger/Getty Images
Heeee's baaaaa-aaccckkk!
Rodgers has absolutely been on fire in the Packers' last four games, throwing for 1,234 yards, 16 touchdowns and just two interceptions in that span. After throwing for just three touchdowns in his first three games, Rodgers is back to his MVP form.
That's really, really bad news for the lowly Jacksonville Jaguars, who don't do anything particularly well, including stopping the pass. The Jaguars allow 254.5 passing yards per week (24th in NFL) and 16.8 fantasy points to opposing quarterbacks (20th in NFL).
Plus, one would guess Dom Capers would draw up a scheme that will stymie Jacksonville's Maurice Jones-Drew-less offense, meaning Rodgers should have plenty of opportunities to drive the Packers down the field.
All told, it's not going to be pretty. Well, unless you're a Rodgers owner, in which case he might catapult you to a huge victory this week.
Hit me up on Twitter—my tweets have more bite than the Florida Gators.
Keep Reading