Who Wears the Crown: Identifying the Panther's Best Player at the Midseason Mark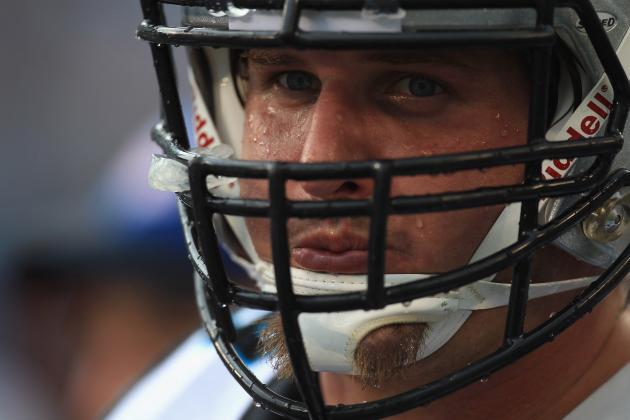 Streeter Lecka/Getty Images

The 1-5 Carolina Panthers have stumbled out of the gate, the slow start led to owner Jerry Richardson's decision to fire longtime GM and good friend Marty Hurney.
Panthers fans could be forgiven if they were already looking forward to the 2013 season, as they are already five games behind the Atlanta Falcons in the NFC South.
While Panthers faithful should spend a bit more time scouting college football's biggest stars, they shouldn't give up on this season just yet.
Carolina is a long shot to make the playoffs, but the progression of the young players will be crucial to the team's long term success.
Cam Newton is in the midst of a sophomore slump, while high paid running backs DeAngelo Williams, Jonathan Stewart and Mike Tolbert have all been disappointing.
Carolina has also been struck with injuries, as stars Chris Gamble and Ryan Kalil are both out for the season.
It is difficult to identify the Panthers best players at this point, because the majority of the team has played poorly. While it is mostly doom in gloom for the Panthers, there have been some bright spots through seven weeks of the season.
Begin Slideshow

»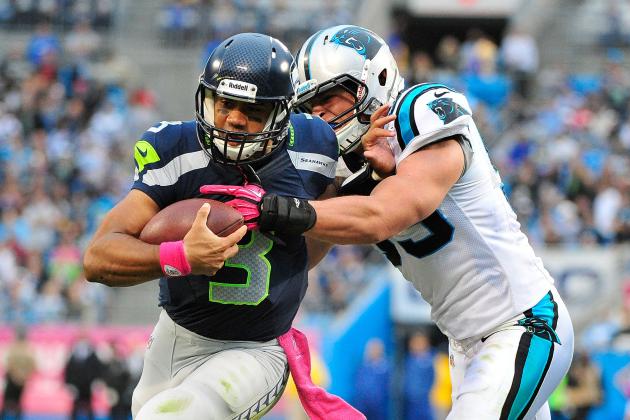 Grant Halverson/Getty Images

The Carolina Panthers 2012 rookie class has been somewhat disappointing thus far with the exception of Luke Kuechly.
As expected, Kuechly started at weak-side linebacker from day one. After a slow start that saw Kuechly compile nine tackles in the first two games, he exploded with 12 tackles and three stuffs in a blowout loss to the New York Giants.
Had it not been for Kuechly, who knows how many yards Giants running back Andre Brown would have ran for against the Panthers swiss cheese-esque run defense.
While Kuechly has struggled at times with play action, that should be expected from a rookie because NFL offenses are much more complex than college offense.
Outside of his near perfect tackling technique, it is Kuechly's knowledge of the game and instincts that make him a great linebacker.
Through the Panthers first six games, Kuechly is leading the team with 51 total tackles.
When Jon Beason was held out of the contests against the Seattle Seahawks and Dallas Cowboys due to a knee injury, Kuechly was asked to slide over to middle linebacker.
Unfortunately for Beason, Keuchly compiled 26 tackles and an interception in those two games and has likely taken Beason's starting spot moving forward.
Carolina's defense has struggled with injuries and performance this season, and Kuechly is one of the unit's few bright spots.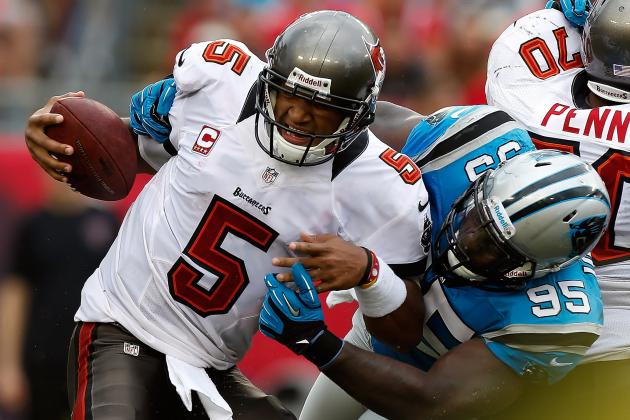 J. Meric/Getty Images

Charles Johnson is the Carolina Panthers highest paid defensive player, so he takes a fair amount of criticism when things aren't going well. That is what has happened thus far this season, as Johnson has received the majority of the blame for the lack of pass rush.
So far this season, Johnson has compiled 18 tackles, 3.5 sacks and a forced fumble. Part of the reason that Johnson is off to a slow start is due to opposing game plans.
Opposing offenses know that Johnson is by far the Panthers best pass rusher, so he sees double teams and gets chipped on the majority of passing downs.
All of Johnson's sacks came against the Atlanta Falcons in Week 4, as he set the franchise record for most sacks in a game.
Against the New York Giants in Week 3 and the Dallas Cowboys in Week 7, the lack of pass rush from the Panthers defensive front doomed the defense, as the opposing quarterbacks had a clean pocket the entire game.
According to ProFootballFocus, Johnson recorded three hurries of Tony Romo and was held without a sack for the fifth time in six games.
Johnson does need to play better, but the criticism that he is receiving for his lack of production is unwarranted.
Even though Johnson is off to a slow start, he is by far the teams best defensive lineman and the team's top active defensive player.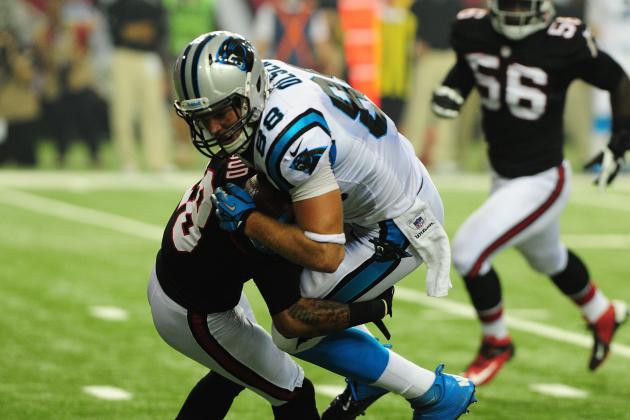 Scott Cunningham/Getty Images

Greg Olsen never reached the potential that the Chicago Bears thought he had when thy drafted him in the first round of the 2007 NFL Draft.
Olsen's lack of success in the Windy City can be attributed to the lack of tight end involvement in Mark Martz's offense.
Through six games this season, Olsen has hauled in 26 catches for 324 yards and a touchdown. Those numbers don't tell the whole story, as Olsen has been Cam Newton's safety blanket in what has been a tough sophomore season for the young quarterback.
So far this season, Olsen has been excellent running crossing patterns and has been sure handed when Newton has looked his way.
Olsen has the tenth most receiving yards among tight ends, and he should continue his current level of production for the remainder of the season.
According to ProFootballFocus.com, Olsen was the Panthers best receiving option against the New York Giants in Week 3, the Atlanta Falcons in Week 4, and Week 5 against the Seattle Seahawks.
Olsen has been criticized for his run blocking at times throughout his career, but he has performed well in that regard this season. Olsen's improvement in the run blocking department is ironic, because the run game has been less successful this season, even though Olsen is performing better in that category this season.
As we near the midway point of the season, Olsen has been the most pleasant surprise on an otherwise disappointing offense.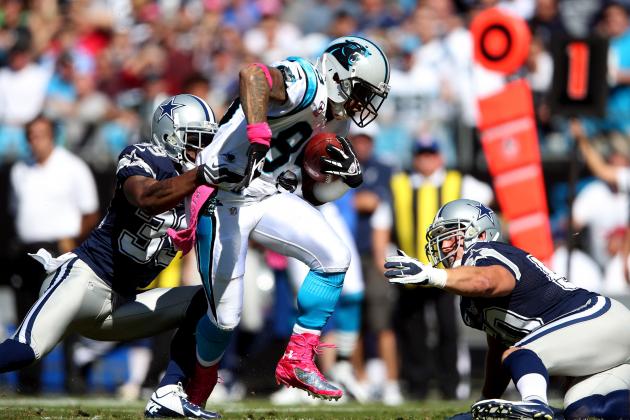 Streeter Lecka/Getty Images

Steve Smith is the unquestioned leader of the Carolina Panthers, as he has played each of his 12 seasons for the team and is still going strong.
Through six games, Smith is leading the team in receptions (26) and yards (471) but has been unable to find the end zone.
Since Smith hasn't been able to find the end zone, he has been receiving unfair criticism from the media and fantasy football owners. What those who are critical of Smith don't realize is that he is on his own in many ways.
The Panthers second wideout Brandon LaFell has been solid, but he is inconsistent and can disappear for full drives.
Tight end Greg Olsen has been good this season, but his strong play alone isn't going to stop opponents from keying in on Smith.
During the 2011 season, Smith finished fifth in receiving yards. He was so successful because he was able to get open down the field.
His ability to get open downfield along with the great rookie season from Cam Newton made Smith a star again.
So far this season, Smith has converted 17 first downs and is doing everything in his power to keep the offense afloat. With the Carolina rushing attack sputtering on a weekly basis, opposing teams can focus on shutting down Smith instead of crowding the box.
Smith is a casualty of Newton's sophomore slump, as wide receivers need the quarterback to throw them the ball.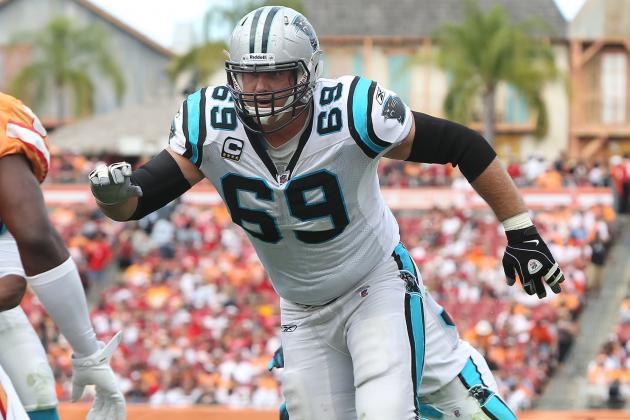 Kim Klement-US PRESSWIRE

Jordan Gross is playing better than any other member of the Carolina Panthers roster, as he is tasked with protecting Cam Newton's blindside and has done so very well
According to ProFootballFocus.com, Gross posted his 11th positive grade in his last 12 with the grade he posted against the Dallas Cowboys in Week 7.
Gross has been an underrated athlete over the span of his career, as he has quick feet and good base strength. While Gross if fortunate to be in a zone blocking scheme, he has become one of the poster children for zone blocking left tackles.
The Panthers have been fortunate to have such a great left tackle for the better part of a decade, as Gross's consistent performance has given the coaching staff one less thing to worry about for ten seasons.
Even in his tenth season, Gross is still amongst the best left tackles in the game
Imagine how the offense would look without Gross dominating on the left side of the line.
If the Panthers had an average left tackle, the offensive line would be one of the league's worst.
Gross's performance cannot be quantified, but true Panthers fans will never question how important he is to the team's success.