Buccaneers vs. Vikings: 5 Matchups That Will Decide TNF Clash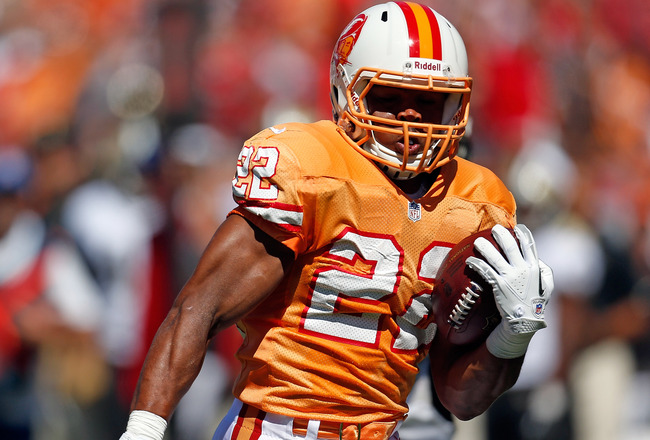 J. Meric/Getty Images
There are some important implications surrounding the matchup between the Tampa Bay Buccaneers and Minnesota Vikings.
The Bucs are in arguably the NFL's weakest division, certainly in the NFC, and have just one conference win which came over the Carolina Panthers in Week 1.
Minnesota is definitely on the rise with its 5-2 start and are coming off an impressive win in Week 7 at home against the Arizona Cardinals. It was an important victory, especially because Minnesota had previously lost to the Washington Redskins on the road.
So the Vikings got a strong win on Sunday, whereas Tampa was outscored by the explosive New Orleans Saints. To that end, here's a preview of this vital Thursday night NFC matchup.
Vikings Front Seven vs. Doug Martin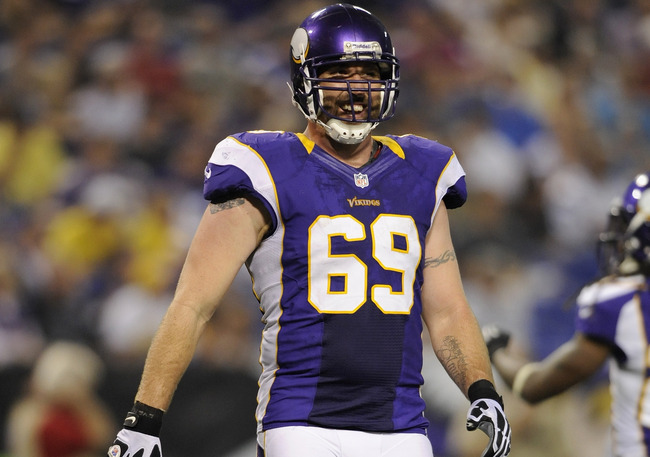 Hannah Foslien/Getty Images
Doug Martin is a beast and he's clearly a reliable every-down back. His production between the tackles, off tackle and bursting through a small crease on a zone-read has been nothing short of impressive.
Include his open field agility and Martin has the potential to control this game from the start. But expect the Vikings' defense to slow him down quite often.
Minnesota allows just 3.9 yards per carry and are one of the better front seven defenses around. In addition, Martin and Co. have only faced one other front seven capable of a comparison: the New York Giants.
Big Blue was able to hold Martin in check, so look for his impact to be more in the department of keeping Minnesota honest to set up play-action. After all, Tampa has a true No. 1 receiver in Vincent Jackson and Josh Freeman possesses a strong arm.
Josh Freeman's Pass Protection vs. Vikings Pass Rush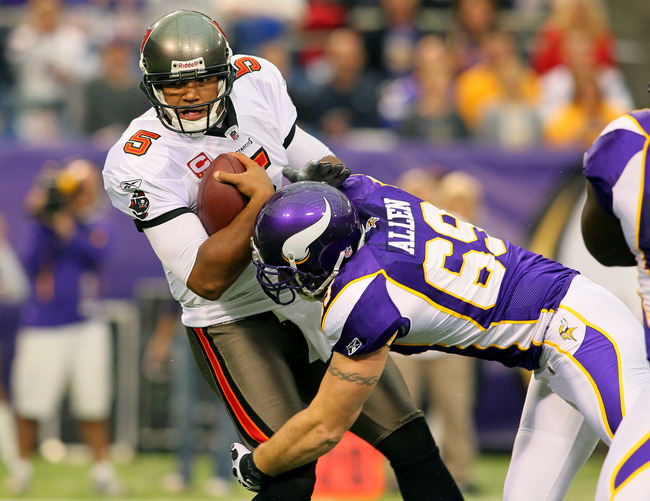 Adam Bettcher/Getty Images
This is why Doug Martin's impact is so crucial. The Vikings have already recorded 22 sacks on the season and this game will be the halfway point.
Jared Allen alone has racked up six and the rest of Minnesota's rush is relentless. However, Josh Freeman has enjoyed sound pass protection through Tampa's first six games. He has only been sacked nine times and Freeman's pocket awareness and mobility allows him to also extend plays. Because Minnesota can be quick to apply pressure, though, a few fades to Vincent Jackson will negate any immediate pressure.
One of the most important things when facing an aggressive defense is to attack straight forward. If the Buccaneers get fancy with too many screens and draws the Vikings will dominate. Pressing downfield will force Minnesota to back out of the box. In turn, the Bucs can have more balance and get Doug Martin more carries.
Ronde Barber vs. Christian Ponder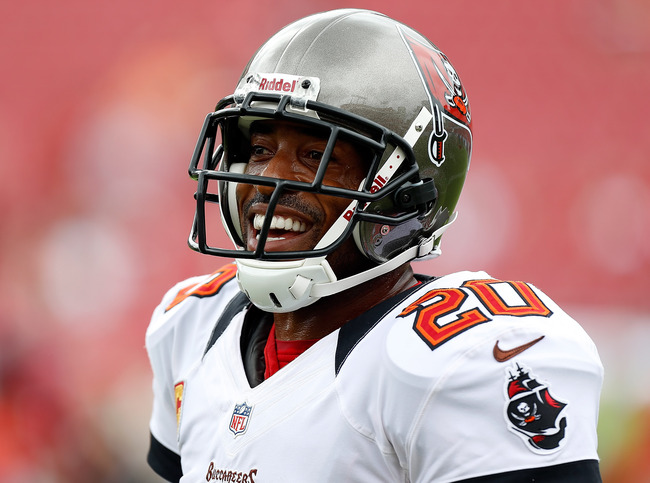 J. Meric/Getty Images
Through his first four games of 2012, Christian Ponder had four touchdown passes to zero picks.
Fast forward to Week 8 and Ponder has thrown six interceptions to only five touchdowns in the past three contests.
Ponder must display near flawless decision-making against the Bucs. As we know, Ronde Barber resides in the secondary and his experience alone will bait Ponder into forcing some ill-advised throws.
And as expected, Barber leads the Tampa defense with eight defended passes and three interceptions. The guy can play anywhere over the field and if Ponder does not locate Barber every time pre-snap, the Buccaneers veteran will make more than a few plays to give Tampa a competitive advantage.
Don't just anticipate Barber sitting back in Cover 1, 2 or 3. He'll roll down for a blitzing linebacker and set the edge against the run. Despite his age, Barber remains more physical than given credit.
Kyle Rudolph vs. Buccaneers Pass Defense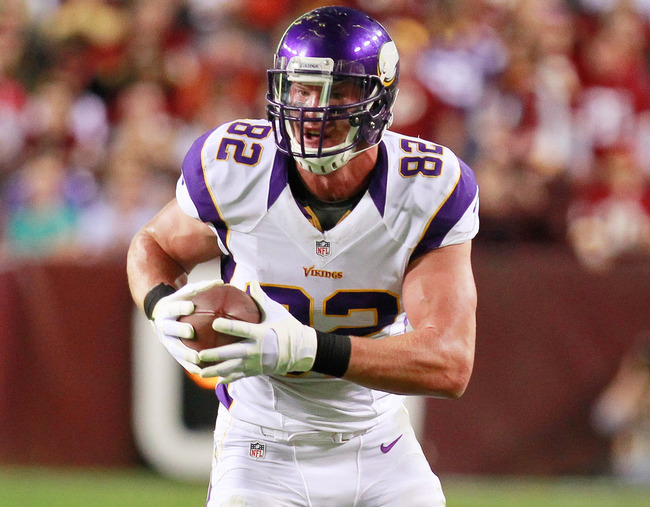 Geoff Burke-US PRESSWIRE
If there's one guy Ronde Barber won't be able to blanket one-on-one it's Vikings' tight end Kyle Rudolph.
Possessing excellent size, leaping ability and sure hands, Rudolph is one of the most talented young playmakers around. His size cannot be shielded against any man coverage and Rudolph can catch anything over the middle between traffic.
Tampa Bay also can't afford to double-cover him because Adrian Peterson is in the backfield and focusing on Rudolph will make the Bucs more vulnerable against the run. Also, Tampa ranks No. 31 against the pass. Rudolph's best area of impact is the intermediate level and inside the red zone.
With 25 receptions and five touchdowns, the guy simply knows how to score when needed. Christian Ponder can target his tight end all day because the Buccaneers also have to worry about the dynamics of Percy Harvin.
So provided that Ponder is not consistently fooled by a disguised coverage, that will minimize Barber's impact and allow Rudolph to become unstoppable throughout this game.
Vikings Return Game vs. Buccaneers Kickoff/Punt Coverage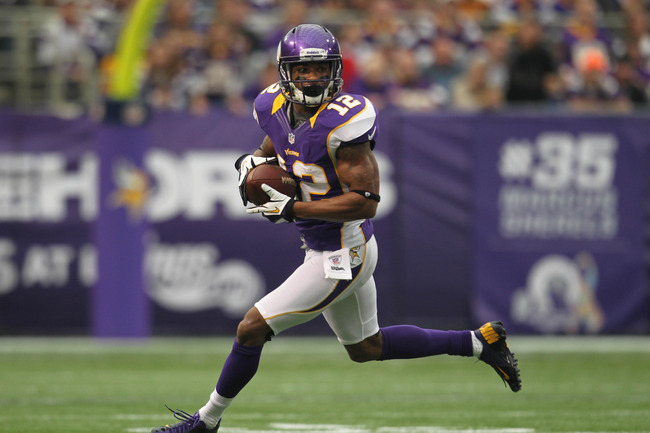 Brace Hemmelgarn-US PRESSWIRE
Courtesy of Percy Harvin and Marcus Sherels, the Vikings possess excellent returners for kickoff and punts.
Having the ability to win the field position battle begins and ends with special teams. And as we saw against the Detroit Lions, the Vikings won that game because of a return taken to the house from each of the aforementioned playmakers.
Harvin averages 35 yards per kickoff return and Sherels 12.3 per punt return. Combined, that is basically four first downs these guys are earning for the offense. As for the Bucs, they allow fewer than 24 yards per kickoff and under 10 yards per punt return.
That's certainly much less than what Minnesota is use to, so something will have to give in this game. And in a matchup that features two sound run defenses and opportunistic pass defenses, field position will be the ultimate decider.
Prediction: Vikings 24, Buccaneers 20
Follow John Rozum on Twitter.
Keep Reading