College Basketball: How Much Saving Does the Pac-12 Conference Really Need?
Use your ← → (arrow) keys to browse more stories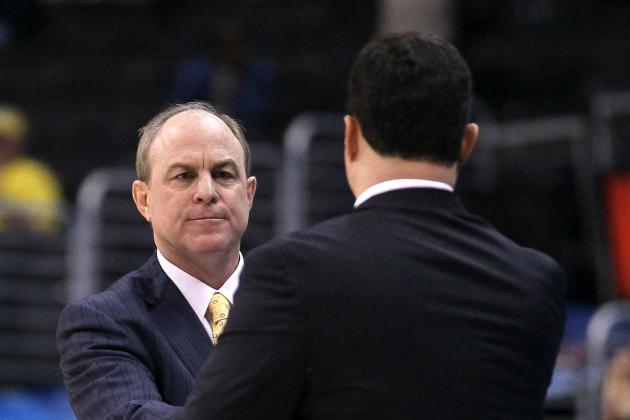 Stephen Dunn/Getty Images

What are the perceived and actual problems facing Pac-12 men's basketball?
And perhaps more importantly, what is being done to fix it?
That is essentially the series of questions ESPN the Magazine's Jordan Brenner presented in his recent piece, "Can the Pac-12 Be Saved?". If you can look past the stereotypical bias in the piece, some of the points brought up in it are solid.
The past couple of years have been relatively unsuccessful for Pac-12 men's basketball—we are talking about the "Conference of Champions" here—but it has been far from what the article describes as a landfill.
To name a few tournament successes over the last six years: Arizona was in the Sweet 16 in 2009 and the Elite Eight in 2011; UCLA was in the Final Four in 2007 and 2008; Oregon was in the Elite Eight in 2007; USC was in the Sweet 16 in 2007; Washington was in the Sweet 16 in 2010; Washington State was in the Sweet 16 in 2008; and Stanford was in the Sweet 16 in 2008.
In the past four years the Pac Conference sent four teams in 2011 and six in 2009 to the NCAA tournament. 2010 and 2012 weren't great NCAA tournament years for the conference, however, the Pac-12's strong performance in last year's postseason NIT suggests that maybe a couple of additional Pac-12 teams should have received NCAA bids.
What about the issues of importance, such as team/coach stability, recruiting and national visibility?
As the ESPN article rightfully points out, the conference had essentially the same amount of losses from early departure as all the other major conferences, with the exception of the Big Ten, which had significantly less.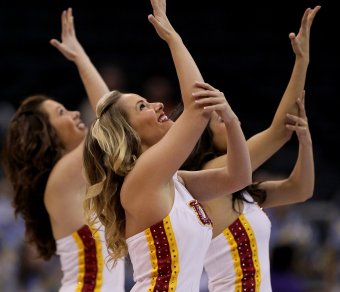 Stephen Dunn/Getty Images
What this argument fails to include, however, is something that makes it more legitimate. Unlike the other major conferences during this time frame, the Pac-12 has not had as much local talent in their recruiting footprint.
Player turnover and recruiting are not distinct factors, as a one-and-done or two-and-through hurts teams a lot less when they can easily replace big impact players year in, year out.
Whatever the recruiting situation is, the Pac-12 can't afford to lose top local talent to programs out east or to the draft (if players aren't ready), especially if the programs are in a difficult place to replace those loses.
The solution to these problems likely heavily relies on the coaching staff, with some help from the recent media deal and conference network.
Perhaps the most striking fact mentioned in the ESPN article is that in the Pac-12, only UCLA, Washington and Arizona State currently have the same head coach from the 2007-08 season. Coaching instability is an important and difficult multi-factor issue. As such, it is also one that deserves more attention than can be given in this space.
What, then, is Pac-12 men's basketball to do?
The answer is simple: win.
Last season, the Pac-12 Conference had a total of a dozen regular-season games against ranked non-conference opponents. In comparison, some single teams in the Midwest and East Coast had almost that number alone.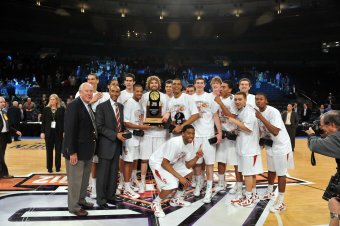 Jason Szenes/Getty Images
The Pac-12 lost all 12 of those games, although almost half of those losses were by two possessions or less (including to teams like Duke and Syracuse). When you have less opportunity for national exposure, those few chances you do have become all that much more important.
Finding a way to pull of those close but crucial, season-defining games with their current resources, is really what men's basketball programs in the Pac-12 should be focusing their efforts on in the short term.
For each team, the answer will likely be different. For historically elite teams with the ability to do so, like Arizona and UCLA, the answer may rely on continually pulling in top recruits and transfers with good chemistry.
For the returning Pac-12 regular season champion, Washington, short of getting updated facilities to help with recruiting, maybe its recent change in offense will be the answer.
Teams like Stanford and Oregon State may benefit greatly from their largely returning squads.
Utah likely needs some stability after both recent coaching and player turnovers.
For WSU, adding depth to help out existing talent could seriously help.
USC needs to stay healthy.
Oregon, Cal, Colorado and ASU could possibly use some mix of the above.
Or the answer could lie somewhere else for all of the men's basketball programs in the Pac-12.
Whatever the solution to the problem is, no team in the Pac-12 seems to be out of reach from at least obtaining similar levels of historic performance, and for some teams to even surpass them.
Pac-12 men's basketball may be down after last season, but it is far from out.