College Football Freshman Report Card Grades Through Week 8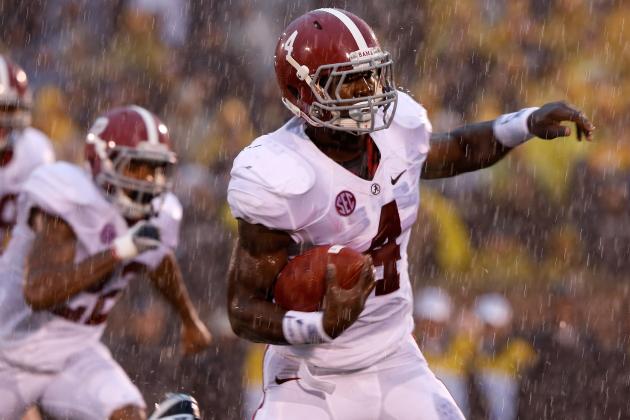 Jamie Squire/Getty Images

With more than half of the 2012 college football season officially in the books, it's time to send freshman parents their athletes' midterm grades.
Yes, Mom and Dad have may have gotten to see their boys on HD TV, but they'll still be anxious to get some specific feedback on how Junior is doing in his inaugural campaign on the collegiate gridiron.
The following slideshow offers up a healthy sampling of the nation's top freshmen and issues each a report card that grades their work through eight weeks of play.
Instead of Political Science 101 or Intro to Economic Theory 116, we'll be handing out marks in more meaty subjects like Picks 101, Passer Efficiency 145, Yards per Carry 257 and Sacks 132.
Though some of these guys are doing better than others, you've got to be impressed with how this collection of 18- and 19-year-olds have managed to impact the "next level" at such a young age.
Begin Slideshow

»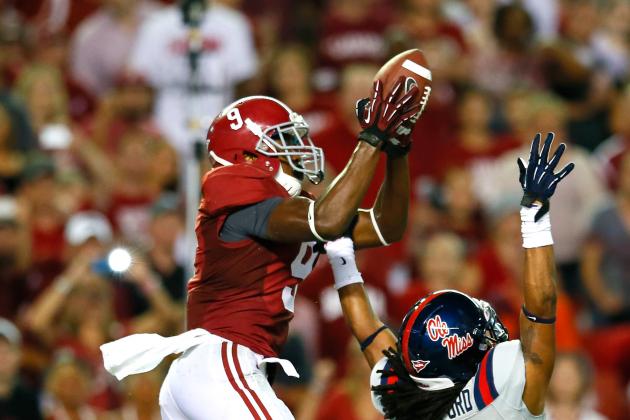 Kevin C. Cox/Getty Images

After being a solid contributor to Alabama's No. 75-ranked pass offense through the first six games of 2012, Amari Cooper exploded in Week 8's win over Tennessee.
Cooper had averaged 44 yards per game coming into last Saturday's game in Knoxville, only to then light it up with seven catches for 162 yards and two touchdowns.
The career-high numbers take Cooper's stats to 28 grabs for 425 yards and five scores, making him the Tide's No. 1 receiver in 2012.
Grade: B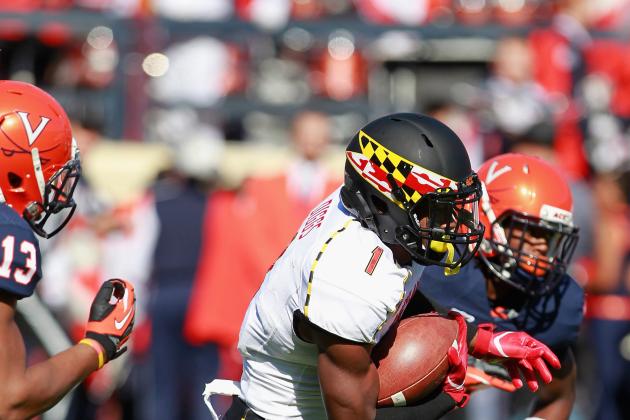 Geoff Burke/Getty Images

Super-speedy freshman Stefon Diggs is not only Maryland's No. 1 wide receiver (514 yards and three scores on 27 grabs), but he's also the No. 13 guy in the nation in terms of all-purpose yards.
Diggs' receiving numbers are jacked up with 47 yards of rushing, 196 yards via punt returns and 405 yards and one score as a kick returner, giving the kid from Gaithersburg, Md., 1,162 total yards thus far in 2012.
This guy is somebody we're likely to hear more about as he matures and, as scary as it might seem, becomes even more productive.
Grade: A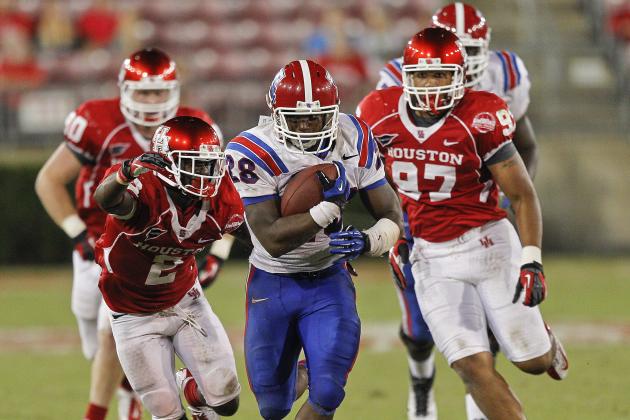 Bob Levey/Getty Images

Kenneth Dixon has blazed a trail through seven productive performances to become the No. 1 freshman rusher in the nation.
Thus far, Dixon has carried the ball 111 times for 767 yards and 16 TDs, making him La. Tech's No. 1 back and the No. 23 back in the nation in terms of total yardage.
If you really want to be impressed with Dixon, consider the fact that his 16 scores are the most of any running back in the FBS through Week 8.
Of course, it doesn't hurt that Dixon is a member of a Bulldog attack with per-game ranks of No. 1 nationally in points scored, No. 12 in rushing yards and No. 8 in passing yards, but this kid has still gotten it done—as a freshman.
Dixon's season/career-high performance came last Saturday in the Techsters' win over Idaho when he went nuts with 232 yards and six touchdowns on 17 carries.
Grade: A+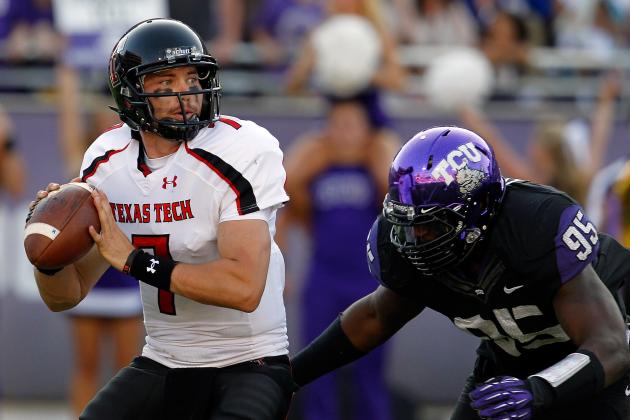 Tom Pennington/Getty Images

A young defender who would make any mom and dad proud, freshman defensive end Devonte Fields has done just about everything a defensive lineman could do through seven games.
Thus far in 2012 Fields has racked up 31 tackles (19 solo), 13.5 tackles for loss, 7.5 sacks, three pass break-ups, two QB hurries and two forced fumbles.
Seriously, this kid is a superstar.
Fields' numbers obviously are relative on a national level, and he currently ranks T-No. 10 nationally in sacks, No. 5 in tackles for loss and No. 30 in forced fumbles.
No wonder TCU is ranked No. 7 in the nation vs. the run.
Grade: A+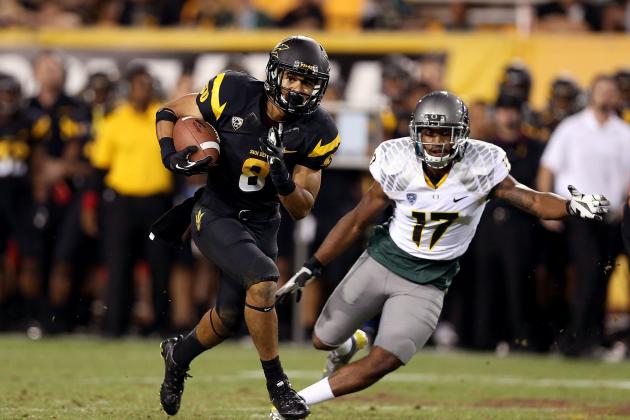 Christian Petersen/Getty Images

Even though 310 yards and two scores on 54 carries might not seem like the stuff that dreams are made of, freshman running back D.J. Foster is currently Arizona State's leading rusher.
And that's no small thing for a first-year guy, no matter how you slice it.
Throw in the fact that Foster is also the Forks' No. 2 receiver with 347 yards and three scores on 22 catches, and suddenly you start to wonder what ASU's offense would look like without the youngster.
Grade: B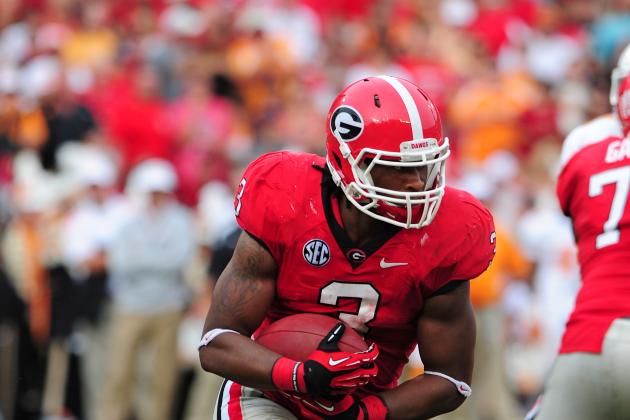 Scott Cunningham/Getty Images

Georgia's leading rusher in 2012 is none other than super-frosh Todd Gurley, who has racked up 622 yards and nine touchdowns on 93 carries.
Though Gurley's production has slipped over the last two weeks (39 yards and zero TDs at South Carolina; 47 yards and zero scores at Kentucky), he already has four 100-plus-yard performances in his pocket as a rookie.
Gurley has also contributed to the Bulldogs' bottom line as a kickoff return specialist (243 yards and one score) and minimally as a receiver (34 yards on six grabs), giving him 899 all-purpose yards thus far.
This total number gives Gurley the No. 44 spot nationally in all-purpose yards.
Grade: B+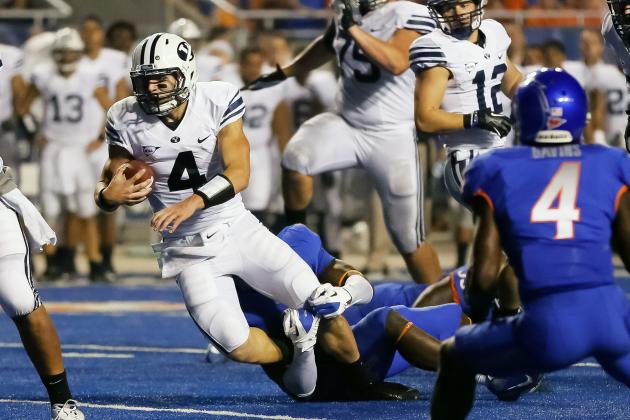 Otto Kitsinger III/Getty Images

After putting together wins over Hawaii in Week 5 and Utah State in Week 6 in relief of BYU starter Riley Nelson, Taysom Hill suffered a knee injury that will likely cost him the remainder of his freshman season.
Hill went out late in the win over Utah State, and before he had gone 42-of-71 for 425 yards, four touchdowns and two picks.
Though Hill's snaps were limited in the first four games of the season, his two games under center will prove invaluable on-the-job experience if he's healthy enough to take over the starting job in 2013 after Nelson graduates.
Grade: C+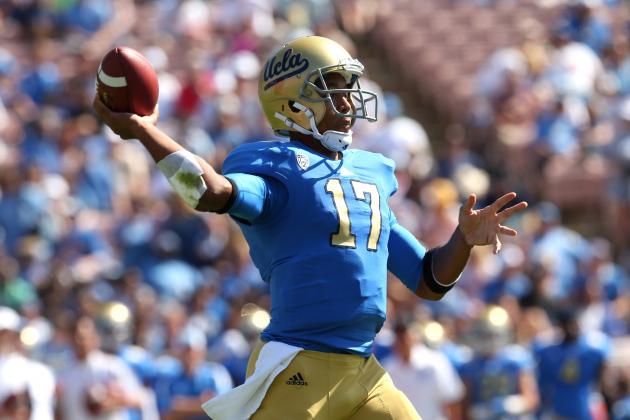 Stephen Dunn/Getty Images

After going 6-8 last season with Kevin Prince under center, Bruins fans must be at least somewhat thrilled with the play of freshman QB Brett Hundley, who has led UCLA out of the gates to a 5-2 mark in 2012.
Hundley's numbers far are solid (especially for a rookie in a BCS conference): 167-of-251 for 1,916 yards, 14 TDs and seven picks.
The passer efficiency rating of 143.5 ranks No. 42 in the FBS and took a serious hit in Hundley's Week 6 performance at Cal, in which he threw a whopping four picks.
With the exception of this major hiccup that resulted in a 43-17 loss, Hundley has done well. His play bodes well for the future of UCLA football over the next three seasons.
Grade: B-
Joel Auerbach/Getty Images

After lighting it up for 135 yards and two scores in his first career game at Boston College in Week 1, Duke Johnson's numbers have fallen off as the season as gone on.
Johnson's current rushing stats include 455 yards and five touchdowns on 83 carries. The only other 2012 game in which his output neared the 100-yard mark was when he posted 94 yards vs. FCS Bethune-Cookman in Week 3.
But despite all this, Johnson is still the Hurricanes' leading rusher this season, and when you tack on his 201 yards and one score as a receiver and his 447 yards and yet another score as a kickoff return guy, you begin to see a clearer picture.
Johnson's 1,103 all-purpose yards give him the No. 16 slot nationally, which is just three slots below Maryland's Stefon Diggs, who leads freshman yard-getters thus far.
Grade: B+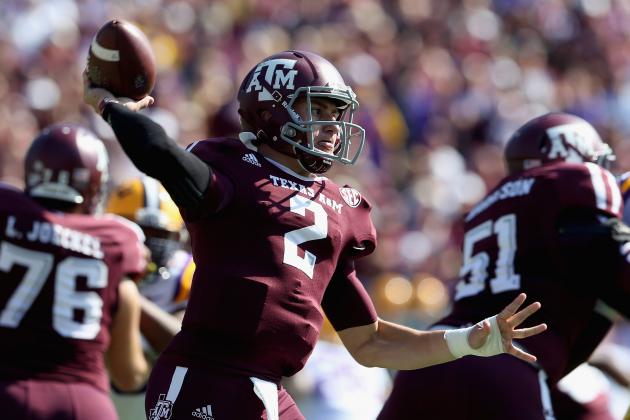 Ronald Martinez/Getty Images

Even though "Johnny Football's" numbers fell off hard vs. LSU's No. 10-ranked scoring defense in Week 8, this kid has still gained yards at an alarmingly delightful rate this season.
Manziel is currently 157-of-246 for 1,956 yards, 14 TDs and six picks as a ball-tosser, and if that doesn't float your boat, he also has 703 yards and 10 scores as a rusher.
All in all, Manziel's 2,659 yards account for 72 percent of A&M's 3,672 yards thus far in 2012, and his 24 touchdowns represent 62 percent of the Aggies' 39 total end-zone visits this year.
On a national scale, Manziel is the No. 31-ranked rusher in the FBS, and his passer rating of 144.5 gives him a No. 38 ranking.
The impact Manziel has had on Texas A&M football as a freshman is difficult to pinpoint, but with an offense that ranks No. 9 in scoring (based largely on one guy's performance), you could only start to guess what the Aggies would look like without him.
Grade: A+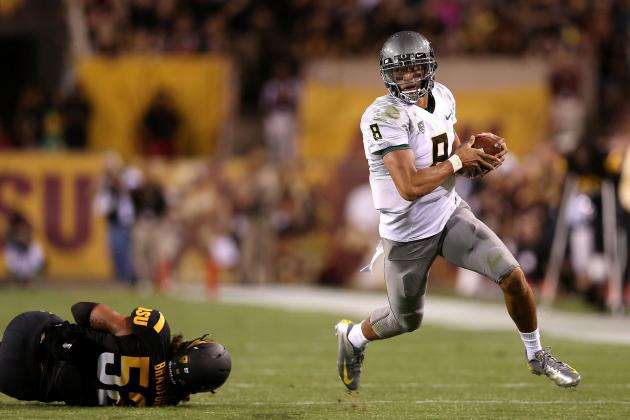 Christian Petersen/Getty Images

The good news for freshman Ducks QB Marcus Mariota is that he plays under center for an offense that ranks No. 4 nationally in rushing yards per game vs. No. 83 in passing yards.
Thus, Mariota isn't under the pressure that other rookie gunslingers might feel when they are forced to throw the ball to win games.
Despite all of this, Mariota is a highly respectable 123-of-180 for 1,347 yards, 16 touchdowns and five picks, netting him a 155 passer rating that ranks No. 21 in the country.
If that weren't enough, Mariota has also contributed 356 yards and two scores as rusher.
The truth is, this kid has played well enough to keep the Ducks undefeated, and if he continues, he could reach a BCS title game as a freshman.
Grade: B
Otto Greule Jr/Getty Images

Gabe Marks is another freshman who stormed out of the gates in 2012 only to have his production levels dwindle as the season progressed.
After ramping up in the first two games of the season, Marks stormed for 126 yards and one score on six catches in Week 3's win over UNLV, and then he posted 107 yards and another score on seven grabs in Week's 4 loss to Colorado.
Since those two breakout-type performances, Marks has averaged 26 yards of receiving over the Cougars' last three games (all losses), and he hasn't seen the end zone at all.
Marks is a guy we're likely to hear about often in the future, as he's been fortunate to sign on early in the Mike Leach era at Washington State, and the Cougars should do nothing but skyrocket off the launch pad of their No. 9-ranked passing offense.
Grade: C-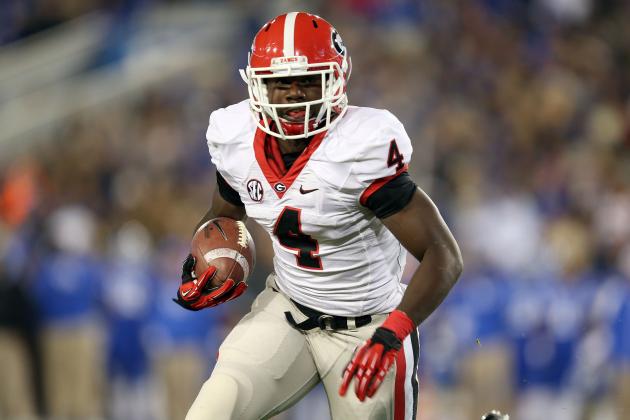 Andy Lyons/Getty Images

The "other" freshman Bulldog running back in 2012, Keith Marshall is Georgia's No. 2 rusher, second only to fellow frosh Todd Gurley.
Marshall has toted the ball 70 times this season for 488 yards and five scores, and he has also caught six passes for 37 yards.
Though Marshall isn't getting the love that Gurley has, it's important to remember that he has two 100-plus-yard performances thus far as a rookie (including blazing for 164 yards and two scores vs. Tennessee in Week 5).
Grade: C+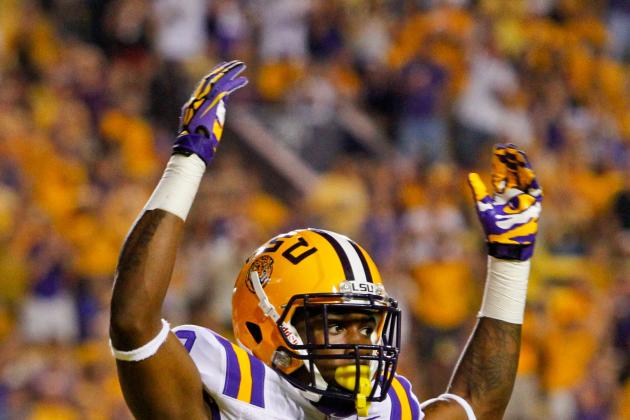 Derick E. Hingle-US PRESSWIRE

When you're a freshman member of the secondary that ranks No. 5 nationally vs. the pass, your stats need to be highlighted as extra impressive.
Cornerback Jalen Mills has posted 34 tackles (24 solo), two pass break-ups and two picks through eight games, making him a solid contributor to a fearsome LSU defense.
Grade: B+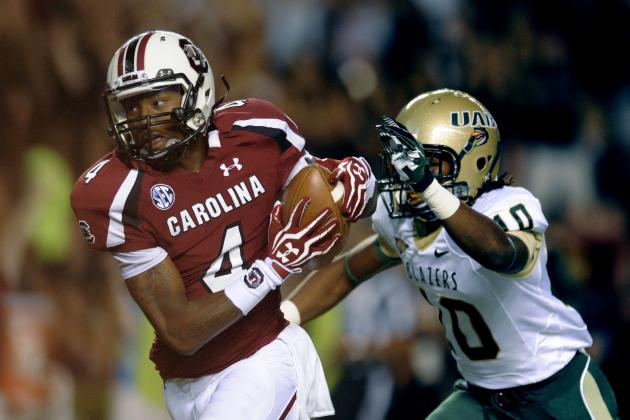 Mary Ann Chastain/Getty Images

It's safe to say that Gamecock fans (and perhaps a much wider audience) expected big things, immediately, from highly touted Shaq Roland, and it's also to safe to say that disappointment hangs thick in the air where he is concerned.
Though Roland hasn't necessarily gotten a lion's share of playing time, his three catches for 55 yards and one score this season certainly hasn't done much to help a Gamecock passing attack that has floundered to a No. 86 national ranking through eight games.
It's way too early to declare Roland a flop, but when you stack up what's he's done against his hype coming into college football, it's difficult to deny a real anticlimactic thud.
Grade: D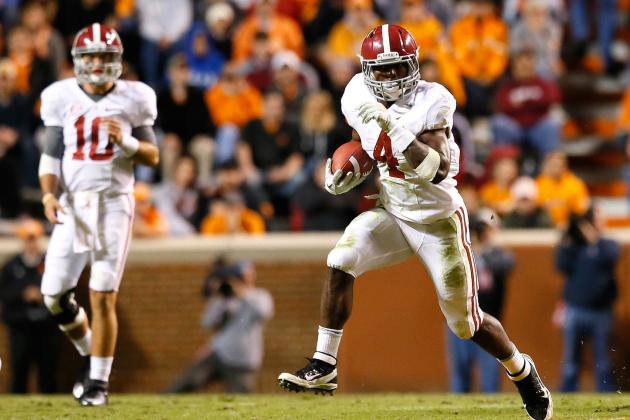 Kevin C. Cox/Getty Images

T.J. Yeldon is the freshman that holds the distinct honor of being five yards shy of holding the title of No. 1 rusher for the No. 1-ranked team in college football.
And this is a team that ranks No. 14 nationally in scoring—a high rating based on a No. 20 mark in rushing yards vs. a No. 75 ranking in passing yards.
Yeldon has amassed 565 yards and six TDs on 83 carries, making him No. 2 to the Tide's current top rusher Eddie Lacy, who has 570 yards and seven scores thus far in 2012.
What gives the young Yeldon the edge over Lacy is a yard-per-carry tag of 6.8 that outshines Lacy's 5.8 figure.
If you need more yards to fill your frock, Yeldon has also gained 94 yards as a receiver, giving him 659 all-purpose yards as a freshman on what is arguably the best team in college football.
Grade: B