Best Surprise Player for Each NFL Team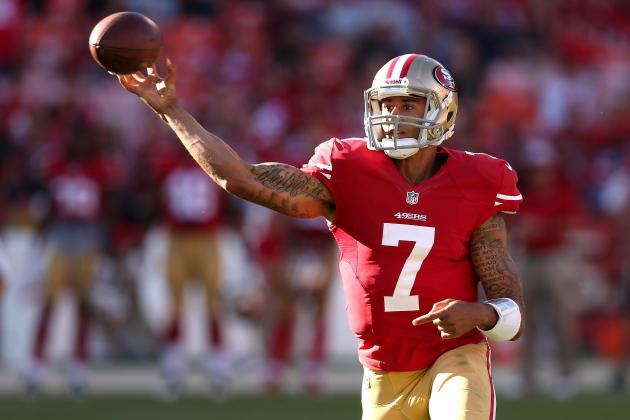 Stephen Dunn/Getty Images

As we approach the halfway point to the NFL season, there are certain players that have surprised us. Some players have played well after starting their careers so slowly, while others were late draft picks and are now starters.
Some players have become NFL superstars after starting their careers being almost unknown. Priest Holmes, Kurt Warner, and Antonio Gates are just a few undrafted players that made it big.
With each NFL season, there are plenty of surprises. Here is a look at each NFL team and their biggest surprise players.
Begin Slideshow

»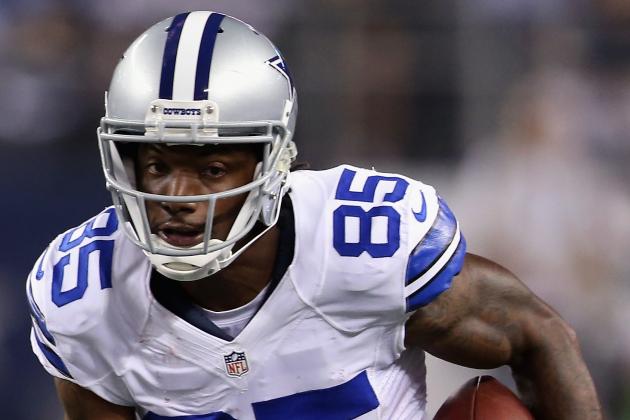 Ronald Martinez/Getty Images

Kevin Ogletree may not have had much production since Week 1, but that performance to officially start the NFL season was quite the surprise.
Ogletree blew up on the Giants in Week 1, catching 11 balls for 114 yards and two touchdowns. For a guy that isn't the first or second option for Tony Romo, that was a huge night.
Even though Ogletree hasn't done much since, he still needs to get some credit for that big game. Perhaps he will read this and be inspired to have another big game?
...He probably won't read this.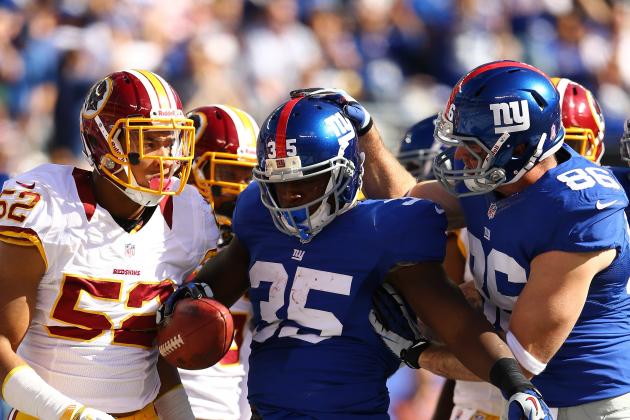 Al Bello/Getty Images

The New York Giants have had a good running game for a few years, but Andre Brown is a new face to the G-Men.
Brown got his breakout game when he was named the starter against Carolina due to an injury to Ahmad Bradshaw. He ran for 113 yards and two scores.
Brown is playing big when asked to play, averaging five yards per carry this season. Along with that, he already has four touchdowns.
It looks like Brown is settling in as the Giants backup running back, and is ready to make another big impact.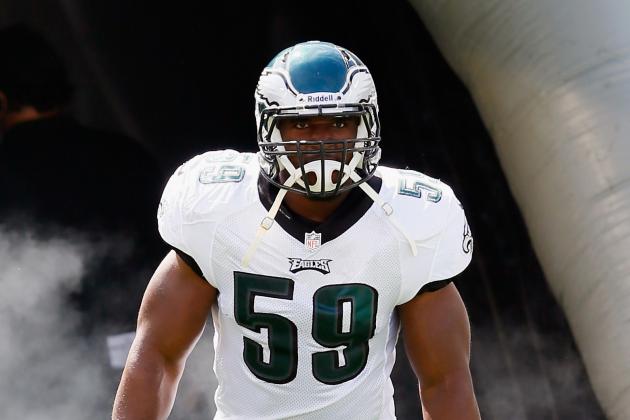 Rob Carr/Getty Images

DeMeco Ryans has been the defensive anchor for the Eagles this season. In his first year with the team, he has made a big impact with them.
Ryans was a former Houston Texans player. He had an incredibly first four years, getting over 100 tackles each season. Unfortunately, injuries had Ryans only play in six games, and his production slumped the next year as well.
There has been no slump this year with the Eagles. He currently leads all teammates with 47 tackles. He has also picked up an interception on the way.
Ryans is becoming a great pickup for the Eagles.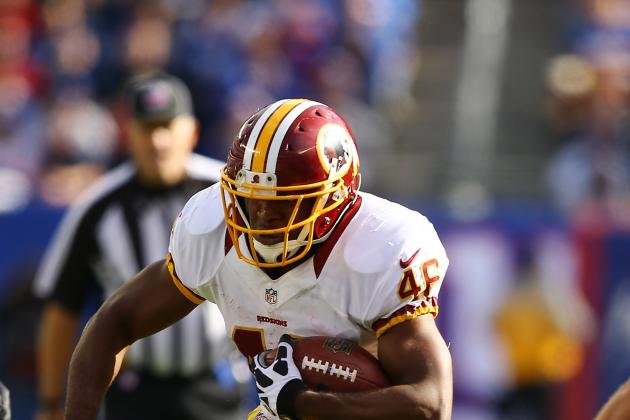 Al Bello/Getty Images

The Redskins didn't expect Alfred Morris to be named the starting running back, but somehow he worked hard enough during the preseason and had a bit of luck to get the starting role.
Morris was a sixth round draft pick by Washington out of Florida Atlantic University. He played great during the preseason and was announced the starter by the start of the season.
Morris has been a big contribution to the Redskins, running for 658 yards and four touchdowns. His performances have been spectacular, almost overshadowing Robert Griffin III at some points.
He may not be the best rookie on the team, but he is certainly the best surprise.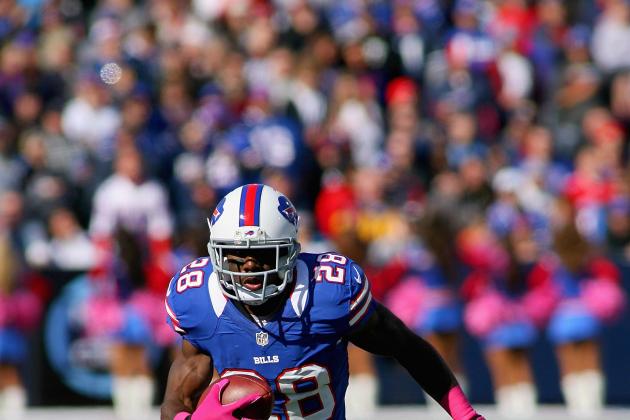 Rick Stewart/Getty Images

C.J. Spiller himself isn't surprising to anyone, but the number he has produced to this point are.
Spiller is playing out of his mind so far. On only 72 carries, he has ran for 523 yards. That's 7.3 yards per carry. He has six runs for over 20 yards, and four touchdowns.
Spiller has also become a weapon in the passing game. He is averaging 9.1 yards per catch, for 173 yards and a touchdown.
The numbers Spiller has produced are keeping the Bills relevant again this year. With enough consistency, this team could be near the top.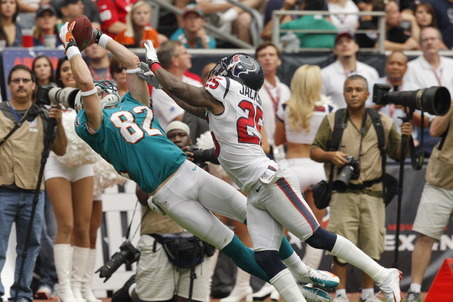 Bob Levey/Getty Images

Hartline was not a big name in the NFL, but he is becoming one this season.
In only six games this season, Hartline is at numbers similar to his numbers the first three seasons. He has given Ryan Tannehill a new favorite target.
Hartline exploded in Week 4 of the season against Arizona. Hartline 12 catches for 253 yards and a touchdown.
Coming off of a bye week, look for Hartline to make more big plays.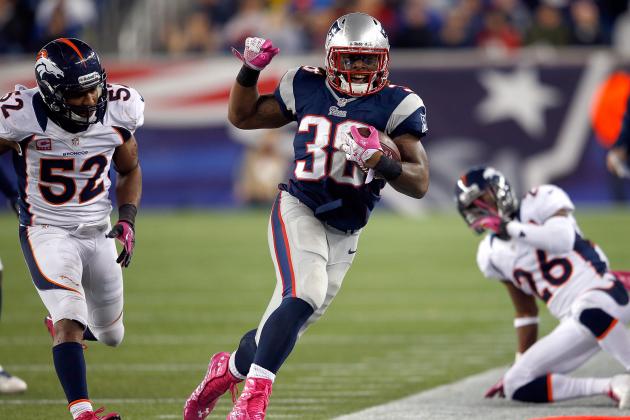 Jim Rogash/Getty Images

Brandon Bolden has been a big running option for the Patriots this year.
Bolden is a rookie out of Mississippi, but was not drafted. He has been on a mission to prove everyone wrong when playing for New England.
On the season, Bolden has 234 yards and averaging 5.4 yards per carry. He has been a valuable backup to Ridley, and makes the most out of his playing time.
With further development, Bolden could become a long term player for the Patriots.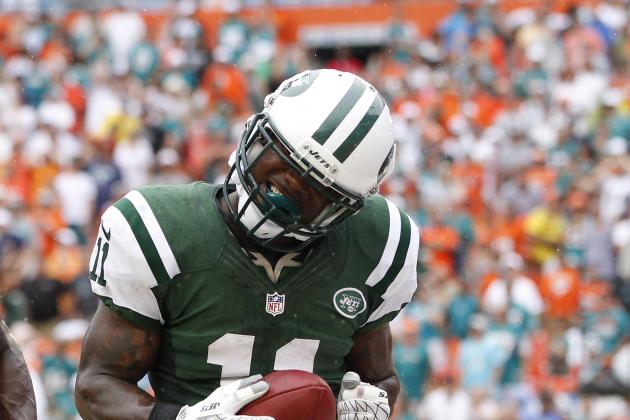 Joel Auerbach/Getty Images

Santonio Holmes is out for the season. Stephen Hill has been bothered by a hamstring injury.
Someone needed to step up for the Jets.
Jeremy Kerley has become the go-to guy for Mark Sanchez. Without their best receiver, Kerley has provided a good option for the offense.
Kerley has played well with 435 yards and two touchdowns. In last week's game against New England, Kerley had seven catches for 120 yards.
Look for Kerley to continue to be the top receiver for the Jets.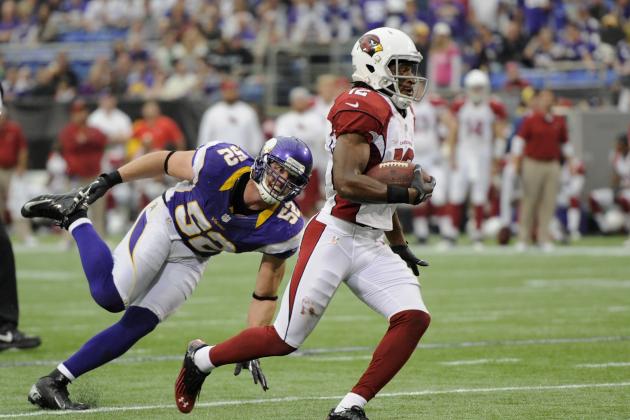 Hannah Foslien/Getty Images

The Cardinals have Larry Fitzgerald and Michael Floyd.
How is Andre Roberts doing so well?!
Roberts is taking advantage of the attention the two star receivers are getting. While they are tightly covered, Roberts is able to get open more easily.
On the season, Roberts has 389 yards and five touchdowns. With numbers like these, defenses might need to pay more attention to him.
Brian Bahr/Getty Images

I wonder if the title slide gave this away?
Colin Kaepernick has given the 49ers offense a "wild card" factor. His ability to both run and pass makes defenses stay on their toes.
Kaepernick has played well when put in the game. Even though he has only thrown the ball nine times, his speed and agility gives him the ability to burn defenses with his legs.
Kaepernick has run for 111 yards and a touchdown. He is averaging 8.5 yards per carry for a team with a good running game.
Watch out for San Francisco as they may begin to utilize him more.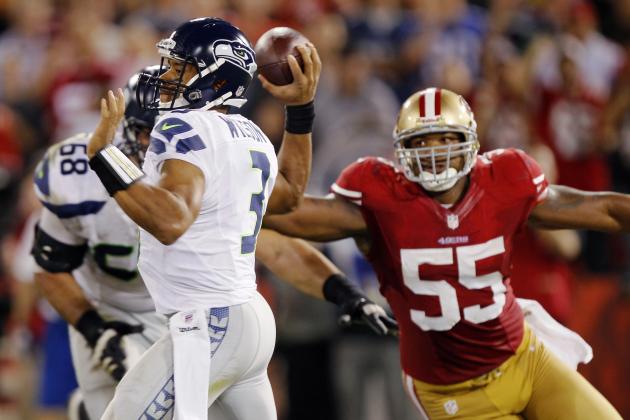 Brian Bahr/Getty Images

Russell Wilson wasn't even supposed to be the starter this year.
When Matt Flynn was signed to Seattle, most people thought he would become the starter for the franchise. After Wilson's impressive preseason, he became the starter for the beginning of the season.
Wilson's short stature hasn't been a problem this season. While his numbers aren't the most impressive, his team still has a winning record at 4-3.
Like it or not, Wilson is somehow winning game, and that is quite a surprise for Seattle.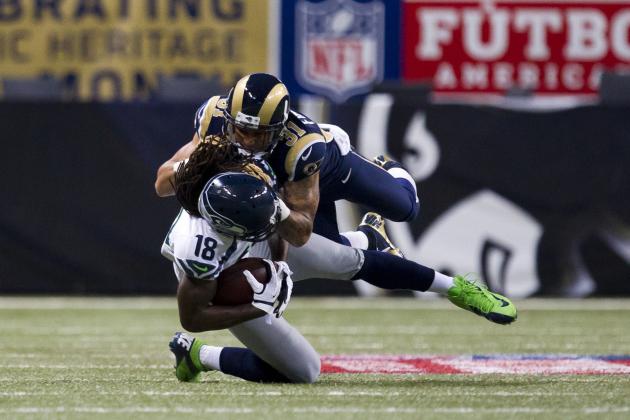 David Welker/Getty Images

Cortland Finnegan is best known for fighting Andre Johnson, but the fights have been kept in check this year as he is having a big season.
Finnegan is arguably having the best season of his career, already tallying 47 tackles, three interceptions, and a sack.
Finnegan hates to be called a dirty player, and prefers to be described as physical. However you like to describe him, it is hard to argue with the numbers he has put up so far.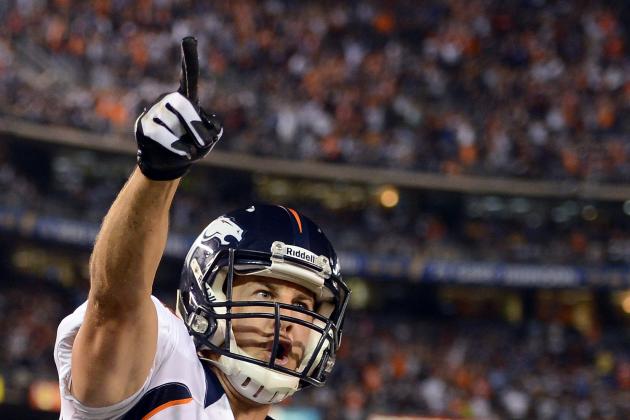 Harry How/Getty Images

Brandon Stokley's career seemed to be winding down before this season. But after being reunited with former teammate Peyton Manning, Stokley's career can end on a positive note.
Stokley didn't do much last year for Seattle, only playing in two games and getting one catch. The past season wasn't much to show for either, with only 31 catches and no touchdowns.
This year has been a big jump back to his earlier years, grabbing 19 catches for 216 yards and three touchdowns. It is helpful for Manning to have an option that can step up when the bigger names are covered.
Kyle Rivas/Getty Images

Jamaal Charles is having an incredible year after returning from a torn ACL that caused him to miss most of last season. The addition of Peyton Hillis showed signs that Kansas City wasn't confident in the recovery of Charles.
Charles has been sensational this year, running for 591 yards and scoring three total touchdowns. His 5.1 yards per carry shows the consistency he has been playing with this season.
Charles had a huge game against New Orleans earlier this year, running 233 yards and a touchdown. With the return of Charles, the Chiefs can at least provide Matt Cassel or Brady Quinn with a solid running game.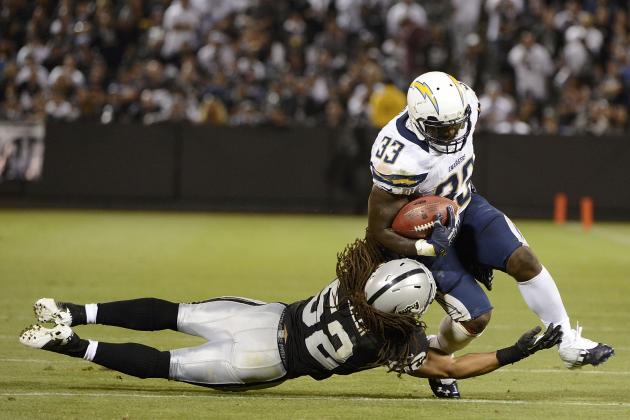 Thearon W. Henderson/Getty Images

Philip Wheeler has been a big help to Oakland's defense this year.
The Raiders picked up Wheeler during the offseason after he was released from the Colts. Since the addition, he has been playing well.
Wheeler currently leads the team in tackles with 48. Along with making tackles, he has also managed to force two fumbles, doubling his career total.
It appears that Wheeler has found a new place to call home, and he is shining with his new team.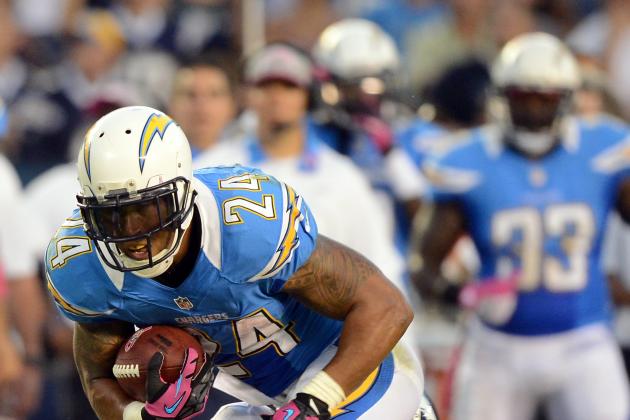 Harry How/Getty Images

Ryan Mathews has always been criticized with his poor ball security. This year, it appears that he has finally fixed his problems.
Mathews has played well this year, and the biggest number to look at for him is only one fumble. In his first two seasons, he had 10. The significant drop in fumbles is a huge confidence boost for Mathews.
Along with ball security, Mathews has continued to run well. He has rushed for 259 yards and a touchdown, averaging 4.5 yards per carry.
Hopefully Mathews can continue to hold on to the ball. If he can continue to do so, this year will be considered a huge success for him.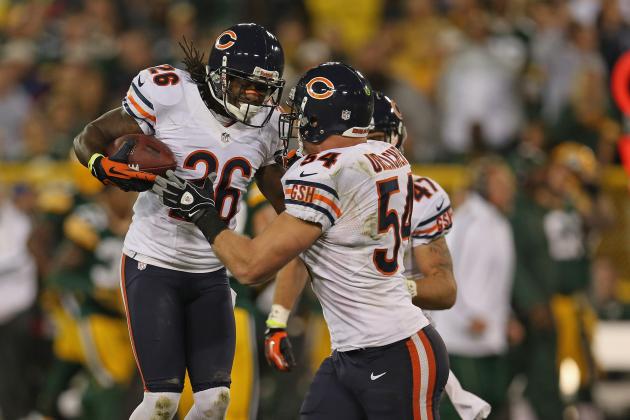 Jonathan Daniel/Getty Images

Chicago's defense has been playing amazingly well to start the season. One of the players who has stepped up has been Tim Jennings.
Jennings has been incredible to start the season, sharing the league lead in interceptions with four. Along with his four picks, he also has 31 tackles and ten pass deflections.
Jennings previous most interceptions in a season was two, so to see him double his previous season high in seven games is truly impressive.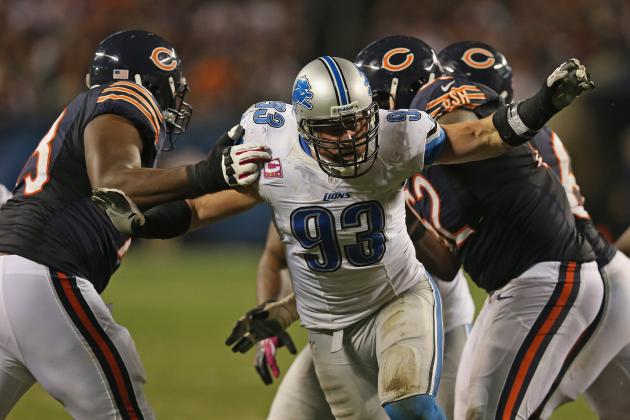 Jonathan Daniel/Getty Images

Kyle Vanden Bosch is 33-years-old, which is considered old for a defensive lineman. The past several years haven't been the best, but Vanden Bosch is turning it around this season.
Vanden Bosh is currently at 4.5 sacks through only six games. He hasn't had double digit sacks in a season since 2007, when he recorded 12.0.
This could be Van Bosch's year to get back to double digit sacks in a season. As long as he can stay healthy, it appears he will reach it.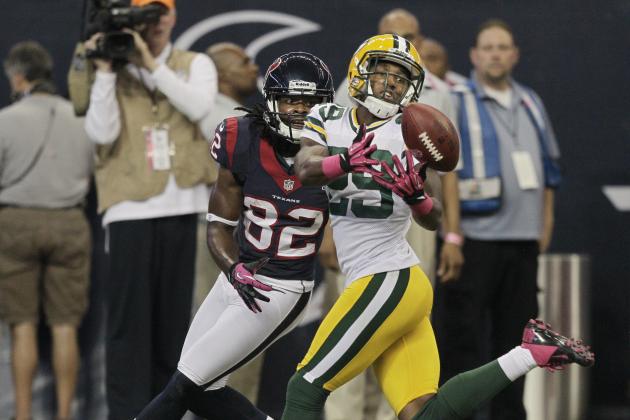 Bob Levey/Getty Images

Casey Hayward has emerged as one of the best defensive rookies this season.
Hayward has been phased into the Packers' defense progressively more each week. With the injury to Sam Shields, Hayward was able to make his first career start last week.
Hayward currently leads all rookies, and his team, with four interceptions. This is also a tied for the league's best. He has been a great addition to a Packers secondary that allowed the most passing yards ever last year.
With all of the injuries to Green Bay, Hayward will need to continue to play well.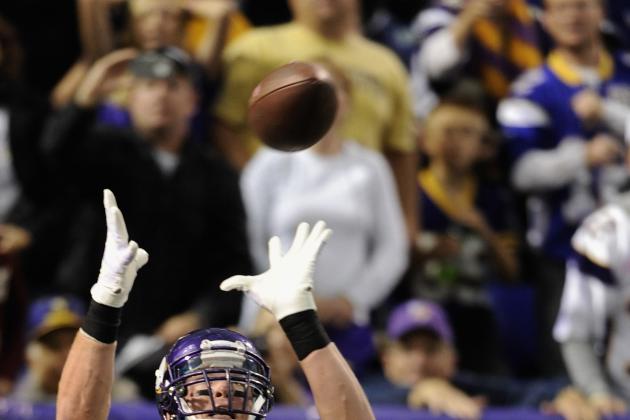 Hannah Foslien/Getty Images

Notre Dame knows a thing or two about tight ends, and Kyle Rudolph is no exception.
Christian Ponder has found a new favorite target in the red zone this season, hitting Rudolph for five touchdowns this season.
Rudolph has had a fairly successful first season and a half to start his career. With Ponder continuing to find him in scoring situations, Rudolph could be a scoring machine for the next few years.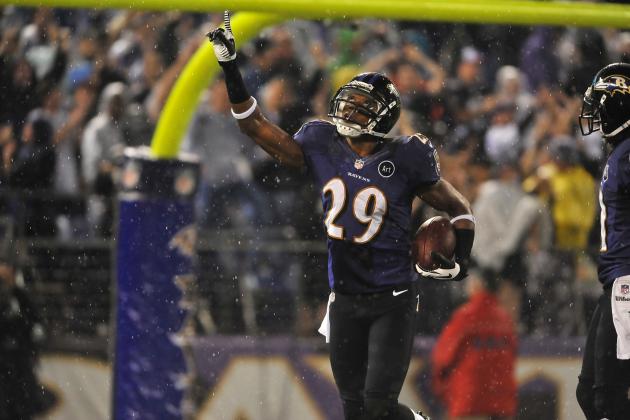 Larry French/Getty Images

Cary Williams is helping a Baltimore defense that is without their captain, Ray Lewis, for the rest of the season.
Williams has played great, recording three interceptions, including one for a 63 yard touchdown against Cleveland. He has also managed to get 38 tackles and a sack on the season.
Williams will need to step up in the secondary with the loss of Lardarius Webb due to a torn ACL. If Williams can keep playing like the has, they should hopefully survive.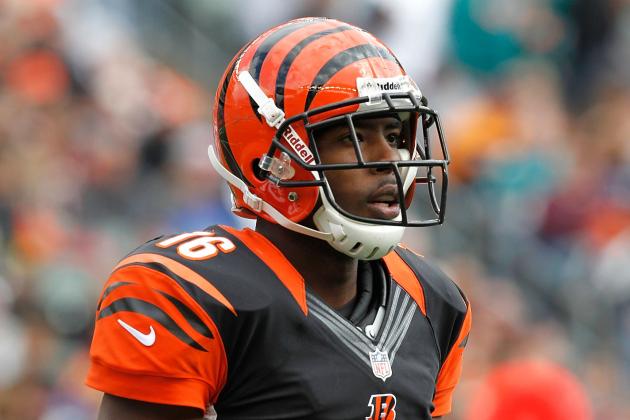 Tyler Barrick/Getty Images

Andrew Hawkins, the 5'7'' wide receiver out of Toledo, is proving that you don't have to be the tallest receiver to play well in the NFL.
Hawkins is incredibly fast, and has been able to show off his speed this season. Hawkins has 27 catches for 346 yards and two touchdowns this season.
It is nice for the Bengals to have another wide receiver to compliment A.J. Green and get open when the focus is on Green.
Matt Sullivan/Getty Images

Cleveland desperately needed to find a deep threat, and they found one in Josh Gordon.
Gordon has been a big play machine in the first half of the season. While he may only have 14 catches on the season, they have been for 333 yards and four touchdowns. His 23.8 yards per catch is the best mark in the NFL.
Weeden likes to show off his arm occasionally, and with Gordon on his team, he has an opportunity to show off that arm a bit more than he would.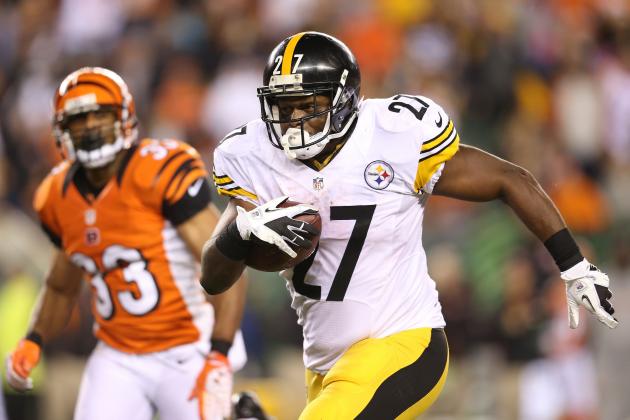 Andy Lyons/Getty Images

With Rashard Mendenhall and Isaac Redman struggling to stay healthy, the Steelers, have needed to find someone who can come in to help establish a running game. Jonathan Dwyer has been able to do just that.
Dwyer has been able to produce when needed. He currently has ran for 192 yards, averaging 4.7 yards per carry on the season.
While Dwyer may not have done a lot, he has been valuable to the Steelers, with their first two running backs being injured. Without this presence of a running game, Roethlisberger would have been in trouble.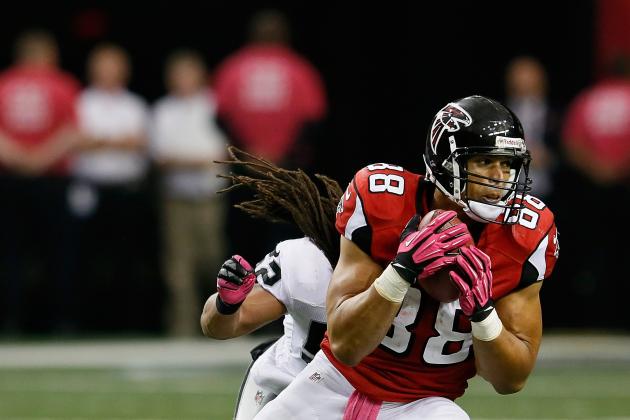 Kevin C. Cox/Getty Images

Tony Gonzalez himself is not surprising. What is surprising is that he is 36 years old, and still playing like Tony Gonzalez.
Currently, Gonzalez has 430 yards and four touchdowns. His contribution to the passing game is still felt despite his old age.
The question now is how much longer Gonzalez will continue to play. After 16 years, it feels that the Falcons will not have him for much longer.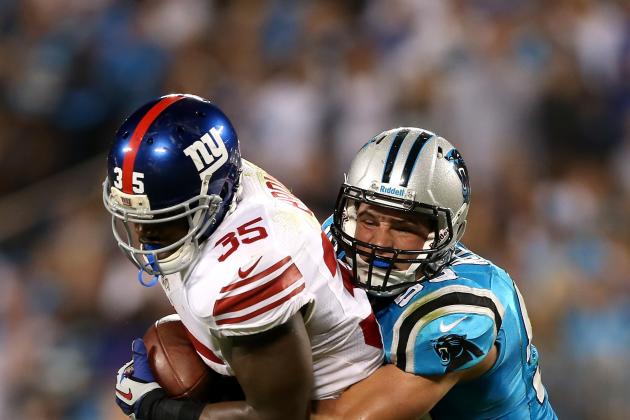 Streeter Lecka/Getty Images

Carolina's Luke Kuechly is certainly not playing like a rookie this year.
Kuechly currently leads his team in tackles with 51 total. He also picked off Russell Wilson in a loss to the Seahawks. His play has helped the Carolina defense, and he is quickly becoming a leader of the team.
With the play of Kuechly, it appears that Carolina made the right decision drafting him ninth overall.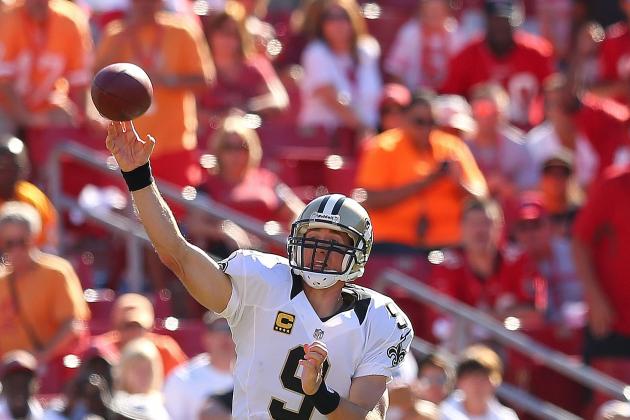 Mike Ehrmann/Getty Images

It was hard to find a player on the Saints who truly surprised me, but Drew Brees did do something this season that was pretty surprising.
Brees broke the record of consecutive games with a passing touchdown, currently held by Johnny Unitas. Now at 49 games and counting, Brees looks to shatter a record that was previously considered one of the few that were unbreakable.
Hopefully the Saints can begin to turn this season around, or a disappointing season will be the only other surprise.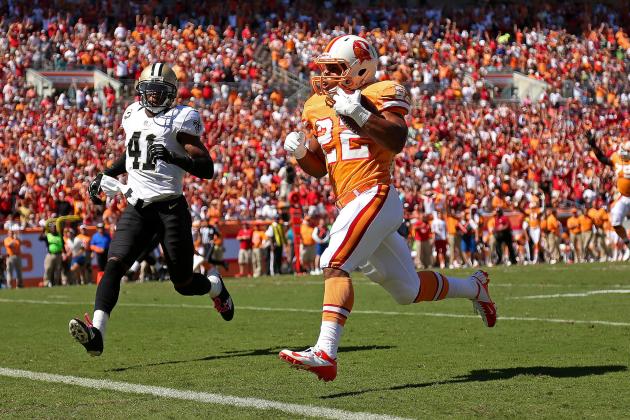 Mike Ehrmann/Getty Images

Doug Martin impressed to coaches enough to be the main running option this season. With his opportunity, he has played well.
The rookie out of Boise State has played well to start his career. In his first six games, he has managed to run for 408 yards and two touchdowns. He has also been a receiving option with 145 yards.
Martin wasn't expected to get most of the carries this early in his career, but he has made the most of his opportunities.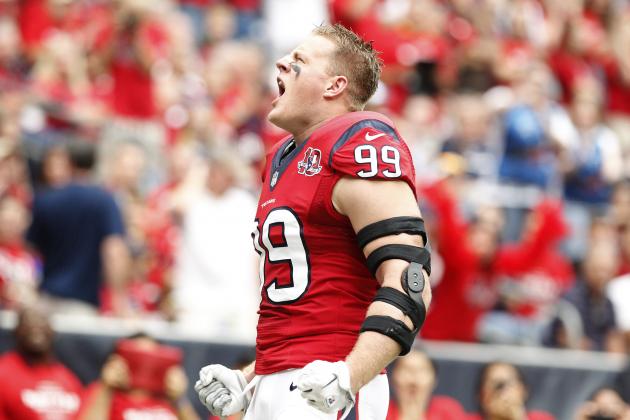 Thomas B. Shea/Getty Images

J.J. Watt couldn't have dreamed for a better start to this season.
If the season stopped today, Watt would most likely be the Defensive Player of the Year. He currently leads the league in sacks with 9.5. He also has an incredible 10 pass deflections, something that is unheard of for a defensive lineman.
Watt can continue to have an incredible season, with a team that is one of the favorites at this point to win the Super Bowl. As long as he stays healthy, he could easily have 20-plus sacks this year.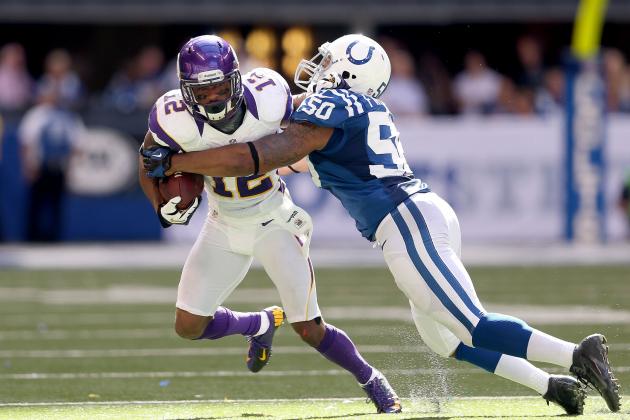 Andy Lyons/Getty Images

Jerrell Freeman has finally gotten his chance in the NFL, and he is starting to shine.
The former CFL player has begun to get attention. He currently leads the Colts in tackles with 55 total, 18 ahead of second place.
Freeman started his NFL career off the perfect way, by scoring a touchdown. Freeman picked off Jay Cutler early in the game Week 1 and ran the one yard into the end zone.
Freeman is having a great start to his career, and will hopefully keep the Colts in contention in the conference.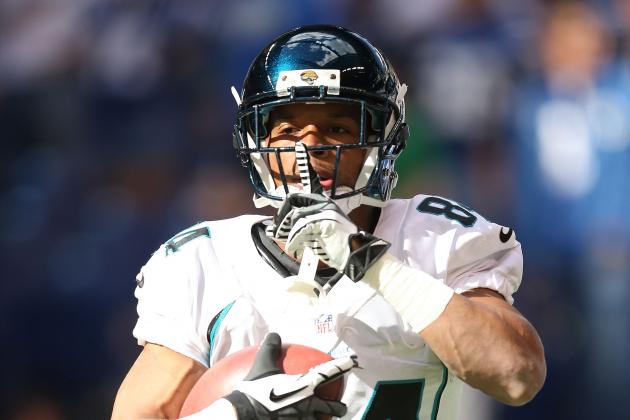 Andy Lyons/Getty Images

The Jaguars are in a tough spot right now. The offense is struggling to move consistently, and the injuries are beginning to pile on.
Cecil Shorts is one of the few bright sports on the Jaguars. Shorts has been producing in a rather unknown group of receivers.
Shorts got his first start last week, and took advantage by grabbing a 42 yard touchdown in the first quarter. In total, Shorts has 284 yards and three touchdowns this season.
If Shorts can continue to get open, hopefully the quarterback will be able to get him the ball.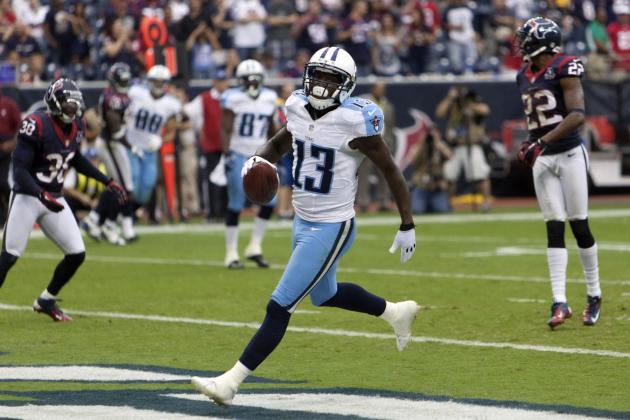 Bob Levey/Getty Images

Kendall Wright has started off his career quickly. Taking advantage of the absence of Kenny Britt, Wright has played well.
The first round pick out of Baylor has begun this season with good numbers for a non starter. He has caught 36 balls for 304 yards and two touchdowns.
If Britt continues to get hurt, Wright will find himself getting more snaps. In the meantime, Wright is developing well, and that is a big positive long term for the Titans.