The Packers' Most and Least Improved Players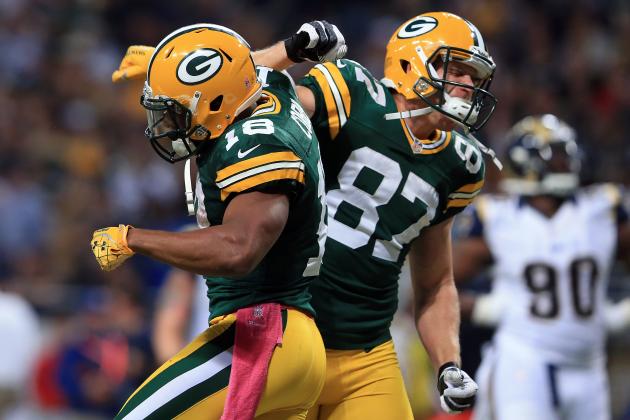 Doug Pensinger/Getty Images

The 2012 Green Bay Packers are 4-3 so far this season. Yes, I know one of the "losses" was very controversial. But it is what it is. At least the real officials are back.
Anyway, the Packers can get to 6-3 at their bye week by beating the Jacksonville Jaguars and the Arizona Cardinals in the next two games at Lambeau Field. Based on the way the Packers are currently playing, I would think that winning those two games is very doable.
The 2011 Packers' team was 15-1, but were also one and done in the playoffs. The Packers have already tripled their loss total this season, but several players have shown improvement over last season. A couple of other players have not gotten better.
I'm going to list eight Packers who have improved their play in 2012, and two other members of the Pack, who have seem to have regressed with their performance on the field.
Begin Slideshow

»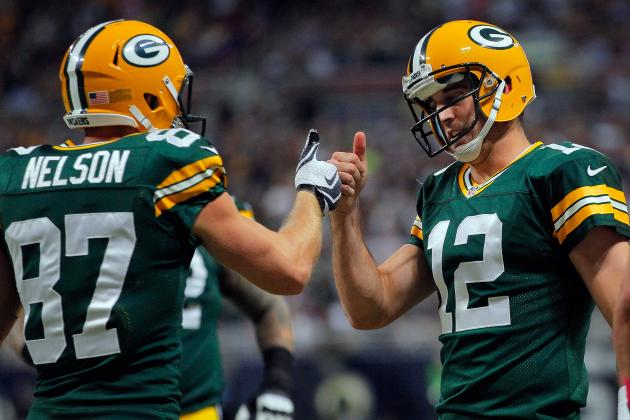 Doug Pensinger/Getty Images

Jordy Nelson had a breakout season in 2011, as he had 68 receptions for 1,263 yards and 15 touchdowns.
In 2012, Nelson seems to have taken that stellar play to an even better level. He currently has 40 receptions for 532 yards and five touchdowns. And that's only after seven games.
In addition to that, Nelson has done this while Greg Jennings has missed significant playing time due to a lingering groin injury, which will be operated on next week. It is hoped that Jennings will be back within a month or so.
Meanwhile, Nelson has established himself as the prime wide receiver in the Green Bay offense.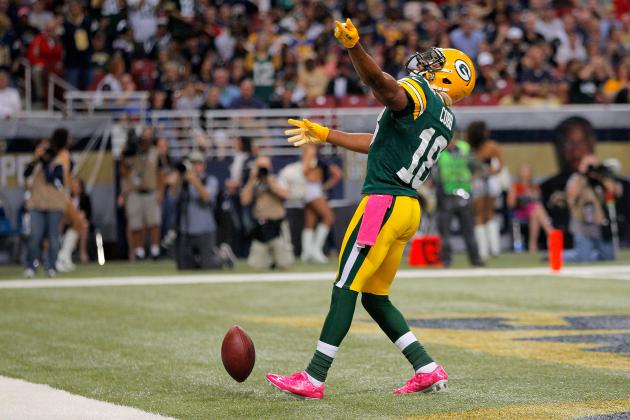 Doug Pensinger/Getty Images

Randall Cobb has definitely taken his level of play up a notch in 2012—certainly as a wide receiver. Last season, Cobb only had 25 receptions for 375 yards and one touchdown.
Already in 2012, Cobb has 37 receptions for 435 yards and three touchdowns in the passing game. Cobb, Jordy Nelson and James Jones have helped to fill the void of Greg Jennings' absence due to a lingering groin injury.
Cobb still returns kickoffs and punts as well. Last season, Cobb had one return for a touchdown in each of those special teams units. Cobb averaged 27.7 yards a return on kickoffs, and 11.3 yards per punt return in 2011.
In 2012, Cobb returned a punt for a touchdown on opening day vs. the San Francisco 49ers. Overall, his return average almost mirrors what he did in 2011. Cobb has a 27.3 average returning kickoffs, while averaging 11.0 yards per punt return.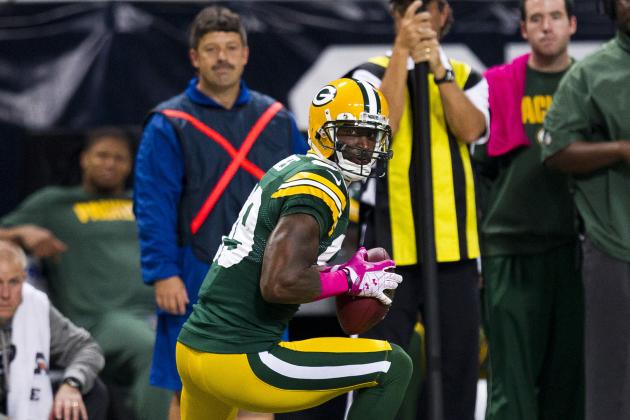 David Welker/Getty Images

Like Jordy Nelson and Randall Cobb, James Jones has taken his level of play up a notch in 2012. Last season, Jones had only 38 receptions for 635 yards and seven touchdowns.
Jones has already matched the touchdown total in 2012, plus has 29 receptions for 323 yards. And that's only in seven games.
As Packer Nation surely remembers, Jones has dropped a few passes in key situations in the past, but in 2012, Jones seems to be catching everything thrown in his direction.
Jason Miller/Getty Images

Ryan Pickett is having one of his best seasons since he became a Packer in 2006. Pickett leads all defensive linemen with 22 tackles so far in 2012.
Pickett normally plays defensive end on early down situations. When it's time to stop the run. The Packers are 16th in the NFL right now stopping the run, but the Green Bay defense really answered the bell vs. the Houston Texans and Arian Foster in Week 6.
Pickett and the Green Bay run defenders held Foster to only 29 yards on 17 carries. Foster is second in the NFL in rushing with 659 yards too.
Pickett is leading the way on the defensive line overall, as the Packers are currently ranked 14th in total defense in the NFL now, after finishing dead last in 2011.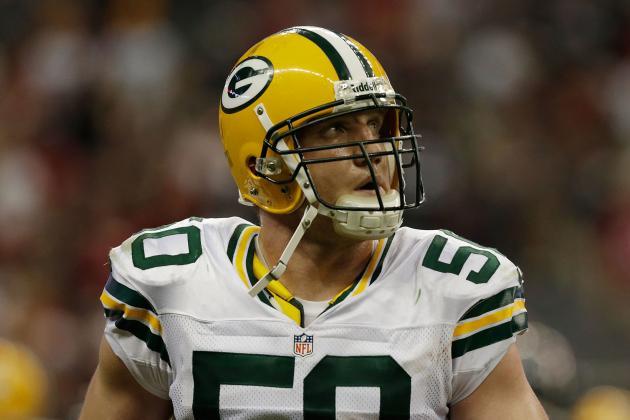 Scott Halleran/Getty Images

A lot of folks were wishing that inside linebacker A.J. Hawk would somehow be replaced as a starter in 2012. Why would that be? The primary reason was that Hawk had a very lackluster season in 2011, after having a solid season in 2010.
Last season Hawk had 104 tackles and 1.5 sacks. Hawk also had zero interceptions and no fumbles forced either.
This season, Hawk has become the main man in the middle of the Green Bay defense, due to season ending knee injuries to both Desmond Bishop and D.J. Smith, who played next to Hawk at right inside linebacker. Brad Jones has taken their place for now.
Meanwhile, Hawk leads the Packers in tackles with 56 (17th in the NFL), plus has a sack. The defense of the Packers has played much better in 2012 overall, as the Packers are now ranked 14th in total defense, after finishing 32nd in 2011.
Hawk is also the primary lead defensive communicator in making sure the defense is in the right scheme and formation.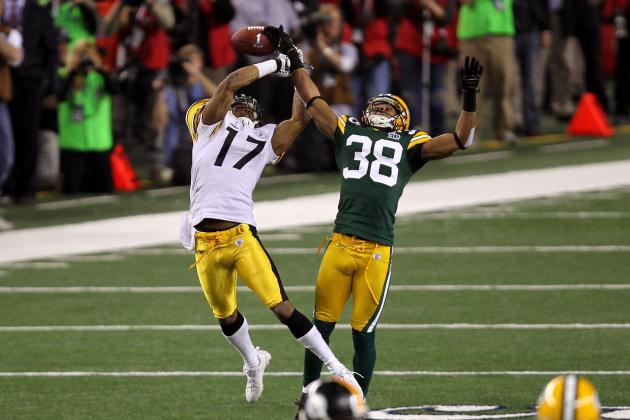 Mike Ehrmann/Getty Images

Tramon Williams had a breakout season in 2010 (six picks), when he was named to the NFC Pro Bowl squad, plus had three key interceptions in the playoffs (including one for a touchdown), as the Packers would go on to win Super Bowl XLV.
Last season, however, Williams suffered nerve damage in his shoulder in the very first game of the year. Still, Williams had four interceptions, but was never able to match his level of play in 2010.
That has changed in 2012, as Williams is having a very similar season to 2010 right now. Williams has two picks through seven games, plus has become the primary shutdown corner when the Packers face an elite wide receiver.
Don't be surprised if Williams gets invited to play in the Pro Bowl again this year.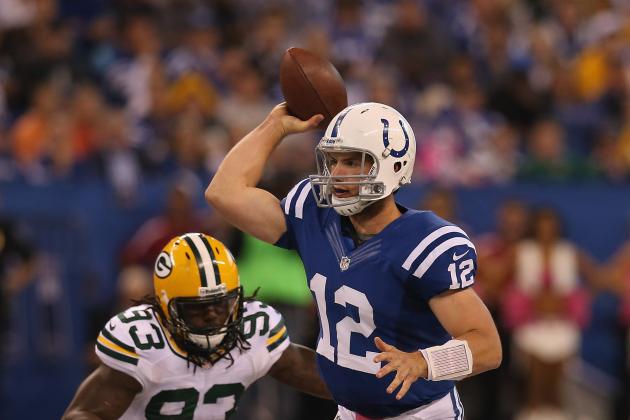 Jonathan Daniel/Getty Images

Erik Walden really opened the eyes of Packer Nation late in the 2010 season, as he had three sacks against the Chicago Bears in the final game of the season. Walden became the starter at right outside linebacker, until an ankle injury sidelined him.
Last season was a different story, however. Walden had only three sacks total in 2011, plus had an off the field domestic incident, which definitely affected his play.
The Packers then drafted Nick Perry in the 2012 NFL draft to bookend Clay Matthews at left outside linebacker. But Walden wouldn't go away quietly. He forced the coaching staff to get him on the field and was splitting time with Perry, until a knee injury shelved the rookie.
Perry will be back soon, but Walden is playing very well. For one thing, the balance at outside linebacker has allowed Matthews to already have nine sacks so far this season.
Walden only has one sack, but has been very visible and is always attacking. In fact, he forced a Russell Wilson interception when the Packers played the Seattle Seahawks that should have pretty much locked up the game, only to see the replacement ref call a bogus roughing the passer penalty on Walden.
Perry also has two sacks.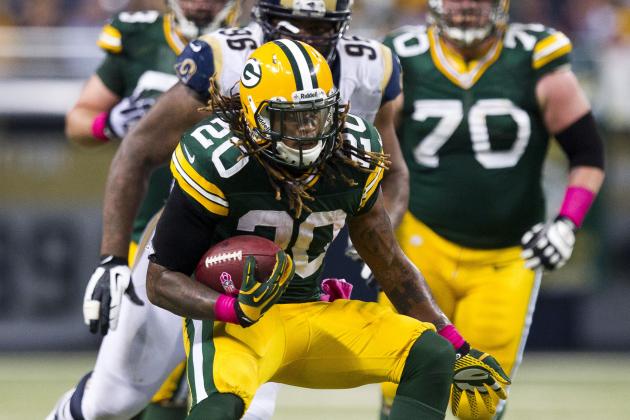 David Welker/Getty Images

Alex Green missed most of the 2011 season due to an ACL injury. In fact, Green only had three rushing attempts in all of last season.
Green had a long road back coming back from the ACL tear, but has established himself as the lead running back right now, mostly due to injuries to the other backs.
First, James Starks suffered a turf toe injury in the first preseason game. Then, after the Packers signed Cedric Benson to become the primary ball carrier, Benson also went down with a foot injury in Week 5.
Green has taken the opportunity and run with it, although his production could be better. Green has 165 yards rushing in 54 carries, which is only a 3.1 yards per carry average. Green also has 5 receptions for 37 yards out of the backfield.
Bottom line, Green has 59 total touches without a fumble in the two games he has started at running back, and the threat of the run has helped quarterback Aaron Rodgers to throw nine touchdown passes compared to no interceptions in those two games.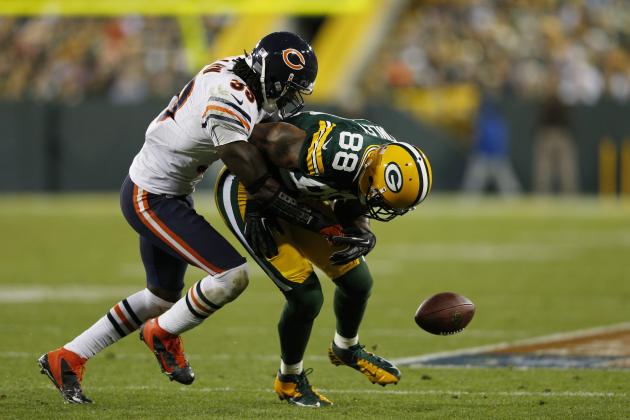 Joe Robbins/Getty Images

Tight end Jermichael Finley seems to be getting more inconsistent, which is the opposite of what the Packers were hoping for.
Last season, even with a number of drops, Finley had 55 receptions for 767 yards and eight touchdowns.
This season, the drops have continued, plus Finley also coughed the ball up once. Add to that, Finley suffered a shoulder injury against the Indianapolis Colts.
Overall in 2012, Finley has 26 catches for 241 yards and just one touchdown.
Before the 2012 season started, Finley agreed to a two-year deal close to $15 million dollars. Finley was hoping a big year in 2012 would get him a longer extension and more dollars in the contract.
That hasn't been the case in 2012, nor has his agent helped him. Blake Baratz questioned Aaron Rodgers' leadership skills in a tweet earlier this season.
Maybe Baratz should start questioning the play and the focus of his client instead.
Jamie Squire/Getty Images

James Starks has been given every opportunity to become the lead running back for the Green Bay Packers.
Starks showed he could play at a high level in the 2010 playoffs, as he rushed for 315 yards and one touchdown in the postseason. That led all NFL running backs.
Last year, Starks rushed for 578 yards and just one TD in 13 games. Starks also caught 29 passes for 216 yards. But Starks also suffered through nagging knee and ankle injury issues, plus also missed an assignment from time to time, which obviously displeased quarterback Aaron Rodgers.
This year, Starks was given the first opportunity to be the lead running back, but after a fumble and another missed assignment in the first preseason game, Starks suffered a turf toe injury that kept him off the field for a number of games.
After the injury, the Packers signed Cedric Benson to become the primary running back. Benson was playing well until he suffered a foot injury which will keep him out for several weeks (injured reserve; designated to return).
Alex Green has taken over for Benson, although Starks did get some carries in the games against the Texans. Overall, Starks has just 11 yards on five carries.
Starks has a long way to go to get back to the level of play he exhibited in the 2010 postseason.