2012 World Series: 4 Changes the Tigers, Giants Need to Make to Win It All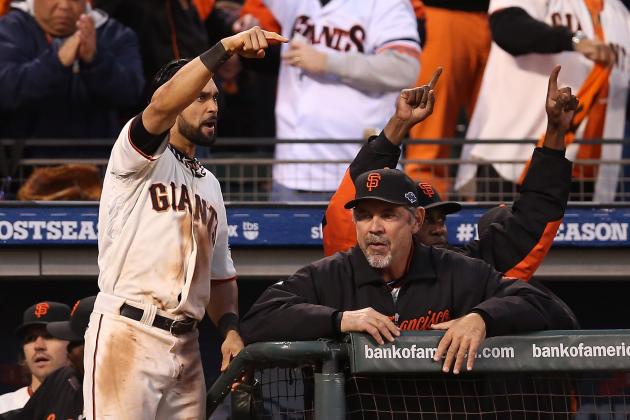 Christian Petersen/Getty Images
Bruce Bochy has taken his Giants to the World Series. What changes can he make to take them the rest of the way?
The Detroit Tigers and the San Francisco Giants have made it to the World Series. That makes them the two best teams in baseball pretty much by default.
So why should either of them change anything now? If what worked for them got them this far, why bother shaking things up?
One's first impulse is indeed to say that the neither the Tigers nor the Giants should change a thing. Jim Leyland got his team to the World Series with a certain formula, and Bruce Bochy got his team to the World Series with a certain formula of his own.
But getting to the World Series and winning the World Series are two different things. The smallest changes can make a huge difference, and both the Tigers and the Giants could stand to make some small and some not-so-small changes in order to improve their chances of winning it all.
Here are four changes each team should make for the World Series.
Note: Stats courtesy of Baseball-Reference.com unless otherwise noted.
Begin Slideshow

»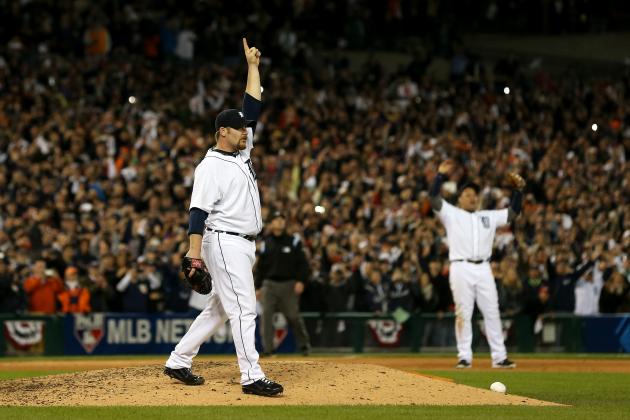 Jonathan Daniel/Getty Images

In spirit, it would appear that Jose Valverde is still Detroit's closer. He didn't pitch in any of the final three games of the ALCS against the New York Yankees after blowing a four-run lead in Game 1, but Leyland has yet to come out and actually demote Valverde from the closer's role.
Even as recently as a couple of days ago, Leyland expressed confidence in Valverde.
"I think everybody's making too big of a deal of the Valverde situation. Valverde's going to be ready. There's nothing wrong with Valverde. He's going to be fine," said the Tigers manager, via the AP (h/t SI.com).
As such, the door is at least slightly open for Valverde to see some ninth-inning work in the World Series, which would mean that Phil Coke hasn't exactly taken Detroit's closer's role for himself after his spectacular showing in the ALCS.
And you know what? That's totally OK. A closer-by-committee approach would suit the Tigers quite well against the Giants.
Coke was certainly brilliant against the Yankees, but it all made perfect sense seeing as how he was a great matchup against the Yankees' lefty-heavy lineup. It also helped that some of their key right-handers (see Rodriguez, Alex) didn't pose much of a threat.
I've already written that the Giants are a much tougher matchup for Coke than the Yankees ever were, so I won't go into much detail here. Suffice it to say that they have more dangerous right-handed hitters to throw at Coke, which means using him as a primary ninth-inning option in the World Series would be quite dangerous.
Leyland should play it by ear and pass the ninth inning around between Valverde, Coke, Joaquin Benoit, Octavio Dotel and whoever else he can conjure. The closer's role must not belong to any one man in the World Series.
Jonathan Daniel/Getty Images

As reported by Jason Beck of MLB.com, ALCS MVP Delmon Young is going to play left field for the Tigers in the World Series in games played at AT&T Park. Since he can't be used in his customary DH role, left field is really the only place to put him.
Had the Tigers ended up playing the Cardinals, I would have been fine with the idea. Left field at Busch Stadium is nothing too difficult to handle for most left fielders. In fact, it's probably an easier left field to play than left field at Comerica Park and most other stadiums.
Left field at AT&T Park, however, is a horse of a much different color.
While not as difficult as the park's right field, left field at AT&T Park is no easy assignment. The angles of the left field wall itself are different than the ones you find at a lot of parks, and the amount of foul ground beyond the left field line creates extra ground for left fielders to cover in addition to the vast amount of ground they have to cover inside the foul lines.
This is a problem in Young's case because he may be the worst left fielder in all of baseball. He only logged 226.1 innings in left field this season, according to FanGraphs, but he was bad enough in that time to compile a UZR/150 of minus-30.9. That's the kind of number that makes sabermetrically inclined children cry.
You can whine and complain that the Tigers will miss Young's bat if he sits on the bench at AT&T Park, but let's not forget that he was, at best, an average hitter during the regular season. He did beat up on the Yankees in the ALCS, but before that Young posted a .513 OPS in the ALDS against the Oakland A's.
Besides, if Leyland shores up the team's defense by playing Quintin Berry in left field at AT&T Park, the Tigers won't need that much offense. With a good defense at their backs, the club's starting pitchers will put the Tigers in a position to win with just two or three runs of support.
The Tigers can achieve that kind of production without Young. Especially if they make one significant lineup change...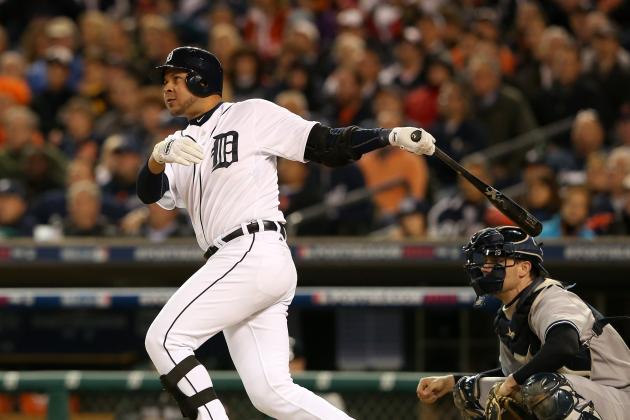 Leon Halip/Getty Images

It's no secret what Miguel Cabrera and Prince Fielder can do to baseballs. Delmon Young is certainly on everyone's radar after what he did in the ALCS. Even though he's often overlooked, Austin Jackson should also be considered a threat at the plate.
But don't overlook Jhonny Peralta. He had everyone's attention when he hit two homers in Game 4 of the ALCS, but even before that he was having a very good postseason.
Peralta went into Game 4 hitting .370/.414/.407 over his previous seven playoff games. He exited Game 4 hitting .375/.412/.594 in a total of eight postseason games. All told, he has a .921 OPS in the playoffs.
No other Tigers player has a higher OPS than Peralta in these playoffs. Strange, but true.
Peralta has flown under the radar to this point in the postseason, largely because Leyland has kept him stashed at the bottom of his lineup, typically in the No. 7 hole. It's admittedly hard to second-guess Leyland for this given how well Young performed in the No. 5 hole in the ALCS, but there's no escaping the notion that Peralta deserves a chance to play a bigger role in Detroit's offensive attack.
If Leyland does end up sitting Young at AT&T Park, the best way to give Peralta his chance would be to move him up to the No. 5 spot to protect Prince Fielder. In fact, doing so would be a no-brainer.
Back at Comerica Park, one way to capitalize on Peralta's hot bat would be to move him up to the No. 2 spot in the lineup, which was in flux throughout most of the regular season and has also been in flux during the postseason. Leyland has been playing the No. 2 spot in his lineup based on the matchups, but he could just go with the hot hand by handing it over to Peralta when the Tigers get back home.
Moving Peralta around could help Detroit's offense. As for what could help Detroit's pitchers...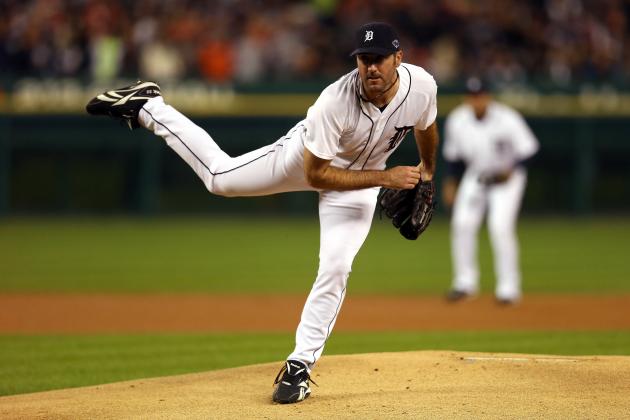 Jonathan Daniel/Getty Images

If the Tigers are lucky, the Giants will use the exact same offensive attack to beat them that they used to beat the Cardinals in the final three games of the NLCS.
You know, one reliant on weak ground balls with runners on base. It seemed to work pretty well for the Giants against the Cardinals, in no small part because the Cardinals seemed intent on making as many mental mistakes as possible.
I kid, of course, but you get the point. To beat the Tigers, the Giants are going to have to come up with a few more hard-hit balls than they did against the Cardinals.
There is one thing Detroit's hurlers can do to limit the number of hard-hit balls earned against them, and that's take after Adam Wainwright's performance in Game 4 of the NLCS.
It was a vintage Wainwright performance, as he went seven innings and allowed only one run on four hits with five strikeouts. He was able to toy with Giants hitters largely because he broke out his Uncle Charlie more often than usual.
Per ESPN Stats & Info, Wainwright threw his curveball a season-high 34 times against the Giants in Game 4. The Giants swung and missed at 17 of them and managed exactly zero hits against Wainwright's hook.
Wainwright's curve is a thing of beauty when he's feeling it, but he's not the only pitcher in the world with a nasty hook. Justin Verlander has one of his own, and Doug Fister's curveball may be his best pitch. According to FanGraphs, opponents hit just .154 against Fister's hook during the regular season.
Anibal Sanchez also has a solid curve of his own, one that he used to hold hitters to a .245 average this season.
If these three make like Wainwright and bust out their curves more often than usual against the Giants, runs are going to be even harder to come by for them than everyone is already anticipating.
Kevin C. Cox/Getty Images

For the moment, Bruce Bochy hasn't yet announced what his starting rotation for the World Series is going to look like.
Until he does, the biggest question mark is whether Tim Lincecum will be allowed to start again, or if he'll find himself back in the bullpen once the World Series gets underway.
There's only one right choice regarding Lincecum, and it's the latter. The best place for him to be in the Fall Classic is in the bullpen.
Hopes were high for Lincecum when he took the mound in Game 4 of the NLCS, but all the same old problems that plagued him during the regular season cropped up once again. He didn't have good fastball command, nor did he have much that he could use to get Cardinals hitters out within the strike zone. With runners on base, things got worse before they got better.
In retrospect, none of this is a surprise. The Cardinals were a bad matchup for Lincecum all along due to their patience and tendency to take pitches out of the strike zone. This year more than any other, Lincecum needs hitters to expand the zone in order to be successful.
The bad news for Lincecum is that the Tigers are similar to the Cardinals in many respects. The Cardinals finished first in MLB in on-base percentage, and the Tigers finished third. The Cardinals had a strikeout rate of 18.8 percent during the regular season, according to FanGraphs, while the Tigers stood at 18.0 percent. And so on.
Beyond the signs that the Tigers are a bad matchup for Lincecum, the warning signs are also there that AL teams in general are a bad matchup for Lincecum. In four interleague starts this season, he posted a 7.40 ERA and allowed an OPS of .777.
Lincecum had success coming out of the bullpen in three appearances prior to his start in Game 4 of the NLCS, so the smart play is to return him to that role.
If that's the road Bochy takes, then he also has to make another pitching decision...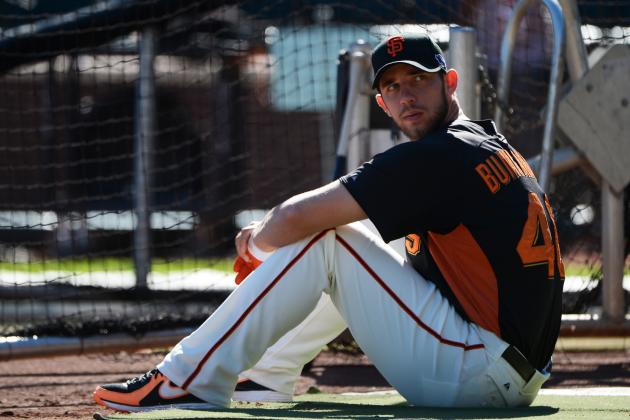 Thearon W. Henderson/Getty Images

Madison Bumgarner did not pitch well in the two starts he made in the postseason before Bochy demoted him to the bullpen, allowing 10 earned runs on 15 hits in only eight innings of work.
Exactly what's wrong with Bumgarner is anybody's guess, but the most common guess is that Bumgarner is just plain gassed. After all, fatigue certainly would explain his drop in velocity and his problems with command.
At this juncture, however, Bumgarner has had plenty of time to rest his weary left arm. He's a candidate to start the second game of the World Series on Thursday, and by then he will have had a full 10 days of rest after last starting on October 14 in Game 1 of the NLCS.
Starting Bumgarner would require a leap of faith on Bochy's part, but he could also start Bumgarner again in order to take advantage of a favorable matchup.
The Cardinals were a tough opponent for Bumgarner to face because they had a tendency to crush left-handed starters. They had a mere .726 against right-handed starters in 2012, but an .835 OPS against left-handed starters.
The Tigers, by comparison, tend to favor right-handed starters. They had a mere .747 OPS against lefty starters, as opposed to a slightly better .761 OPS against right-handed starters.
The Giants are probably going to start Barry Zito in Game 1 of the World Series on Wednesday, so Bochy could choose to switch things up with a right-hander in Game 2 rather than hand the ball back to Bumgarner.
To do that, however, Bochy will have to start either Tim Lincecum on full rest or Ryan Vogelsong on three days of rest. Neither option is very appealing, so Bochy wouldn't be nuts if he decided to give Bumgarner another shot.
As you can tell, I'm in favor of the idea.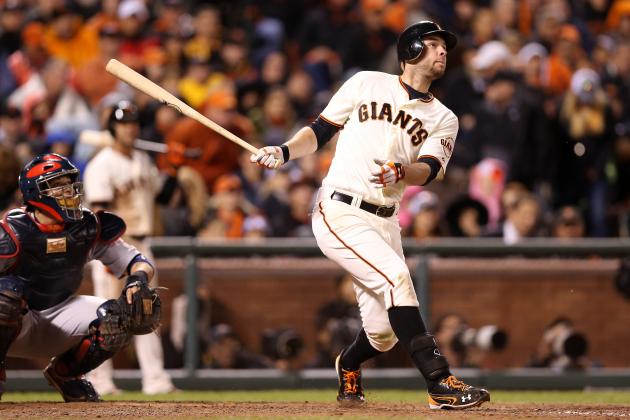 Christian Petersen/Getty Images

It hasn't been easy for Bruce Bochy to settle on a proper protector for Buster Posey in his lineup. Whoever ends up behind Posey has a way of falling short in these playoffs.
More often than not, it's been Hunter Pence's fault. He's hitting just .188/.204/.271 in the postseason, and he's making matters worse by striking out a ton. Even when he makes contact, the contact has tended to be weak.
Brandon Belt's numbers don't look a whole lot better, as he's hitting just .222/.300/.389 in the postseason with nearly as many strikeouts as Pence.
There is, however, room for optimism where Belt is concerned. He collected four hits in the final two games of the NLCS, including a triple and a homer that were both crushed. It's starting to look like he may be in one of his grooves. If he is, he could be locked in just long enough for the Giants to win the World Series.
With the Giants set to face a Tigers pitching staff that is predominantly right-handed, now is a perfect time for Bochy to flip-flop Pence and Belt in his lineup. Belt should move up to No. 5 behind Posey, with Pence dropping down the No. 6 spot.
This move is warranted simply on the basis of how well (or not well in Pence's case) these two are swinging the bats. It's further warranted by the fact that Belt's numbers against right-handers this season were noticeably better than Pence's numbers against right-handers.
This is a move that could help the Giants score more runs. There's one other thing they can do to put some extra runs on the board...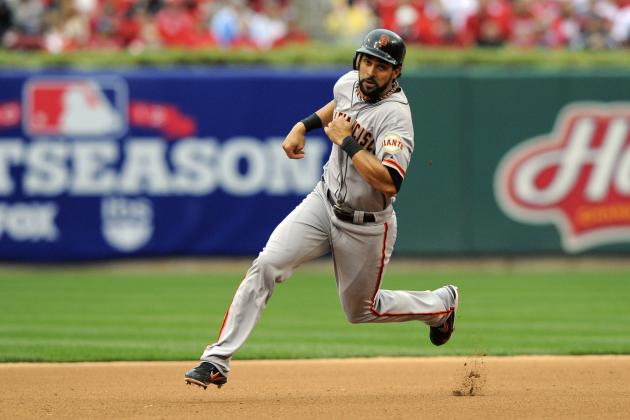 Jeff Curry-USA TODAY Sports

Credit where credit is due, the Giants did some fine work on the basepaths in the NLCS. They took a lot of extra bases when the opportunities presented themselves, and they scored some runs on the kinds of plays that don't always score runs.
They also deserve credit for not testing Yadier Molina's arm. The Giants only stole one base in the LCS, and they only attempted one stolen base. With Molina behind the plate, they played it safe.
The stolen base was a not-insignificant weapon for the Giants during the regular season, and it should once again be a weapon for the Giants in the World Series against the Tigers. Neither Alex Avila nor Gerald Laird poses the same kind of threat that Molina does (to be fair to them, nobody does).
Since runs are sure to be hard to come by for the Giants against Detroit's vaunted rotation, stealing a few bases and thus putting a few extra runners in scoring position is very much in the Giants' interest. They have enough men for the job to do it, too, as Angel Pagan, Gregor Blanco and Brandon Belt are all capable of swiping a base or two. Joaquin Arias can also steal a bag coming off the bench.
In addition to stealing a few bases, the Giants should continue to do what they did on the basepaths in the NLCS against the Cardinals. In particular, I wouldn't mind seeing Bochy dial up a hit and run with Marco Scutaro at the plate like he did in the first inning of Game 7 on Monday night.
For that matter, anything Scutaro does at this point is just fine in my book.
If you want to talk baseball, hit me up on Twitter.