10 Best Unknown College Football Players on BCS Contenders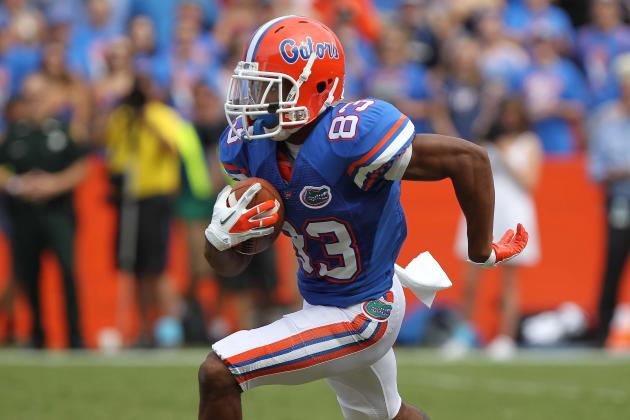 Kim Klement-US PRESSWIRE

Surprises happen every year in college football with this season having no shortage of unbelievable teams, players and circumstances. Every BCS contender has players that may be unknown now, but as their football careers hit the spotlight they become household names.
These are the 10 best unknown players that are growing their stock on the national college football stage.
These players have been on a tear for their title contending teams this season helping lead some of the best offenses and defenses in the country. Their performance is the key to the past and future success for their squads.
Taking a look at the top rosters in the country, here are the nameless playmakers for the BCS contenders through nine weeks of football.
Begin Slideshow

»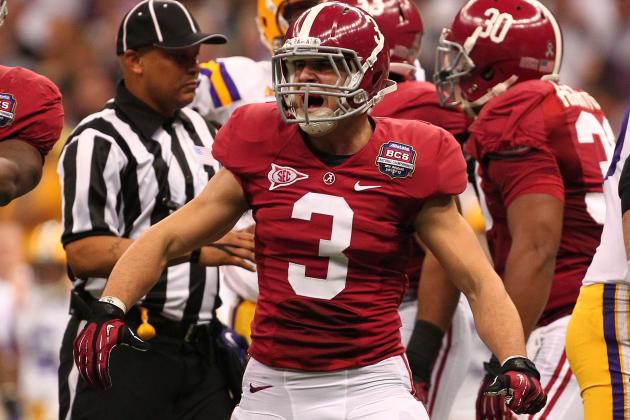 Marvin Gentry-US PRESSWIRE

If you are an Alabama fan you know this name well. Before the CBS production staff mentioned Vinnie Sunseri and his father 70 times, the Alabama safety was a relative unknown on the national stage.
It is a bit of a family tradition to make waves in college football. Sunseri's father is Sal Sunseri, the defensive coordinator for Tennessee. His brother Tino is the starting quarterback for the Pitt Panthers.
Sunseri has helped this Alabama secondary become the No. 2 pass defense in the country from his starting safety spot this season. He has 28 total tackles (18 solo) and two interceptions on the season.
In every game this season, Sunseri has recorded at least one solo tackle and has had six games with three or more stops. As the Tide continues to push toward the national title game, Sunseri will see his stock and spotlight rise.
Sunseri is a sophomore safety for the Tide.
Key Stats
28 tackles (18 solo), two interceptions, four pass breakups, one forced fumble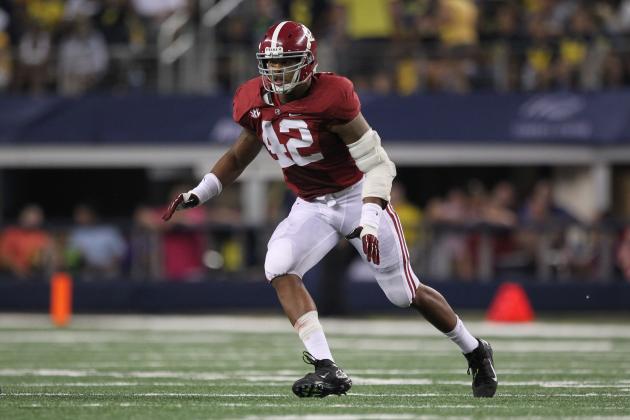 Matthew Emmons-US PRESSWIRE

Adrian Hubbard is a rising star in the Alabama linebacker corps. Hubbard plays the Jack position for the Tide which is a hybrid rush end and linebacker position. Standing at 6'6" and weighing 248 pounds, it's hard to imagine Hubbard not being well known yet. He is hard to miss.
Even though the sophomore isn't as well-known as Courtney Upshaw was just yet, he will be. Hubbard has 18 tackles (14 solo) and four sacks on the season.
Alabama has to have a solid blend of size and speed from the Jack position to keep control of the edge of opposing offenses. Hubbard fits the role extremely well. As the Tide breaks into the heart of the schedule, Hubbard will see his stock and presence rise on the national stage.
Key Stats
18 tackles (14 solo), four sacks (three solo), one pass breakup, two forced fumbles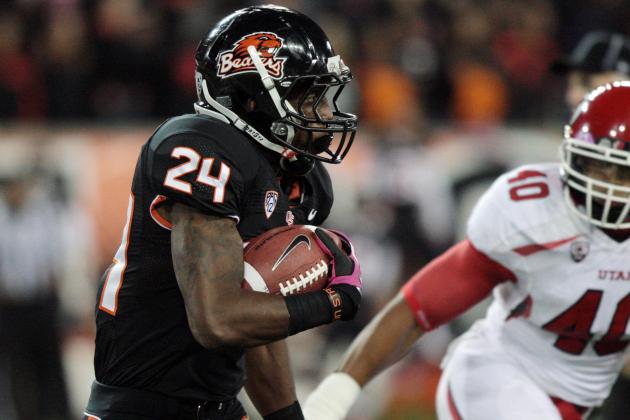 Scott Olmos-US PRESSWIRE

Oregon State has appeared from left field to be an undefeated team sporting a Top 10 ranking. Storm Woods has been a big part of the climb from 3-9 a year ago, to 6-0 in 2012.
Woods has been a steady performer from the Beavers backfield rushing for 450 yards and six touchdowns this season. He has also caught 19 passes through the first six games. Without Woods, the Beavers offense loses balance and is not helping guide Oregon State to an undefeated season.
The Beavers rely on Woods to create plays on the ground and to be a safety valve in the passing game. If Oregon State continues the rapid rise in the Pac 12, Woods will be a name that receives a lot of mention.
Key Stats
102 rushes for 450 yards, 4.4 YPC, six TDs, 19 receptions for 147 yards
Jayne Kamin-Oncea-US PRESSWIRE

Crichton is a sophomore defensive lineman for the Beavers. He has helped this team earn the No. 5 national ranking against the run through the first six games and has been a force for the Beavers in pass rush scenarios.
So far this season Crichton has accounted for eight sacks and 25 tackles. Crichton has recorded a sack in four of six games, with multiple sack games happening three times so far this year.
As the Beavers continue to push for a possible Pac-12 title, this sophomore defensive lineman will be a major part of Oregon State's defensive plan. With a bright future ahead, Crichton will become a household name in short order.
Key Stats
25 tackles (15 solo), 14 tackles for loss (11 solo), eight sacks, two pass breakups, one forced fumble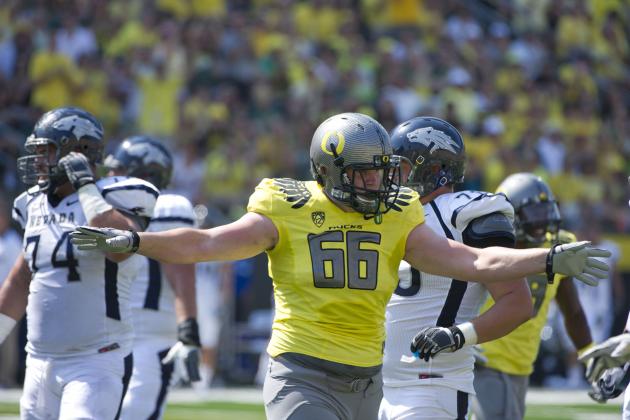 Jim Z. Rider-US PRESSWIRE

The Oregon defense has been one of the biggest surprises of the 2012 season. The Ducks are playing defense, but the big playmakers for the squad are still overshadowed by the strong offensive players.
Taylor Hart is a junior for Oregon this season and he has been a big part of the success for the Ducks defense. Hart has recorded 23 tackles and five sacks so far this season.
Oregon had to find a defense if the Ducks wanted to be a solid BCS title contender. They have found that defense this fall and Hart has been a big part of it. Look for Hart to make a lot of plays in the big games to come for the Ducks.
Key Stats
23 total tackles (14 solo), five sacks, one pass breakup
Spruce Derden-US PRESSWIRE

The JUCO ranks have always produced major talents for FBS programs, and Denico Autry is the next big star that has made the move. Autry is a junior that spent two seasons at East Mississippi CC before coming to Mississippi State this year.
In Autry's debut season for the Bulldogs, he has recorded 18 tackles, two sacks and four quarterback hurries. He has been a force for this potent Mississippi State defense.
The Bulldogs are undefeated and making a major charge in the SEC. Most of that success has come from the strength upfront defensively with Autry being a leader along the line.
Autry may only have two seasons of eligibility for the maroon and white, but they will be memorable and full of big plays. He has made a mark through the first seven games, expect it to continue.
Key Stats
18 total tackles (10 solo), five tackles for loss, two sacks, four quarterback hurries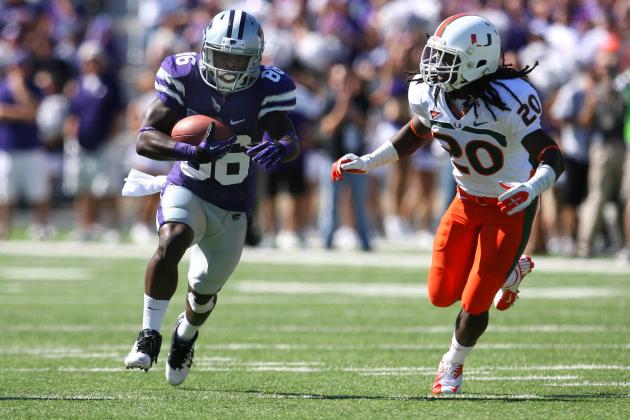 Scott Sewell-US PRESSWIRE

Tramaine Thompson is a junior playmaker for the Wildcats offense. He is overshadowed by Tyler Lockett and Chris Harper, but Thompson has recorded 302 receiving yards and three touchdown catches this season. His touchdown total is tied for first on the team with Lockett.
Thompson is a third option for Collin Klein in the passing game, but he has turned it on this season. The past two seasons he has been mediocre in the offense, but this has been his year.
Thompson also serves as the Wildcats punt and kick returner, recording one touchdown on special teams this season as well. Thompson may be buried in the conversation when Kansas State is discussed, but his impact has been major for this offense this season.
Key Stats
19 receptions for 302 yards, three TDs, two rushes for 11 yards, 166 punt return yards, one return touchdown, 69 kick return yards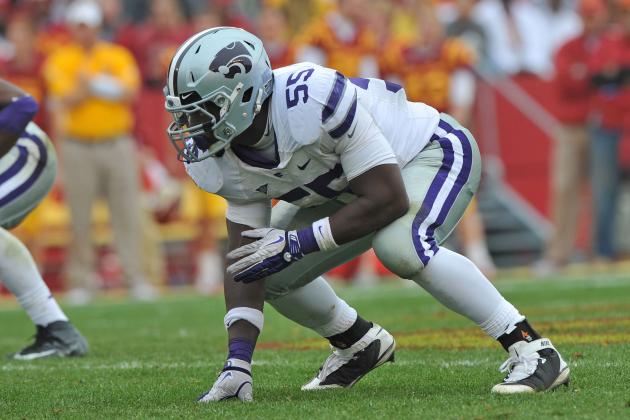 Peter G. Aiken-US PRESSWIRE

The Wildcats defense has been very good this season, mounting the No. 11 rushing defense and No. 23 total defense in the country. Adam Davis has been a big part of that success.
Meshak Williams is the big name for Kansas State along the line, but Davis is a fellow senior that is having an equally impressive season for the Cats.
Davis has recorded five sacks and 10 tackles for loss. He has also forced three fumbles this season.
The Wildcats needed to find an additional playmaker along the defensive line to help assist Williams make shutdown plays this fall. Davis has shown up ready to work after a mediocre junior campaign. As Kansas State continues its climb in the polls, watch for Davis as he makes work of opposing offenses.
Key Stats
30 total tackles (22 solo), 10 tackles for loss (seven solo), five sacks (four solo), three forced fumbles, one pass breakup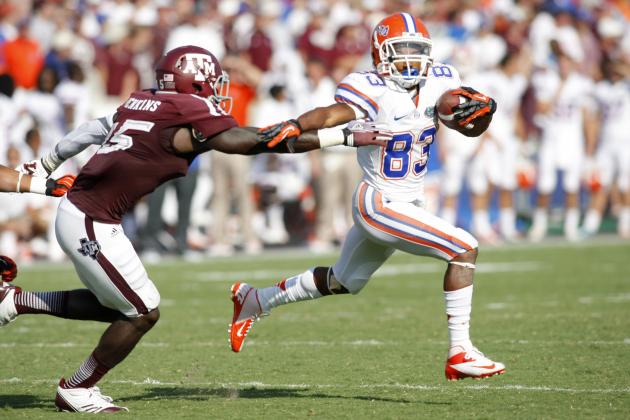 Brett Davis-US PRESSWIRE

Patton is a junior receiver for the No. 2 Florida Gators. Patton is a wide receiver, but he is the Gators third leading rusher. He has racked up 140 rushing yards with little notice in Gainesville.
The Florida offense is hurting for additional playmakers and Patton can provide them. Unfortunately Jeff Driskel has not been able to get him the football as often as needed.
As the Gators look for playmakers to help spread the offensive responsibility, Patton will continue to be a highlight for the offense. He is the best kept secret for Florida right now.
Getting him more involved in the passing game will spell disaster for opposing defenses. If Florida wants to contend for a title, he has to get more receptions.
Key Stats
13 rushes for 140 yards, one reception for 17 yards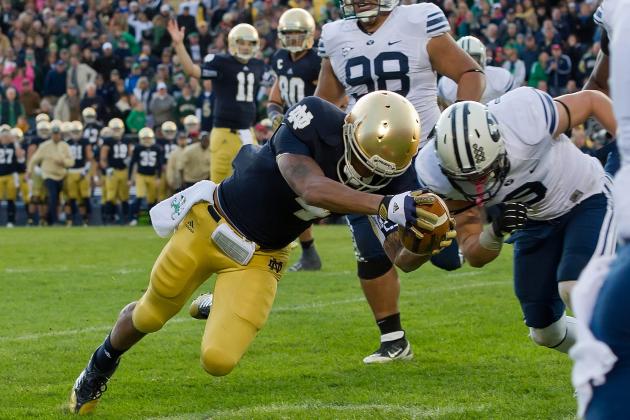 Matt Cashore-US PRESSWIRE

Atkinson III is an explosive sophomore running back for the Fighting Irish. Notre Dame has a ton of big names on defense, and most offensive talk focuses around Everett Golson and Tommy Rees.
Through the first seven games, the third string running back has rushed for 301 yards and four touchdowns. He has also gained 155 yards in kickoff returns.
With Theo Riddick and Cierre Wood getting the majority of the carries for the Irish, but the 8.1 yards per carry that Atkinson III is pulling off is extremely impressive.
Both Wood and Riddick are seniors so Atkinson III is the future. He has shown up this fall and quietly worked his way into one of the greatest rises in football for 2012.
Key Stats
37 rushes for 301 yards, 8.1 YPC, four TDs, 155 kick return yards